Buehler K's 5 in 3-plus innings of rehab start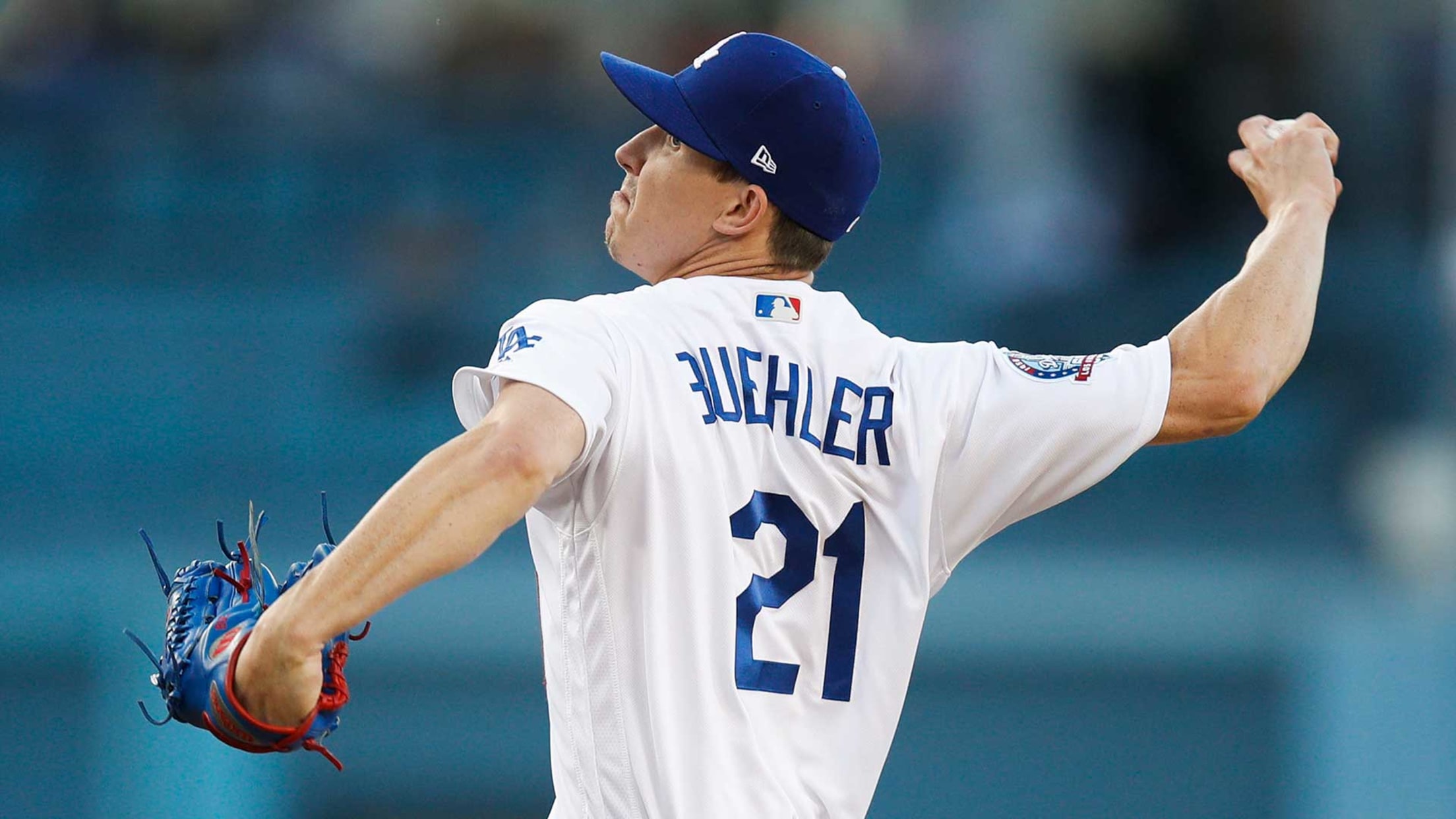 LOS ANGELES -- Back to starting and back in the California League, Dodgers Rookie of the Year candidate Walker Buehler seemed back to normal in a three-plus inning rehabilitation start for Class A Advanced Rancho Cucamonga on Tuesday night.Buehler struck out five, allowed two hits and one walk while making
LOS ANGELES -- Back to starting and back in the California League, Dodgers Rookie of the Year candidate Walker Buehler seemed back to normal in a three-plus inning rehabilitation start for Class A Advanced Rancho Cucamonga on Tuesday night.
Buehler struck out five, allowed two hits and one walk while making 41 pitches against Inland Empire, the Angels' affiliate. He allowed a triple to Brandon Marsh leading off the fourth inning, was removed from the game, then threw an additional inning in the bullpen. Marsh later scored on a sacrifice fly for the only run charged to Buehler.
Before the game, Dodgers manager Dave Roberts said Buehler was expected to need at least two Minor League starts before he would be stretched out enough to rejoin the Dodgers' starting rotation. If a third start is needed, he would return after the All-Star break.
Technically, Buehler began a rehab assignment with the start. A half hour before it began, the Dodgers rescinded his option and placed him retroactively on the 10-day disabled list.
The move with Buehler was the latest in a flurry of transactions involving the Rookie of the Year candidate, who spent 19 days on the disabled list with a microfracture of a rib.
After a 25-pitch bullpen session last Monday, Buehler flew to Oklahoma City for a Thursday rehab start. Instead of pitching there, however, Buehler flew back to L.A. last Thursday morning and was activated to pitch in relief against the Cubs, getting battered for five runs in one-plus inning and charged with the loss.
Moments before Friday night's game, Buehler was optioned to Rancho Cucamonga, triggering speculation the move was designed to limit the pitcher's service time and delay salary arbitration and free agency. He continued to work out in Los Angeles.
Buehler was injured by a Trevor Story 108-mph liner off the right side of his chest on May 21. He stayed in that game for two more innings and made three more starts before leaving a June 8 game with pain and breathing trouble. The microfracture was discovered in an MRI after that game.
Ken Gurnick has covered the Dodgers for MLB.com since 2001.