Weather impacts Chisenhall's rehab schedule
Indians want right fielder to get solid number of at-bats before returning to Tribe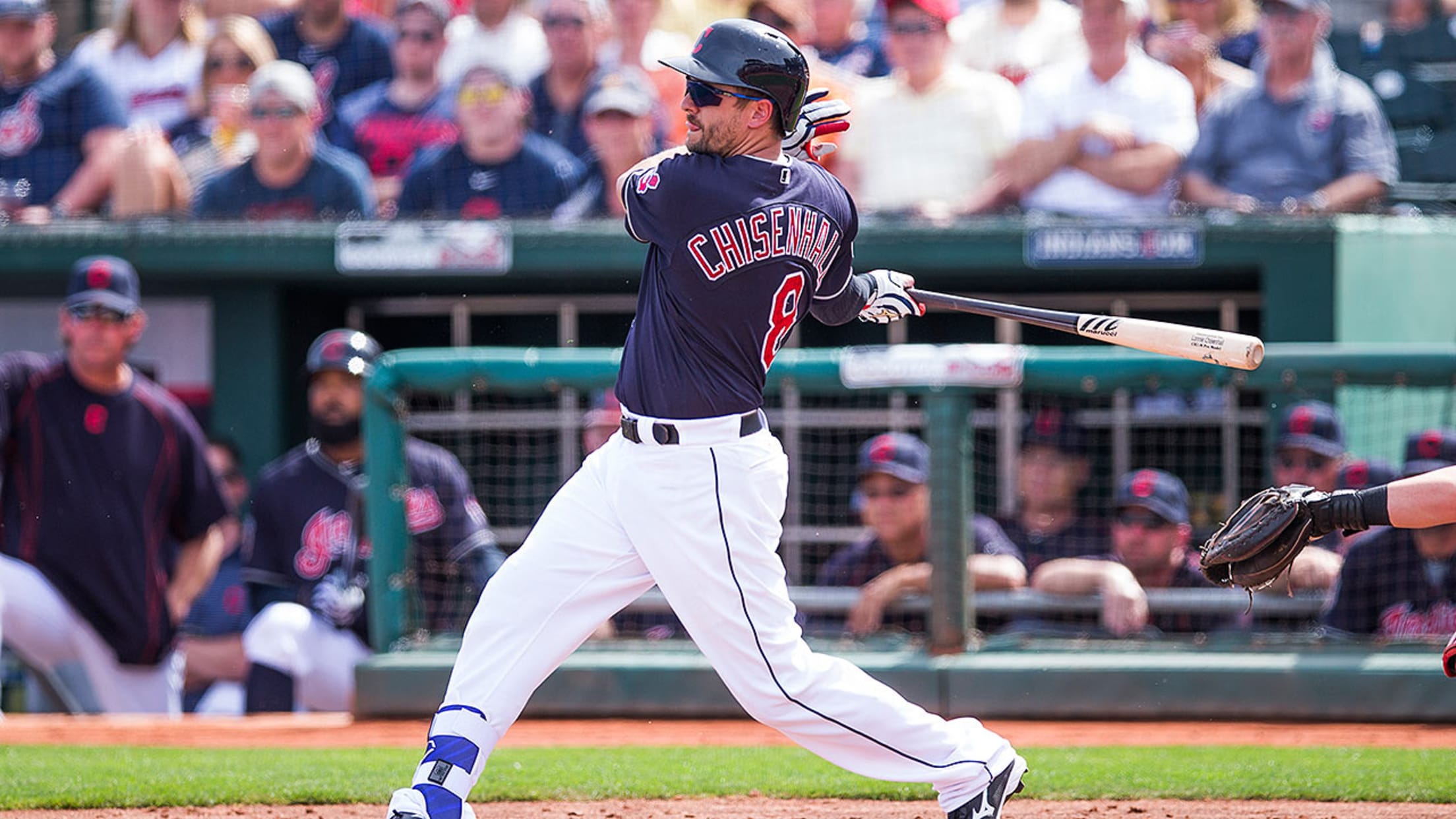 Lonnie Chisenhall went 2-for-26 at Spring Training this year. (Getty)
CHICAGO -- When Lonnie Chisenhall was placed on the disabled list to open the season, the Indians' right fielder expressed confidence that he could return as soon as his eligibility date arrived. Weather issues and Cleveland's upcoming schedule, however, will likely delay his comeback.On Sunday, Chisenhall officially began a Minor
CHICAGO -- When Lonnie Chisenhall was placed on the disabled list to open the season, the Indians' right fielder expressed confidence that he could return as soon as his eligibility date arrived. Weather issues and Cleveland's upcoming schedule, however, will likely delay his comeback.
On Sunday, Chisenhall officially began a Minor League rehab assignment with Triple-A Columbus, which had games postponed in each of the previous three days. The outfielder is eligible for activation on Tuesday, but the Indians are slated to face Rays lefties Matt Moore and Drew Smyly on Tuesday and Wednesday, respectively, making it unlikely that Chisenhall would be removed from the DL.
"He hasn't played [since March 27]," Indians manager Terry Francona said, "so we want to give him a chance where he doesn't hurt himself, but also, we want to let him feel good at the plate. That's the biggest thing. If he feels good at the plate, that'll be more of a telling sign."
In Spring Training, Chisenhall went 2-for-26 at the plate while battling tightness in his right forearm and a left wrist issue. The outfielder, who was in Cleveland's plans as the primary starter in right against right-handed pitching, was placed on the 15-day DL due to a left wrist impingement prior to Opening Day.
The Indians want Chisenhall to get a solid number of at-bats before returning to the Tribe, but the postponements for Columbus have hindered his schedule.
"What are you going to do?" Francona said. "He was able to hit on the field a couple days before it started to rain, so that was good. But with the facilities now, even in the Minor Leagues, you can hit in the cage and stuff. So it's not a total loss, but it'll be nice to get him in games."
Worth noting
• Indians left fielder Michael Brantley (15-day DL) has been working out with Triple-A Columbus this week, but there remains no firm date for the start of his Minor League rehab assignment. Brantley has been throwing, running the bases and hitting while continuing to work his way back from November surgery on his right shoulder.
"He's doing well," Francona said. "He's feeling really good, so that's good. There's nothing to announce [about his game schedule]. We'll let the trainers talk to him and see what the next move is."
• There was a report Saturday claiming that Indians pitcher Trevor Bauer crashed a drone into the new videoboard at U.S. Cellular Field before Cleveland's game against Chicago. Bauer, who builds and flies drones as a hobby, said Sunday morning that the aerial device never reached the board.
Bauer indicated that the drone is designed to cut its power if it runs into interference or flies out of range. The pitcher said the small drone dropped to the ground well ahead of the scoreboard. Bauer added that he has flown his drones in stadiums in accordance with the guidelines he received from MLB securities.
• On Sunday, the Indians sent outfielders James Ramsey and Zach Walters to the Dodgers in exchange for cash considerations. Both Ramsey and Walters were designated for assignment to clear room on the 40-man roster when the Indians set their Opening Day roster.