White Sox, 9 int'l free agents agree to terms
16-year-old OF Guerrero highlights group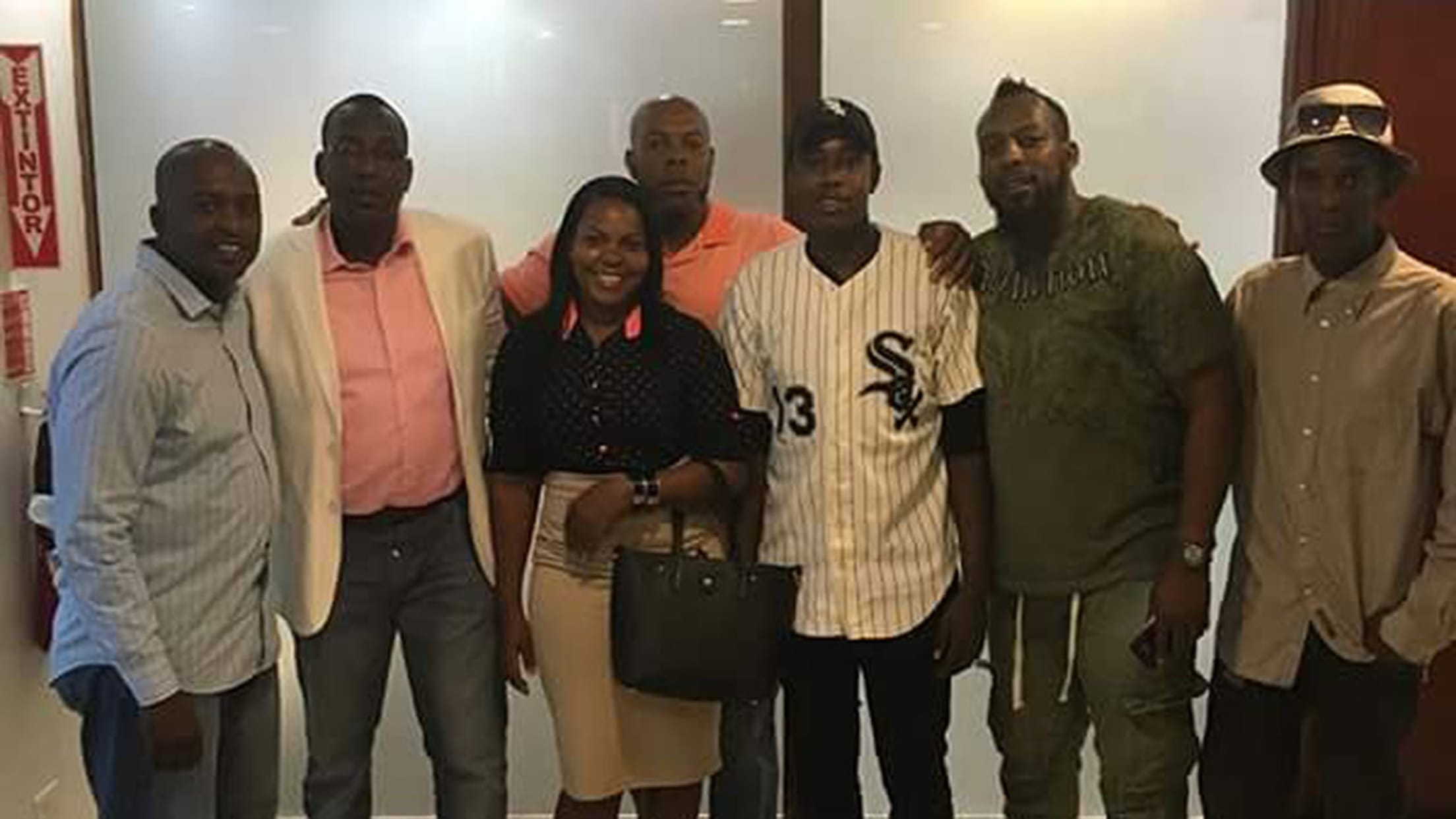 Josue Guerrero is the nephew of 2004 AL MVP Vladimir Guerrero. (Jesse Sanchez/Twitter)
HOUSTON -- The White Sox announced Saturday that they had agreed to terms with nine international free agents.Those players are outfielders Josue Guerrero, Luis Mieses, Anderson Comas and Anthony Coronado; right-handed pitchers Jenderson Caraballo and Brayan Herrera; left-handed pitcher Hector Acosta; infielder Lenyn Sosa and catcher Kleyder Sanchez.• Top 30
HOUSTON -- The White Sox announced Saturday that they had agreed to terms with nine international free agents.
Those players are outfielders Josue Guerrero, Luis Mieses, Anderson Comas and Anthony Coronado; right-handed pitchers Jenderson Caraballo and Brayan Herrera; left-handed pitcher Hector Acosta; infielder Lenyn Sosa and catcher Kleyder Sanchez.
• Top 30 International Prospects list | International signing day: Top prospect tracker
Guerrero, 16, is the nephew of 2004 American League Most Valuable Player Vladimir Guerrero and the younger brother of Gabby Guerrero, an outfielder in the D-backs' organization. At 6-foot-2, 190 pounds, the right-handed-hitting native of Bani, Dominican Republic, signed for $1.1 million, per MLB.com's Jesse Sanchez.
Meet the Guerreros. New #WhiteSox prospect Josue Guerrero is nephew of Vladimir. He signed for $1.1M. @MLBPipeline pic.twitter.com/Qg5eBGfxeY

— Jesse Sanchez (@JesseSanchezMLB) July 2, 2016
"He is a very similar player to his uncle at this same age in terms of his physical makeup, his body, his swing, his tools," Marco Paddy, the special assistant to White Sox general manager Rick Hahn, international operations, said in a team release. "Like several of these players, he has a chance to be a very special player."
Mieses, 16, is a left-handed hitter from Santo Domingo Este, Dominican Republic. Comas, at 6-foot-3, 185 pounds, is a left-handed hitter from Santo Domingo, Dominican Republic. Mieses signed for $428,000 and Comas for $425,000, again per Sanchez.
"Luis is a very good, very athletic power outfielder who can really swing the bat," Paddy said. "He is a natural hitter with a plus arm."
Last year's international signing period already has paid dividends for the White Sox, as they included Fernando Tatis Jr. as part of the trade package to San Diego in exchange for right-handed pitcher James Shields. Tatis Jr. was ranked as the No. 27 international prospect per MLBPipeline.com in 2015.
The White Sox have an international bonus pool this year of $2,973,500, but most of these players are young enough that they are five years or so away from making any sort of significant impact. The White Sox still have made great strides in adding important international talent.
"This year's 2016 White Sox signing class is very deep across a number of positions," Paddy said. "This is a big, physical and athletic group of young men who have impressed us both on and off the field as we have gotten to know them. Every one of these young men is a tribute to his family, and we are excited to have them begin their careers with the White Sox."
The White Sox expect additional Latin American signings in the coming months.