Ball takes over for Schneider as head trainer
White Sox round out training moves with Walker, Kruk, Reinold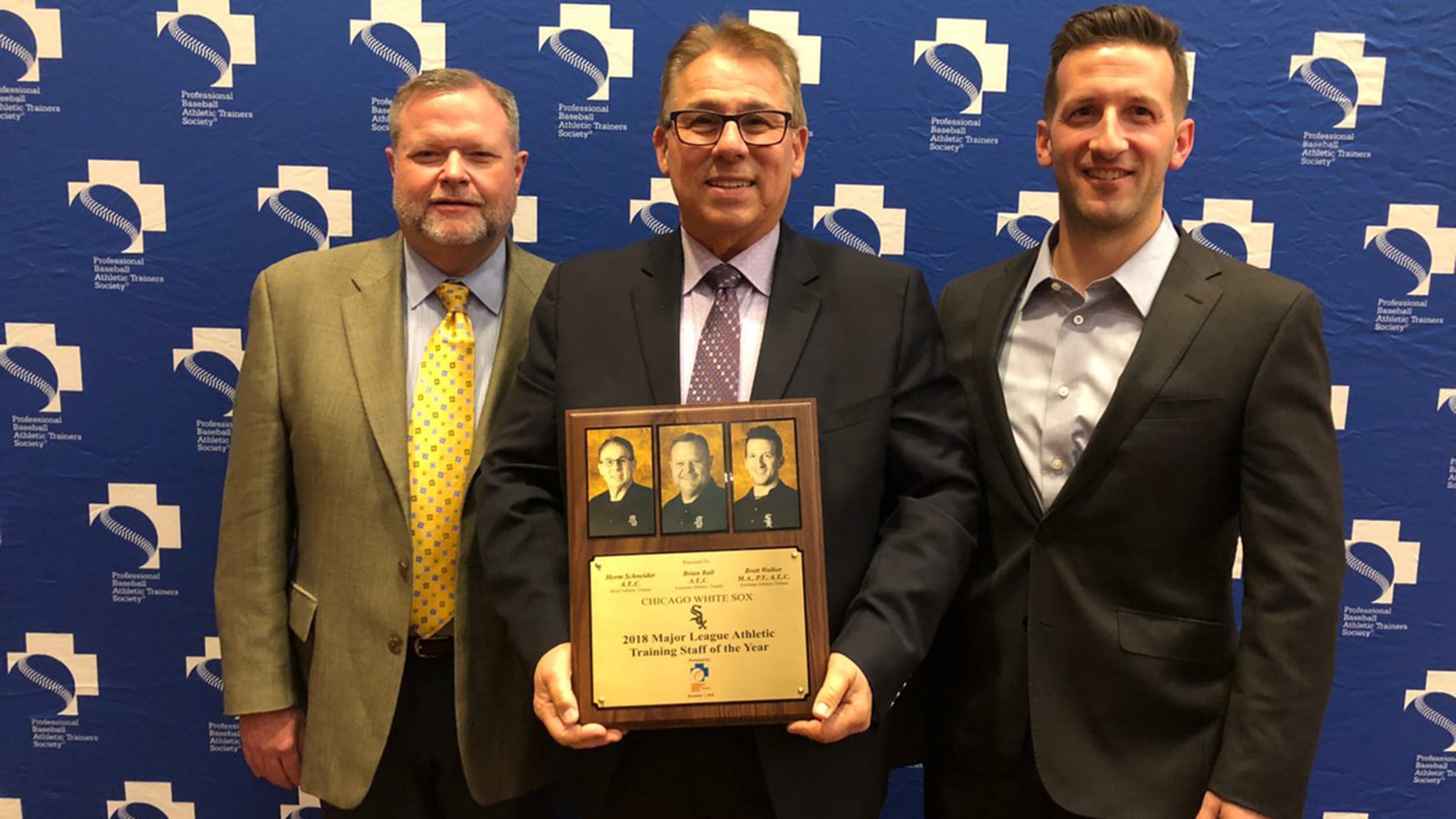 The White Sox turned to Herm Schneider's longtime assistant to fill his shoes as head athletic trainer in Chicago. Brian Ball has been promoted to the position after 18 years working alongside Schneider on the White Sox training staff.Brett Walker, who spent the last four seasons as White Sox physical
The White Sox turned to Herm Schneider's longtime assistant to fill his shoes as head athletic trainer in Chicago. Brian Ball has been promoted to the position after 18 years working alongside Schneider on the White Sox training staff.
Brett Walker, who spent the last four seasons as White Sox physical therapist, added assistant athletic trainer to his title. James Kruk was promoted from Triple-A Charlotte to assistant athletic trainer.
In addition, the White Sox announced the addition of Mike Reinold to the new role of senior medical advisor. Schneider will also serve as an advisor in his new role as head athletic trainer emeritus, a move the team announced earlier in the week.
"With Herm Schneider's move to an emeritus status and several standout trainers already in place on our staff, we decided to take this opportunity to re-imagine the high performance aspect of our medical, training, therapy and rehabilitation programs," general manager Rick Hahn said in a statement. "Mike is going to be one of the architects of those programs, while Brian, James and Brett have done terrific jobs in their current roles. Each deserves to assume more responsibility to provide the high level of care players are accustomed to with the White Sox."
The moves were announced on the same day Schneider, Ball and Walker were honored by the Professional Baseball Athletic Trainers Society as its Major League Athletic Training Staff of the Year.
"It's very gratifying and a tremendous honor that our staff has been recognized by our peers. Our entire training and medical staffs take a great deal of pride in giving the best possible care for everyone who wears a #WhiteSox uniform." -- Herm Schneider pic.twitter.com/2EWE6bHXZ4

— Chicago White Sox (@whitesox) December 7, 2018
Reinold worked on the athletic training staff of the Red Sox from 2006 to 2012, including head athletic trainer. More recently, he worked as physical therapist, athletic trainer, strength coach and owner of Champion Physical Therapy and Performance in Boston. He formerly served as facility director at Champion Sports Medicine and coordinator of rehabilitative research and clinical education at the American Sports Medicine Institute in Birmingham, Ala., under the direction of noted orthopedic surgeon Dr. James Andrews.
Ball joined the White Sox staff under Schneider prior to the 2001 season. The White Sox used the disabled list 185 times for 9,057 total days missed from '02-'18, both Major League lows in that span. The team led the American League in fewest player days missed in eight of those seasons.
Kruk joined the White Sox organization in 2008 and spent the last decade working his way up the system, from Rookie-level Great Falls ('09-'13) to Class A Kannapolis ('14-'15) to Double-A Birmingham ('16-'17), then Charlotte this past season.