Giolito joins Hooton Foundation Advisory Board
White Sox right-hander to teach youngsters about dangers of PEDs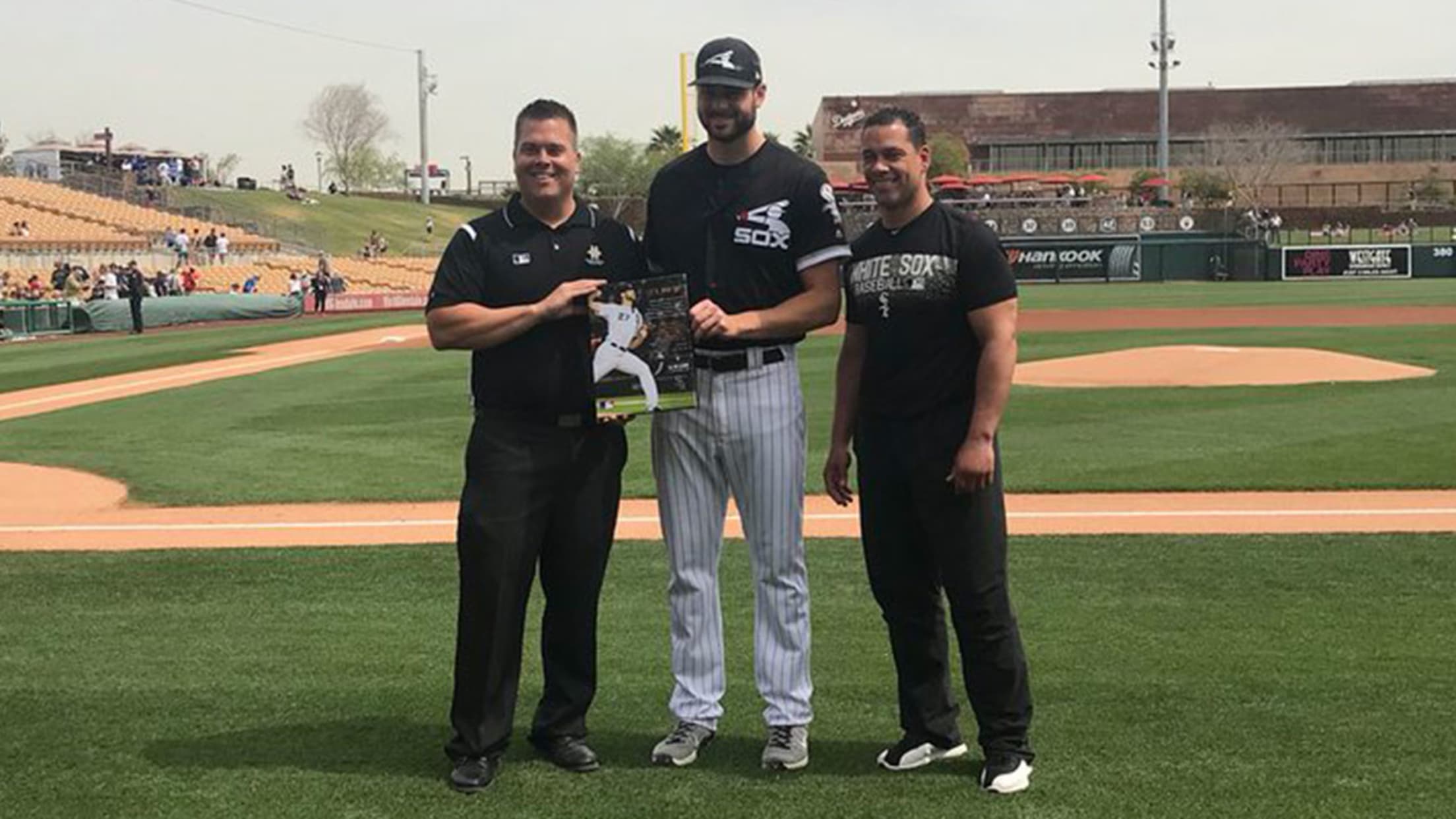 GLENDALE, Ariz. -- White Sox right-hander Lucas Giolito became the newest member of the Taylor Hooton Foundation Advisory Board on Wednesday, joining a large group of active Major League players leading the advocacy against performance-enhancing drugs.Giolito joins 34 other members of the Hooton Foundation's Advisory Board, which includes at least
GLENDALE, Ariz. -- White Sox right-hander Lucas Giolito became the newest member of the Taylor Hooton Foundation Advisory Board on Wednesday, joining a large group of active Major League players leading the advocacy against performance-enhancing drugs.
Giolito joins 34 other members of the Hooton Foundation's Advisory Board, which includes at least one player from 27 of the 30 Major League teams.
• Spring info | Tickets | Schedule
"It's very important for me, personally," Giolito said. "In professional sports, obviously, we are very strict against PEDs. To be able to use that platform to teach the younger generation about the risks and dangers to your overall health in the long term -- what those kinds of drugs can do to you -- I feel honored to be able to represent the team in that fashion, to be able to help educate them."
:: Spring Training coverage presented by Camping World ::
In an on-field ceremony before the White Sox-Padres game at Camelback Ranch on Wednesday, Giolito was presented with a canvas print of his 2018 "It's All Me" PSA by Donald Hooton Jr. and White Sox strength and conditioning coach Allen Thomas.
"We're thrilled to have Lucas join our Advisory Board of Major League players who have stepped up to serve as positive role models," said Hooton Jr., the president of the foundation. "Our young people today are driven to look their best and millions of middle and high school kids are using appearance- and performance-enhancing substances to achieve their goals.
"We're so proud of the support that Major League Baseball and these elite athletes provide to send a positive message to kids that they, too, can accomplish all their dreams without the use of drugs."
After Taylor took his life in 2003 due to anabolic steroids, our Foundation was established with the mission of enlightening the world to the truth about Appearance and Performance Enhancing Substances. #steroids #allmepedfree #education #taylorhooton #family pic.twitter.com/7ZoA5tLdmZ

— Taylor Hooton Foundation (@TheTHF) March 20, 2018
The Taylor Hooton Foundation is widely acknowledged as the lead advocate against appearance- and performance-enhancing drug use by the youth of America. Friends and family of Hooton formed the foundation in 2004 after his untimely death at 17 following his use of anabolic steroids.
To date, the Taylor Hooton Foundation has spoken to and educated more than one million people. It has a Latin-American outreach and travels throughout the Caribbean, speaking to thousands of athletes, coaches and parents, in partnership with MLB.