Myers completes greatest season in Petco Park history
First baseman sets marks for hits, HRs, RBIs and average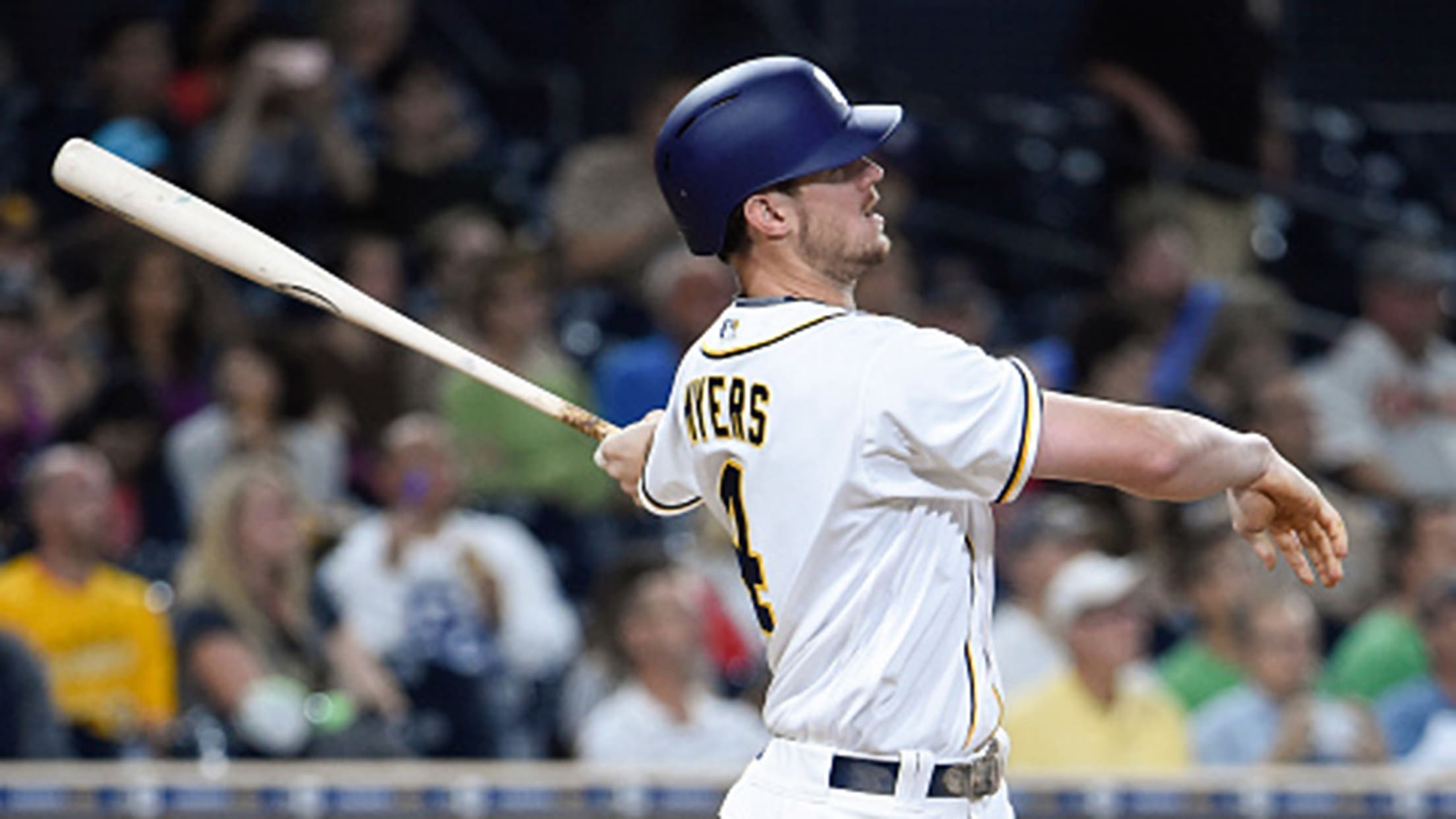 (Denis Poroy/Getty Images)
Bill Center, longtime sportswriter for U-T San Diego, is an employee of the Padres.First baseman Wil Myers hit for the records cycle at Petco Park this season.Myers, 25, hit .306 at Petco Park this season with 93 hits, 18 home runs, 58 RBIs and 60 runs scored. All are single-season
Bill Center, longtime sportswriter for U-T San Diego, is an employee of the Padres.
First baseman Wil Myers hit for the records cycle at Petco Park this season.
Myers, 25, hit .306 at Petco Park this season with 93 hits, 18 home runs, 58 RBIs and 60 runs scored. All are single-season Petco Park records. And there are more single-season Petco Park records for Myers -- 41 extra-base hits (including 20 doubles and three triples), 173 total bases, a .569 slugging percentage and a .957 OPS.
Myers' batting average was the highest ever at Petco Park among qualifying hitters (252 plate appearances). Myers was 93-for-304 at Petco Park this season - which is actually a .305921 batting average. In 2006, now Dodgers' manager Dave Roberts hit .3056768.
Those are the two highest averages in the 13-season history of Petco Park for any hitters with at least 252 plate appearances. However, outfielder Jon Jay, who went 2-for-4 Thursday night in the home finale, hit .307 at Petco Park this season -- which is the highest mark ever by a hitter with 200 or more plate appearances.
Myers' slugging percentage and OPS marks are based on a minimum of 200 plate appearances.
Myers' 18 home runs eclipsed the old Petco Park mark of 15 set by Will Venable in 2013 and tied by Justin Upton in 2015. The former Petco Park hit mark was 88 by Matt Kemp in 2015. The former RBI record was 51 by Chase Headley in 2012.
Myers, who is completing his first full Major League season, is hitting .203 on the road with 10 homers and 35 RBIs. Overall, Myers is hitting .256 with 28 doubles, four triples, 28 homers, 28 steals, 93 RBIs and 96 RBIs this season.
He is the only Padre to ever have 25 or more doubles, homers and steals in the same season.
Myers' 173 total bases at home is the third most in Padres history behind Gary Sheffield (197 in 1992) and Steve Finley (184 in 1996). The Sheffield and Finley marks were, of course, set in Mission Valley.
NOTES FROM THE SCOREBOOK
• Third baseman Yangervis Solarte was 2-for-5 with his 25th double Thursday night to extend his career-best hitting streak - and the longest by a Padres player this season -- to 14 games. During the streak, Solarte is hitting .385 (20-for-52) with four doubles, 12 RBIs and five runs scored.
• The Padres were 8-15 in left-hander Christian Friedrich's 23 starts this season and were 4-14 over his last 18 outings. Friedrich was 5-12 and was 1-10 in his last 11 decisions.
• The Padres posted a final 39-42 record at Petco Park this season, their best home mark since they went 45-36 during the 90-win season of 2010.