Ramos' parents surprise him at All-Star Game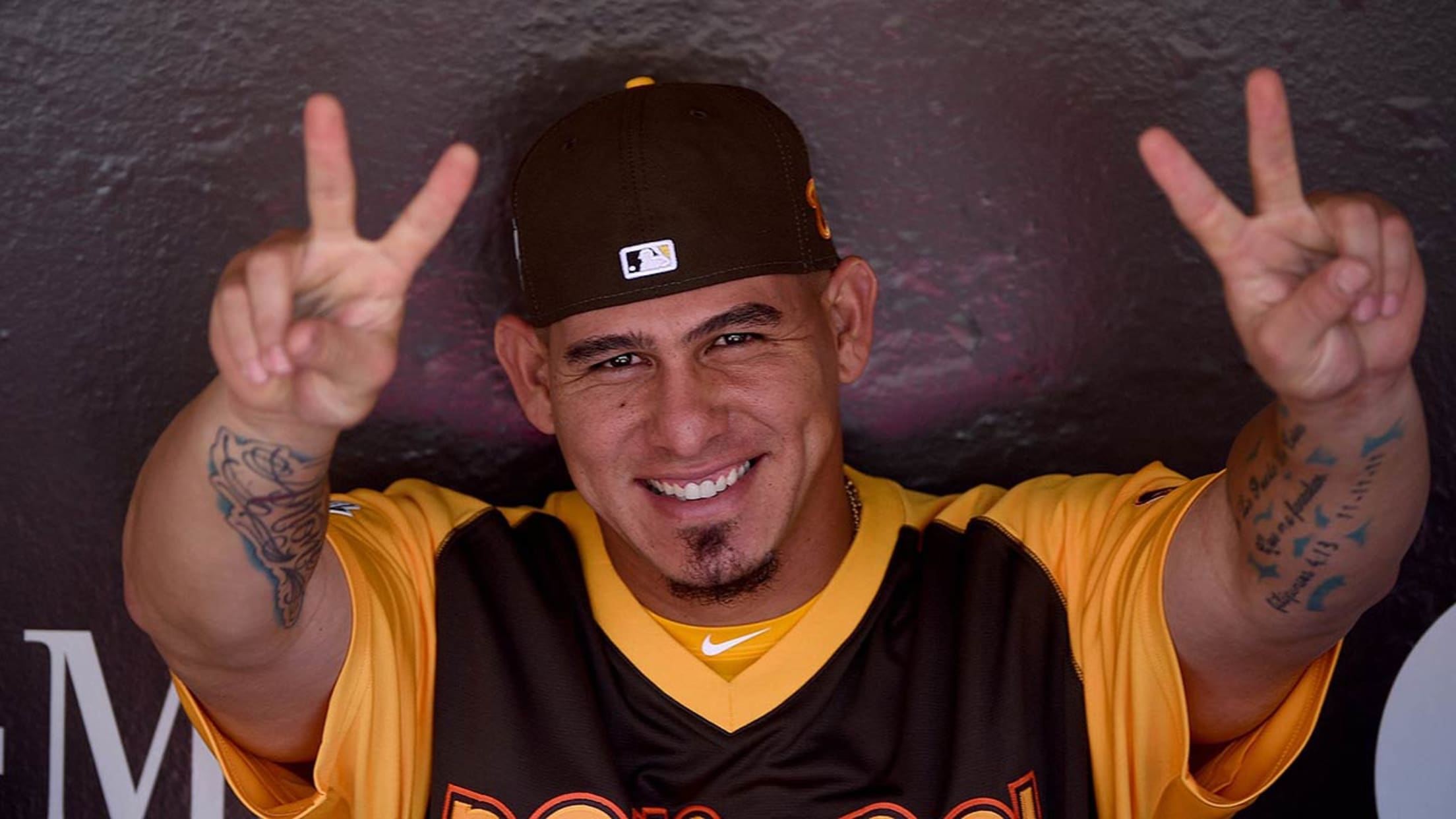 "I'm living the dream right now," Wilson Ramos said. (Nationals photo)
SAN DIEGO -- Wilson Ramos had a surprise waiting for him when he arrived in San Diego on Sunday night. His wife, Yeli, had arranged for both of his parents to be flown in from Venezuela without Ramos' knowledge.The fact that Ramos' parents, wife, daughter and brother were able to
SAN DIEGO -- Wilson Ramos had a surprise waiting for him when he arrived in San Diego on Sunday night. His wife, Yeli, had arranged for both of his parents to be flown in from Venezuela without Ramos' knowledge.
The fact that Ramos' parents, wife, daughter and brother were able to share the experience of his first career All-Star Game made the experience even more special. The family made sure to capture the moment Monday afternoon, snapping photos of Ramos while he met with members of the media and taking a family picture in front of his nameplate.
"It's a special moment for me, Ramos said. "I'm living the dream right now."
:: Complete All-Star Game coverage ::
The 2016 All-Star Game presented by MasterCard and staged at Petco Park is set for tonight, with coverage starting at 7:30 ET on FOX.
In the weeks leading up to the announcement, Ramos made no secret that it would mean a lot to him to make his first All-Star team. He had earned his selection after a breakout performance through the first half, where he batted .330/.382/.536 with 13 home runs.
Ramos underwent Lasik surgery during Spring Training to help improve his vision, and he credits his improvements at the plate to the procedure. Ramos struggled at times last season to see the spin on breaking balls, and he would often chase pitches out of the zone.
But Ramos also worked out in Florida for the first time this offseason, which Nationals general manager Mike Rizzo also contributes to his success.
"I think that had a lot to do with it," Rizzo said. "He came to camp in the best shape of his Nats career. A lot was made of the Lasik surgery. I think that had some impact, but more so it's the shape, mindset and comfort level."
"That's the first time I worked all offseason, every month, every day," Ramos said. "That helped me a lot to be more strong, healthy and have more agility behind the plate."
And the Nationals worked to make sure Ramos got to spend that time with his family in Florida. It's something Rizzo said he believed helped put Ramos' mind at ease considering all Ramos has endured in his life, including the fact that he was abducted for 48 hours in the fall of 2011 outside of his family's home in Venezuela.
"It was easier for me to work," said Ramos, who added that he used to fly back to Venezuela almost immediately after the season ended. "I can work and enjoy time with my family at the same time."