Ramos eyeing June return from torn ACL
Catcher receives Silver Slugger Award in pregame ceremony Tuesday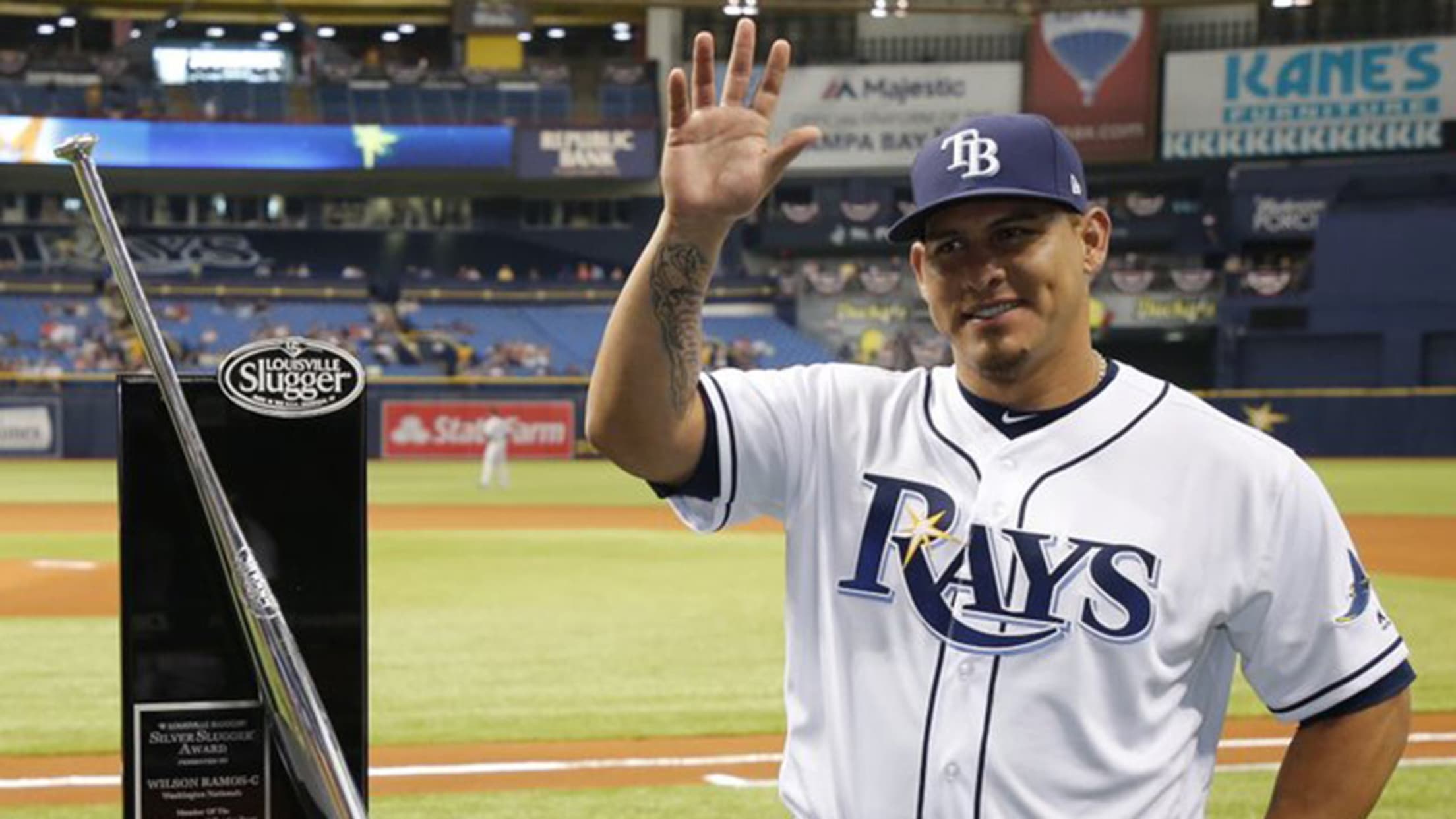 Wilson Ramos is a career .269 hitter over 585 MLB games from 2010-16. (Rays)
ST. PETERSBURG -- Wilson Ramos is still rehabbing from the torn anterior cruciate ligament in his right knee, so Tuesday night -- when Ramos received the Silver Slugger Award for National League catchers in a pregame presentation at Tropicana Field -- allowed Rays fans to get a look at the
ST. PETERSBURG -- Wilson Ramos is still rehabbing from the torn anterior cruciate ligament in his right knee, so Tuesday night -- when Ramos received the Silver Slugger Award for National League catchers in a pregame presentation at Tropicana Field -- allowed Rays fans to get a look at the All-Star backstop who should be joining the team by midseason.
Ramos hit .307 with 22 home runs and 80 RBIs for the Nationals last season, earning him his first Silver Slugger Award, an honor voted on annually by NL managers and coaches.
"To me, it's very special [to receive the award]," Ramos said. "I was working very hard for that. It was an incredible year last year. … Last year, that was a special year for me. ... And finally, I did a really good job with my bat. I won that award, so that's really special. [I was] very happy [to win] that award."
Ramos said he is working "very hard" on his rehab.
"I know it's a long rehab, and a slow process, but hopefully I'll come back soon and help the team win a lot of games," Ramos said. "That's my goal right now."
Earlier today, @WRamosC3 was presented with his first Silver Slugger Award. He batted .307 with 22 HR and 80 RBI for the @Nationals in 2016. pic.twitter.com/9PKNQM8vEc

— Tampa Bay Rays (@RaysBaseball) April 4, 2017
Ramos allowed that he did not "have a specific time" for his comeback.
"But hopefully in the beginning of June, I will be ready," Ramos said. "That's the schedule we have right now. Pretty soon I will start throwing, I will start swinging. Probably next month I will start squatting and making some moments. Probably the beginning of June I'll start playing."
Ramos said he's worked hard since right after the surgery. At first he could only work out his upper body, which he said he did every day.
"Now I can do lower, I can do upper, I can do everything right now," Ramos said. "I'm really strong, because I've been doing a really good job with the strength coach."
Staying strong mentally is part of the battle as well.
"It's really hard," Ramos said. "You want to play, but you can't. I understand this process after being on the DL a couple of times in my career. I know I need to relax and stay focused, keep working and try to come back soon."
Bill Chastain has covered the Rays for MLB.com since 2005.