These players are X-factors in the NL playoff race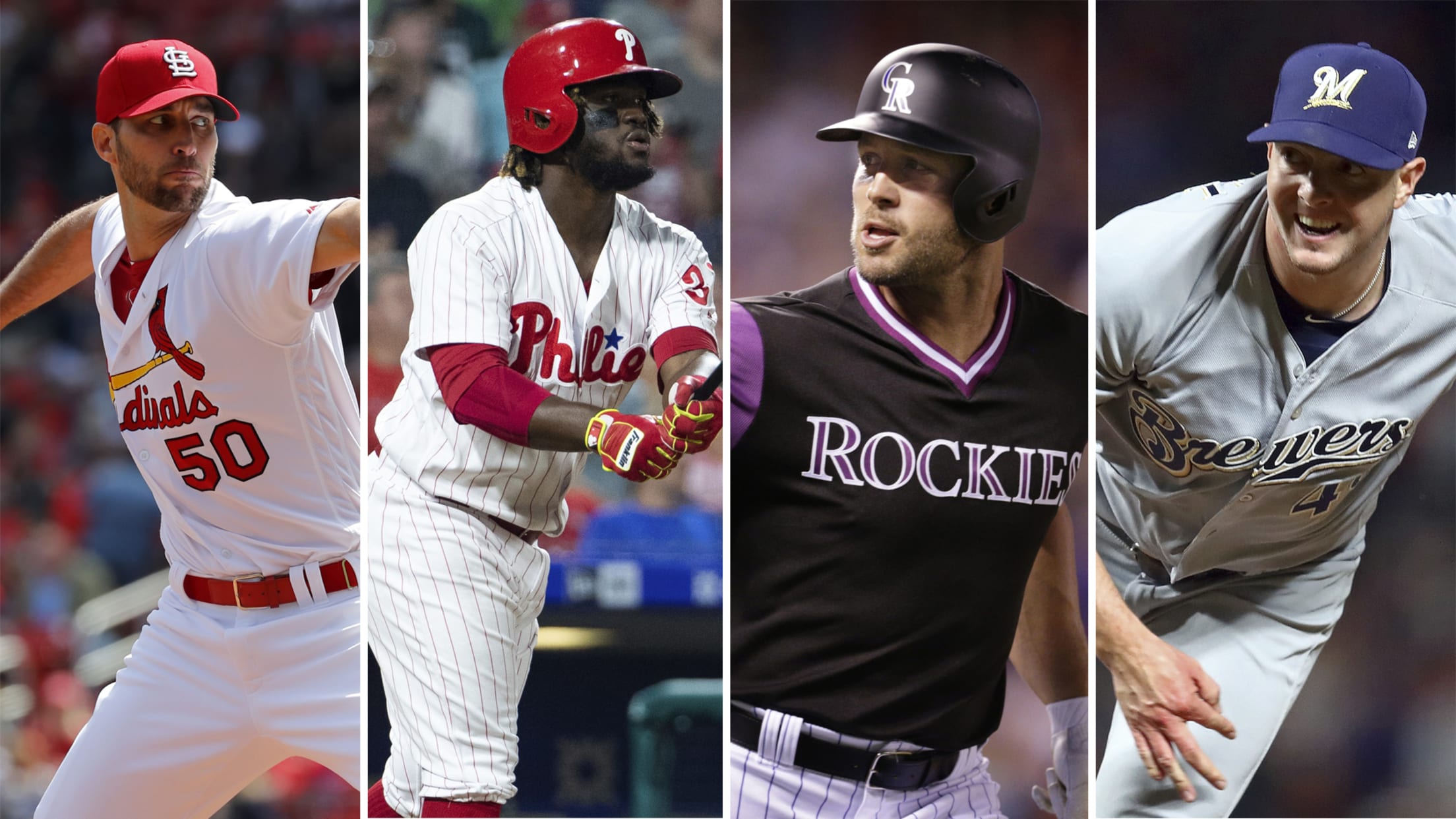 Some National League contenders are turning to kids, some to veterans hoping to snap out of a slump or jump-start their careers. One thing connects them all: These are September X-factors -- players who could help decide postseason berths in a tight playoff chase.Veteran right-hander Adam Wainwright could give the
Some National League contenders are turning to kids, some to veterans hoping to snap out of a slump or jump-start their careers. One thing connects them all: These are September X-factors -- players who could help decide postseason berths in a tight playoff chase.
Veteran right-hander Adam Wainwright could give the Cardinals a spark down the stretch. The Cardinals surely felt some comfort in seeing him back on the mound Monday as they try to gain ground in the NL Central and gain some breathing room in the Wild Card race.
Meanwhile, the Rockies have turned to Wainwright's buddy, Matthew Holliday, for a similar boost. No NL team has come close to locking in a playoff berth or even feeling all too comfortable about getting one.
All three division races remain wide open, even the NL East, where the Braves have a five-game lead over the Phillies, who've seen their margin for error reduced significantly.
In all, eight teams are within five games of one of the five postseason berths. By contrast, the American League may be down to playing for seeding with the closest contenders, the Mariners and Rays, each 7 1/2 games back. It's not over in the AL, but it's getting late for the Mariners and Rays.
With the NL race in mind, let's check out an X factor for each of the eight contenders with less than three weeks remaining in the regular season:
Odubel Herrera, Phillies CF
Herrera has seemingly hit a wall, batting .191 since the beginning of August after establishing himself as one of the most exciting players in the game this year. Other teammates are struggling as well as the Phillies entered Tuesday having lost 14 of 20 games while being held to three runs or fewer 10 times. But Herrera was such an electric presence in the first half that he's the guy who might singlehandedly be able to get the Phils going again.
Corey Knebel, Brewers RHP
Knebel has faced 15 hitters and retired them all since returning from a 10-day stay in the Minor Leagues. Regardless of whether Brewers manager Craig Counsell uses Knebel at the ends of games or as a setup man, he could join Joakim Soria, Josh Hader and Jeremy Jeffress to give Milwaukee a bullpen as good as any.
Archie Bradley, D-backs RHP
Bradley has been as good as almost any reliever in the game the past two seasons, so it figured he would struggle at some point. That the problems have come with the D-backs in the midst of a tough race makes his 27.00 ERA in four appearances this month more glaring. Manager Torey Lovullo may use him in some lower-pressure situations until he gets back on track.
Julio Urias, Dodgers LHP
This 22-year-old left-hander was once one of baseball's most highly regarded pitching prospects. Now, having undergone shoulder surgery last year, the Dodgers do not know what to expect from him, especially since he struggled in his Minor League appearances. But the Dodgers recalled Urias on Monday, hoping that he could deepen the bullpen.
Brandon Morrow, Cubs RHP
Having not pitched since July 15 because of biceps inflammation, Morrow seems likely to get back in a game at some point this week. Manager Joe Maddon will then begin making an assessment about when and how much Morrow could pitch and whether he could be available for a possible postseason run.
Adam Wainwright, Cardinals RHP
He made his first start since May 13 on Monday, allowing four runs on seven hits over five innings in the Cards' 8-7 win, as he attempts to carve out a role for himself the remainder of the season. The Cardinals have ridden young pitching and a hot Matt Carpenter to stay in the postseason picture, and a healthy and productive Wainwright could give manager Mike Shildt another interesting option.
Matt Holliday, Rockies OF
Since making his 2018 debut on Aug. 23, Holliday has surpassed every expectation in returning to the team with which he started his big league career in 2004. Manager Buddy Black has made the 38-year-old his near-everyday left fielder on a team that needed another offensive threat.
Freddie Freeman, Braves 1B
Freeman has had a tough go of it the past month after one of the best starts of his career. He began Tuesday having homered once in his last 97 at-bats, and while the Braves are closing in on a return to the postseason, they could use him to shore up a lineup that has been largely carried by rookie Ronald Acuna Jr.