Pipeline preview: Alvarez aims to extend hitless streak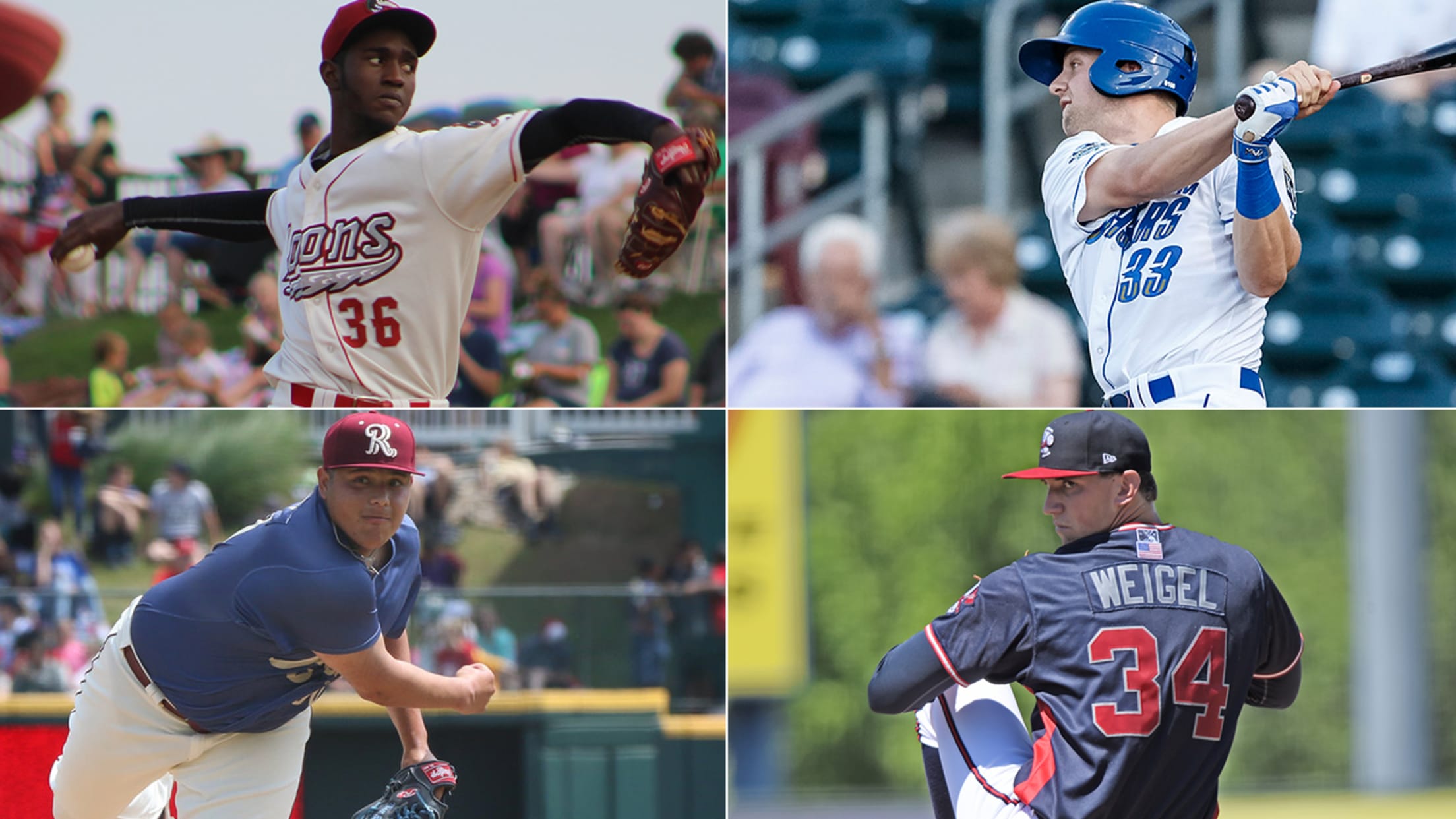 Here's a look at top prospects to watch in Monday's Minor League action:Hitter to watch: Hunter Dozier (Royals' No. 2), Omaha vs. Nashville (8:05 p.m. ET on MiLB.TV)Dozier, 24, homered for a second straight game on Sunday, when he went 2-for-4 with four RBIs for Triple-A Omaha. The deep fly
Here's a look at top prospects to watch in Monday's Minor League action:
Hitter to watch: Hunter Dozier (Royals' No. 2), Omaha vs. Nashville (8:05 p.m. ET on MiLB.TV)
Dozier, 24, homered for a second straight game on Sunday, when he went 2-for-4 with four RBIs for Triple-A Omaha. The deep fly was his 23rd of the season and 15th since he was promoted to the Pacific Coast League, where he's hit .306 with 50 RBIs in 94 games.
Pitcher to watch: Yadier Alvarez (Dodgers' No. 6), Great Lakes vs. Fort Wayne (7:05 p.m. ET on MiLB.TV)
Alvarez has been dominant with the move up to Class A Great Lakes, posting a 2.36 ERA and a 0.97 WHIP over 26 2/3 innings (six starts), with 42 strikeouts and seven walks. Before that, the 20-year-old righty turned in five impressive starts in the Arizona League during which he surrendered just nine hits in 20 innings. Overall, Alvarez has limited opposing hitters to a .166 average across 46 2/3 innings and tossed five hitless frames in his most recent start for the Loons.
Duel of the day: Luis Ortiz (Brewers' No. 5) vs. Patrick Weigel (Braves' No. 28), Biloxi vs. Mississippi (7:40 p.m. ET on MiLB.TV)
Ortiz, No. 58 on the Top 100, has yet to allow an earned run in three starts for Double-A Biloxi after coming over from the Rangers as part of the deal for Jonathan Lucroy and Jeremy Jeffress at the non-waiver Trade Deadline. The 20-year-old right-hander has posted a 2.94 ERA with 70 strikeouts and 18 walks over 79 2/3 innings (19 games/17 starts) between Double-A Frisco, Biloxi and Class A Advanced High Desert.
Weigel will skip the Class A Advanced level when he makes his debut for Double-A Mississippi. A seventh-round selection in 2015, the 6-foot-6 right-hander has jumped on the prospect radar this year thanks to his impressive full-season debut at Class A Rome, where he went 10-4 in 21 starts. The 22-year-old posted a 2.51 ERA over 129 innings in that span, with a South Atlantic League-leading 135 strikeouts.
Monday's Top 100 prospect probables
No. 38 Jose De Leon (Dodgers' No. 2), Oklahoma City at New Orleans (7 p.m. ET on MiLB.TV)
No. 72 Brady Aiken (Indians' No. 2), Mahoning Valley vs. State College (7:05 p.m. ET)
No. 87 Ian Anderson (Braves' No. 5) vs. Jose Espada (Blue Jays' No. 20), Danville vs. Bluefield (7 p.m. ET)
More top prospect probables
Rookie Davis (Reds' No. 7), Louisville vs. Toledo (Triple-A)
Kyle Freeland (Rockies' No. 8), Albuquerque vs. Fresno (Triple-A)
Robert Gsellman (Mets' No. 14), Las Vegas at Tacoma (Triple-A)
Dillon Overton (A's No. 15), Nashville at Omaha (Triple-A)
Chris Ellis (Braves' No. 16), Gwinnett vs. Rochester (Triple-A)
Victor Payano (Rangers' No. 28), Round Rock vs. Colorado Springs (Triple-A)
Tyler Mahle (Reds' No. 6) vs. Josh Taylor (D-backs' No. 27), Pensacola vs. Mobile (Double-A)
Tyler Alexander (Tigers' No. 7), Erie vs. Richmond (Double-A)
Conner Greene (Blue Jays' No. 10), New Hampshire at Portland (Double-A)
Yency Almonte (Rockies' No. 20), Hartford at Binghamton (Double-A)
David Hess (Orioles' No. 25), Bowie at Trenton (Double-A)
Nick Neidert (Mariners' No. 4), Clinton at Beloit (Class A)
Max Fried (Braves' No. 11) vs. Jesus Tinoco (Rockies' No. 23), Rome at Asheville (Class A)
Franklin Perez (Astros' No. 12), Quad Cities at Cedar Rapids (Class A)
Tony Santillan (Reds' No. 13), Dayton vs. Lansing (Class A)
Cody Poteet (Marlins' No. 16), Greensboro vs. Hickory (Class A)
Luis Martinez (White Sox No. 25), Kannapolis vs. West Virginia (Class A)
Sam McWilliams (D-backs' No. 29), Kane County at Burlington (Class A)
Robert Tyler (Rockies' No. 16), Boise at Vancouver (Class A Short Season)
Mike Shawaryn (Red Sox's No. 22), Lowell vs. Brooklyn (Class A Short Season)
Alex Wells (Orioles' No. 29), Aberdeen vs. Vermont (Class A Short Season)