Inbox: What's the cause of Didi's slump?
Beat reporter Bryan Hoch answers questions from Yankees fans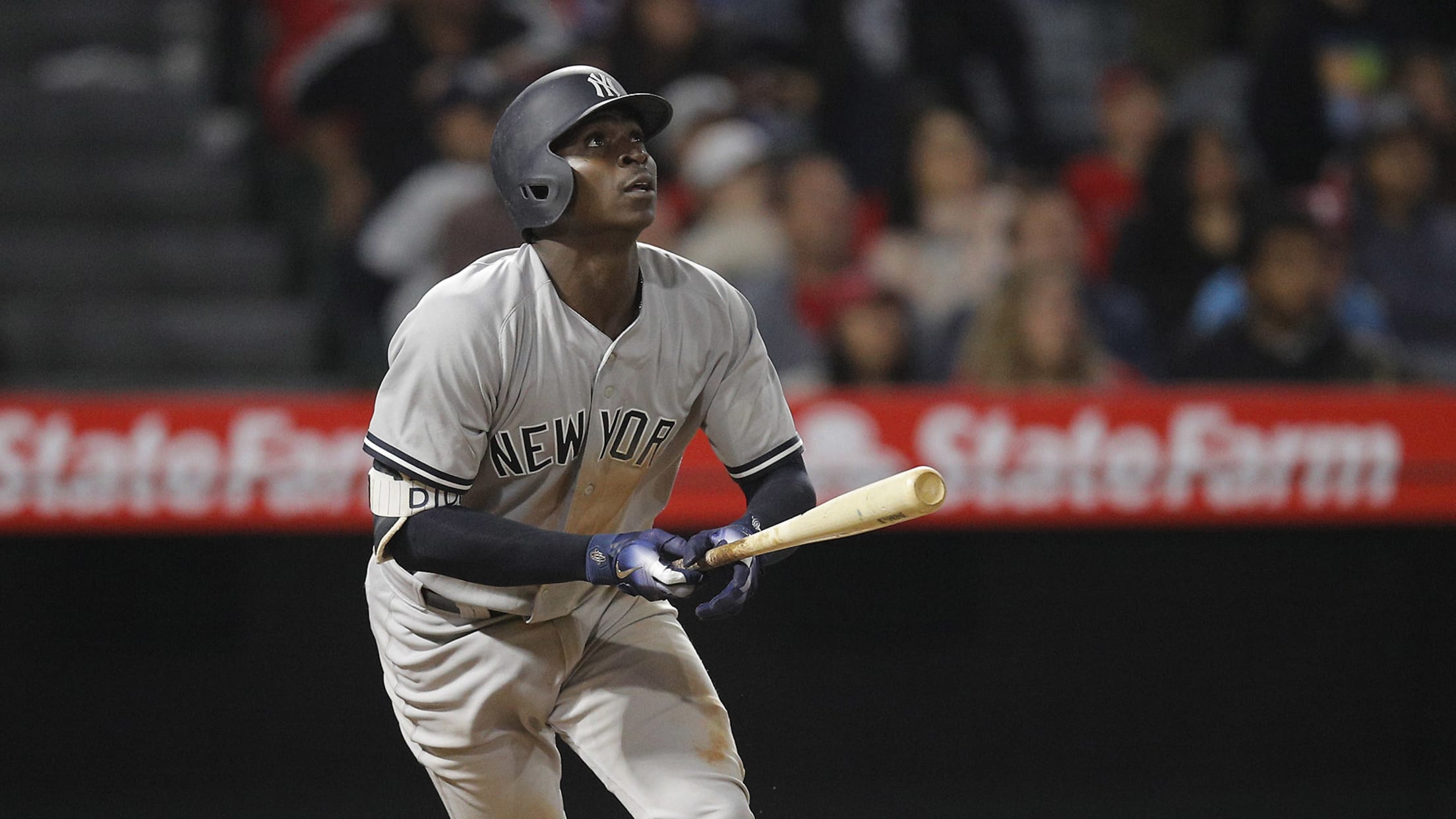 New York Yankees' Didi Gregorius watches after hitting a home run during the 10th inning of a baseball game against the Los Angeles Angels, Friday, April 27, 2018, in Anaheim, Calif. (AP Photo/Jae C. Hong) (Jae C. Hong/AP)
Didi Gregorius has been in a bad slump in the month of May. Is there anything contributing to this? Do you think giving him an extra day or two off, or moving him down in the lineup would help? -- Bill P., New YorkDays off aren't an issue now, thanks
Didi Gregorius has been in a bad slump in the month of May. Is there anything contributing to this? Do you think giving him an extra day or two off, or moving him down in the lineup would help?
-- Bill P., New York
Days off aren't an issue now, thanks to the poor weather that had the Yankees playing just 5 1/2 innings over a four-day span this week, but there was some regression to be expected after Gregorius played like an MVP Award candidate in April. Manager Aaron Boone had mentioned several times that Gregorius was playing "banged up" that month, but he now says there are no physical issues affecting his shortstop.
The 1-for-38 skid that Gregorius will carry into Friday's game against the Royals represents a shocking reversal of fortune for the reigning American League Player of the Month. Gregorius isn't happy with the results, of course, but he said that he hasn't picked up on pitchers attacking him any differently than they did last month.
:: Submit a question to the Yankees Inbox ::
"Not at all, basically," Gregorius said. "It's the same thing. If you look at the pitches I hit and the pitches I didn't hit, the solid contact and not-solid contact has probably been the same. I'm just not getting hits."
I asked MLB.com's David Adler to dive into the Statcast™ vault, and he reported that Gregorius' read is accurate: Gregorius' hard-hit rate in March/April was 36.0 percent, compared with 33.3 percent in May. The main problem is that Gregorius is hitting more grounders; 46.7 percent of his hard-hit balls have been on the ground, compared with 22.6 percent in March/April. Gregorius' average launch angle has dropped from 20.7 degrees to 15.8 degrees.
Boone moved Gregorius down from the No. 3 spot in the lineup to the No. 5 spot for Tuesday's game at Washington, but he said that was more about having to assemble a lineup under National League rules. Boone said that he is encouraged by Gregorius' recent at-bats and how he has handled the mental side of the slump.
"In fact, if you look back at a lot of our games of late, there's been two or three times in a game where he's hit some balls the other way pretty deep out there," Boone said. "He's lined into some trouble. He's going through a tough stretch, but I don't think it's as bad as not getting hits."
Was the Andrew Miller trade really a good one? Miller may have pushed the Yankees to the World Series last year. The trade is often mentioned as part of the rebuild, but hasn't shown to be that yet.
-- Jason S., Washington
Generally speaking, baseball people will tell you that it takes five or 10 years to properly evaluate a trade. Sometimes you can get a read sooner than that -- for example, the July 2016 Albertin Chapman trade to the Cubs already appears to be a slam-dunk for the Yankees, considering it fitted Gleyber Torres for pinstripes. It also worked out for the other side; even if Torres becomes a perennial All-Star, hey, the Cubs got their parade.
But it's an interesting question. I hadn't considered the impact Miller might have had on the 2017 Yankees, but clearly he would have made a strong bullpen even more lethal. Do they get to the World Series (or at least make up the two-game deficit on the Red Sox in the AL East) with him on board? Perhaps. Then again, who would Greg Bird have homered off in the AL Division Series?
I would give the group that the Yankees acquired -- Clint Frazier, Justus Sheffield, Ben Heller and J.P. Feyereisen -- more time to make their names. Frazier is 23 and has already had some big league success, while Sheffield is 22 and ranks as the Yankees' top pitching prospect by MLB Pipeline. And remember, Miller is a free agent after this year -- maybe there's another chapter in pinstripes for him, too.
Do you think the Yankees will move on from Brett Gardner at the end of the season and have Frazier take over?
-- Ralph H., via Twitter
The Yankees haven't discussed their plans with their longest-tenured player, though Gardner has expressed hope that he will be able to remain with New York. His contract is affordable, with a $12.5 million option for 2019 and a $2 million buyout. On that alone, I think it's possible that the Yankees will keep him for at least another season. Gardner's batting average and slugging percentage will probably improve by season's end, and his .351 on-base percentage is on par with career norms.
That said, Frazier continues to be an exciting talent whom the Yankees believe is part of their long-term plan. You heard that this week, when Boone and general manager Brian Cashman said that they don't want to have him in the big leagues riding the pine. That's not because they don't think he's capable of playing at the highest level; it's more about not stunting his development.
Frazier understands that it's already a crowd with Gardner, Aaron Hicks, Aaron Judge and Giancarlo Stanton. Oh, and by the way -- the Yankees could, in the offseason, add someone like Bryce Harper, too. Much depends on how the rest of this season and the early part of the offseason plays out, so I'm going to say it's too early to call this one.
Is Stanton here for the long run, or will he be traded to the Dodgers, freeing up money for Harper or Clayton Kershaw?
-- Jerry D., Long Island, N.Y.
That thought hadn't even crossed my mind; I don't think you make a blockbuster addition like Stanton just to talk about flipping him to another team seven or eight weeks into the season. The Marlins tried to woo the Dodgers to trade for Stanton this past offseason, but they were told that they couldn't make it work financially. You know the rest of that story.
A better question might be Stanton's place on the Yankees' roster after 2020, when he can opt out of the remaining seven years and $218 million on his deal. Both Stanton and his agent, Joel Wolfe, are already on record as saying that they have no intention of using it.
Since Stanton would have to believe he could score a bigger deal on the open market to even consider such a scenario, I would say the most likely outcome is that Stanton truly is in New York for the long haul -- assuming no opt-out, he's under contract at least through 2027, when he'll be 37. And despite the slow start and the boos he heard at home, Stanton seems to be loving the chance to play in games that matter.
Wouldn't it be great to add a proven postseason starter at the Trade Deadline to have that presence in the locker room? Perhaps Cole Hamels?
-- Mike B., via Twitter
That's one idea that seems to be in play, considering Hamels is a free agent after this season and pitching for a non-contending Rangers team. Hamels might not be the ace that he was back in the Phillies' World Series days, but he's a solid piece for whom teams shouldn't have to break the prospect bank.
MLB.com's Jon Morosi has reported that Hamels included the Yankees among 21 teams to whom he can block a trade, though that isn't necessarily a deal-breaker. There are some luxury tax implications to work through, but the short answer is that the Yankees could acquire Hamels and still come in under $197 million for 2018. Stay tuned on that one.
Is management going to choose a new captain? It is high time they did. Didi would make a good captain.
-- Khaire S., Singapore
Would you settle for "captain of the infield," the term Boone used to describe Gregorius this spring? I don't sense any urgency on the Yankees' part to fill Derek Jeter's old role; it's largely a ceremonial title, but also one that you don't want to throw around lightly.
Even without a specifically named captain, leadership flows from several areas on the roster -- Gregorius heads the infield, Gardner in the outfield and Carsten Sabathia on the pitching staff. That's similar to how it was even back in Jeter's day, when the relievers would congregate around Mariano Rivera. In a good clubhouse, the players know how to police themselves.