Saturday's best: Mateo fills out box score despite shortened game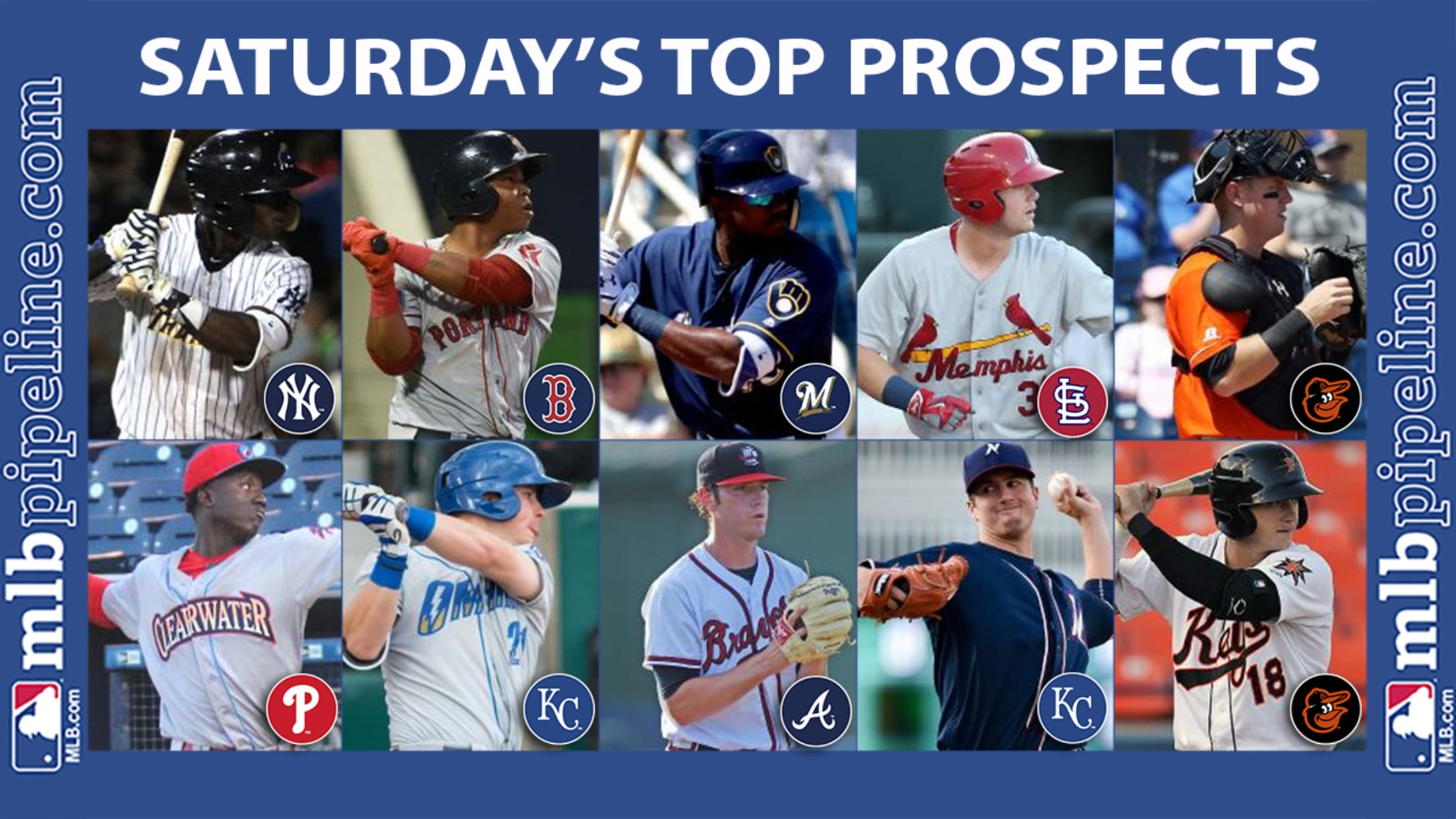 Jorge Mateo only had six innings to work with as Double-A Trenton's 13-4 win over New Hampshire was completed early due to rain.However, the abbreviated game proved to be more than enough as the Yankees' No. 4 prospect (No. 37 overall) matched his career high, set in 2013, with four
Jorge Mateo only had six innings to work with as Double-A Trenton's 13-4 win over New Hampshire was completed early due to rain.
However, the abbreviated game proved to be more than enough as the Yankees' No. 4 prospect (No. 37 overall) matched his career high, set in 2013, with four RBIs. Mateo was also 4-for-4, his third four-hit game of the season, and also stole his 30th base in the process.
Mateo, playing in just his fourth game with the Thunder since he was promoted from Class A Advanced Tampa, got off to a fast start by singling and promptly stealing second in the first inning. However, the 22-year-old was caught trying to swipe third and Trenton didn't score in the frame.
That all changed in the second as Mateo cleared the bases with a three-run triple. Mateo drove in another run with a base hit in the fifth and later capped his perfect night with a single in the sixth.
MILB Video - Title: Mateo's bases-clearing triple - Url: http://www.milb.com/r/video?content_id=1562358883
While Mateo was putting together a strong game for Trenton, Richard Urena (Blue Jays' No. 4, No. 80 overall) also had a productive day at the plate, going 2-for-3 with a double and an RBI.
Other top prospect performances from Saturday's action:
• No. 12 overall prospect Rafael Devers (Red Sox's No. 1) hit his 17th homer of the season for Double-A Portland as part of a 2-for-4, two-RBI night. Devers was red-hot in June, batting .326 with eight homers over a 23-game span and appears to be starting off July on the right track as well.
• No. 13 overall prospect Lewis Brinson (Brewers' No. 1) continues to rake for Triple-A Colorado Springs. Brinson went 2-for-5 with three RBIs, boosting his average to .322, but it wasn't enough as Colorado Springs fell 9-6 to Omaha. Brinson struggled during a 14-game stint with the Brewers but has been hot in his return to Triple-A with hits in six of the seven games he's played in, including a trio of multi-hit efforts.
• No. 32 overall prospect Carson Kelly (Cardinals' No. 2) hit his eighth homer of the season in a win for Triple-A Memphis. Kelly, batting .284 through 58 games, went 1-for-3 with two RBIs in the contest and is 4-for-11 (.363) with four RBIs over his past three games.
• No. 85 overall prospect Chance Sisco (Orioles' No. 1) put together his fourth three-hit game of the year for Triple-A Norfolk. Sisco went 3-for-4 with an RBI in the Tide's 4-2 win over Durham.
MILB Video - Title: Sisco drives in a run - Url: http://www.milb.com/r/video?content_id=1563951583
• Phillies No. 6 prospect Franklyn Kilome lowered his ERA for Class A Advanced Clearwater to 2.61 with six innings of one-run ball. Kilome threw 55 of his 86 pitches for strikes and notched six strikeouts in the game. The 22-year-old has now given up one earned run or fewer in six of his past seven starts for the Threshers.
• Orioles No. 7 prospect Austin Hays extended his hitting streak to 17 games with a three-run homer in the first inning of Double-A Bowie's win over Akron. Hays, who finished the game 2-for-5 with three RBIs, has been on quite a tear lately. He has seven multi-hit efforts during the streak and is 6-for-10 with seven RBIs over his past two games. Cedric Mullins (Orioles' No. 17) also had a big game for Bowie, going 3-for-5 with two doubles to boost his average to .314.
MILB Video - Title: Hays clocks three-run job - Url: http://www.milb.com/r/video?content_id=1562303583
• Royals No. 7 prospect Ryan O'Hearn hit a pair of homers, including a three-run walkoff, to lift Triple-A Omaha to a win over Colorado Springs. O'Hearn, who has now gone deep in three straight games, finished the game 2-for-4 with five RBIs. The 23-year-old hit a solo homer in the first and then capped a five-run ninth inning rally with the three-run blast, giving him his fifth career two-homer game.
MILB Video - Title: O'Hearn blasts walk-off homer - Url: http://www.milb.com/r/video?content_id=1562784683
• Tigers No. 10 prospect Sandy Baez continued to rack up the strikeouts for Class A Advanced Lakewood. Baez, who gave up one run on six hits, struck out seven in six innings, bringing his total to 64 strikeouts through 56 1/3 frames this season.
• Braves No. 13 prospect Joey Wentz struck out nine, a career high, as he spun an absolute gem for Class A Rome. The 19-year-old put together his fourth scoreless start of the season as he threw 58 of his 85 pitches strikes and gave up just one hit in six innings.
• Angels No. 13 prospect Michael Hermosillo hit his second homer of the season as part of a 2-for-3 effort with Double-A Mobile. Hermosillo has scuffled this season, batting .227 through 63 games across two levels, but he may be on the verge of a hot streak as he's 7-for-16 (.438) over the past five games.
• Reds No. 14 prospect Tony Santillan extended his scoreless streak to 11 innings with five scoreless frames for Class A Dayton. Santillan hasn't given up a run in either of his past two outings after notching eight strikeouts in five scoreless innings against Fort Wayne. Santillan, 20, has a 2.68 ERA through 15 games (14 starts).
• Royals No. 20 prospect Foster Griffin notched double-digit strikeouts for the first time in his career as he struck out 10 for Double-A Northwest Arkansas. Griffin, whose ERA sits at 2.08 after the outing, gave up two runs on five hits in six innings.
• Red Sox No. 24 prospect Teddy Stankiewicz picked up his first win since May 21 as he led Double-A Portland to a 1-0 win over Hartford. Stankiewicz threw 48 of his 79 pitches for strikes as he cruised through six scoreless frames. The 23-year-old also notched five strikeouts and didn't issue a walk.