Severino progresses with Minors rehab start
Yankees pitcher recovering from right triceps strain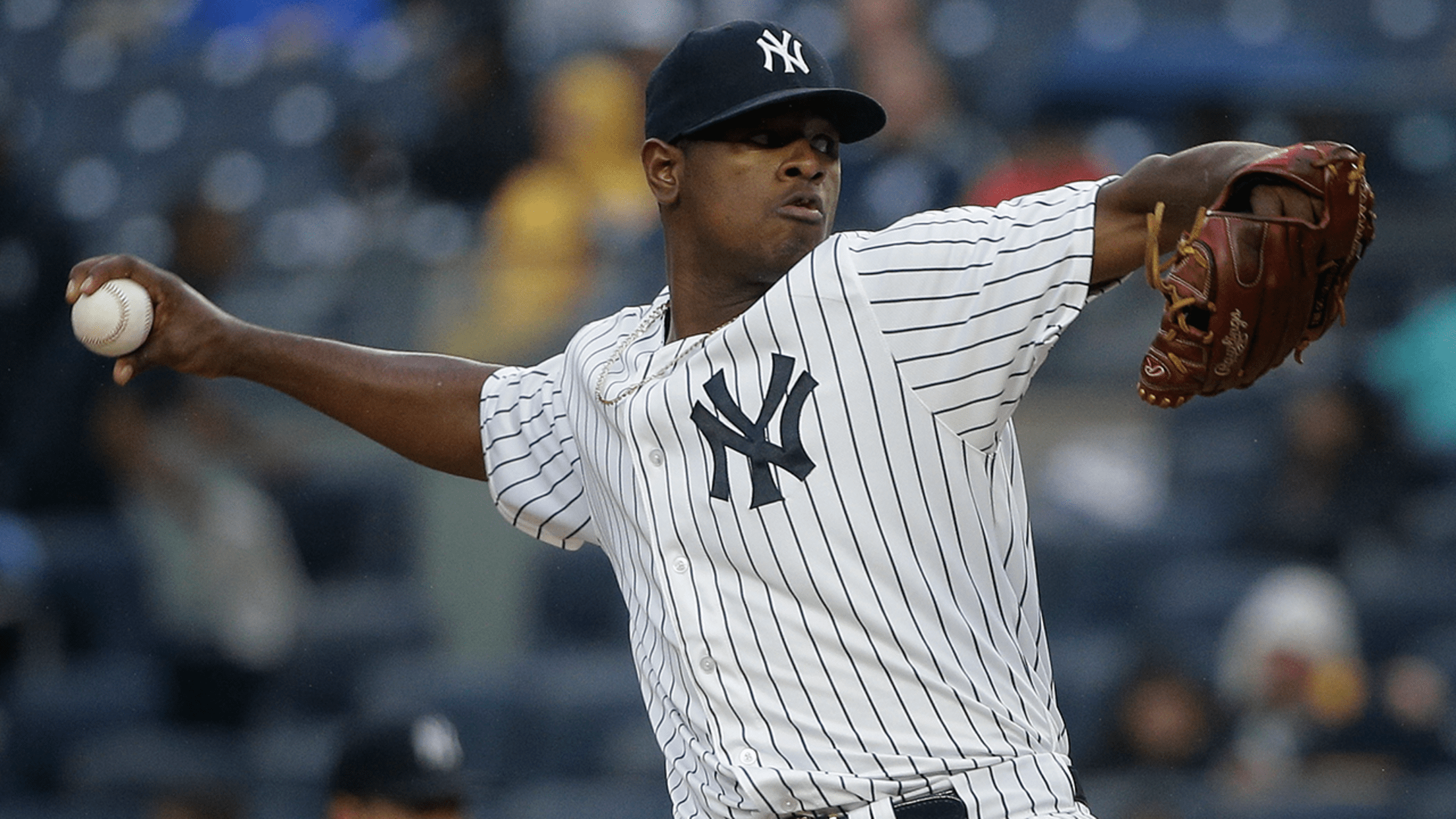 Luis Severino is 0-6 with a 7.46 ERA in seven starts this year. (AP)
OAKLAND -- Luis Severino is on the comeback trail.On the 15-day disabled list with a right triceps strain, the right-hander has played catch on flat ground and is expected to make a Minor League rehabilitation start on Sunday, according to manager Joe Girardi.Severino is working out at the Yankees' player
OAKLAND -- Luis Severino is on the comeback trail.
On the 15-day disabled list with a right triceps strain, the right-hander has played catch on flat ground and is expected to make a Minor League rehabilitation start on Sunday, according to manager Joe Girardi.
Severino is working out at the Yankees' player development complex in Tampa, Fla., and will throw a bullpen on Tuesday to prepare for that start. Girardi said that the location of Severino's rehab outing had not yet been determined; each of the Yanks' top three farm affiliates will be on the road.
"Physically, he's doing pretty good so far," Girardi said.
It is possible that Severino could require more than one Minor League start, and with Ivan Nova pitching well through three turns in the rotation, the Yankees have not guaranteed that Severino's spot will be waiting for him.
Severino is 0-6 with a 7.46 ERA in seven starts this year and has teetered on the brink of demotion before leaving his May 13 start against the Orioles in the third inning.
"We'll just see where he's at," Girardi said.
Worth noting
The Yankees continue to expect to activate Alex Rodriguez for Tuesday's game against the Blue Jays at Yankee Stadium, and he will serve as their designated hitter. Rodriguez has not played since sustaining a right hamstring strain on May 3, but Girardi said that the team saw no need to send him on a Minor League rehab assignment.
"He's stood in on bullpens. He turned the machine up, where you turn it up hard and get used to the velocity, those sorts of things," Girardi said. "If I'm not mistaken, I think we get [R.A.] Dickey Tuesday. It's going to be pretty hard to prepare for that. I guess I could look for a knuckleballer in the Minor Leagues."