Both rolling, Red Sox, Yanks renew rivalry tonight
Boston, New York soaring as series opens tonight in the Bronx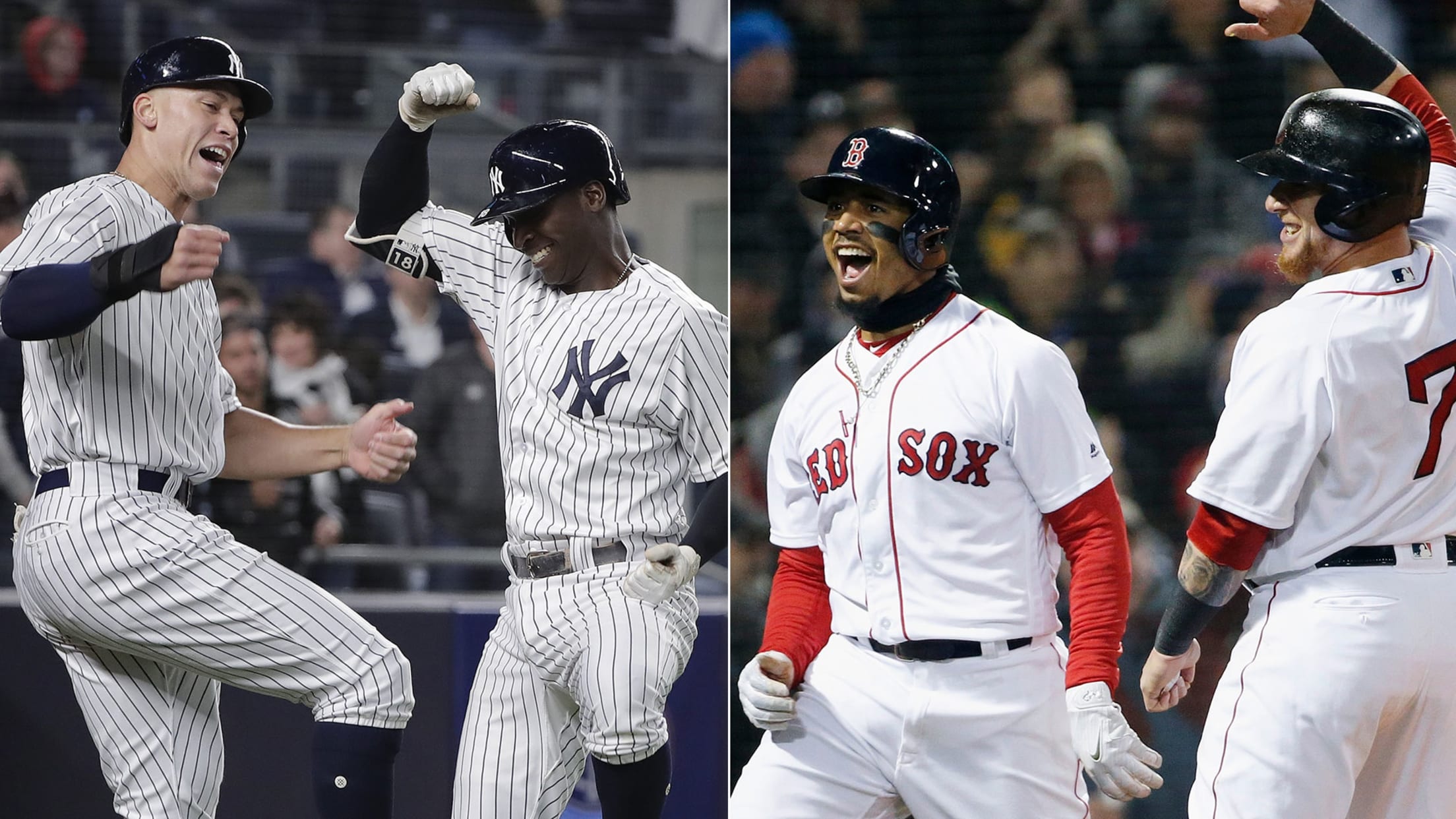 You want to know how good the Yankees and Red Sox are going this season, one in which the Red Sox won 17 of their first 19 and the Yankees have won 15 of their last 16? Here it is: Their combined winning percentage going into this week's series between
You want to know how good the Yankees and Red Sox are going this season, one in which the Red Sox won 17 of their first 19 and the Yankees have won 15 of their last 16? Here it is: Their combined winning percentage going into this week's series between them at Yankee Stadium is .721. The Elias Sports Bureau says that happens to be the highest winning percentage the two have had with at least 60 games played between them since June 1946. So we've got that going for us.
And then, there is this: Per Elias, Tuesday's game will mark the first time the Red Sox (25-9) and Yankees (24-10) play each other with the two best records in MLB since June 2, 2002. Boston entered that game at 36-16, with New York at 37-19.
• Watch Red Sox-Yankees live: MLB Network Showcase
It is one more reason why the early rounds between the Yankees and Red Sox feel like late rounds. The two teams have played one series at Fenway Park. This time they play three games in New York, starting Tuesday night. If you are a Red Sox fan, you want to know what the Yankees are doing. Same with Yankees fans. This is the way things used to be between the two teams, and the way their fans think things ought to be. And they are just getting started.
The Yankees won again on Sunday, because they scored seven runs in the last two innings and came from 4-0 behind the Indians and won on a three-run walk-off home run from their kid second baseman, Gleyber Torres. Chris Sale struck out 12 in Texas, and the Red Sox ended up taking three of four from the Rangers.
So this is back to being the best rivalry in baseball, better than Cubs and Cardinals, the only thing we have now that resembles what we know about the way things were between the Giants, when they played at the Polo Grounds, and the Brooklyn Dodgers of Ebbets Field, and then when one of those teams would get to play the Yankees in the World Series.
In 2003 and '04, when they played seven-game series in the American League Championship Series, the whole thing felt more like the World Series, the closest possible thing in baseball to what Ali-Frazier was in boxing. Now they are having a new fight, with young stars all over the field. By going 15-1 over their past 16 games, the Yankees have matched anything they have done since 1961. Before Torres won them another game Sunday, 14 out of 15 was the best any Yankees team had done since the '98 Yankees, one of the great baseball teams of all time.
I asked Brian Cashman, the Yankees general manager, one who has brilliantly reshaped his team's present and future since the Trade Deadline of 2016, when he dealt away Albertin Chapman to the Cubs and Andrew Miller to the Indians and helped both those teams into the World Series, on Saturday about what we have seen from his team and Boston's team in just 34 games.
Cashman described the whole thing with just these seven words:
"Yankees. Red Sox. As it should be."
We always talk about big league baseball as being The Show. These two teams have been some show already. Mookie Betts, if you add it all up, has been the game's most valuable player so far leading off for the Red Sox. He was hitting .355 when he had to leave Sunday's game with a right shoulder contusion after getting hit by a throw while running the bases. Didi Gregorius, not Aaron Judge and not Giancarlo Stanton, has been the Yankees' best and most valuable player and has hit 10 home runs for his team. Betts has hit 13 homers for the Red Sox, already has a pair of three-homer games and has just two fewer home runs than Judge and Stanton combined.
Stanton has been less than the Yankees thought he would be so far. J.D. Martinez has been even more than the Red Sox thought he would be. Martinez, who hit his eighth home run Sunday, has knocked in 27 and has a batting average of .349. Xander Bogaerts, the Red Sox shortstop, is hitting .333.
The Red Sox can hit like crazy. Just not the way the Yankees are hitting these days. Before Gleyber stole his act on Sunday, it was Gary Sanchez who kept winning games with home runs in his last at-bat. Sanchez now has nine home runs for the season, one more than Judge, two more than Stanton. Judge just turned 26. Sanchez is 25. Torres, Sunday's hero at Yankee Stadium, is 21. Third baseman Miguel Andujar is 23. Stanton? He's still just 28.
Betts is 25. Rafael Devers, Boston's kid at third, is 21. Bogaerts is 25. Andrew Benintendi is 23. You can make a pretty good case that there is as much young talent on the field at Fenway and at the Stadium as there has been in any other time in the history of the rivalry. The Astros, defending champs, aren't as good as either the Yankees or the Red Sox right now, because nobody in baseball is.
The Yankees' starting pitching has been better than it was supposed to be; they even got six no-hit innings out of Domingo German on Sunday. The Red Sox starting pitching, mostly because of David Price, has been less than we thought it would be. Red Sox relief pitching has been a lot more solid in front of Craig Kimbrel than many of us expected. Boston just doesn't have the arms the Yankees have ahead of Chapman.
They meet up again in New York on Tuesday night, a May series that will feel like late September. Another early round feeling like a late round. Yankees, Red Sox, as it should be. A money assessment of things from Cashman.
Mike Lupica is a columnist for MLB.com.