Yankees Magazine: All the Right Moves
Under the watchful eye of coach Joe Espada, the Yankees' infield defense has become a strength of the team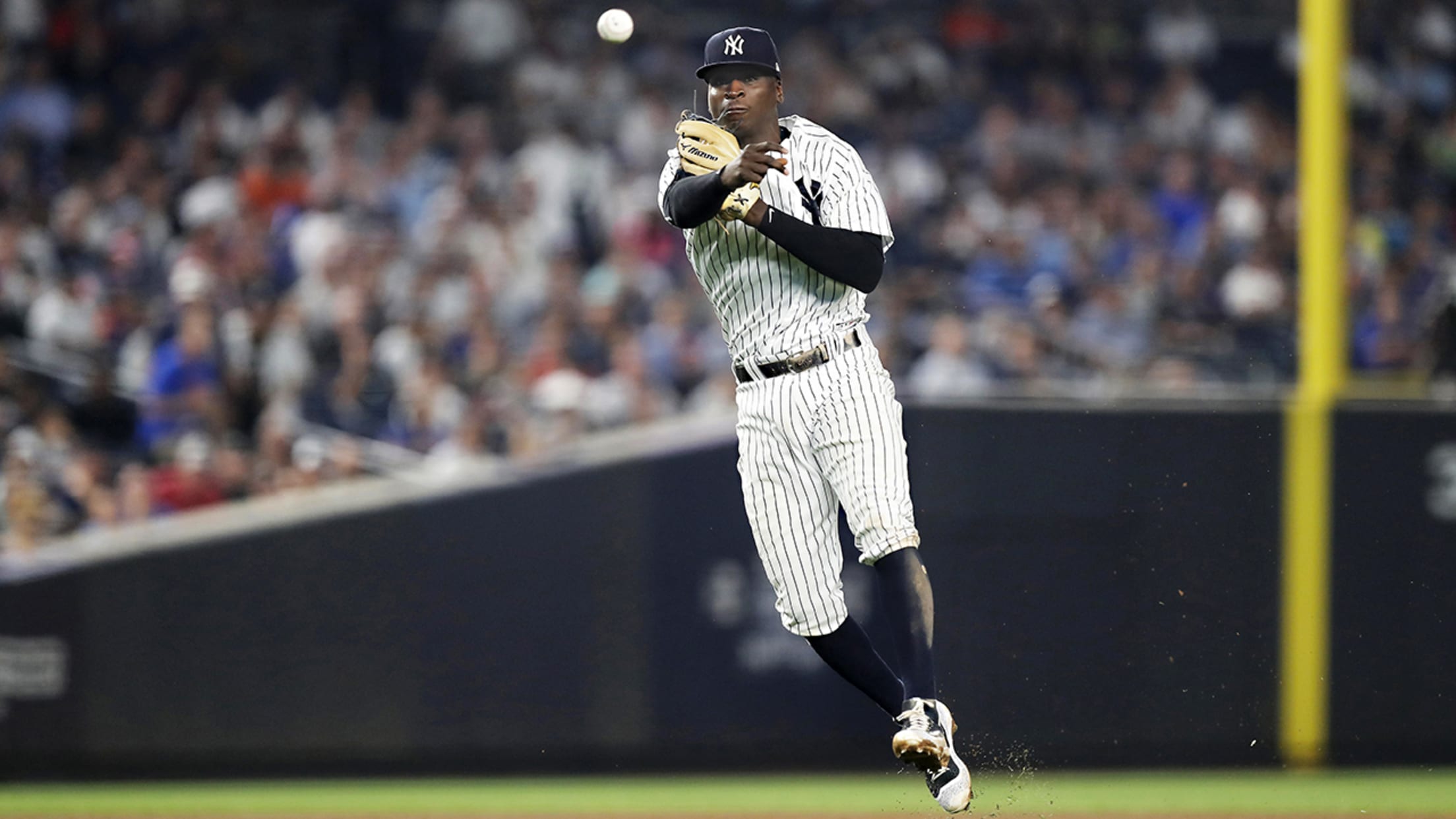 When asked about the Yankees' success on defense, Gregorius says it comes down to one key factor. "If you have good communication, everything is going to work out easy," he says. (New York Yankees)
After the Yankees traded for Todd Frazier on July 19, Chase Headley, the team's starting third baseman since 2014 and a former Gold Glove Award winner, spoke to Manager Joe Girardi about his immediate future at the hot corner."I said, 'Hey, I have no idea what the plan is here,
After the Yankees traded for Todd Frazier on July 19, Chase Headley, the team's starting third baseman since 2014 and a former Gold Glove Award winner, spoke to Manager Joe Girardi about his immediate future at the hot corner.
"I said, 'Hey, I have no idea what the plan is here, but I'm willing to do whatever you need me to do,'" Headley recounts. "I imagine that they had already made that decision by that point, but I thought it was important for me to express that I was willing to do whatever they felt was best."
What the Yankees felt was best was for Frazier to man third and have Headley move across the diamond to first base. There was one problem: Headley had only played 14 career games at first. And so before the Yankees' July 20 game against the Mariners at Safeco Field, Headley received what Girardi later dubbed a "crash course" at the position. Frazier and Ronald Torreyes took grounders at third and short, respectively, and fired throws to Headley at first. Headley then fielded grounders and made throws to second base. But only so much can be absorbed in a single cram session. The 11-year veteran would have to learn on the fly.
Over the summer, Headley acquired both the basics and nuances of the position: how to hold runners on; how to handle pickoff throws; how to return to fielding position after holding runners on; and where to set up for cutoffs and relays -- all of which changes with the game situation.
"At third, I know exactly where I'm supposed to be," Headley says. "At first, I'm constantly reminding myself like, 'Hey, if this happens, this is where I've got to be.' A lot of times things are going pretty fast. If you don't know what to do, you're probably not going to be in the right spot."


First basemen must know when to venture to their right for a ball and when to charge toward a dribbler in that no man's land between first base and the pitcher's mound. A first baseman is also a receiver, similar to a catcher in some ways, who should be familiar with each infielder's throwing arm. He needs to make the throw to second on potential 3-6-3 double plays and scoop short hops in the dirt when a teammate makes an errant throw. Like all infield positions, footwork is paramount to mastering the role, but a first baseman must also arrive to the base on time, find the bag, and always remain in position to catch and throw. Fielding ground balls is easy; the rest is complicated.
"I always find it interesting talking to guys who move to first," says Greg Bird, the Yankees' starting first baseman when the team broke camp after spring training. "It's harder than people think."
It was up to Joe Espada, the Yankees' third base coach, to make sure Headley caught on fast.
***
The propagation of data and technology has revolutionized infield defense over the past decade. With detailed spray charts at their disposal, managers can place infielders in the best position to field. Extreme shifts with three defenders on one side of the infield are now common. But one thing hasn't changed: Infielders still have to catch the ball when it's hit in their direction.
Espada, who coaches the team's infielders, reinforced this principle when the team descended upon Tampa, Fla., in February, making it clear that the Yankees value run prevention as much as run creation. He also had singular goals for Spring Training such as improving the "familiarity" between shortstop Didi Gregorius and second baseman Starlin Castro when it came to turning double plays.
For Castro, a converted shortstop, turning two from the right side of the infield was a challenge at first. "The first time I moved to second base, I felt like it was backwards," he says. "The toughest thing was making the double play. When you are playing short, you have the runner in front of you, but at second he is behind you. I felt that was difficult for me to do at first, but now I feel like a natural."
Of course, not everything went according to plan, with injuries affecting the Yankees infield even before the team left Tampa. Gregorius missed the first 20 games of the regular season after straining a muscle in his throwing shoulder during the World Baseball Classic in March. The injury bug would later bite Bird, who missed a bulk of the season following ankle surgery, and Castro, who lost nearly two months to a nagging hamstring strain.
How did the Yankees hold it together? "We have a little guy who can do everything," Castro says. The versatile 5-foot-8-inch Torreyes filled in admirably for Gregorius and Castro, playing solid defense at both short and second. Through Sept. 18, he had also played 26 games at third base, which Torreyes says is his toughest position, citing the short reaction time. But the main reason the Yankees' infield defense has become an unexpected strength of this team is Gregorius.
A fluid mover with extensive range, Gregorius ranks among the league leaders at his position in both traditional and advanced fielding statistics. Gregorius's greatest attribute is his powerful arm, a cannon that allows him to take deep angles on grounders resulting in his ability to cover even more ground. No matter where he fields the ball, Gregorius typically has enough arm strength to make the play. Though he plays with élan, Gregorius has a firm grasp of the fundamentals. He moves his feet, keeps his glove down and can read hops, things that the average fan overlooks but which are not lost on teammates and coaches.
"I'd put him up there with the best I've played with," Frazier says. "It's great playing with a guy like that where if I don't get to a ball in the hole, I know he's going to be right there."
"Pretty good," Castro jokes. "Pretty good."
"I depend a lot on Didi," Espada says. "He's the shortstop -- the quarterback. He makes sure that everything moves smoothly."
When asked about the Yankees' success on defense, Gregorius says it comes down to one key factor. "If you have good communication, everything is going to work out easy," he says. "I think that's what we've got, so that's why I think we are doing so well defensively."
*
On the afternoon after turning 42, Espada sits in the Yankees dugout explaining how a baseball game -- two, actually -- ruined his birthday. "It would have been nice if we won one of them," he says, referring to the Indians' Aug. 30 doubleheader sweep of the Yankees. "It was a tough day for sure." But Espada, a baseball lifer, knows not to dwell. It's a grind, this 162-game season, cruel yet forgiving, filled with chances for redemption.
Born Josue Espada in Santurce, Puerto Rico, baseball was Espada's golden ticket off the island. "I remember growing up, baseball was your way of getting out," Espada told MLB.com in 2009. "It was a way to a better life. It was a way to get you a scholarship and go to school."
After starring at the University of Mobile in Alabama, Espada was taken in the second round (45th overall) of the 1996 draft by the Athletics, one spot ahead of future National League MVP Jimmy Rollins and two spots ahead of Josh Paul, who now works with catchers throughout the Yankees' farm system. An undersized shortstop, Espada had good hands, an above-average arm and a quick first step.
"Looking back, I had some tools that allowed me to play shortstop," Espada says. "But I did my homework. I wanted to know more [in order] to have advantages on my opponents. I wasn't the most gifted guy on the field, so I needed to take advantage of the information out there." He took pride in his defense and was a big believer in the adage that you can impact a game with your glove. Yet the A's never called up Espada.
He led an itinerant life from 2001 to 2004, bouncing around the minor league systems of the Marlins, Rockies, Royals, Cardinals, Rangers and, finally, the Rays. And when it became clear that the call to the big leagues wasn't coming, Espada didn't go quietly. He played in the Puerto Rican Winter League and independent ball in the Central League before retiring in 2006.
Espada's natural curiosity as a player translated into a passion for coaching, and in 2006 he was named hitting coach of the Greensboro Grasshoppers, a Class-A team in the Marlins organization, eventually rising to the major league club's third base coaching job in 2013. Then, in 2014, he was hired as a special assistant to Yankees general manager Brian Cashman before becoming the Yankees' third base coach and infield coach the following year.
From his seat in the dugout, the upcoming four-game series with the Red Sox is helping Espada move on from the doubleheader sweep. Normally on the first day of a series, Espada will huddle with his infielders for a strategy session, but by this point in the season the Yankees are familiar with their archrivals from Beantown. "We know how we are going to play certain guys," Espada says. There will be "some reminders though, things like what they like to do when ahead in the count or behind in the count."
For instance, it's Espada's job to know where to position his infielders when Red Sox All-Star Mookie Betts has a 3-1 count against a right-handed pitcher and when Betts is ahead 3-1 on a left-hander. If he notices that Gregorius is shaded too close to third in that situation, Espada must move him into the correct location.
Espada has a few specific drills planned for infield practice today. He wants Torreyes to work at third since he's played primarily on the right side of the infield lately. Castro will then take some ground balls on the right-field grass and up the middle. "I'm going to play certain right-hand hitters up the middle tonight," Espada says.
Practice begins at around 3:30 p.m. and ends before batting practice an hour later. "I like to make sure it's more quality than quantity," Espada says. "We also don't have to worry about dodging line drives hit by Aaron Judge."
*
It just so happens that Judge is wrapping up an extra batting practice session as Torreyes emerges from the dugout for infield drills. The Yankees' utilityman warms up his throwing arm by playing catch with Espada, taking a step back every so often. Finally, he heads toward third.
Espada hits balls down the line to Torreyes's right and then in the hole between third and short. Just over Torreyes's shoulder, several members of the Red Sox are playing long toss in left field. A football is also being thrown around. Soon, they are running routes out there like Odell Beckham Jr. After fielding each grounder, Torreyes makes the long throw across the diamond to Yankees major league coaching assistant/baseball operations Brett Weber, who is covering first. Espada is making Torreyes work. It seems like each time Torreyes goes deep in the hole, Espada responds with a soft chopper for him to charge. Torreyes then moves to short and takes approximately 10 grounders before fist-bumping Espada and jogging back into the clubhouse.
The session deviates from Torreyes's sacrosanct routine. Typically when not in the lineup -- as was the case for the Aug. 31 game against Boston -- Torreyes will take grounders at his three infield positions. But if he's starting at, say, shortstop, he will only take infield at that position.
All infielders have their routines. Frazier, for instance, takes infield during batting practice. "I always have," he says. "It gets the blood going a little bit." During practice, he says, he likes to exaggerate seeing the ball into the glove. Sometimes, he'll do pick drills on his knees. Headley, meanwhile, prefers throwing every day.
When Headley arrives for practice, he immediately starts tossing the ball with Espada, working his way up to 120-foot long-tosses. He then hustles to third, where he fields grounders hit at all angles. "Get low with it," Espada barks after Headley misjudges a chopper. Headley then grabs a first baseman's mitt and trots to his new position to work on snagging bad throws -- short hops, long bounces, balls in the dirt and wild tosses that pull him off the bag.
Next it's Castro's turn, and true to his word, Espada positions him in short right field to take hard grounders, then up the middle, two locations where, according to Yankees scouting reports, Red Sox batters are more likely to hit the ball. Espada trusts the data. "I think we do a real good job of maximizing the potential of our guys, putting them in a position to have success," he says. "But it also depends on your personnel, the guys on the field, for that to work."
With even Single-A teams now employing shifts, young players are accustomed to moving around the infield. But for veteran players, the changes have taken some getting used to. A second baseman must learn how to take grounders in short right field. A third baseman needs to feel comfortable on the right side of the infield. The game evolves.
"[Coaches] are a lot more hands-on with where they want you to play," Headley says. "I remember when I first came up [to the big leagues], our pitchers were like, 'I do not want to give up a double down the line.' So I played a little bit closer to the line. Now, they're like, a lot more balls go in between the 5- and 6-hole than right down the line, so guys want you to play off the line a little bit.
"As an infielder, the old-school side of you likes the instincts and being able to react to what you see, but times have changed."
***
Espada's practice drills pay dividends later that night against the Red Sox. In the top of the fourth inning of a 1-1 game, Red Sox catcher Christian Vazquez hits a shot over the pitcher's mound past Carsten Sabathia that appears destined to be a base hit. Castro, positioned perfectly, takes a few quick steps to his right, fields and fires to first. Castro later makes a spectacular play that couldn't be attributed to a spray chart.
With two runners on in the eighth inning, Red Sox third baseman Rafael Devers hits a soft chopper into the no man's land between the pitcher's mound and first base. Castro charges, bare-hands the ball and tosses a strike to first to get the runner. "It's just the moment," Castro says when asked when he realized he had to bare-hand the ball. "You just attack the ball and whatever is gonna happen, happens."
Headley starts at designated hitter against the Red Sox; with Bird back from the disabled list, Girardi has settled on a platoon at first base. Still, Headley has progressed nicely at his new position. "He's doing well," Espada says. "One thing Headley does is he learns fast, and he has really good hands. He's going to catch the ball." In fact, according to UZR (Ultimate Zone Rating, a statistic that puts a run value to defense, helping determine the runs a player saves or allocates with his glove), Headley is a better first baseman than third baseman this season.
With the playoffs approaching, Espada is still preaching defense. "It's important," he says. "We all get caught up in the power numbers and runs scored, but you can prevent those runs from scoring if you put some guys in the right spot."
A skeptical voice then suggests that there isn't anything defense can do about a ball hit 450 feet. Espada -- ever prepared with the proper defensive measures -- fires back. "Sure, but not everyone can hit a ball 450 feet," he says. "When they don't, you better be in the right spot and you better catch it."
Thomas Golianopoulos is the associate editor of Yankees Magazine. This article appears in the October 2017 issue of Yankees Magazine. Get more articles like this delivered to your doorstep by purchasing a subscription to Yankees Magazine at yankees.com/publications.