Yankees look to homestand to get over .500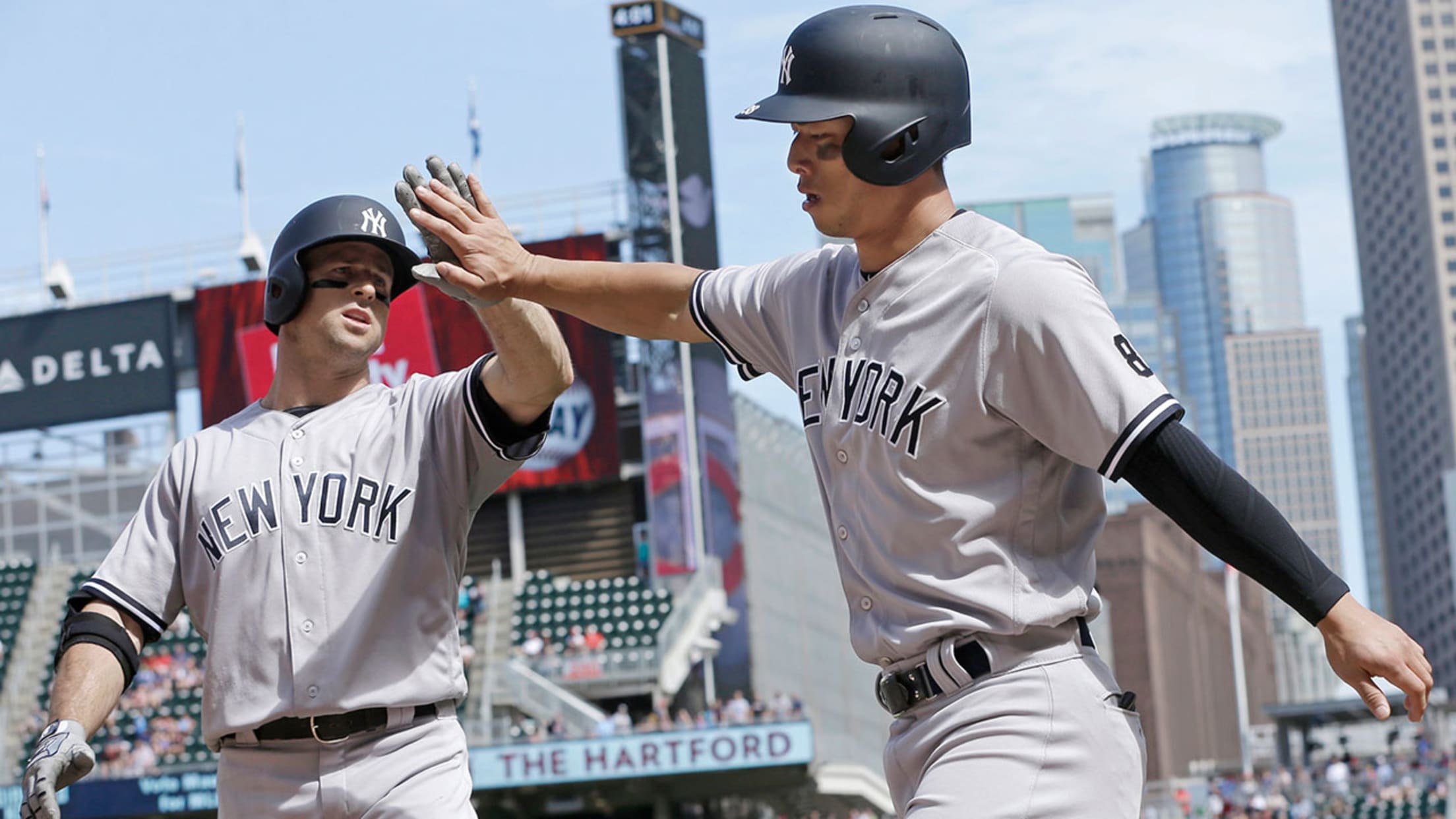 The Yankees have struggled to stay over .500 this season, but will look to do so in their upcoming homestand. (AP)
NEW YORK -- Generally speaking, winning teams are satisfied to play .500 ball on the road, and look to make up ground once they return home. The Yankees accomplished the first part during their six-game trip to Denver and Minneapolis, so why was Joe Girardi leaning on an oft-repeated catch
NEW YORK -- Generally speaking, winning teams are satisfied to play .500 ball on the road, and look to make up ground once they return home. The Yankees accomplished the first part during their six-game trip to Denver and Minneapolis, so why was Joe Girardi leaning on an oft-repeated catch phrase after Sunday's final out?
"It's not what you want," the manager said, following a 7-4 loss to the Twins at Target Field. "We ran into a team that was playing pretty good in Colorado. They were pretty hot when we ran into them. It's an interesting place to play. After losing the first two, if you can end up 3-3, you feel pretty decent about that."
Despite breaking even, the trip felt like a missed opportunity because the Yankees dropped two games to the mediocre Rockies (32-36), and then could not finish off a four-game sweep of the Twins (21-48).
The end result saw the Yankees, for the fourth time this season, bubble up to the .500 mark before falling a game below at 34-35. As they enjoyed Monday's off-day, that was good for fourth place in the American League East, 6 ½ games behind the division-leading Orioles.
"I kind of look at it like the first month and a half, we played not good baseball," catcher Brian McCann said. "We're playing a lot better of late."
Girardi attributed much of Sunday's loss to bad luck, as the Twins did not hit right-hander Nathan Eovaldi particularly hard in a decisive four-run sixth inning.
"You get greedy when you win the first three in a four game series," Girardi said.
Perhaps, but that hardly explained the two losses at Coors Field, when the bats failed to show up against Jorge De La Rosa and Chad Bettis, both of whom sport bloated ERAs. After ranking second in the Majors with 764 runs scored in 2015, the Yanks are 22nd in the big leagues with 283 this year.
"We know we can be what we were last year," said McCann, who homered twice on Sunday. "We have a really deep lineup. I was the only one in the lineup really not hitting. I need to pick it up. If I'm going to hit in the middle of the order, I've got to hit."
The expected return of Mark Teixeira may help, though Teixeira was hitting just .180 with three homers before going on the disabled list with a right knee cartilage tear. He will begin a rehab assignment on Tuesday with Triple-A Scranton/Wilkes-Barre and could be activated on Saturday.
"I think we're chipping away," Alex Rodriguez said. "It will be good to have Tex back; he looks really good. The way Mac swung the bat today, Carlos [Beltran] has been on fire. For us, it's been frustrating that we get to that threshold at .500 and then take a step back."
The Yanks have their share of football fans in the clubhouse, though no one seems ready to accept Bill Parcells' famous line of, "You are what your record says you are."
Thus far, the Yankees have showed themselves to be a middle-of-the-ground club, enjoying winning streaks of six and five games, only to dip once again below break-even.
If the Yankees are to erase general manager Brian Cashman's temptation to move pieces prior to the Aug.1 non-waiver Trade Deadline -- several clubs are already known to be sniffing around the power relief duo of Aroldis Chapman and Andrew Miller -- then it needs to happen now.
"We haven't been able to build on it," Girardi said. "I think this is the first time that we've been this close and we're going home. Hopefully we can take advantage of nine games at home."
If they are to change that, the Yankees get a second chance of sorts by seeing the Rockies and Twins again -- this time in The Bronx, where they have played above .500 at 18-14 this year, including winning five of seven on the last homestand.
"Any time we go home, we want to capitalize on that," Rodriguez said. "I know we played well at home in front of our fans last time out. Hopefully we can continue that."