Yu to start for Rangers on Saturday
Darvish had 0.90 ERA through five rehab starts in Minors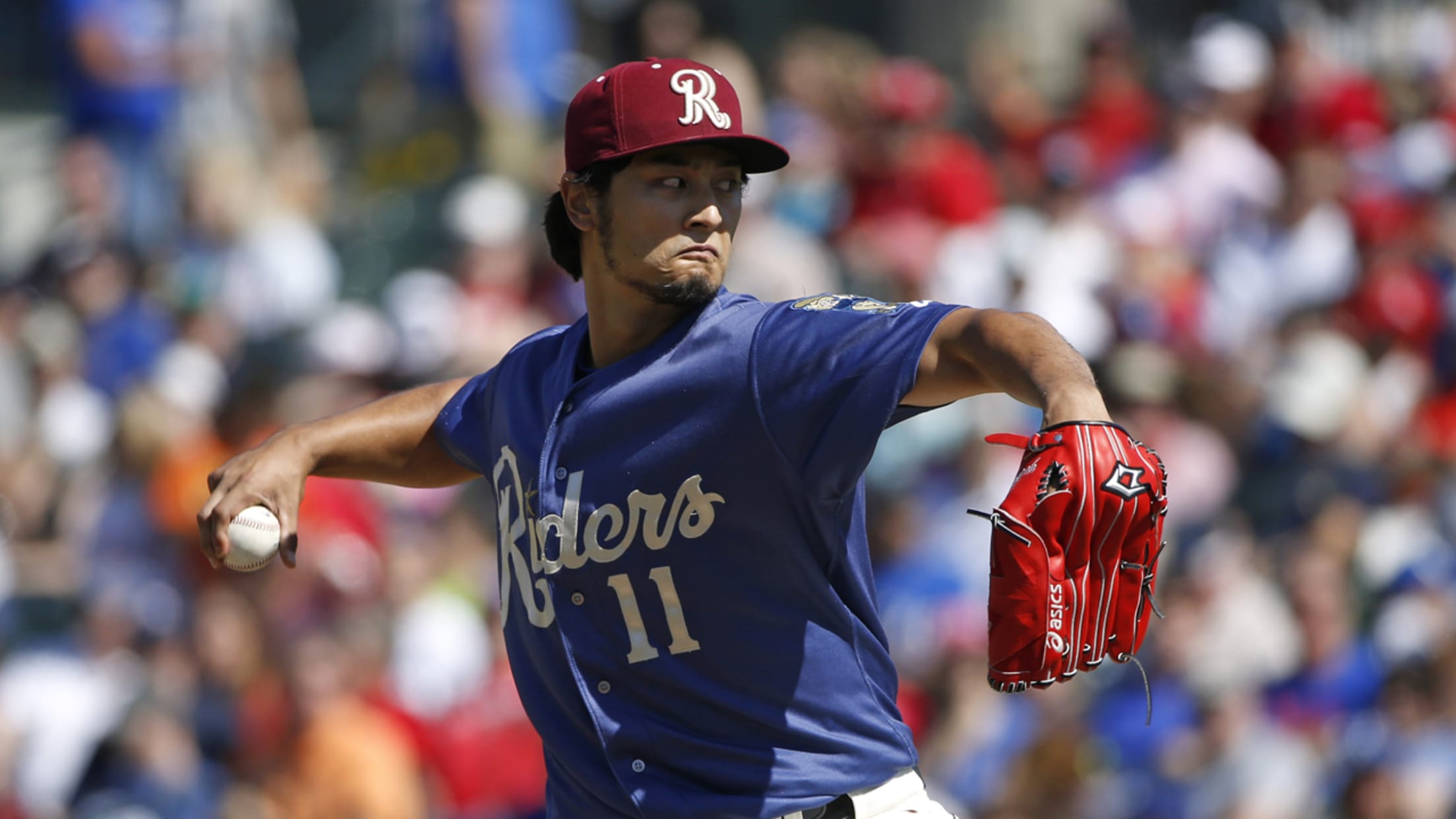 Yu Darvish allowed three hits in six scoreless innings for Double-A Frisco on Sunday. (AP)
FRISCO, Texas -- After showing through five rehab outings that he can be dominant against Minor League hitters and that his post-Tommy John surgery right elbow can stand up to the rigors of pitching on regular rest, Yu Darvish is returning to the Rangers rotation.Darvish will make his first Major
FRISCO, Texas -- After showing through five rehab outings that he can be dominant against Minor League hitters and that his post-Tommy John surgery right elbow can stand up to the rigors of pitching on regular rest, Yu Darvish is returning to the Rangers rotation.
Darvish will make his first Major League start since 2014 on Saturday, slated to start against the visiting Pirates, manager Jeff Banister said Monday.
Darvish threw six scoreless innings for Double-A Frisco on Sunday against San Antonio. He threw 87 pitches, allowed three hits and struck out six in his longest rehab start.
"All the reports were glowing, he got through it," Banister said. "What's most important is that he continues to recover and how he feels this week, there's still some unknown. If he feels good enough to start, he starts on Saturday."
MILB Video - Title: Darvish on rehab start - Url: http://www.milb.com/r/video?content_id=728440483
In his five rehab starts between Frisco and Triple-A Round Rock, Darvish allowed just nine hits and two earned runs for a 0.90 ERA with 21 strikeouts through 20 innings. The Pirates are far from a Minor League team, but Darvish sounded like a pitcher ready for the next step.
"It's kind of hard to tell right now," Darvish said of the prospect of facing Major League hitters again. "I have to pitch against those guys [Major Leaguers] in reality. I feel like I'm good to go."
His objective Sunday at Dr Pepper Ballpark wasn't on a particular pitch, but on getting his work in. He did just that, as his fastball topped out at 96 mph and was consistently at 95 in the first two innings of a 7-1 Frisco win. Long frames on offense led to extra down time between innings, and Darvish was able to adjust for that.
• Justice: Second ace set to join already potent rotation
"I threw close to 90 pitches today, so I feel good for that," he said Sunday. "I wanted to get the pitch count. That was the main goal."
One of the three hits he gave up Sunday was an infield chopper.
"I was just trying to get outs early in the count," said Darvish, who needed just 20 pitches over his final two innings. "The sinker was working, so I tried to get the groundouts early in the count."
Darvish said after his first outing that his biggest concern was whether he was going to blow out his elbow again. He had no such concerns on Sunday, as he said his elbow, shoulder and arm have gotten stronger through the rehab process.
"I don't want to put too much pressure on myself," he said. "Just act like it's going to be another rehab outing if I'm on the Major League mound the next time. Just not too much pressure."
Anthony Andro is a reporter for MLB.com based in Arlington. T.R. Sullivan, who has covered the Rangers since 1989 and for MLB.com since 2006, contributed to this report.