Third start anything but a charm for Eflin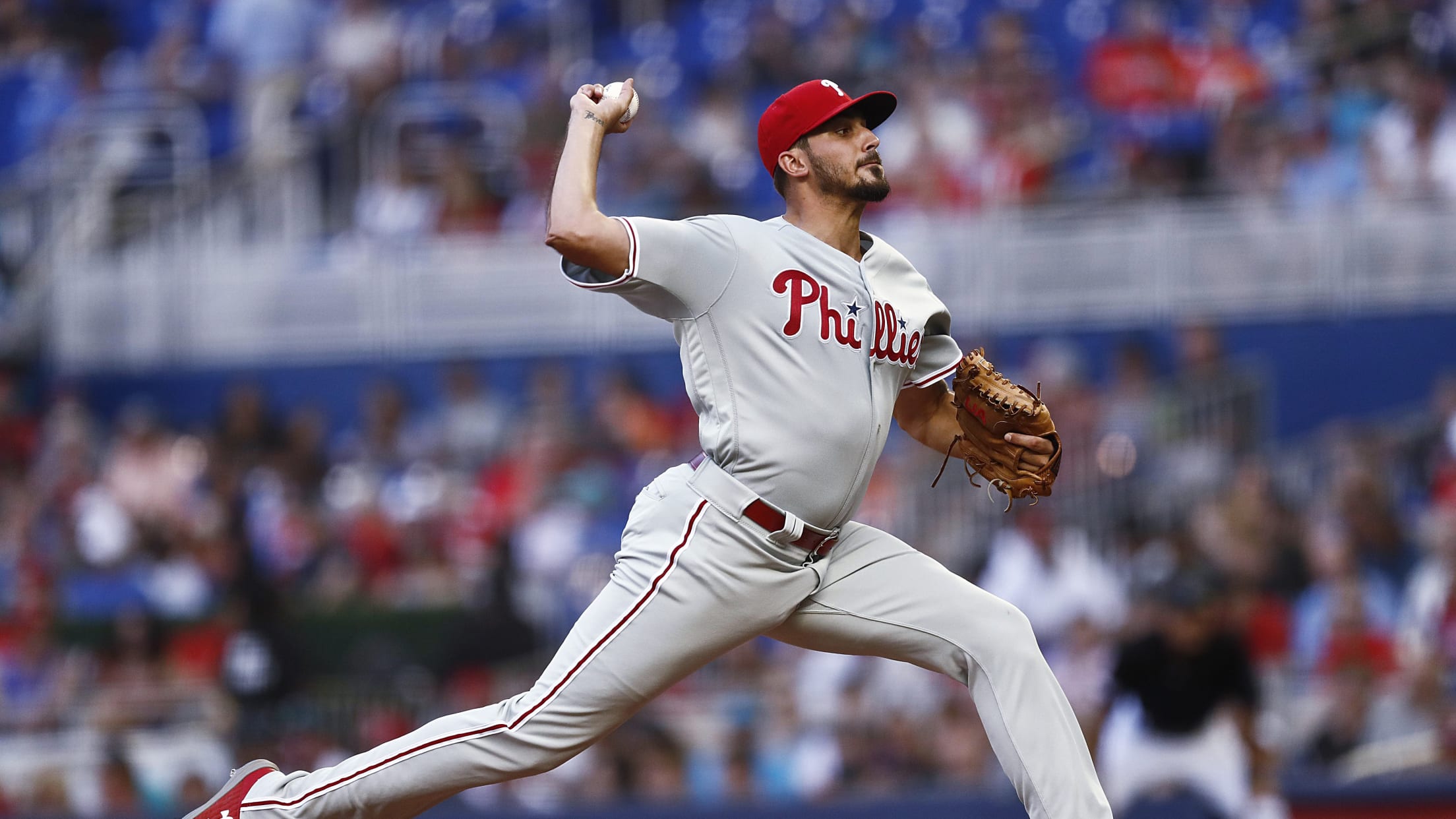 MIAMI -- It looked promising in the beginning. Bryce Harper and Rhys Hoskins worked consecutive two-out walks in the first inning Saturday night at Marlins Park. J.T. Realmuto struck out swinging to end the threat, but his strikeout capped an 11-pitch at-bat that ran Marlins left-hander Caleb Smith's pitch count
MIAMI -- It looked promising in the beginning.
Bryce Harper and Rhys Hoskins worked consecutive two-out walks in the first inning Saturday night at Marlins Park. J.T. Realmuto struck out swinging to end the threat, but his strikeout capped an 11-pitch at-bat that ran Marlins left-hander Caleb Smith's pitch count to 29 in the opening frame.
Phillies manager Gabe Kapler thought his club had Smith on the ropes, but a few hours later he was standing in his office talking about a 10-3 loss. The Phillies need to win series against rebuilding teams like the Marlins, which puts extra emphasis on Sunday's rubber match. It is early, but it is a big game.
Philadelphia has lost five of its last nine since a 4-0 start.
A few things about the club's latest setback:
Rotation inconsistencies
A few hours before Phillies right-hander Zach Eflin threw his first pitch, Kapler spent some time in the visitors' bullpen listening to Nick Pivetta express his desire to be more aggressive in the strike zone and make amends for his first three starts.
Philadelphia's starting pitching has been an issue lately, but Eflin had been the team's best starter through 12 games, posting a 0.75 ERA in his first two starts. That was before he allowed 10 hits and six runs in four innings against the Marlins, a team that had entered the night ranked last in the Majors in scoring and 25th in home runs.
He threw a first-pitch curveball to Marlins third baseman Brian Anderson to open the bottom of the third. It was Eflin's first and only curveball of the night, and Anderson crushed the pitch 435 feet to center field for a solo home run. Eflin then threw a 1-1 changeup to Neil Walker, who smashed the pitch 410 feet to center field for back-to-back home runs.
Later in the same inning, Austin Dean hit a first-pitch fastball for a two-run homer to left field to make it 6-0.
"A couple pitches were location, but for the most part, I honestly thought I had really good stuff," Eflin said. "I felt really good in the first and second inning, and after that it seemed like they started jumping on my stuff. Just one of those games where the cards didn't go my way, so swallow it, flush it, come back out in five days."
Phillies starters have a 5.04 ERA. They have allowed five or more runs in four of the team's 13 games, each of which has come since the team's 4-0 start. Only the Red Sox (nine starts of five or more runs), Rockies (seven), White Sox (six) and Athletics (five) have had more such outings.
"I think what it causes us to do is to really dig in and work," Kapler said. "It means we just have to watch more video with our guys. We have to identify flaws and we have to make good suggestions. It's on us."
It's Kingery time
Scott Kingery pinch-hit for Maikel Franco in the eighth inning and doubled to left field. Kingery doubled again in the ninth. He has five hits in his last seven plate appearances, while Phillies second baseman Cesar Hernandez went 0-for-4, dropping his batting average to .178.
"We're going to find a way to get Kingery in the lineup tomorrow," Kapler said. "Not sure where he's going to play, but he's going to play tomorrow. And I have to talk to J.T., but it's possible that [Andrew Knapp] gets in there as well, which is why we wanted to get him that at-bat [in the ninth]."
The Phillies face Marlins right-hander Jose Urena on Sunday. Hernandez is batting .269 (7-for-26) with one triple, two home runs, six RBIs and an .846 OPS in his career against the righty. Franco is batting .263 (5-for-19) with three doubles, two RBIs and a .754 OPS against Urena.
"I'm working as hard as I can before the game just to kind of lock in and stay locked in the whole game," Kingery said. "It's pretty difficult, but try to stay moving and keep the blood flowing, so when you do get the chance to get in there, your body is ready to go."
Bats have cooled
The Phillies are batting only .227 and averaging just 3.9 runs per game over their last seven games. After throwing 29 pitches in the first inning Saturday, Smith needed only 70 pitches to get through the next five.
"We have to do better," Kapler said.