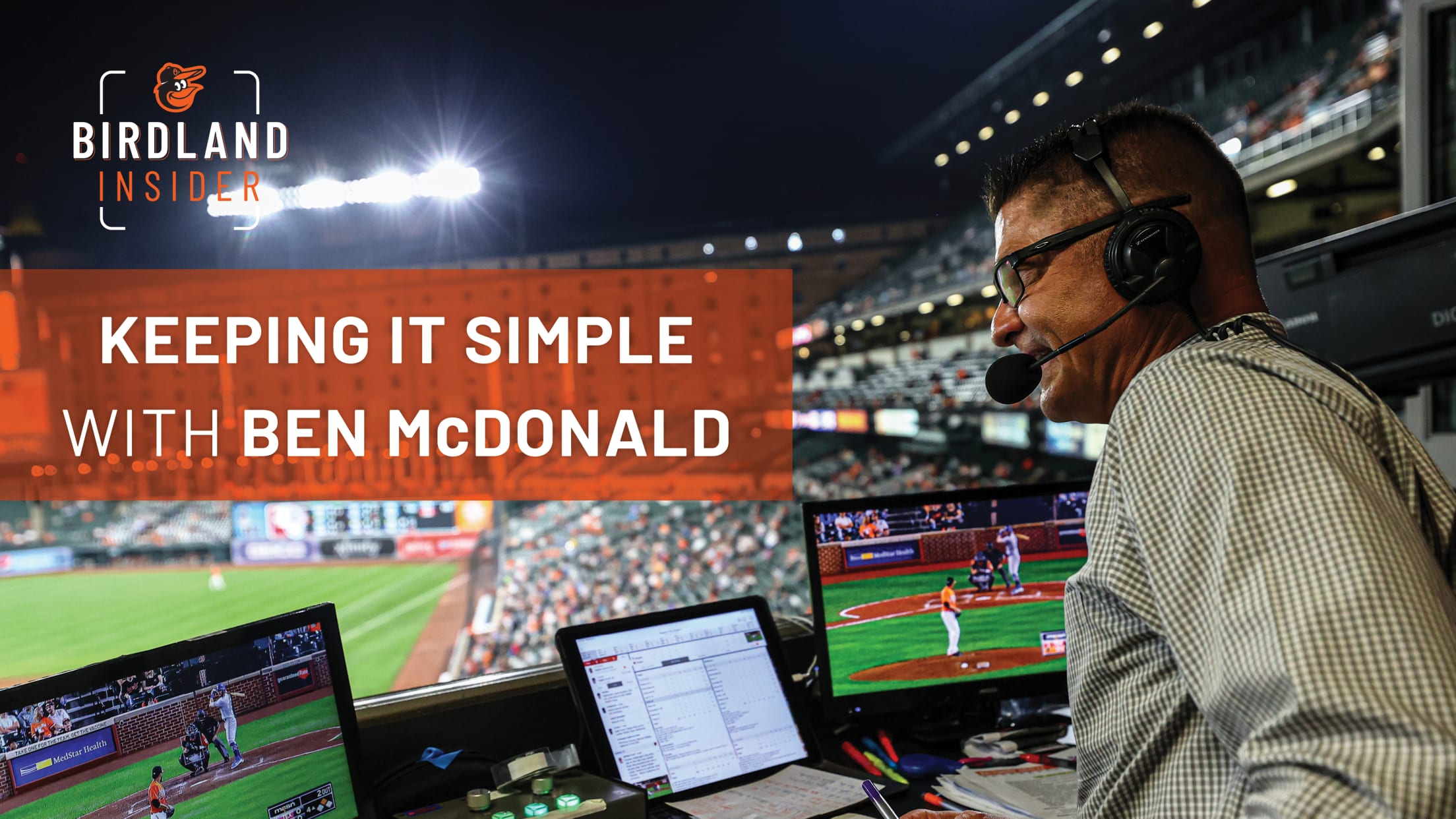 Scroll
Keeping it Simple with Ben McDonald
The best piece of advice Ben McDonald ever received came four years into his broadcasting career while shopping at his hometown Walmart in Dennison, La.
"An older lady walked by, and she said, 'I like the way you call a ballgame,'" recalled McDonald. "And I was still trying to learn, like I am every day, so I said, 'Tell me what it is you like that I do.' And she said, 'I don't watch much baseball, but you keep the game simple. And when you keep it simple, I am informed.'"
McDonald told her he would always remember that, and 14 years later, he has stayed true to his promise. He understands those who already know a lot about the game might find it boring from time to time, but he's okay with that. When it comes to broadcasting, McDonald is working for the person watching their first game. His goal is to help that one person learn to love the game, just like he did.
Baseball has been a part of McDonald's life for as long as he can remember. Despite neither of his parents having played the sport, McDonald was playing organized baseball by the time he was six years old. But it wasn't until college that he decided to make it a career.
Growing up, McDonald didn't necessarily want to be a baseball player; he just wanted to be an athlete. That meant he started playing as many sports as he could as soon as he could. There wasn't a time from elementary school until he graduated high school that McDonald can remember not having a sports-related activity after school.
"I tell parents with young kids today, let your kids play multiple sports," said McDonald. "I never got burnt out on anything because I went straight from football into basketball into baseball, and sometimes they even overlapped."
In high school, baseball was not McDonald's number one sport. In fact, he was more heavily recruited for basketball, going to Louisiana State University on a basketball scholarship. He played in 32 games and made six starts for the Tigers on the court during his freshman year, finishing with 88 points, 64 rebounds, five blocks, nine steals and eight assists. At that point, he realized his best chance of playing sports professionally was on the baseball side, so that is where McDonald went.
Despite being more heavily recruited in basketball, Major League Baseball teams still saw McDonald had something to offer on the diamond. He was drafted by the Atlanta Braves in the 27th round of the 1986 First-Year Player Draft following his senior year of high school. At the time, late first-round picks were paid approximately $100,000. The Braves offered McDonald $75,000, but he knew he wasn't going to take it. He wasn't ready for professional baseball.
"I started to get nervous because my dad said, 'Boy, if they get to $100,000, you are signing,'" recalled McDonald. "And I was like, 'Dad, I don't want to sign. I want to go to LSU. I don't want to be off on my own playing yet.' And thank gosh the Braves never got there. So, I turned down $75,000, which was second round money, and I went to LSU. And I loved every minute of it."
McDonald was no stranger to LSU. Growing up, he regularly attended Tiger football, basketball, and baseball games, doing whatever it took to watch the games, even if it meant sneaking into Alex Box Stadium. His mom and dad would drop him off, and he and some of his friends knew where the hole in the wall was in foul territory, so they would sneak through the hedges and crawl through to watch LSU Baseball.
Once inside, McDonald spent his time dreaming of what it would be like to stand under the lights in front of thousands of Tiger fans. When he finally got to experience that moment for himself, it did not disappoint.
"When you get to feel that for the first time, it still gives me chills today," said McDonald. "I get emotional just thinking about it because I loved those days."
He finished his junior year at LSU with the best season of his career, going 14-4 with a 3.49 ERA and 202 strikeouts, en route to being the first number one overall pick in Orioles history in the 1989 First-Year Player Draft. When he heard his name called, it was more of a feeling of relief than anything for McDonald.
"I was projected to be the number one pick," explained McDonald. "I was the top guy on the radar, so in a lot of ways it wasn't an enjoyable year for me because there was a lot of pressure to perform. So, when the draft finally happened it was more of a relief for me that it was finally over and I could put that behind me."
He didn't have to wait long to put it all behind him. McDonald signed his professional contract in mid-August, and made his big league debut just weeks later on September 6, throwing 2.2 innings in relief, allowing one run on one hit and one walk, while striking out two.
When McDonald stepped inside Memorial Stadium that day, it was just the second big league stadium he had ever been in. When he was younger, he and his family would take vacations to the Astrodome, but other than that, he had never been in a Major League stadium.
"It was a dream come true," said McDonald. "Man, when you step in the big leagues for the very first time it's different. It's challenging. You realize it's a man's game. It was enjoyable, but there was a lot of frustration on my part because I had to figure out how to get good. I had a lot of growing to do. But all in all, it made me better. And I figured it out over time."
McDonald finished his nine-year career with a 78-70 record in 211 games (198 starts), pitching to a 3.91 ERA (561 ER/1291.1 IP) with 894 strikeouts. When his playing career ended, he was enjoying his time at home in coaching his daughter, Jorie, and son, Jase, in softball and baseball, respectively.
Broadcasting was not on McDonald's radar. It wasn't until his former LSU coach, Skip Bertman, told the local television station to call McDonald and work to get him on the air that he realized it was a possibility. In the end, McDonald decided to give it a chance. The first game he ever did, he didn't take notes or keep book, but when it came to baseball, he could answer any question thrown his way.
McDonald decided to stick with it, and a couple years later, ESPN called and he started broadcasting the Super Regional and College Baseball World Series. Now, he splits his time between LSU, ESPN and the Orioles. Even with 14 years of broadcasting experience and doing over 100 games per year, he still faces challenges.
"Two of my biggest challenges are the game looks a lot easier from up here where I sit now," said McDonald. "I try to remember how difficult that game down there is because sometimes from up here, it can look like a simple game, and it is not. And the other big thing is trying to say the same things over and over but say it in a different way. Baseball is a very repetitive sport."
To help with those challenges, McDonald gets to the field three and half hours before first pitch. He pours himself a cup of coffee and starts going over notes for that night's game. He listens in on manager Brandon Hyde's media sessions and goes down to the field during batting practice to talk to the players. McDonald also thinks back to his own playing days, looking out over the stands and the mound where he used to pitch.
McDonald knows better than anyone the past couple years in Birdland haven't been easy, but he also knows better than anyone how special baseball in Baltimore is to its people. Because of that, he makes it his goal to turn that one listener into a lifelong O's fan.
And when McDonald imagines the future, he keeps it simple.
"The wins aren't where we want them yet, but they are coming," said McDonald. "And wait until there are 45,000 fans in this ballpark right here because it is one of the loudest ballparks. And it's coming here. It may not have happened this year, and it may not happen next year, but I really think the year after next you're really going to start to see a lot of fans in these seats again. And when that happens this is a very special place."