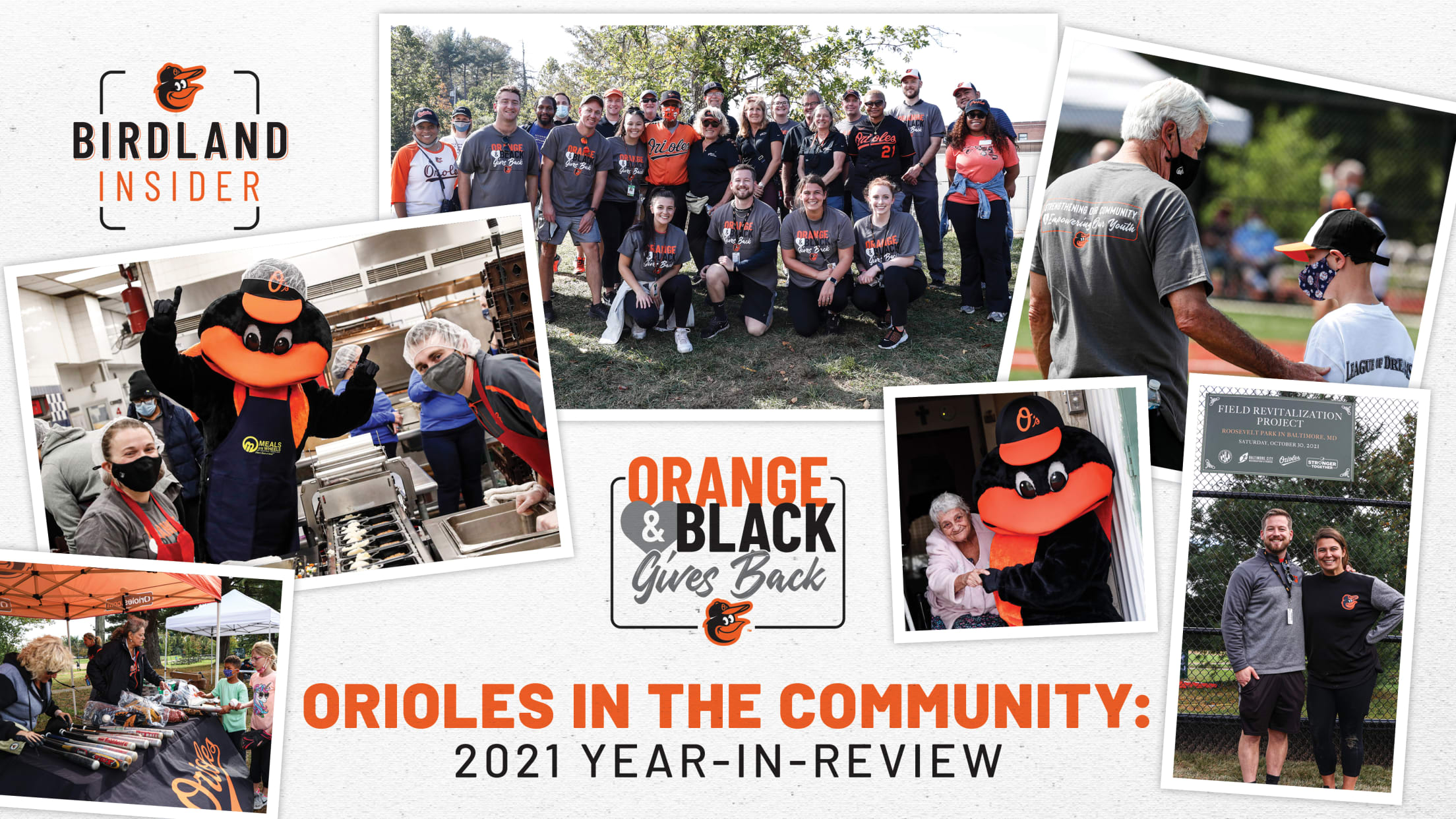 Scroll
Orange and Black Give Back: Year in Review
Throughout the year, Orange and Black Gives Back, the Orioles employee and family volunteer program, completes monthly service projects in the Birdland community. These efforts are focused on organizations that support holistic development for youth, as well as nonprofits that strengthen the community by addressing food insecurity, and other economic and environmental obstacles. The Orange and Black Gives Back Employee Volunteer Program completed more than 20 in-person and virtual volunteer opportunities throughout 2021.
The club started its volunteer efforts by cleaning up a place right at home – the Oriole Park Garden. In celebration of Earth Day, members from Orange and Black Gives Back joined forces with members from the National Wildlife Federation to revitalize the Oriole Garden. The project served to clear the garden of invasive plant species and recover native plant species that help reduce polluted runoff from entering local waters and the Chesapeake Bay. With gardening tools provided by the National Wildlife Federation, volunteers were able to remove invasive plants, including catchweed and dandelion, which lead to biodiversity loss and native plant displacement.
Volunteers also completed a virtual yoga class with Crossroads Middle School. The 8th grade students completed a yoga action project in which they researched, planned, and eventually taught a yoga class to an organization or community within Baltimore that they believed would benefit from yoga.
The Orioles Family Program partnered with Prom Series to provide back-to-school outfits for 20 girls in foster care throughout the Baltimore community. Each member of the family program was assigned a foster girl through Building Families for Children. The Orioles Families, along with members of Orange and Black Gives Back, packaged the outfits with Orioles gear and goodies from Prom Series.
The Orioles Families, along with members of Orange and Black Gives Back, also volunteered at Whitelock Community Farm, an urban farm in the Reservoir Hill neighborhood. Founded by community members in 2010, the farm is a pillar in Reservoir Hill, featuring weekly events, a community supported agriculture program, and youth educational programs. The volunteers completed multiple projects at the farm, including cleaning and reorganizing the nursery, mowing and maintaining the lawn, and building a cinderblock collection area for trash and farm waste.
In partnership with Pepsi Stronger Together, members of Orange and Black Gives Back assisted with The Orioles Field Revitalization Project by assisting with laying sod, painting fencing, repairing benches, raking and lining the field, among other improvements. Following the field's ribbon cutting, youth players from Hampden received new and gently-used equipment from the Cardboard to Leather collections and participated in a clinic.
Volunteers also helped with Play Ball Days, going to local elementary schools and assisting children with hitting, running the bases, and catching pop-ups through fun baseball activities.
In September, the Orioles, in collaboration with League of Dreams, held a beep baseball clinic for children of the Maryland School for the Blind. Beep baseball is an adaptive form of the game for the visually impaired, using a ball that beeps and bases that buzz. Volunteers from Orange and Black Gives Back were on-hand to provide instruction.
The team also partnered with the Maryland Food Bank throughout the year. In September, volunteers from Orange and Black Gives Back and the Maryland Food Bank partnered to hold the Food & Funds Drive at Oriole Park. In total, the collection lasted three days and raised nearly $5,000 and 100 pounds of food. Volunteers also participated in "Pack to Give Back" an annual event that brings together community members to help pack holiday meals for more than 12,000 Maryland families.
Most recently, the Orioles completed numerous volunteer projects to benefit Meals on Wheels of Central Maryland. In collaboration with Giving Tuesday, they created and delivered meals to local community members. They also participated in a "Mugs of Love" event, creating and donating care packages to local homebound seniors through Meals on Wheels. The packages included personal care items, snacks, and activities, as well as hand written cards.
In total, more than 65 employees, including 100 percent of the Orioles Senior Leadership Team, and more than 25 player family members completed a service project in 2021. As a result, 47 projects were completed, supporting 32 different organizations. The Orioles recognize there is still more to be done and look forward to continuing to strengthen the community and inspire the youth in 2022.