O's pitchers struggle in Seattle throughout finale
Ynoa allows 7 runs in 2 1/3 innings, Wotherspoon then yields 5 in 2 2/3 frames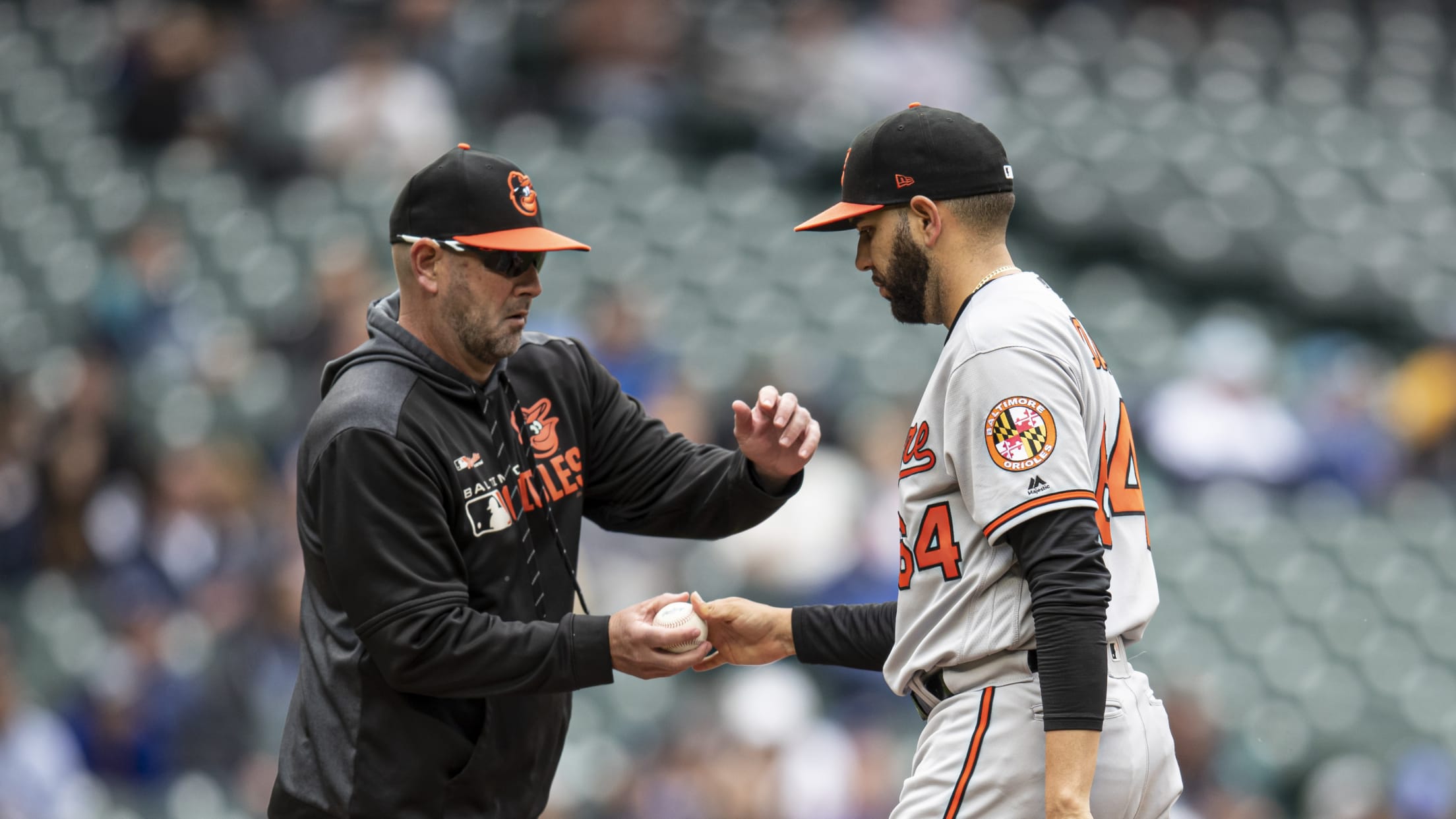 SEATTLE -- Despite their struggles at Oriole Park at Camden Yards this season, the Orioles boarded a cross-country flight on Sunday evening anxious to get home. The West Coast had not been kind, with Baltimore losing six of seven during a road trip that brought injuries to its two best
SEATTLE -- Despite their struggles at Oriole Park at Camden Yards this season, the Orioles boarded a cross-country flight on Sunday evening anxious to get home. The West Coast had not been kind, with Baltimore losing six of seven during a road trip that brought injuries to its two best players, exposed its lack of pitching depth and tested the limits of its manager's patience.
It culminated in Sunday's 13-3 defeat to the Mariners, which capped another trying day on the pitching side. The latest came courtesy of the worst start of Gabriel Ynoa's career and a disastrous relief outing by Matt Wotherspoon. The two righties were tagged for a combined eight runs in the third, when Seattle sent 13 men to the plate and turned a 2-2 game into a laugher.
"It's really disappointing," O's manager Brandon Hyde said, summarizing the trip. "We didn't play well, for me. We played well yesterday. Had a nice offensive comeback the day before. But we didn't pitch well. It was, for me, when we pitched well, we didn't score enough runs. When we didn't pitch well, we hit."
Ynoa was tagged for a career-high seven runs over 2 1/3 innings, walking three. He left with the bags full in the third, and on came Wotherspoon, promoted Saturday from Triple-A Norfolk to plug a 'pen ravished by turnover recently. Making his second career appearance, Wotherspoon, 27, allowed the first five batters to reach via RBI singles and a bases-loaded hit batsman.
Wotherspoon surrendered five of the six runs charged to the Orioles' 'pen, the fourth time in seven games this trip it had allowed that many. These helped swell Baltimore's collective bullpen ERA to 6.36, on pace to shatter the franchise's first-half record. That also officially leapfrogged the Nationals on Sunday as the highest mark in the Majors.
"There's not a whole lot of options right now," Hyde said. "We have what we have. I think we're kind of seeing what we have at the upper levels right now, and that'll change over the course of time, but this is what we have right now."
Offensively, the Orioles received a solo home run in the first from Trey Mancini and an RBI double in the second from Hanser Alberto, who continued to throttle left-handed pitching. Alberto will rank among the American League's top hitters when he qualifies for the batting title this week, and his .406 average against lefties leads the Majors. The homer was Mancini's team-leading 17th, and his first since returning from a left elbow contusion that he suffered on Wednesday.
But the O's squandered several other scoring chances against winning pitcher Yusei Kikuchi, who completed six innings despite issuing four walks and a balk over the first two frames. Despite breaking out for nine runs on Friday, Baltimore was outscored by 30 runs (59-29) on its seven-game road trip between Oakland and Seattle.
"I thought we swung the bat well today," Hyde said. "Had some good at-bats and their starter was a high pitch count early in the game, but that game got away from us so early."
Baltimore has now surrendered double-digit runs 15 times this season, second most among AL clubs, behind only Seattle. The O's have not won consecutive games since May 6 or a series since April 24.
"It's not ideal and not where you want to be," Mancini said. "Hopefully, we can go home and turn it around here."