Hyde on JR Day: 'An honor to wear 42'
Karns making progress in rehab; O's set rotation vs. Rays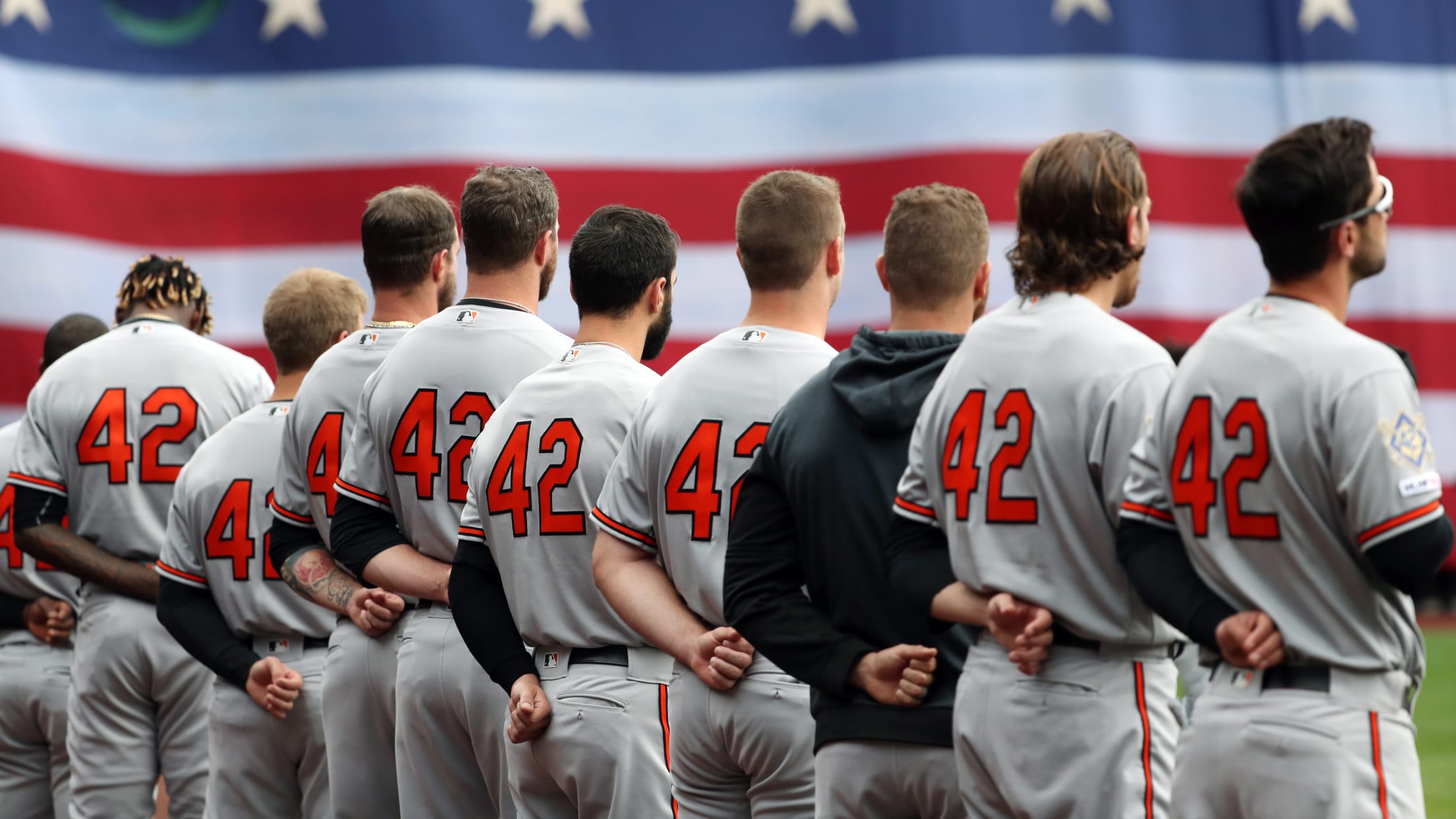 BOSTON -- The Orioles got flashbacks when they arrived early to Fenway Park for Monday's 11:05 a.m. ET first pitch. "In the Minor Leagues, you have those 'kids day' specials during the mid-week sometimes," manager Brandon Hyde said. "This kind of brings me back to that a little bit. This
BOSTON -- The Orioles got flashbacks when they arrived early to Fenway Park for Monday's 11:05 a.m. ET first pitch.
"In the Minor Leagues, you have those 'kids day' specials during the mid-week sometimes," manager Brandon Hyde said. "This kind of brings me back to that a little bit. This is definitely the earliest I've had a Major League game. It does feel like Spring Training a little bit."
The morning start time is part of the Red Sox's longstanding Patriots' Day tradition, dating back to 1901. It was also Marathon Monday in Boston. The Orioles were scheduled to play on the holiday last season, but the game was rained out.
Hyde got to Fenway Park at around 7:45 a.m., and he noted, "Most guys were here earlier before me." The Orioles took batting practice while Hyde prepped for today's game and the upcoming series against the Rays.
"The alarm clock went off a little bit earlier," Hyde said.
Monday was also a significant day around all of Major League Baseball as teams celebrated Jackie Robinson Day. The Orioles, and all clubs, wore No. 42 to commemorate the Hall of Famer.
"This is a special day, for sure," Hyde said. "The number that means so much. It's an honor to wear that 42 on this day, and it's really, really special. I know our guys are excited about it and we're all really grateful."
The #Orioles will join @MLB in honoring the legacy of Jackie Robinson by wearing No. 42 jerseys both today & tomorrow. #Jackie42 pic.twitter.com/NiwxPbxekP

— Baltimore Orioles (@Orioles) April 15, 2019
Karns to visit with team
The Orioles expect to see right-handed pitcher Nate Karns, who is rehabbing in Florida, when they play the Rays in Tampa Bay this week. Karns was placed on the injured list on April 9 because of a right forearm strain.
"He is doing his throwing progression and feels good," Hyde said. "He's throwing a side [session] in the next couple of days."
Karns (0-1) has pitched 5 1/3 innings this season with five strikeouts and no earned runs.
"I want Nate to be healthy, one, and be a solid bullpen arm for us," Hyde said. "I want to be able to make sure that Nate is able to bounce back and recover. I don't want him to give us length or anything. I want him to be able to be a really good bullpen arm for us."
Rotation set for Rays
The Orioles will travel to Tampa Bay after Monday's matchup to start a three-game series against the Rays on Tuesday. Right-handers Dylan Bundy, David Hess and Andrew Cashner are slated to start.