Davis embodies the new 'Orioles way'
Organization hopes to continue track record of defying conventional wisdom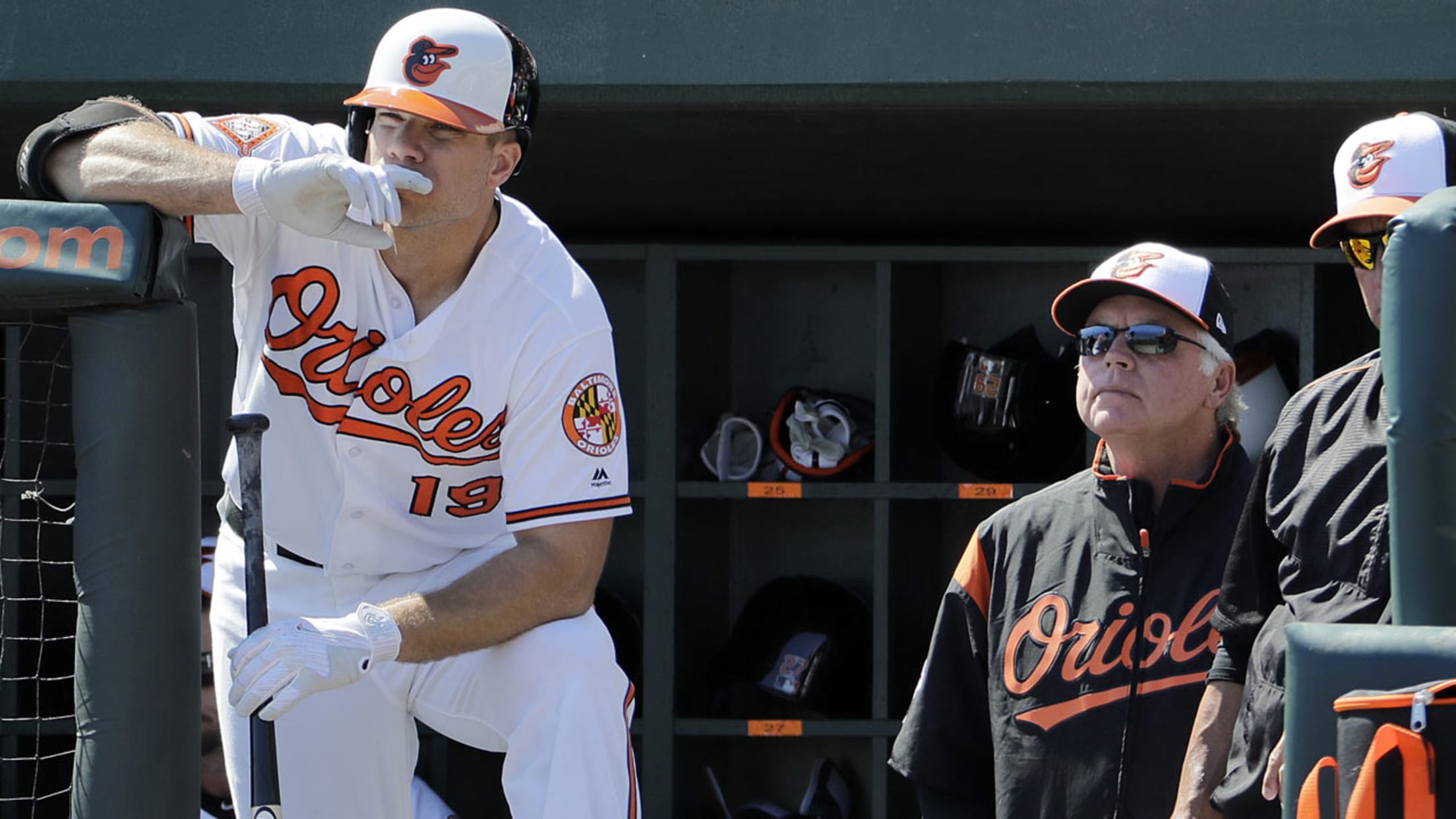 Chris Davis has thrived since joining forces with manager Buck Showalter in Baltimore. (AP)
SARASOTA, Fla. -- In their very first conversation almost six years ago, Orioles manager Buck Showalter told his new first baseman things he hadn't heard in awhile.Showalter told Chris Davis he believed in him. OK, it was a lot more than that. There was some psychological stuff and some technical
SARASOTA, Fla. -- In their very first conversation almost six years ago, Orioles manager Buck Showalter told his new first baseman things he hadn't heard in awhile.
Showalter told Chris Davis he believed in him. OK, it was a lot more than that. There was some psychological stuff and some technical stuff. In the end, though, it amounted to one thing.
The Orioles were going to give Davis a legitimate opportunity to play, and he was going to accomplish great things. He would no longer have to look over his shoulder. If he was ever going to be the impact player he thought he could be, this was his time.
Davis arrived in Baltimore at a time when his confidence was down, his career teetering with the Rangers. Now, he's one of the most productive -- and one of the highest-paid -- players in the game.
"I don't think it was ever a question of whether I belonged or not," Davis said. "It was more, was I ever going to get the opportunity again? I struggled for several years with the Rangers organization. After awhile, I [started] thinking I'm only going to get one more shot."
Davis' 164 home runs since the start of the 2013 are the most in baseball. He's 16th in OPS (.865) and 26th in Wins Above Replacement (16.2) during that time.
"I was just ready to start over," Davis said. "Wipe the slate clean and get another opportunity. I'm very grateful for the confidence Buck had in me, the chance he took on me.
"There are a lot of people that saw the potential and had high hopes for me. Maybe some of them believed I'd be able to make it translate someday. He was the one guy [who] actually put it on the line and put me out there. I really appreciate that."
The O's have had a lot of success stories in the five seasons since their renaissance began. They've won more regular-season games than any other American League team (444) and earned three trips to the postseason.
In Adam Jones and Manny Machado, as well as Chris Tillman and Zach Britton, the Orioles have done a fabulous job of acquiring talent. But one of the things they've done better than almost anyone is work around the edges of traditional player acquisition methods to acquire players who tapped into O's magic.
Among those who hit their stride with the Orioles: Mark Trumbo, Pedro Alvarez, Nelson Cruz, Steve Pearce, Miguel Gonzalez and Wei-Yin Chen.
That history of success is especially relevant in a Spring Training like this one, when the O's are nearly a consensus choice of many to finish last in the AL East.
"I think that's about five years in a row, isn't it?" Davis said.
Well, uh, yes, if, you know, you're keeping track. That said, picking the Orioles to finish last is reasonable even with a team that should be excellent in three areas: offense, defense, bullpen.
What the O's aren't so sure about is their rotation. Their No. 1 guy, Tillman, is sidelined indefinitely with an achy right shoulder. Their next two guys, Kevin Gausman and Dylan Bundy, are high-ceiling arms who are still establishing themselves. Veterans Ubaldo Jimenez and Wade Miley round out the group.
This spring, Showalter is running a tryout camp of sorts for starting pitching. Here are three names to keep in mind: right-hander Gabriel Ynoa and left-handers Chris Lee and Jayson Aquino.
If there are poster boys for this new "Orioles way," they are it. To get them, executive vice president of baseball operations Dan Duquette gave up international signing slots for Lee and cash for Aquino and Ynoa.
All of them have pitched well this spring, and Duquette has done this sort of thing often enough that it would be silly to doubt them.
Back to Davis, who typifies the "Orioles way" perhaps better than anyone. The Rangers called him up in 2008, and he hit 38 home runs in 736 plate appearances in those first two seasons.
Then, Davis struggled and spent most of the 2010 and '11 seasons in the Minors.
"It's such a snowball game," Showalter said. "Like I told him, you've got to shorten the valleys and stretch out the peaks. When things are going good, write it down. What are you feeling in the on-deck circle? What are you feeling during batting practice? What are you feeling when you're walking around in the locker room and you're going good? Write those things down, not where are my hands, where are my feet, what kind of bat am I using."
When Davis signed a seven-year, $161 million contract before the 2016 season, it was the final validation he had arrived. He said those struggles helped him appreciate his success.
"No doubt, absolutely," said Davis. "And I'm grateful and thankful to a certain extent that I went through that. Not that it was fun or that I enjoyed any part of it. But I think it made a big difference in the way I approach the game and really the respect I have for the game. There's no doubt the struggles for those first few years, they were tough. But I learned a lot from them."
Richard Justice is a columnist for MLB.com. You can follow him on Twitter @richardjustice.