Alvarez returns to O's, looks to play outfield
Showalter: 'I'm going to be surprised if he can't do it'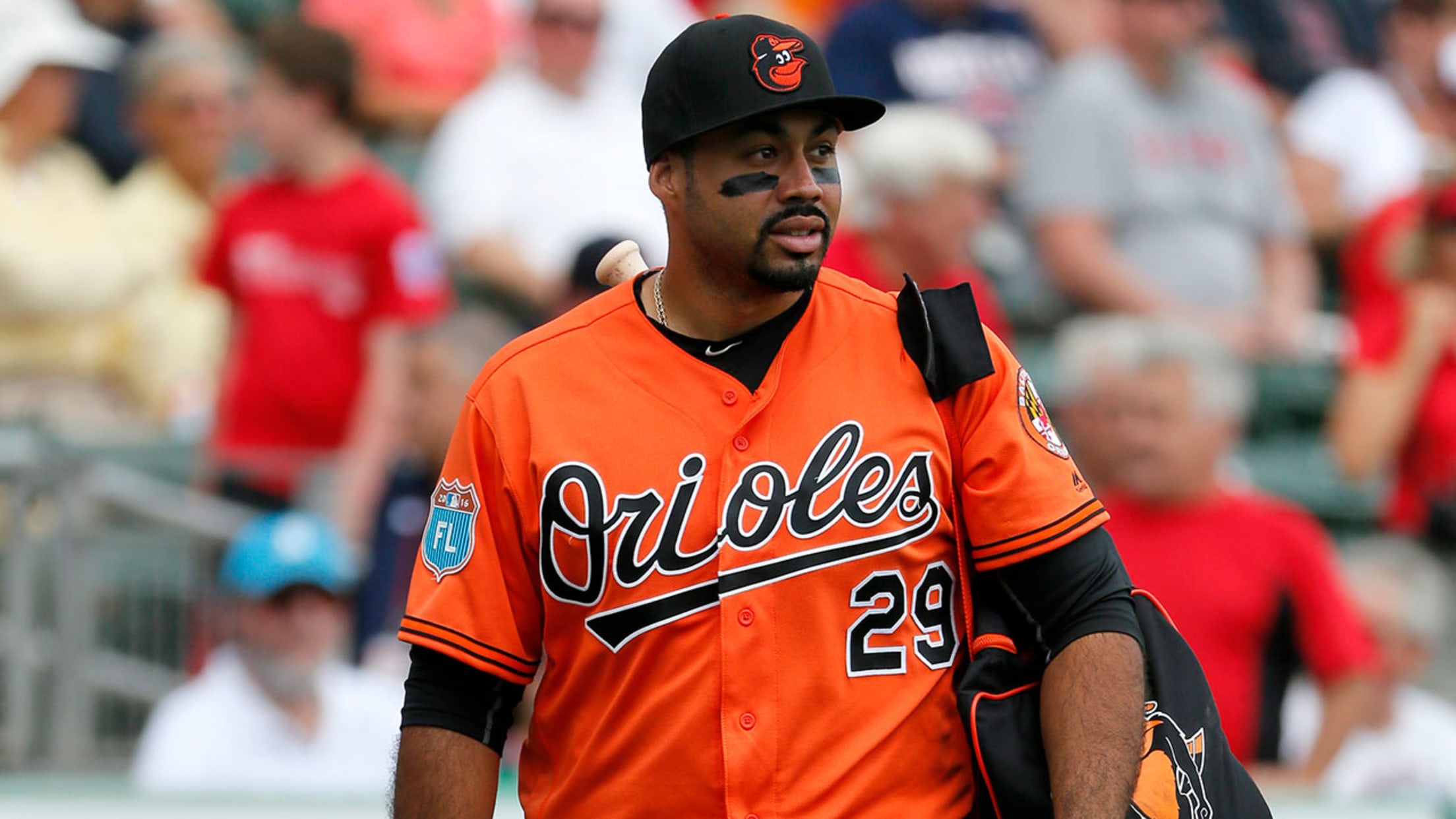 Buck Showalter first suggested Pedro Alvarez should try his hand at playing outfield last September. (AP)
SARASOTA, Fla. -- After passing his physical, Pedro Alvarez is back with the Orioles at a new position. Alvarez, who was a first and third baseman with the Pittsburgh Pirates, and a designated hitter with the Orioles last year, is now trying his hand at the outfield.Alvarez's contract is a
SARASOTA, Fla. -- After passing his physical, Pedro Alvarez is back with the Orioles at a new position. Alvarez, who was a first and third baseman with the Pittsburgh Pirates, and a designated hitter with the Orioles last year, is now trying his hand at the outfield.
Alvarez's contract is a Minor League deal, and he needs to prove himself at a position he's never played.
"Looking forward to the opportunity to get to learn the position as best as possible," Alvarez said. "Obviously, whenever you try playing a new position you've got to put in a lot of work. And the one thing you can't replicate is game reps, so just looking forward to getting the opportunity to go out there and just play."
"All I know is the more reps you can get in, as quickly as possible, the quicker that can happen."
Manager Buck Showalter suggested a conversion to the outfield last September, and it's an idea that Alvarez embraced.
"I think that the fact that it was brought up to me showed a desire to have me around, and I appreciated that conversation last year, and in the same token, it was coming from a good place in his heart, looking out for my career," Alvarez said.
"You can never be too versatile for lack of a better term. That's how I took that conversation, a desire to have me around, and at the same time just looking out for my best interests."
Showalter is confident Alvarez can pull this position switch off.
"I'm going to be surprised if he can't do it," Showalter said. "Pretty athletic. Kind of fits his skill set, too. He's got a plus arm, and he's going to work hard at it.
"He's going to work there exclusively. Hopefully we'll have a feel for it by the time we get towards the end. We've got plenty of time."
Alvarez enjoyed his time with the Orioles, and hoped he could return.
"The desire definitely was there," he said. "I had a very good experience last year with this whole organization and in terms of a fit, I felt right at home when I came here last year. So the desire was definitely there and it was just a matter of the things lining up and aligning the way they did at the end."
The outfield is something that Alvarez has always had in mind, he admitted.
"As players you're always working on stuff," he said. "Obviously, you work on the position you play, but you're always messing around in other places. For as long as I can remember I would come out here for early BP and shag balls."
"It's something that's always kind of been in the back of my mind. It wasn't until toward the end of the year last year that I started to be more practical about it and really sticking to it."
Rich Dubroff is a contributor to MLB.com.