Padres' Logan White being honored Saturday by Professional Baseball Scouts Foundation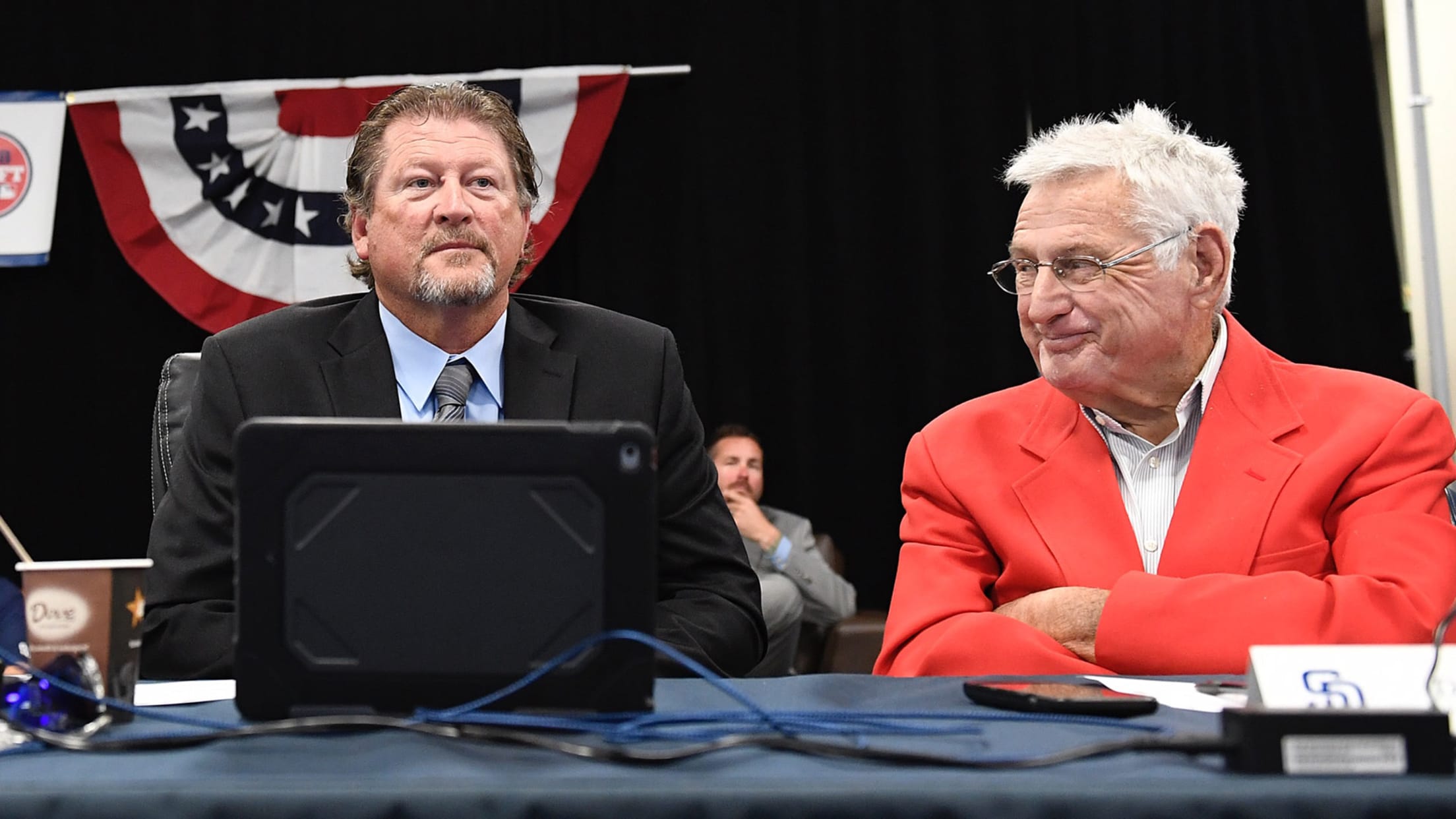 Bill Center, longtime sportswriter for U-T San Diego, is an employee of the Padres.Padres general manager A.J. Preller calls Logan White "the standard bearer" when it comes to baseball scouting."Logan is an outstanding evaluator," Preller said. "He's taken on different roles since he joined the Padres and is involved in
Bill Center, longtime sportswriter for U-T San Diego, is an employee of the Padres.
Padres general manager A.J. Preller calls Logan White "the standard bearer" when it comes to baseball scouting.
"Logan is an outstanding evaluator," Preller said. "He's taken on different roles since he joined the Padres and is involved in all our big decisions. Logan is one of those rare men who is respected throughout baseball."
This Saturday, the 57-year-old White will be honored by the Professional Baseball Scouts Foundation during its 16th annual "In the Spirit of the Game" awards fundraiser at the Beverly Hilton Hotel in Los Angeles.
White, who is now the Padres' Director of Player Personnel, will be one of eight scouts honored.
"This means a lot to me," White said Wednesday. "I've been fortunate to work with great player development and scouting people over the years."
In his second tenure with the Padres, White is entering his fifth season as one of the top aides to Preller. White was the Padres' West Coast scouting supervisor from 1993-95.
In his current position, White oversees evaluations of all players at the Major League, Minor League, amateur and international levels, as well as advising Preller.
"Logan is always looking for the next guy," Preller said. "He is an expert in his field. Plus, he always lends his expertise to our younger guys. He goes beyond being a department leader. He has done an excellent job working with [Padres director of amateur scouting] Mark Connor."
"I'm part of a very good group here," said White. "It's been exciting from every angle. And it's an exciting time."
White was part of the reason why the Padres' were voted the No. 1 Minor League system in baseball last season by MLB Pipeline.
Prior to joining the Padres, White spent 13 years with the Los Angeles Dodgers, starting as director of amateur scouting in 2001 and rising to the rank of vice president for amateur scouting. While with the Dodgers, White oversaw drafts that produced the likes of Clayton Kershaw, Matt Kemp, James Loney, Chad Billingsley, Russell Martin, Corey Seager and Cody Bellinger. The Dodgers' international acquisitions with White in charge of international scouting included Yasiel Puig, Kenley Jansen, Hiroki Kuroda, Takashi Saito, Julio Urias and Hyun-Jin Ryu.
Three straight Drafts overseen by White (2002-'04) for the Dodgers were ranked among the top Drafts by all Major League teams.
"You always wish player development would go faster," said White. "These are exciting times from every angle for us. I love the depth of prospects in our system, particularly the depth of pitching. A lot of our younger prospects have been among the youngest players in their respective leagues."
"When I took this job," said Preller, "one of my first goals was to surround myself with quality people. Logan is an expert in his field."
White is a native of Portales, N.M. He was a 23rd-round pick by the Mariners in the 1984 MLB Draft. White started his scouting career in 1988 as an associate with Seattle before serving as an area scout for the Orioles from 1990-92. After three seasons with the Padres, White returned to the Orioles as West Coast supervisor from 1996-2001, when he joined the Dodgers.
Also among those being honored Saturday will be San Diego native Damon Oppenheimer, who is with the New York Yankees.