Lauer draws Coors Field start for MLB debut
Padres No. 12 prospect will start Tuesday vs. Rockies in tough pitching environment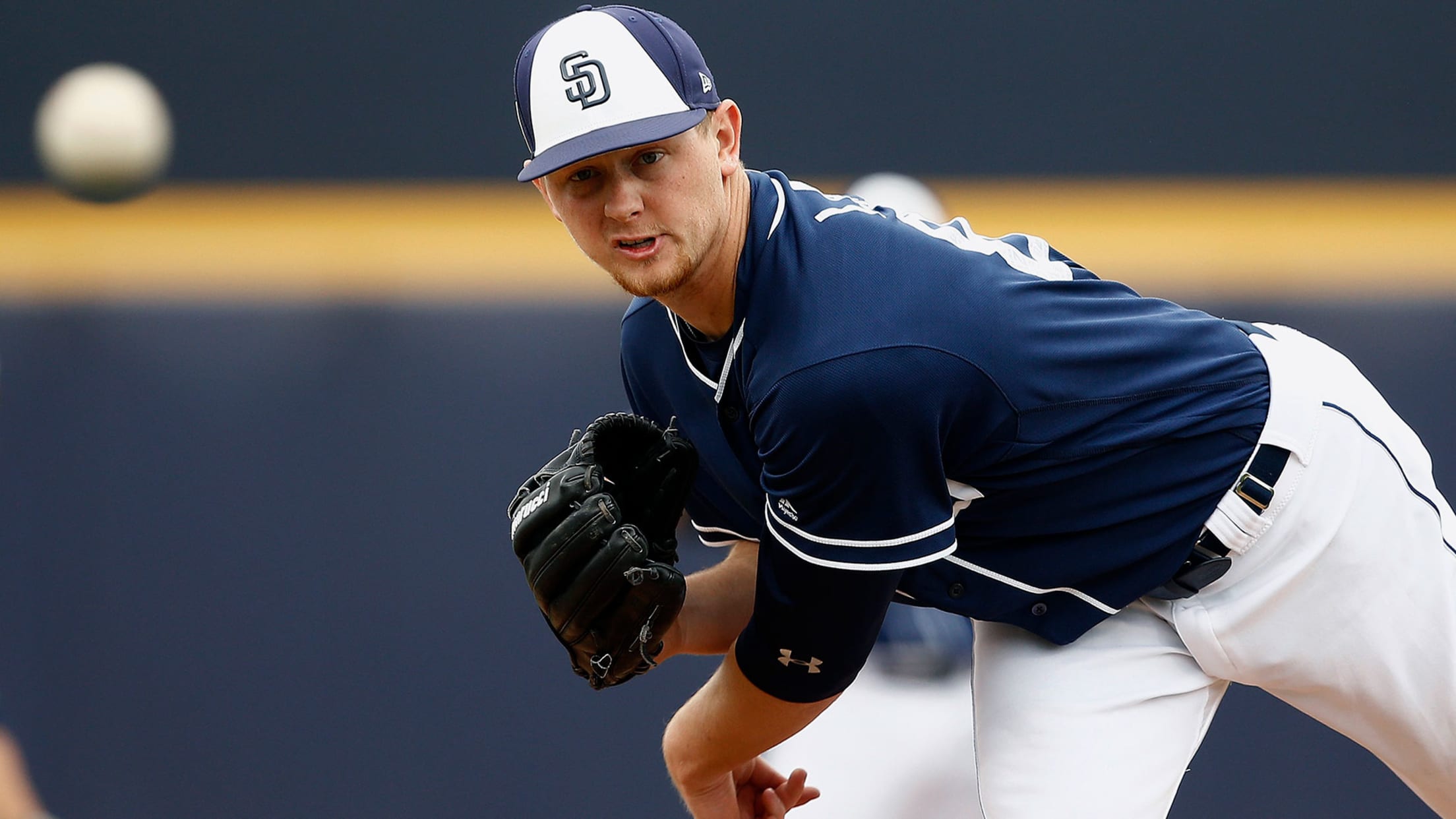 DENVER -- It's not often that a pitching prospect is tasked with a Coors Field debut. For most, the challenge of a first big league start is daunting enough -- without factoring the sport's most hitter-friendly environment into the equation.In the eyes of the Padres, Eric Lauer isn't most starting
DENVER -- It's not often that a pitching prospect is tasked with a Coors Field debut. For most, the challenge of a first big league start is daunting enough -- without factoring the sport's most hitter-friendly environment into the equation.
In the eyes of the Padres, Eric Lauer isn't most starting pitchers.
Faced with an opening in its starting rotation on Tuesday, the San Diego front office mulled the pros and cons of calling up Lauer. Yes, the 22-year-old left-hander had earned the opportunity with an impressive Spring Training followed by three solid starts for Triple-A El Paso. But Coors Field loomed.
On Monday it became official: The Padres have settled on Lauer to fill the void in their rotation. The even-keel demeanor of the Padres' No. 12 prospect played a major part in their decision to make him just the seventh starter in Coors Field history to debut against the Rockies.
"He's just got confidence in himself," said Padres catcher Austin Hedges. "All spring, whether it was hanging around the guys in the clubhouse, at the field, away from the field, he just doesn't seem fazed. Life seems like it moves slow for him. We like those low-heartbeat guys."
Said Lauer: "I've got to pitch here at some point if I want to stay here, so it doesn't bother me that much."
Easier said than done. Results from the first six starters to debut at Coors Field are mixed. But for the most part, the numbers aren't pretty. They've combined to post a 7.27 ERA and none lasted longer than five innings.
Marco Gonzales, STL 6/25/14: 5 IP, 5 ER, 3 K
Anthony Bass, SD 6/13/11: 5 IP, ER, K
Ty Taubenheim, TOR 5/20/06: 5 IP, 3 ER, 3 K
Marcus Jones, OAK, 7/17/00: 2 1/3 IP, 4 ER, K
Chris Brock, ATL, 6/11/97: 4 IP, 3 ER, 2 K
Matt Ruebel, PIT, 5/21/96: 4 2/3 IP, 5 ER, K
Among that group, only Bass earned a win. None of the six compiled more than three strikeouts.
"I saw some stuff where people were saying that it's not a great place to start your career," Lauer said. "But if I want to stay here, I'm going to pitch here. You've got to pitch your game."
Lauer learned he'd be starting last Thursday, after Luis Perdomo was optioned to Triple-A El Paso. Lauer was scratched from his Friday start in Reno and told to prepare for Tuesday in Denver.
Lauer said he "blacked out" for a moment when Padres general manager A.J. Preller broke the news to him over the phone.
"It's been kind of tough to keep under wraps and not get too excited about it," Lauer said. "It's been a blur."
Lauer arrives in the Majors with a fastball/curveball/changeup mix, but he'll almost certainly rely on his low-to-mid-90s fastball ahead of his offspeed pitches. The Padres are hopeful that pitch will play particularly well at high altitude on Tuesday.
Lauer will be the second highly-touted Padres starting pitching prospect from the 2016 Draft class to debut this season. Fellow left-hander Joey Lucchesi is off to a fast start, having posted a 2.70 ERA and 29 strikeouts over five starts.
For the most part, Lauer and Lucchesi have progressed through the Padres' system at the same rate (and they've been throwing partners along the way). Their ascension to the big leagues may have come faster than expected, but the Padres have never been shy about promoting their prospects.
"With the direction that we're moving, the Padres are showing that they're willing to bring up the guys that they've invested in," Lauer said. "I think it's just going to snowball. This is just the beginning."