Rookies Mejia, Naylor finding offensive stride
Notes on Margot, Lamet, Machado, Myers, Tatis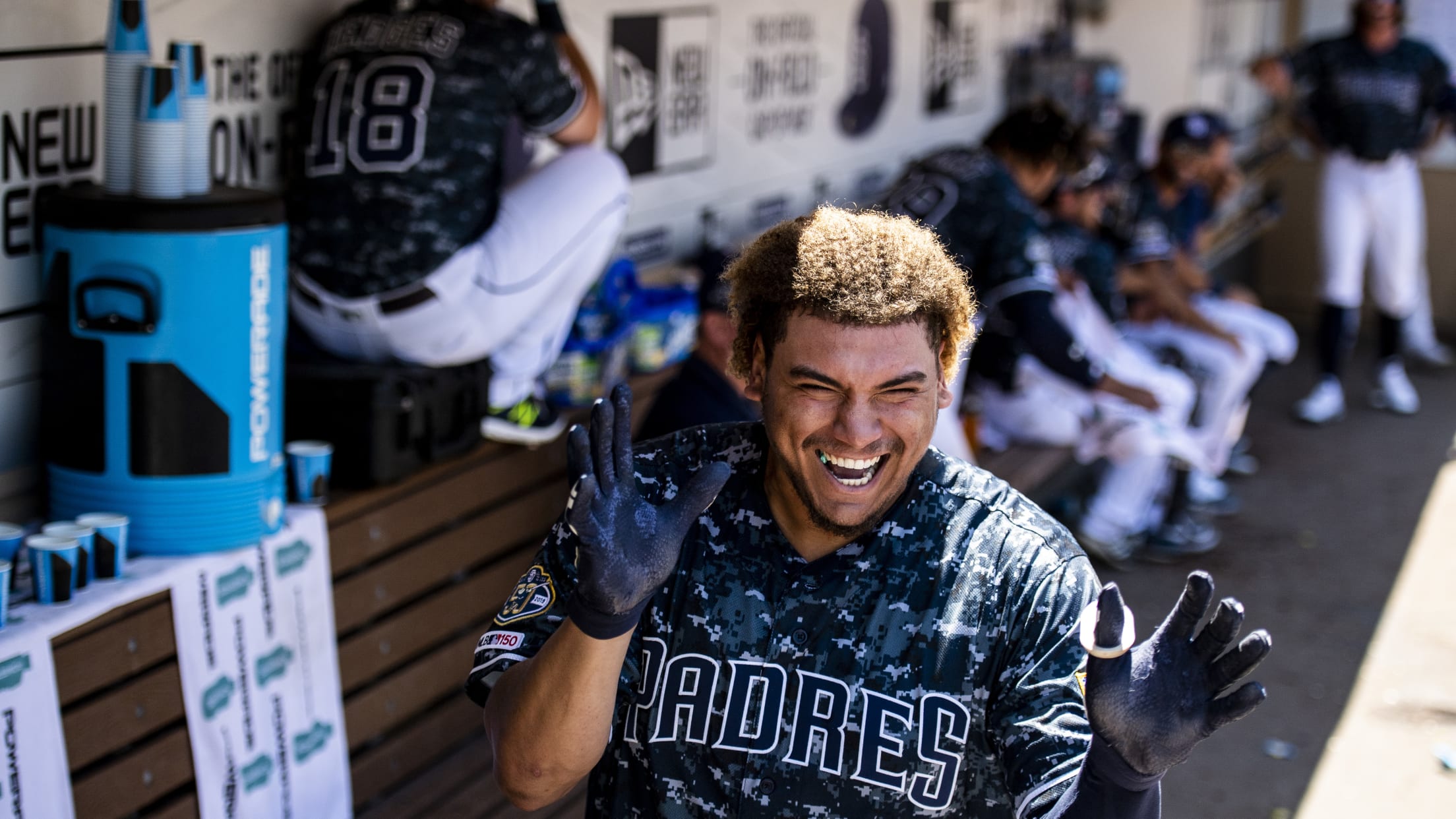 Bill Center, longtime sportswriter for U-T San Diego, is an employee of the Padres. The Padres two hottest hitters of late are a pair of rookies who only recently became regulars – switch-hitting catchers Francisco Mejia and left-handed hitting outfielder Josh Naylor. Both hit their sixth homers Sunday afternoon in
Bill Center, longtime sportswriter for U-T San Diego, is an employee of the Padres.
The Padres two hottest hitters of late are a pair of rookies who only recently became regulars – switch-hitting catchers Francisco Mejia and left-handed hitting outfielder Josh Naylor.
Both hit their sixth homers Sunday afternoon in a losing effort against the Rockies at Petco Park.
Mejia, 23, was 0-for-4 Monday, ending a streak where he had six straight multi-hit starts. During the run, Mejia was 15-for-25 with two doubles, two homers, three RBIs and six runs scored from Aug. 2-11.
Mejia has started six of the Padres past 10 games at catcher as No. 1 Austin Hedges continues to struggle with the bat. Hedges is 2-for-22 with a double, an RBI, a walk and a run scored in his most recent slump, which has dropped his batting average to .186.
Naylor, 22, returned from Triple-A El Paso when the Padres traded right fielder Franmil Reyes to Cleveland at the trading deadline.
Since his return, Naylor has gone 8-for-30 with two doubles, three homers, seven RBIs and five runs scored – including a pinch-hit home run. The Canadian has also drawn four walks since his return for a .343 on-base percentage and a .633 slugging percentage for a .976 OPS.
NOTEBOOK:
• CF Manuel Margot doubled in four at-bats Monday night. Thus far in August, Margot is hitting .323 (10-for-31) with three doubles, four home runs, three walks, seven RBIs and eight runs scored – for a .382 on-base percentage and a .806 slugging percentage for a 1.188 OPS.
• RHP Dinelson Lamet's earned run average has dropped in four of his last five starts. Lamet was working on a run of 13 straight scoreless innings when he gave up a two-run homer to Yonder Alonso with no one out in the sixth Sunday afternoon. Over his last two starts, Lamet had given up two runs on five hits and seven walks with 19 strikeouts in 12 innings.
• SS Fernando Tatis Jr.'s is 0-for-9 since his career-best 14-game hitting streak ended Sunday. This is only the fourth time in his rookie season that Tatis has gone hitless in two straight games. Tatis has two hits in his past 17 at-bats with six strikeouts to drop his batting average from .326 to .315.
• 3B Manny Machado is 2-for-27 – including a season-worst-equaling 0-for-19 – over his last seven games since his 6-game, 10-for-27 hitting streak ended on Aug. 6 in Seattle. The slump includes nine strikeouts.
• OF Wil Myers is 8-for-24 (.333) during a seven-game hitting streak that includes a pinch-hit homer. He has two doubles in addition to the home run with five RBIs.