Yates, Stammen on an unsustainable pace
Notes on Tatis, Margot, Reyes, Hedges and Strahm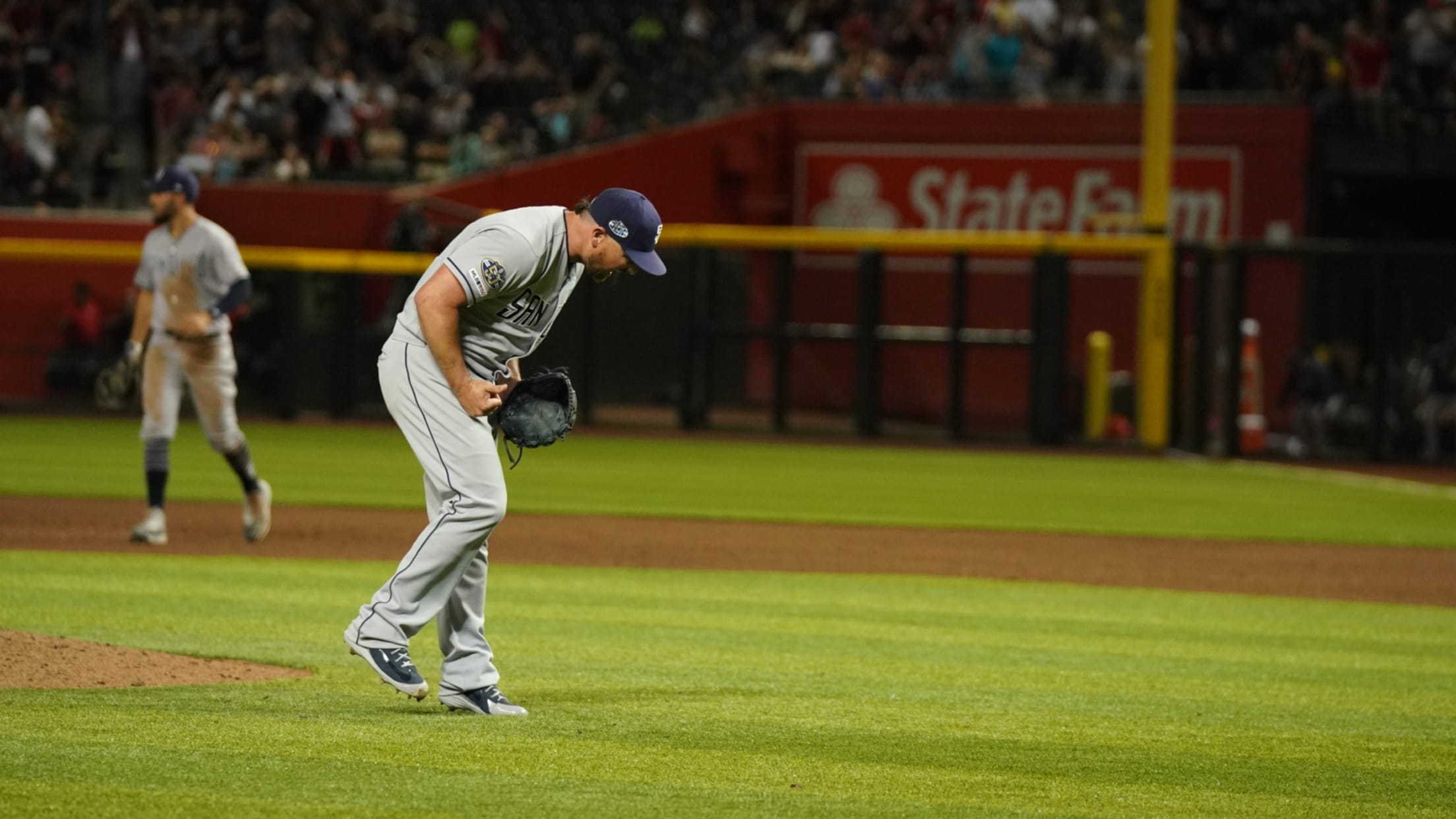 Bill Center, longtime sportswriter for U-T San Diego, is an employee of the Padres. Sustainability. That is the word of the day for the Padres, who are off to their fastest start (11-5) since the National League championship season of 1998 and are 9-1 in games decided by two runs
Bill Center, longtime sportswriter for U-T San Diego, is an employee of the Padres.
Sustainability.
That is the word of the day for the Padres, who are off to their fastest start (11-5) since the National League championship season of 1998 and are 9-1 in games decided by two runs or fewer. San Diego owns three straight, one-run wins -- and four on a 7-2 road trip that concludes on Sunday in Arizona.
The Padres are winning. They haven't been six games over .500 since the 90-win 2010 season.
But the bullpen is paying a price.
San Diego's starting pitchers have reached the sixth inning in only seven of their first 16 starts. No starter has thrown a pitch in the seventh.
Closer Kirby Yates has appeared in 10 of the Padres' first 16 games. That's a 100-game and 90-save pace. Reliever Craig Stammen has appeared in nine games.
The frequency of their appearances is unsustainable. Padres manager Andy Green knows it. Everyone knows it.
The Major League record for relief appearances in a season is 106 -- set by the Dodgers' Mike Marshall in 1974, when he threw an incredible 208 1/3 innings ... all out of the bullpen. The previous season, Marshall threw 179 innings over 92 appearances for the Expos. Later in his career, he made 90 appearances for the Twins in '79 (142 2/3 innings).
But no Padres pitcher has ever made more than 83 appearances in a season (Craig Lefferts, 1986).Only five have ever made 80 appearances.
One of two things must happen for the Padres: Either the starters start going deeper or someone else steps up in the bullpen -- which Green says is a 15-man conglomerate that stretches back into Triple-A and possibly Double-A.
It doesn't help that Robert Stock, who developed into a trustworthy late-inning arm last season, can't find the plate. Left-handers Jose Castillo and Aaron Loup are on the injured list, while left-hander Brad Wieck is just rounding into shape after treatment in January for testicular cancer.
Notebook
• Fernando Tatis Jr. hit his fourth home run on Saturday in his 15th career game. Since 1900, Tatis is the fifth-youngest player in Major League history to have four homers over the first 15 games of his career. The four younger players are Lou Klimchock (1959), Tony Conigliaro ('64), Andruw Jones ('96) and Miguel Cabrera (2003). Two of his homers have come off Arizona's Merrill Kelly, while three have come during the first nine games of this road trip.
• Catcher Austin Hedges is 2-for-28 (.071) since starting the season 4-for-8. Both those hits are home runs, though, which accounted for five RBIs. He is 2-for-23 (.087) on this trip, with 11 strikeouts.
• Center fielder Manuel Margot is 10-for-26 (.385) on this trip, with two doubles, a homer and three RBIs. He has raised his batting average from .235 to .318.
• Right fielder Franmil Reyes has all three of his 2019 homers on this trip, with Saturday night's seventh-inning tiebreaker being his second game-winning homer. Reyes is 6-for-22 (.273) on the trip, raising his batting average from .063 to .184.
• Lefty Matt Strahm has yet to reach the sixth inning in any of his 35 career starts, although he did extend to 87 and 89 pitches, respectively, in his past two starts – during which he allowed two runs (one earned) on eight hits and two walks in 10 innings with six strikeouts.