Stairs eager to impart OBP wisdom on Padres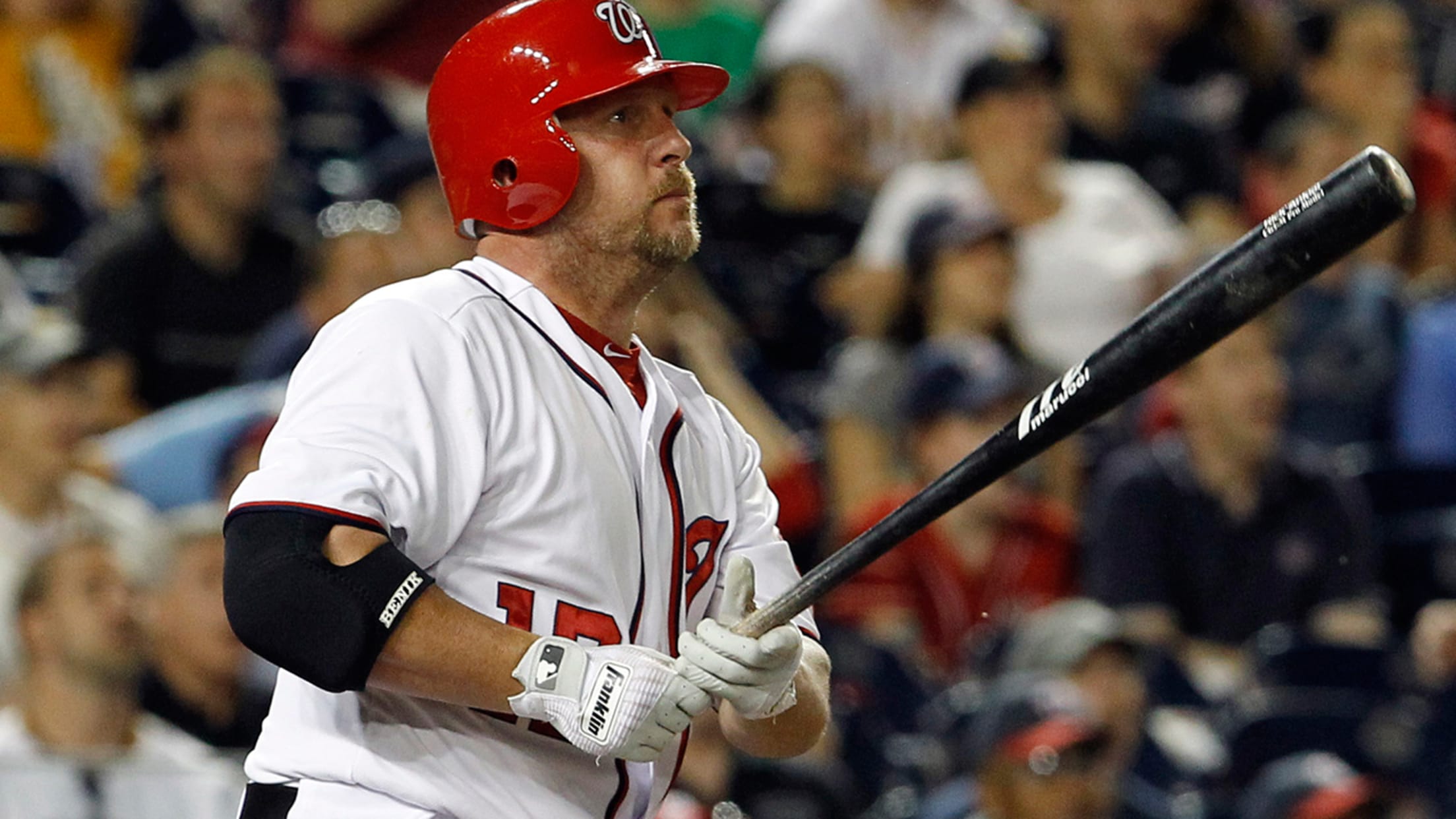 New Padres hitting coach Matt Stairs put together a .356 on-base percentage over a 19-year big league career. (AP)
SAN DIEGO -- New Padres hitting coach Matt Stairs once preached, somewhat famously, to "Swing like you live: hard."It's a witty one-liner, no doubt. But it tells only half the story. See, Stairs' mindset at the plate is, indeed, to swing hard. Not necessarily "often."• Padres hire Stairs as hitting
SAN DIEGO -- New Padres hitting coach Matt Stairs once preached, somewhat famously, to "Swing like you live: hard."
It's a witty one-liner, no doubt. But it tells only half the story. See, Stairs' mindset at the plate is, indeed, to swing hard. Not necessarily "often."
• Padres hire Stairs as hitting coach
In San Diego, Stairs inherits the most free-swinging lineup in the Majors. Entering the 2018 season, the Padres' biggest challenge is to turn around their on-base woes, after ranking last in the Majors in OBP in each of the past two seasons.
"It's a very athletic group that I'm joining with the Padres," Stairs said. "The area where they need to improve on is the area I'm a firm believer in: on-base percentage. That begins by working with the younger guys, getting them to know the strike zone right away and understand their strengths right away. I've always been a guy that always preaches -- even when I wasn't coaching -- about not giving at-bats away, being a stubborn hitter."
Stubborn hitters -- that's something of a mantra for Stairs, a phrase he used repeatedly in a phone interview with MLB.com on Tuesday. What exactly does that entail?
"Young players, sometimes, try to do too much," he said. "I'm a firm believer in passing the baton and taking the walk. Let the guy behind you pick you up. If he doesn't do the job, the guy behind him picks him up. That's the thing that I'll pound in their heads: patience and being a stubborn hitter."
By no means are the Padres short on young hitters. They boasted the youngest offense in the Majors last season. Count William Myers, Hunter Renfroe, Austin Hedges and Manuel Margot among the San Diego hitters who could seriously benefit from an uptick in walks.
Stairs, who spent 2017 serving in the same role in Philadelphia, has already begun diving into film of Padres at-bats. He plans to consume as much as possible over the next few months.
The goal is for Stairs to enter camp with an idea of his hitters' strengths. Then he'll look to mold a plan of attack around those strengths.
"Look for your zone, know what your strength is," Stairs said. "Guys throw so hard nowadays, you can't look both sides of the plate. You need to look for your strength and make the adjustment from there.
"In Philly, it worked. We walked a lot more, we got on-base a lot more because the players bought into it from Day 1 and said, 'You know what, why am I swinging at the slider low and away when I'm a good fastball hitter inside?' Put the pressure on the pitcher."
Indeed, Philadelphia saw a 14-percent uptick in on-base percentage under Stairs last season. It's also clear that Stairs lived by that mindset as a player. Over 19 big league seasons, Stairs reached base at a remarkable .356 clip.
"This guy's been in the box in the big leagues, and he's been very successful," Padres manager Andy Green said. "And he's been successful in the areas that we care about: High walk rate, low [strikeout] rate, high damage rate. He clearly, cleanly articulates [that message] for players, and his hitters have taken on some of his characterstics. That was kind of the main draw."
When the Padres came calling earlier this month, Stairs called his decision "a no-brainer." He spent 2010 in San Diego and he raved about his time with the Padres.
"It's just a class organization, beautiful ballpark," Stairs said. "They need to get a winning team there again. We have the talent, we have the athletes. ... With the talent we have there, I can't wait to get started."