HOFer Enberg turned sports into a symphony
Hard work was the backbone of broadcaster's perfection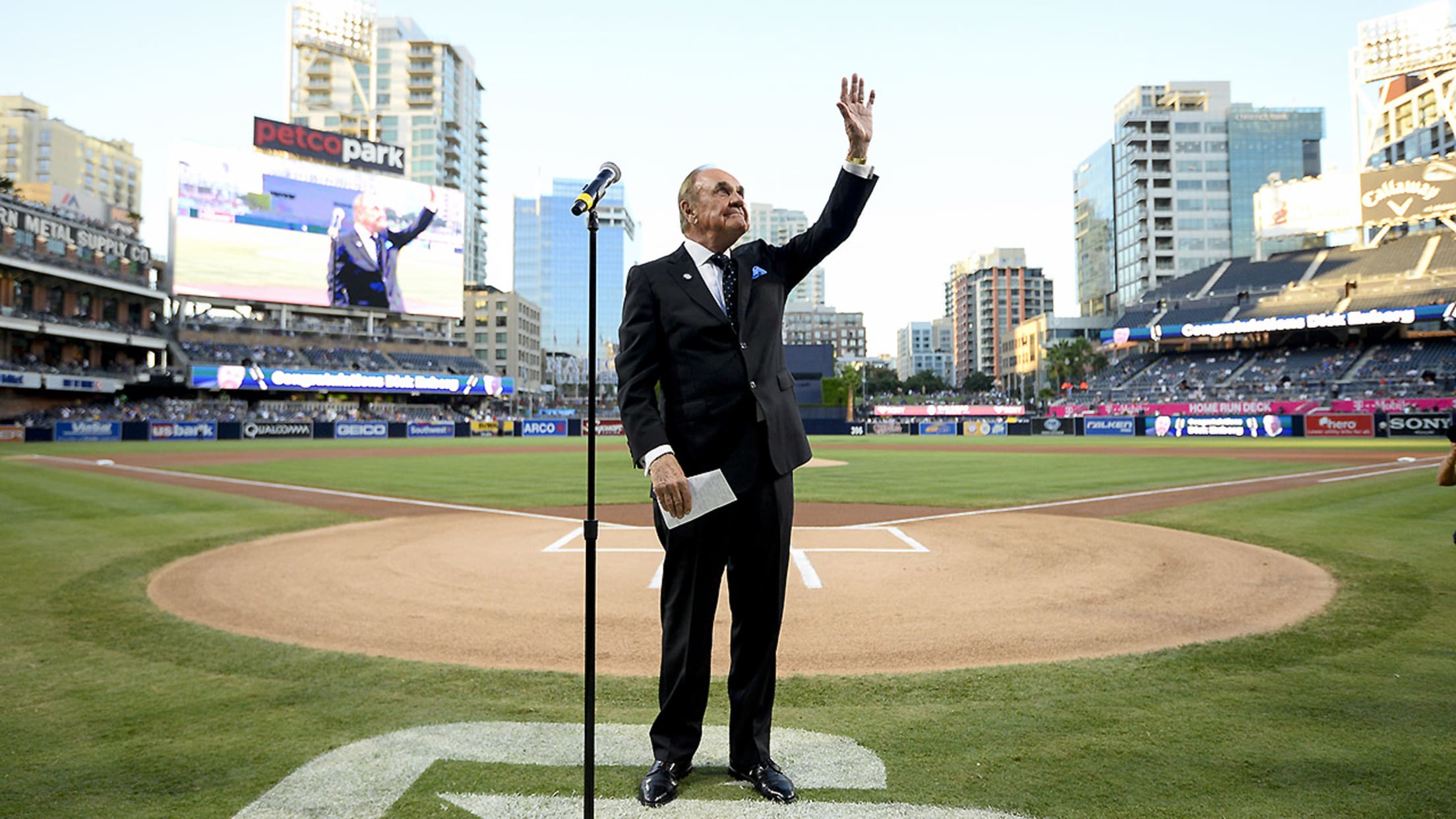 (Denis Poroy/Getty Images)
Bill Center, longtime sportswriter for U-T San Diego, is an employee of the Padres.Dick Enberg was midway through his 70s and already a sports broadcasting legend many times over when he joined the Padres to be their television play-by-play man.The mid-70s is a time when most professionals are slowing down.And
Bill Center, longtime sportswriter for U-T San Diego, is an employee of the Padres.
Dick Enberg was midway through his 70s and already a sports broadcasting legend many times over when he joined the Padres to be their television play-by-play man.
The mid-70s is a time when most professionals are slowing down.
And let's be honest here, calling Padres games is not quite at the level of the countless Super Bowls, World Series, NCAA Finals Fours, Olympic Games, Wimbledon finals, Rose Bowls, NBA Playoffs that Enberg expertly detailed to the public during his award-winning career.
But Enberg plunged into his role with the Padres when he joined the organization in 2010.
Anyone who ever heard Enberg relay the action from a field, a court or a ring recognized the man's command of the English language as well as his gift for being able to define the action we were watching while blessing us with stories that wrapped everything we were experiencing into a wonderful package.
Enberg was a Hall of Famer and an Emmy Award winner many times over.
But what many didn't see was Enberg behind the scenes.
Enberg was meticulous.
Soon after joining the Padres, Enberg moved into an office behind the broadcast booths at Petco Park.
Office?
Well, it had been a storage room before Enberg moved in his desk and files. There were no windows. There were no pictures or plaques on the walls of his office, which, in reality, wasn't much bigger than a closet. You couldn't close the door without moving the second chair.
But Enberg never closed the door. He'd work for hours before every home game in that tiny little office going over copious notes he had prepared.
However, anytime someone -- anyone -- poked their head into that office, Enberg would close his notebooks, slide them to the side and chat.
Enberg never forgot that young boy who got his start in broadcasting at a tiny radio station making the same amount as the janitor.
"I look back at what I've done and I'm amazed," Enberg once said. "So many good things happened to me. I could never have charted this path. I just followed it."
Agree to disagree.
Enberg was a great talent. And a humble man.
I'd like to share my first experience with Enberg. It's not what you think it might be.
Let me start by saying that on the day the legend was hired by the Padres, I approached him after the news conference.
"Dick, do you remember me?" I asked.
Enberg looked at me, paused briefly and laughed.
"My chauffeur," he said.
Nailed it.
I was covering an Angels game in the early 1980s when Enberg was doing the play-by-play for the club -- a gig that would eventually trigger his 2015 induction into the Baseball Hall of Fame.
It was a Sunday afternoon and Enberg needed to get to Rancho Santa Fe from Anaheim after the game. The car scheduled to transport Enberg home had broken down, and he needed a ride. Angels media director Tim Meade approached me and asked if I was returning to San Diego after the game and, if I was, could I give Enberg a ride.
I knew who Enberg was. Everyone knew that.
I told Meade there was a problem. My car was not a car. It was an off-road pickup truck that was uncomfortable at any speed. It was also a mess since I had covered the Baja 500 off-road race the previous week.
Enberg relayed through Meade that any ride would be appreciated. After the game, he waited as I finished writing before we headed for the parking lot. I think Enberg was a bit surprised when he saw what was awaiting.
"This is new to me," Enberg said as I told him how to connect the five-point seatbelt harness.
As we headed south on the I-5, Enberg asked if the air conditioning worked as he reached for the switch. When it came on, a wall of dust accumulated in Baja California filled the cab.
Enberg laughed.
"No one is going to believe this story," he said as we pulled into Rancho Santa Fe.
Two and a half decades later, he perfectly retold the story of his wild ride from Anaheim to Rancho Santa Fe to several friends while on the field at Petco Park.
We will long remember the voice and face of Enberg. He was a Hall of Fame broadcaster and so much more.
I will remember the man who rode in my truck, took time to counsel young broadcasters and who personally thanked every worker at Petco Park who crossed his path.
Enberg wasn't just a Hall of Fame broadcaster. He was a Hall of Fame man.