Notes: Weathers makes MLB debut in NLDS
Among many other things, 2020 is also the year of the postseason big league debut.
Among many other things, 2020 is also the year of the postseason big league debut.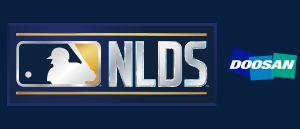 Prior to this month, only twice in history had a player made his first Major League appearance in a playoff game. But Alex Kiriloff did so for the Twins in the American League Wild Card Series, and Shane McClanahan did so for the Rays on Monday night in the AL Division Series.
Ryan Weathers joined that club in style on Tuesday night.
In a surprise move, the Padres included the 20-year-old former first-round pick on their National League Division Series roster, which was announced on Tuesday morning. After Mike Clevinger's early exit, Weathers helped bridge the gap, tossing 1 1/3 scoreless, hitless frames including a strikeout of Cody Bellinger.
Weathers, the team's No. 6 prospect according to MLB Pipeline, had never pitched above Class A.
"He's always been a strike thrower, and he's continued to get better over the last few months," said Padres general manager A.J. Preller. "In terms of the individual, the makeup, the personality, the competitor -- a lot of faith there."
Even with a roof, Weathers can still come in. pic.twitter.com/oCft6Uuf0O

— San Diego Padres (@Padres) October 7, 2020
Weathers has been a standout at the team's alternate training site this season, where he's seen a significant uptick in his fastball velocity. A season ago, it sat in the low 90s. Now, Weathers routinely hits 96-97 mph.
It's unclear what role Weathers will fill in the NLDS, but the Padres might simply need him to cover innings for them.
"We're going into this series with all hands on deck," Padres manager Jayce Tingler said when asked how he might deploy Weathers. "We'll see what happens. We've got a couple spots maybe in mind, and we'll go from there."
Weathers posted a 3.84 ERA in 22 outings for Class A Fort Wayne last season. He's the son of longtime big league reliever David Weathers, who won a World Series with the Yankees in 1996.
At the team's alternate training site, Weathers has been working in varying roles, including starting, long relief and shorter bursts out of the 'pen. That versatility could prove critical -- and it was a big reason why Weathers was added and Dan Altavilla, a one-inning option, was subtracted.
"He's pitched in some different roles," Preller said. "We'll see how it plays out. Honestly, it's just giving another quality arm to Jayce and see how he wants to use him."
Richards' bullpen role explained
With the status of Clevinger and Dinelson Lamet in question, Tingler has insisted that the Padres haven't considered using longtime starting pitcher Garrett Richards in their rotation.
Richards was moved to the bullpen during the season's final month. He's been effective in relief, posting a 1.42 ERA with a 0.63 WHIP.
"He had to learn how to get ready, how to get ready quick, what does the day look like," Tingler said. "Each time, it's gotten better and better. We think he's got a chance to be a weapon."
That doesn't entirely explain the team's hesitation at moving Richards back to the rotation. But consider this: In his final five starts, Richards completed the fifth inning only once.
If the Padres' two options are using Richards once for 4-5 innings or three times for 1-2 innings apiece -- where they'd be able to pick the appropriate spots for him -- they'd obviously prefer the latter.
Campusano vs. Garcia
When the Padres made the decision to carry an extra pitcher on their NLDS roster, it left them with a cut to make at the back of their bench. Either infielder Greg Garcia or catcher Luis Campusano would have to give way.
"That was probably the hardest decision that we went through," Tingler said. "We felt it was best to load up with as many arms as we could."
But why keep Campusano, who played one game all regular season, over Garcia, who played an integral role as a lefty pinch-hit bat?
Well, the Padres don't have pinch-hit opportunities available. They only used 10 offensive players in their three-game Wild Card Series. But if Tingler wanted to pinch-run for, say, catcher Austin Nola, Campusano is a strong option to have off the bench as a third catcher.
Comeback Hoz
In his career, Padres first baseman Eric Hosmer has faced elimination trailing by four runs on three occasions.
His teams have won all three of those games -- two remarkable Royals comebacks in 2014 and '15 and Thursday's Game 2 of the NL Wild Card Series.
"I hope that number stays right where it's at," Hosmer joked. "I don't know if I can take any more of these games. But it just shows the heart of the team to really just keep fighting.
"... This team is so similar to my teams with the Royals because the energy is always there, the belief is always there. Each guy believes that if it's not presented to them, they believe the teammate behind them can easily get the job done."