Morrow, Spangenberg suffer setbacks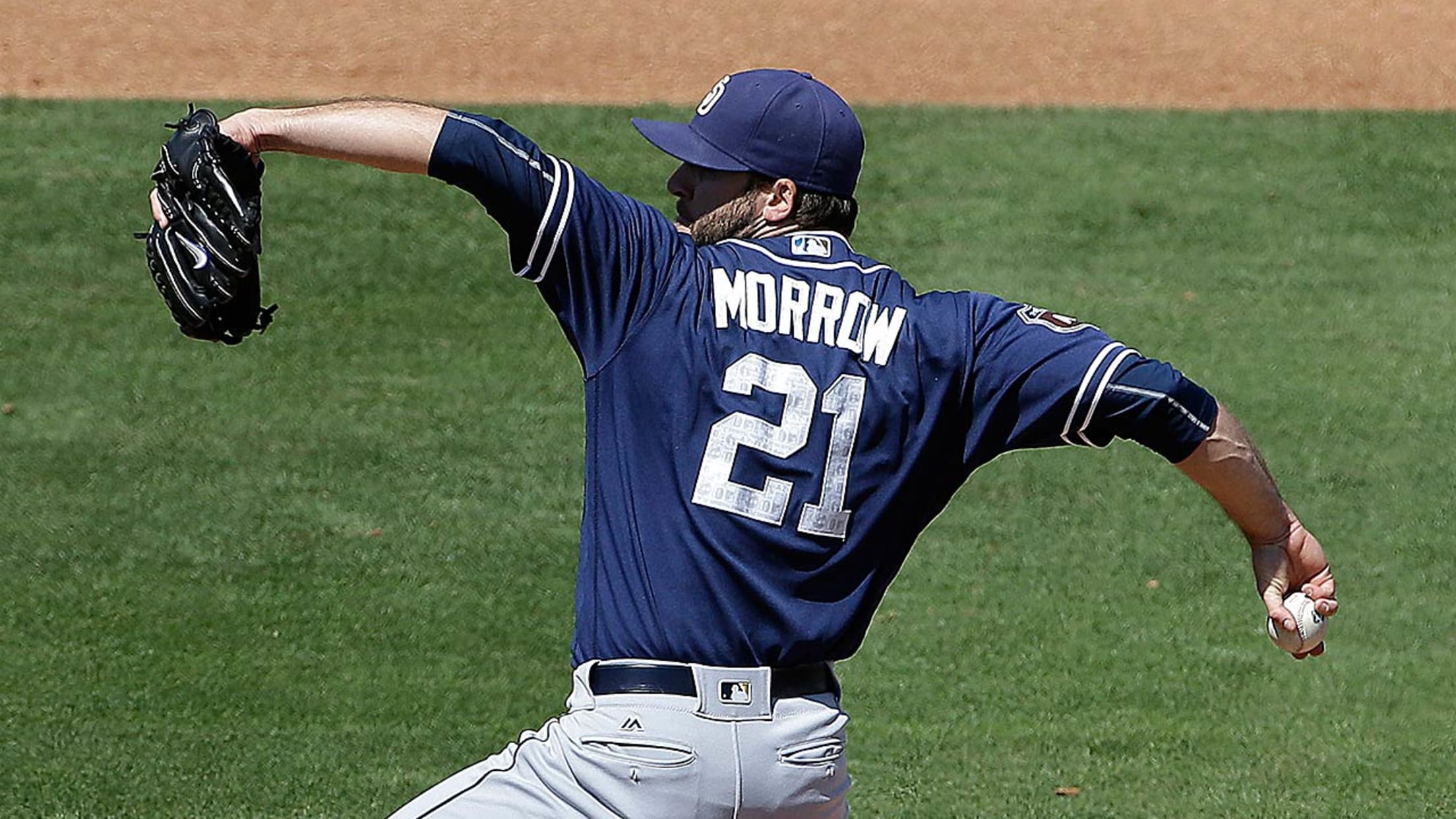 Brandon Morrow went 2-0 with a 2.73 ERA in five starts last season before having surgery. (AP)
SAN DIEGO -- Padres second baseman Cory Spangenberg and right-hander Brandon Morrow are being held out of baseball-related activities after suffering setbacks in their recoveries.Morrow, who underwent shoulder surgery last August, was sent to extended spring camp in Arizona last week with shoulder fatigue, and the Padres are unsure when
SAN DIEGO -- Padres second baseman Cory Spangenberg and right-hander Brandon Morrow are being held out of baseball-related activities after suffering setbacks in their recoveries.
Morrow, who underwent shoulder surgery last August, was sent to extended spring camp in Arizona last week with shoulder fatigue, and the Padres are unsure when he'll resume throwing. It appears likely that Morrow's June 1 opt-out date will be pushed back.
Morrow had spent the past month pitching in the Minors, amassing a 7.31 ERA and a 1.543 WHIP between three different levels. Assistant general manager Josh Stein said the club had noticed some issues with Morrow's delivery that led to the fatigue. Once Morrow resumes throwing, he'll remain in extended spring camp, where those issues can be addressed.
During the offseason, Morrow signed a Minor League deal with the Padres with the potential to opt out before the regular season. But with his recovery not quite complete, Morrow's opt-out clause was extended into the regular season -- and could be extended again.
Morrow was the Padres' best pitcher during the first month of 2015, posting a 2.73 ERA in five starts before hitting the disabled list in early May.
"It's my understanding that he felt less than ideal in his shoulder, and so they kind of pulled him back, and now he's trying to find out what's best for him going forward," manager Andy Green said.
As for Spangenberg, he reinjured his left quad while running and has returned to the strengthening portion of his rehab -- essentially back to square one.
"I don't want to say he pulled it again, but it just didn't feel good," Green said. "Something happened where they had to pull him back. There's kind of swelling in there."
Ross mum on return
Ailing right-hander Tyson Ross does not have a timeframe for his potential return from his right shoulder injury. He has not yet resumed throwing.
Currently, Ross is rehabbing his shoulder extensively and has progressed past the initial hurdle of being cleared for full strengthening work.
"You've basically got to lay a good foundation first, and that's what we were doing," Ross said. "It's just kind of limited ranges, and making sure everything is strong and stable. And then progressing on up the chain from there. Things have been going great."
Amarista begins rehab stint, Solarte on the horizon
A pair of hamstrung Padres infielders could be nearing a return. Alexi Amarista made his first rehab appearance Tuesday night for Double-A San Antonio since suffering a right-hamstring strain in April.
Yangervis Solarte could follow soon. He's participating in games in extended spring camp.
"Solarte's not too far behind," Green said. "He played seven innings yesterday, had two or three hits, swung the bat well. He's feeling better and better. It'll be good to get those two guys back, Amarista coming a little quicker than Solarte."
Erlin has successful Tommy John surgery
Left-hander Robbie Erlin underwent successful Tommy John surgery on his pitching elbow Tuesday afternoon. Erlin, who partially tore his UCL in mid-April, is not expected back until midway through the 2017 season at the earliest.
The operation was performed by Dr. Neal ElAttrache in Los Angeles.