These 30 prospects could draw trade interest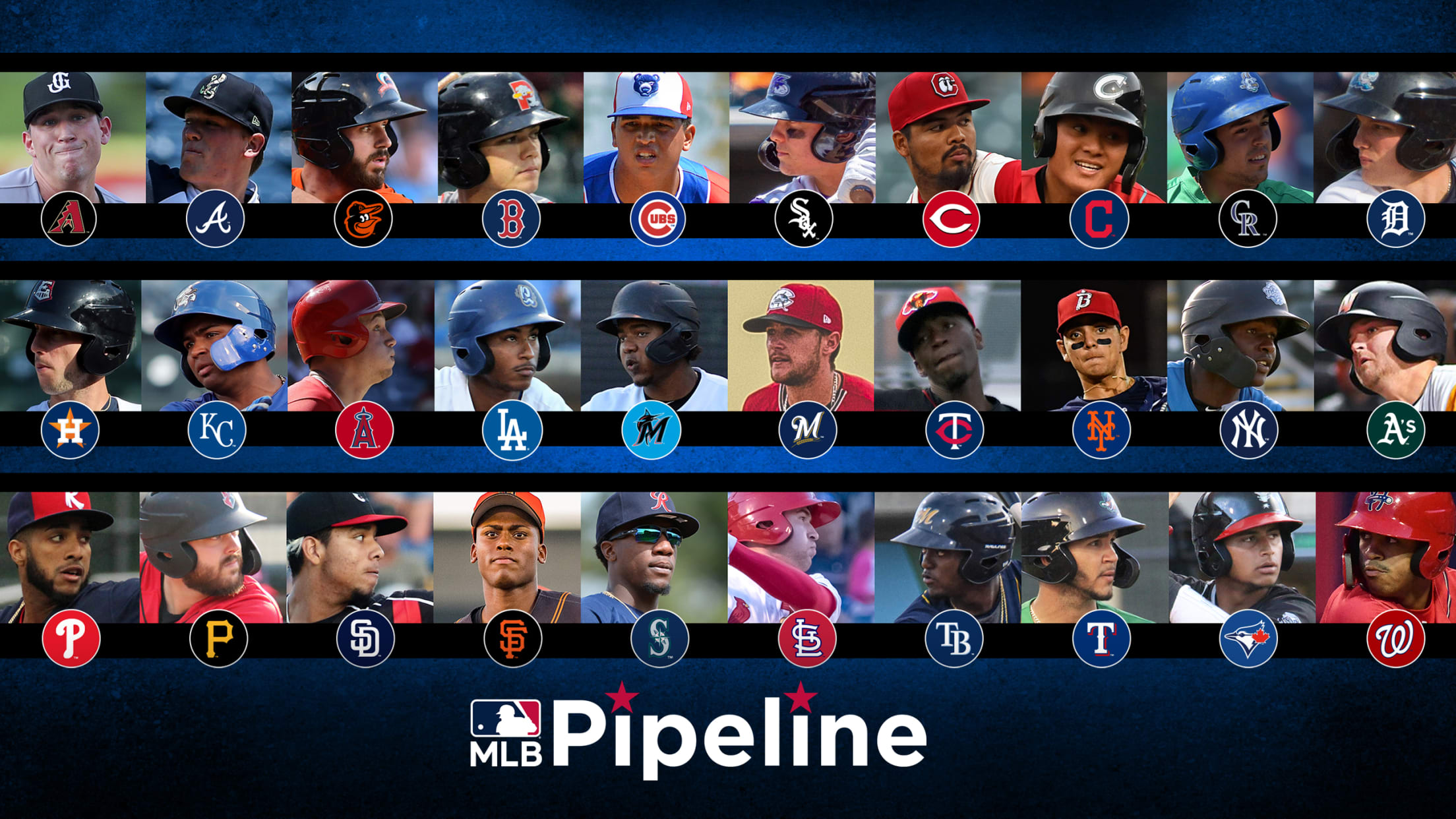 The July 31 Trade Deadline looms, with a rule change this year now forbidding the use of waivers to make deals afterward. So if teams want to bolster their rosters and enhance their postseason possibilities via trades, they'll have to do so in the next couple of weeks. With that
The July 31 Trade Deadline looms, with a rule change this year now forbidding the use of waivers to make deals afterward. So if teams want to bolster their rosters and enhance their postseason possibilities via trades, they'll have to do so in the next couple of weeks.
With that in mind, we've identified the most tradeable prospect for each of the 30 clubs. In many cases, it's the best Minor Leaguer in the system who might be somewhat redundant. And yes, we realize teams like the Orioles and Tigers aren't going to be giving up youngsters -- but that doesn't stop us from speculating on what might happen if they did.
AMERICAN LEAGUE EAST
Blue Jays: Gabriel Moreno, C (No. 16) - The Blue Jays have shown a willingness to target MLB-ready, cost-controlled players in trades in recent years, and although they're likely to be sellers at the Deadline, the club surely will be exploring ways to improve its up-and-coming big league roster. Outside of the big names such as Bo Bichette and Nate Pearson, Moreno, a 19-year-old catcher, has improved his stock as much as any Blue Jays prospect this season with a standout campaign on both sides of the ball in the Class A Midwest League.
Orioles: Ryan McKenna, OF (No. 7) - With the worst record in baseball and a chance for a second consecutive No. 1 Draft pick, the rebuilding Orioles likely will not be trading from their prospect depth at this year's Deadline. That being said, they do have a crop of upper-level outfielders in Yusniel Diaz, Austin Hays and McKenna, the latter of whom has scuffled some in Double-A this season and would need to be added to Baltimore's 40-man roster in November. If the club anticipates an offseason roster crunch, McKenna is a candidate to be packaged with big league talent in a potential trade, especially if it were to net the organization better prospects in return.
Ryan. McKenna.

Mercy....#PlayAtTheBay | #DiveIn pic.twitter.com/KXXpHv7HeZ

— Bowie Baysox (@BowieBaysox) July 3, 2019
Rays: Vidal Brujan, 2B (No. 6, MLB No. 79) - Currently second in the AL East behind the Yankees and firmly in the Wild Card race, the Rays have said that they will be buyers at this year's Trade Deadline, and they certainly have the type of coveted, impact prospects needed to command a big return. Their system is especially deep at both middle-infield spots -- they already dealt 2B/OF Nick Solak to Texas last weekend -- and Brujan is one of the top second-base prospects in the game. The 21-year-old switch-hitter has already reached Double-A and possesses a high-end combination of hitting ability and plus-plus speed that could have him hitting atop a big league lineup in the near future.
Red Sox: Bobby Dalbec, 3B (No. 2) - He has some of the best raw power in the Minors, and he also draws walks and plays a nifty third base. With the Red Sox in dire need of bullpen upgrades and in great shape at the hot corner with Rafael Devers and Michael Chavis, Dalbec is expendable.
Yankees: Estevan Florial, OF (No. 1, MLB No. 47) - The Yankees are loaded in the outfield and have several toolsy young outfielders in their system. Florial possesses well above-average power, speed and arm strength, but he's still figuring out how to make consistent contact and might be available in a trade for more immediate help.
AMERICAN LEAGUE CENTRAL
Indians: Yu Chang, SS/2B (No. 11) - The strength of the Indians system is middle infielders, and Chang is both ready for the Majors and blocked at that level. He has a chance for average or better tools across the board and could be more valuable to a non-contender willing to let him grow at the big league level.
Royals: Kelvin Gutierrez, 3B (No. 13) - The Royals got Gutierrez a year ago in the Kelvin Herrera deal with the Nationals, and while he hasn't set the world on fire this year, there is still belief that there is some more offensive upside here. With Hunter Dozier at third in Kansas City, Gutierrez is a little stuck.
BACK-TO-BACK! Kelvin Gutierrez smashes a solo shot to left to tie us up at 3-3 in the 1st! pic.twitter.com/OBWcb3QHNf

— Omaha Sizzle (@OMAStormChasers) July 16, 2019
Tigers: Parker Meadows, OF (No. 8) - The Tigers are focused on trading big league assets such as Matt Boyd at this year's Deadline, but with a upper-level prospect contingent on the verge of reaching the Majors within the next two years, the club could also choose to move some of its high-ceiling, farther-away prospects, provided it netted a better return. Meadows, Detroit's second-round pick in the 2018 Draft, fits that bill as a 6-foot-5, 205-pound center fielder with an intriguing power-speed combo.
What a night for Parker Meadows! The @tigers prospect posts his first-career 4-hit performance as part of an 8-5 win in Beloit, presented by @MittenBrewingCo.

We return Thursday with @ThatDanHasty on the call beginning at 7:20pm! pic.twitter.com/MVUUWQXFCr

— West Michigan Whitecaps (@wmwhitecaps) July 18, 2019
Twins: Nick Gordon, SS/2B (No. 11) - While it might seem like the 2014 first-round pick has stalled a bit, he's still only 23 and is having a solid season in Triple-A. Jorge Polanco was an All-Star at short and Luis Arraez has established himself as a utility-type who could play second every day in the future. Gordon is solid, if unspectacular, and is capable of playing both middle infield positions capably. Plus, he's ready now, a value to a rebuilding team.
White Sox: Steele Walker, OF (No. 10) - Eloy Jimenez already has arrived at Guaranteed Rate Field and six of the White Sox's nine best prospects are outfielders, so there can't be room for all of them. Outside of the untouchable Luis Robert, Walker is having the best season among the rest of the Minor League flychasers and he's easily the best pure hitter of that group.
AMERICAN LEAGUE WEST
A's: Sheldon Neuse, 3B, (No. 9) - Neuse continues to show an ability to hit and play a solid third base in Triple-A, but he's blocked by All-Star Matt Chapman in Oakland. A move to first won't help him, either, with Matt Olson in his way there. A rebuilding team could put Neuse into its big league lineup now.
Angels: Matt Thaiss, 1B/3B (No. 6) - Few doubt the 2016 first-round pick's ability to hit at this point. The real question is where he will play. He's shown an ability to play first and third, but with Albert Pujols locked in at one and David Fletcher getting most of the time at the other, not to mention Shohei Ohtani at DH, Thaiss might have a hard time getting at-bats in LA long-term.
Astros: Kyle Tucker, OF (No. 2, MLB No. 10) - As detailed in this week's MLB Pipeline Inbox, Tucker is the best prospect who might change addresses in July. The fifth overall pick in the 2015 Draft has a long track record of Minor League production and is in the midst of his third straight 20-20 season, yet he lacks an opening to play in Houston.
Mariners: Shed Long, 2B (No. 12) - Long has been hampered by some injuries this year, but when he was obtained as part of the Sonny Gray three-team deal with the Yankees and Reds, he was touted as the Mariners' second baseman of the future. That might be true, but Dee Gordon is signed through the 2020 season, with a team option in 2021.
Rangers: Anderson Tejeda, SS (No. 3) - A shoulder injury ended Tejeda's season in late May, though that doesn't change the fact that he's a potential 25-homer shortstop with a cannon arm. He'd be very attractive to other clubs, though it's unclear whether the Rangers will be buyers or sellers.
NATIONAL LEAGUE EAST
Braves: Kolby Allard, LHP (No. 8) - It makes sense for the Braves to trade from their strength to help their playoff run, and that's definitely pitching. It sounds strange to say that the 21-year-old Allard has stalled in Triple-A, but the lefty has been passed by some in the organization. He still has an advanced feel for pitching, and a rebuilding team could plug him into a big league rotation immediately.
Marlins: Jerar Encarnacion, OF (No. 19) - The Marlins won't be trading prospects and Encarnacion is having a breakout year, capitalizing on his big raw power and also fitting the right-field profile well with his strong arm. They've invested heavily in outfielders (Connor Scott, Victor Victor Mesa, J.J. Bleday, Kameron Misner) in the last 13 months, so Encarnacion might be expendable if they were willing to deal.
Mets: Andres Gimenez, SS/2B (No. 1, MLB No. 58) - Under rookie GM Brodie Van Wagenen, the Mets went all-in this offseason by dealing some of their top prospects for big leaguers capable of helping the team win in 2019. While the season hasn't unfolded as hoped so far, they are still very much in the Wild Card hunt and possess talent on the farm that could allow them to bolster their roster via a trade, should they pursue that angle. Gimenez's stock has dipped some this season, but he's still only 20 years old and has Double-A experience under his belt -- qualities that could make him an attractive trade target for many teams. He's seemingly expendable, too, as the Mets have Amed Rosario locked in at shortstop and 18-year-old Ronny Mauricio making noise in the Minors.
Nationals: Luis Garcia, INF (No. 2, MLB No. 61) - A hot streak in July has the Nationals back in the playoff hunt as the top Wild Card team, and, historically, the organization hasn't shied away from trading top prospects for impactful big league pieces at the Deadline. In what is a pitching-heavy farm system, Garcia stands out as a versatile 19-year-old infielder who has held his own this season at the plate in Double-A, albeit while showing less pop than he did during his breakout 2018 campaign.
Phillies: Adonis Medina, RHP (No. 2, MLB No. 77) - Would the Phillies trade their top pitching prospect away to help make a postseason push? They did it this past offseason when they sent Sixto Sanchez to the Marlins in the J.T. Realmuto trade, so it's certainly possible. Medina hasn't been missing a ton of bats this year, but evaluators still like his raw stuff.
NATIONAL LEAGUE CENTRAL
Brewers: Brice Turang, SS (No. 2, MLB No. 91) - The NL Central is up for grabs, and after the Brewers came within a game of reaching the World Series in 2018, they're once again in a position where it makes sense to try to improve their roster at the Deadline. Turang, the club's first-round pick from last year's Draft, has already reached Class A Advanced Carolina in his first full season, with the 19-year-old earning a promotion after batting .287/.384/.376 with 19 extra-base hits and 21 steals over 82 games in the Midwest League.
Cardinals: Dylan Carlson, OF (No. 2, MLB No. 88) - After he started to put it all together last year in the Florida State League, Carlson, a 20-year-old switch-hitter, has broken out in earnest this year in the Texas League, slashing .291/.371/.529 with 16 homers, 41 extra-base hits and 13 steals in 86 games. The Cardinals have good outfield depth between the big leagues and Minors, and while Carlson is the best of the bunch, he could potentially net the club a monster return in a Deadline deal.
You know it.
You love it.
Here's the year's 14th #DYLANDINGER!#SGFCards | #RockYourRED pic.twitter.com/CGaamiRAwu

— Springfield Cardinals (@Sgf_Cardinals) July 12, 2019
Cubs: Brailyn Marquez, LHP (No. 3) - As a lefty with a fastball that reaches 99 mph and a power curveball that shows flashes of becoming a plus offering, Marquez has the highest ceiling among Chicago's mound prospects. And while the Cubs would love to develop some homegrown pitching, winning another World Series is a higher priority.
Pirates: Will Craig, 1B (No. 12) - The 2019 Futures Gamer has shown his power is legit, and he's worked hard to become a capable first baseman. The only problem is the All-Star sized blockade in the form of Josh Bell in Pittsburgh. If the Pirates decide they have a shot this year, Craig's pop could look good in a Major League rebuilding lineup now.
.@WCraigers22, cranked up. ⬆️💪@Toyota | #RollTribe pic.twitter.com/So9MWOWYXd

— Indianapolis Indians (@indyindians) June 19, 2019
Reds: Tony Santillan, RHP (No. 4) - It's hard to see the Reds as a team that would be buying big league talent, but Santillan would certainly interest other teams. A huge step forward in 2018 had put him on the cusp of Top 100 status, but he's struggled with command and been more hittable this year. He still has three pitches that are at least above-average to work with.
NATIONAL LEAGUE WEST
Dodgers: Jeter Downs, SS (No. 7) - An offensive-minded shortstop who gets the most out of his average raw power and speed, Downs might be baseball's most underrated prospect at his position. But the Dodgers already have Corey Seager at short and Gavin Lux isn't far away either.
Giants: Alexander Canario, OF (No. 9) - The Giants surprisingly have surged into Wild Card contention, though they're still more likely to trade veterans rather than add them as the deadline approaches. Canario is a 19-year-old center fielder who could develop solid tools across the board, and San Francisco could entertain trading him because it has a pair of better outfield prospects in Heliot Ramos and Hunter Bishop. Scintillating 17-year-old shortstop Marco Luciano also could wind up in right field.
D-backs: Taylor Widener, RHP (No. 3) - After a dominant 2018 campaign in Double-A, Widener has been roughed up this season in the Triple-A Pacific Coast League (8.00 ERA, 17 HR in 86 2/3 IP) and had his prospect stock tumble as a result. He's still missing a healthy number of bats, averaging 10.1 strikeouts-per-nine, and a team that believes it can get the 24-year-old right-hander back on track could attempt to pry him from the D-backs, who will need to add him to their 40-man roster in November to avoid subjecting him to the Rule 5 Draft.
Padres: Luis Patiño, RHP (No. 3, MLB No. 40) - Patiño, 19, was one of the stars in this year's Futures Game, where he breezed through a loaded American League lineup and piled up whiffs using an upper-90s fastball, a devastating slider and a promising changeup. The Padres are very much in the Wild Card race and have aspirations of becoming a playoff team sooner rather than later -- as evidenced by their offseason signing of Manny Machado and the decision to break camp with Fernando Tatis Jr. and Chris Paddack -- and no prospect in their system (outside of MacKenzie Gore, who should be untouchable) has as much helium than Patiño.
19-year-old @Padres prospect Luis Patiño twice escaped jams that he did not create in tonight's #FuturesGame, striking out #MLB's Nos. 4, 7 & 80 overall prospects along the way. He's one of @JonathanMayo's top performers from Sunday's showcase: https://t.co/I9H8GRVcKe pic.twitter.com/VCMKHNsCwm

— MLB Pipeline (@MLBPipeline) July 8, 2019
Rockies: Colton Welker, 3B/1B (No. 2, MLB No. 57) - Obviously blocked by Nolan Arenado at third base (at least until 2026), Welker has been getting regular work at first base as well. That might create a path for him, though Ryan McMahon could end up sliding over there long-term. Welker has offensive upside and the ability to play the hot corner long-term, skills a ton of teams would love to have in their system.