Monday's top prospect performers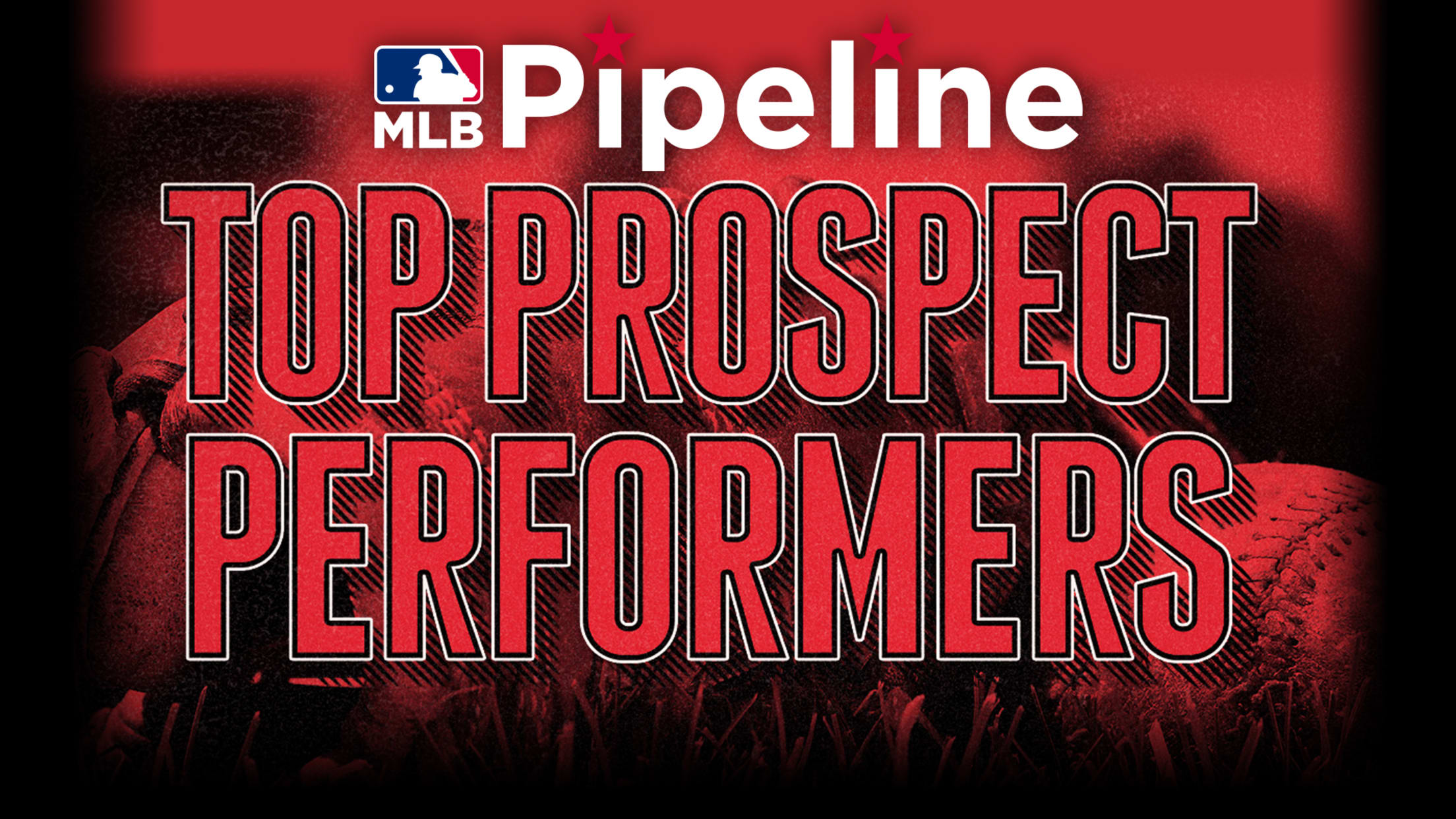 Here's a look at Monday's top Minor League performers from each team's Top 30 Prospects list: AMERICAN LEAGUE EAST Blue Jays: Ryan Noda, OF (No. 21) -- 1-for-1, 2B, RBI, HBP (Class A Adv Dunedin) After reaching via a hit-by-pitch in his first trip to the plate, Noda put Dunedin
Here's a look at Monday's top Minor League performers from each team's Top 30 Prospects list:
AMERICAN LEAGUE EAST
Blue Jays: Ryan Noda, OF (No. 21) -- 1-for-1, 2B, RBI, HBP (Class A Adv Dunedin)
After reaching via a hit-by-pitch in his first trip to the plate, Noda put Dunedin on the board with an RBI double in the fourth inning before the skies opened up and the game was suspended in the following frame. It's scheduled to resume on Tuesday. As for Noda, the 23-year-old is batting .241 with six homers, 14 doubles and 34 RBIs this season in the Florida State League.
Blue Jays prospects stats »
Orioles: No Orioles prospects had noteworthy performances in the Minors on Monday.
Rays: Alejandro Pie, SS (No. 29) -- 2-for-4, 2 SB (Dominican Summer League)
Pie, the lone Rays Top 30 prospect in action on Monday, continues to impress in his professional debut and has multiple hits in five of the 12 games he's played. The 17-year-old, whom the Rays signed last July, is hitting .318 through 12 games and is a player the Rays feel has tons of upside.
Rays prospects stats »
Red Sox: Nick Northcut, 3B (No. 17) -- 2-for-5, 3B, 3 RBI (Class A Short Season Lowell)
Northcut, an 18th-round pick from last year's Draft, is off to a fast start this season, as he has hits in all four games he's played, including a trio of multihit performances. The 20-year-old hit .223 with two homers over 47 games in his professional debut. Northcut has impressive raw power, but tried to do a bit too much last year, which led to the struggles. He's at his best when he utilizes the whole field.
Red Sox prospects stats »
Yankees: Estevan Florial, OF (No. 1, MLB No. 47) -- 2-for-3, R, SB (Class A Adv Tampa)
Florial did a bit of everything on Monday as he picked up a pair of hits and flashed his 65-grade speed on his fourth stolen base of the season (10 games) before rain led to the game's suspension. The 21-year-old has three tools that grade out as well above average, but he needs to stay on the field to get more reps and further develop his skillset. Florial missed two months last season after having right hamate surgery and didn't begin his 2019 campaign until earlier this month after he broke his wrist in Spring Training.
Yankees prospects stats »
AMERICAN LEAGUE CENTRAL
Indians: Ethan Hankins, RHP (No. 9) -- 4 IP, 0 H, 0 R, 1 BB, 4 K (Class A Short Season Mahoning Valley)
Hankins, the 35th overall pick from the 2018 Draft, was dominant in his season debut. The 19-year-old threw 43 of his 63 pitches for strikes and retired 10 of the first 11 batters he faced. Hankins hasn't pitched much as a pro, but he possesses an electric fastball and a changeup that has the potential to become a plus pitch. He also throws a slider and a curveball.
Indians prospects stats »
#Indians' No. 6 prospect Ethan Hankins was unhittable in his 2019 debut with @mvscrappers:

4 IP
0 H
0 R
1 BB
4 K pic.twitter.com/oLZQmWs3OP

— MLB Pipeline (@MLBPipeline) June 18, 2019
Royals: No Royals prospects had noteworthy performances in the Minors on Monday.
Tigers: Beau Burrows, RHP (No. 6) -- 4 IP, 1 H, 0 R, 2 BB, 5 K (Class A Adv Lakeland)
Burrows, making his first start since landing on the injured list in late April, sure looked to be healthy as he carved his way through the St. Lucie lineup. The 22-year-old threw 34 of his 59 pitches for strikes, but did walk the leadoff man in both the second and third innings. However, Burrows pitched around both walks and kept the Mets scoreless. The former 1st-round Draft pick (2015) is coming off a 2018 campaign where he posted a 4.10 ERA over 134 innings with Double-A Erie.
Tigers prospects stats »
Beau Burrows, the #Tigers' No. 6 prospect, was bringing the 🔥 tonight for @LkdFlyingTigers:

4 IP
1 H
0 R
2 BB
5 K

Live stats for all the @Tigers' top prospects: https://t.co/TB0jjm3Isi pic.twitter.com/3Dl7AsXZ15

— MLB Pipeline (@MLBPipeline) June 18, 2019
Twins: No Twins prospects had noteworthy performances in the Minors on Monday.
White Sox: No White Sox prospects had noteworthy performances in the Minors on Monday.
AMERICAN LEAGUE WEST
A's: Jorge Mateo, SS (No. 8) -- 2-for-4, 3 RBI, 2 R, 2 BB (Triple-A Las Vegas)
Mateo extended his hitting streak to five games with another multihit effort. The 23-year-old, acquired in a 2017 trade with the Yankees, has been having a huge breakout season and is hitting .330 through 66 games. Yes, Mateo is playing in the hitter-friendly Pacific Coast League, but he spent the 2018 season in the PCL as well and hit .230 over 131 games.
A's prospects stats »
Angels: Jeremiah Jackson, SS (No. 8) -- 1-for-5, HR, 4 RBI, BB (Rookie Orem)
Jackson connected on a grand slam in the ninth inning on Monday, but it wasn't enough to keep Orem from falling to Rocky Mountain, 11-10. The homer was the 19-year-old shortstop's third in two days after he went deep twice for the Vibes on Sunday. A second-round pick in last year's Draft out of the Alabama prep ranks, Jackson stands out for his potential at the plate, where scouts project him to hit for both average and power from the right side of the plate. He flashed much of that potential in his pro debut last season by batting .254/.314/.491 with seven homers (three to the opposite field), 22 extra-base hits and 10 steals in 43 games between a pair of Rookie levels.
Angels prospects stats »
Astros: Abraham Toro, 3B (No. 20) -- 3-for-4, 2 2B, 2 RBI, R (Double-A Corpus Christi)
After a brutal nine-game stretch where he went 2-for-30 (.067), Toro appears to be getting back on track as he's 4-for-9 with a trio of extra-base hits over the past two games. The 22-year-old switch-hitter set career highs in several offensive categories last season and continued to raise his stock with a strong performance in the Arizona Fall League.
Astros prospects stats »
Mariners: Donnie Walton, 2B (No. 29) -- 3-for-4, BB (Double-A Arkansas)
Make that four straight multihit performances, including three straight three-hit efforts, for Walton. The 25-year-old, a fifth-round pick from the 2016 Draft, is 11-for-16 (.688) over the past four days and hitting .307 through 61 games this season. The switch-hitter doesn't have any tools that jump off page, but he is solid and both slides of the ball and is slashing .281/.368/.399 for his career.
Mariners prospects stats »
Rangers: Brock Burke, LHP (No. 9) -- 4 IP, 2 H, 0 R, 0 BB, 3 K (AZL Rangers)
Burke, pitching in the Rookie-level Arizona League on a rehab assignment, made quick work of the AZL Reds. Prior to going on the injured list in late April, Burke had made three starts with Double-A Frisco and held the opponent without a run in two of those outings. The 22-year-old, whom the Rangers acquired from the Rays as part of a three-way trade in December, pitched across two levels last season and posted a 3.08 ERA over 137 1/3 innings.
Rangers prospects stats »
NATIONAL LEAGUE EAST
Braves: Jefrey Ramos, OF (No. 25) -- 1-for-4, 2B (Class A Adv Florida)
Ramos finally got in the hit column, but is still mired in a tough slump. The 20-year-old entered Monday having gone hitless in six straight games (17 at-bats) and although he doubled, Ramos is still 2-for-30 over his past nine games. The Braves signed Ramos out of the Dominican Republic in 2016 and thus far in his career is more of a power threat than a balanced hitter. Ramos hit .245 with 16 homers last season (122 games) and is hitting .248 with seven homers (62 games) this season.
Braves prospects stats »
Marlins: No Marlins prospects had noteworthy performances in the Minors on Monday.
Mets: Nick Meyer, C (No. 29) -- 2-for-3, 2B, RBI, R, BB (Class A Adv St. Lucie)
Meyer broke out of a 1-for-33 slump with his first multihit performance since May 7 and his first extra-base hit since May 29. The 22-year-old, whom the Mets grabbed in the sixth round of last year's Draft, hit .226 in his professional debut and is struggling again this year, hitting .208 through 39 games. However, Meyer is more of a defensive-minded catcher with excellent hands and a strong and accurate arm.
Mets prospects stats »
Phillies: Simon Muzziotti, OF (No. 12) -- 3-for-5, 2 RBI, R (Class A Adv Clearwater)
Muzziotti, 20, snapped out of an 0-for-11 skid at the plate with a three-hit performance, his sixth of the season. The 20-year-old, whom the Phillies signed in 2016 out of Venezuela, was on fire in May and hit .370 over 17 games, but has cooled off considerably in June and is hitting just .194 through nine games this month. Muzziotti still needs to refine his approach, but he makes consistent contact and has tends to hit a lot of line drives.
Phillies prospects stats »
Nationals: Ben Braymer, LHP (No. 23) -- 5 IP, 5 H, 1 R, 2 BB, 6 K (Double-A Harrisburg)
After firing eight hitless frames in his last turn (and garnering Prospect Team of the Week honors as a result), Braymer returned to the mound Monday to complete five one-run frames to lead Harrisburg past Altoona, 4-2. After a breakout 2018 campaign that netted him co-Pitcher of the Year honors in the Nationals' organization, the 25-year-old southpaw has pitched to a 2.51 ERA, 0.97 WHIP and 69/21 K/BB over 79 innings (13 starts) this season in his return to the Double-A level.
Nationals prospects stats »
NATIONAL LEAGUE CENTRAL
Brewers: Mauricio Dubon, SS/2B (No. 5) -- 3-for-5, HR, 2B, 4 RBI, 2 R (Triple-A San Antonio)
Dubon continued his torrid stretch at the plate for the Missions as he finished a triple short of the cycle in his third consecutive three-hit game. The 24-year-old Honduras native is raking at a .419 clip during his nine-game hit streak -- a stretch in which he has 18 hits, including three home runs, and 12 RBIs. His overall average, meanwhile, nows sits at .312, which is the highest it's been since the second week of the season, and he's already set a new career high in 2019 with 10 home runs.
Brewers prospects stats »
#Brewers No. 5 prospect Mauricio Dubon is on 🔥 for @missionsmilb:

✔️ 9-game hitting streak
✔️ 5 straight multihit games
✔️ 2-for-2 with a HR (10, career high) so far tonight pic.twitter.com/JQxKdDUdRI

— MLB Pipeline (@MLBPipeline) June 18, 2019
Cubs: Trent Giambrone, INF (No. 20) -- 1-for-3, HR, 2 RBI, 2 R, 2 BB (Triple-A Iowa)
That's now four straight games with a home run for Giambrone, who connected on a two-run shot in Iowa's win over Sacramento -- the same day he garnered MLB Pipeline Prospect Team of the Week honors. He's gone deep 14 times overall this season including five times in his last eight games, during which he has 10 RBIs. The 25-year-old infielder is quickly approaching his career-high total of 17 home runs, which he achieved over 116 games last season at Double-A Tennessee.
Cubs prospects stats »
Cardinals: Randy Arozarena, OF (No. 14) -- 2-for-5, HR (Triple-A Memphis)
Arozarena teed off in his first at-bat of the game, hitting a leadoff home run on the sixth pitch he saw to put the Redbirds on the board. He added a single in the following frame to record his second straight multihit performance. The 24-year-old didn't make his season debut until May 11 with Double-A Springfield, where he put together a .309/.422/.515 line to earn a promotion to Triple-A. Since joining the Redbirds, Arozarena has posted a .333 average with two homers, two doubles and seven RBIs in six games.
Cardinals prospects stats »
Pirates: Cal Mitchell, OF (No. 6) -- 2-for-5, HR, 2 R (Class A Adv Bradenton)
Mitchell wasted no time in extending his hit streak to seven games, as the Marauders' leadoff man parked the second pitch he saw over the wall in right-center field for a home run. It was his second big fly in three games and eighth of the season. The multihit performance was also his second in three games and pushed his overall season line up to .282/.319/.449 through 60 games in the Florida State League.
Pirates prospects stats »
Calvin Mitchell put @The_Marauders on the board with a solo homer, his eighth 💣 of the season.

Here's Mitchell on the #Pirates' Top 30: https://t.co/yHNrNtkzmI pic.twitter.com/9GFtqj6HHW

— MLB Pipeline (@MLBPipeline) June 17, 2019
Reds: Stuart Fairchild, OF (No. 13) -- 2-for-4, 2 2B, 2 RBI, R (Class A Adv Daytona)
Fairchild hit a pair of doubles, the first of which, in the fourth inning, plated a pair of runs to extend the Tortugas' early lead in its win over Florida. The multihit performance was the third in six games for the 23-year-old, who's batting .326 in 11 games this month after finishing May with a .321 clip. But because he batted just .130 in April, Fairchild's overall line sits at .263/.340/.440 for the season. He's totaled 20 extra-base hits, including five home runs, in 47 games.
Reds prospects stats »
NATIONAL LEAGUE WEST
D-backs: Kristian Robinson, OF (No. 5) -- 2-for-4, 2B, BB, 2 SB (Class A Short Season Hillsboro)
The D-backs signed Robinson out of the Bahamas in 2017 and although his career is just getting started and he's only 18 years old, it's starting to look like that was a very wise acquisition. Robinson hit .279 with seven homers over 57 games last season and already has a good understanding of the strike zone. The outfielder is off to a strong start in 2019, hitting 4-for-11 (.364) in three games and has a chance to really elevate his stock.
D-backs prospects stats »
Dodgers: Keibert Ruiz, C (No. 1, MLB No. 28) -- 1-for-4, HR; Will Smith, C (No. 5) -- HR (Triple-A Oklahoma City)
Both of the Dodgers' highly touted catching prospects went deep on Monday. Ruiz, 20, connected on his fourth home run of the season, a solo shot, and now has two homers in his last four games for the Drillers. Smith's blast was a go-ahead solo shot in the eighth inning that powered Oklahoma City to a 3-2 win over El Paso. Smith has been red-hot lately, as he's homered in five straight games and has hits in 10 of his last 11 contests.
Dodgers prospects stats »
🚨 5. Straight. Games. 🚨#Dodgers No. 5 prospect Will Smith has gone deep on five consecutive days for @okc_dodgers, bringing his @MiLB season total to 13.

Live stats for all the @Dodgers' top prospects: https://t.co/7DQOa0rO09 pic.twitter.com/MiWaoVWc8a

— MLB Pipeline (@MLBPipeline) June 18, 2019
Giants: Ryan Howard, SS/2B (No. 27) -- 1-for-4, HR, 2 RBI (Triple-A Sacramento)
Howard went deep in his first at-bat of the game, connecting on a two-run shot for his third homer of the season. The 25-year-old is getting his first taste of Triple-A after starting the year off with Double-A Richmond. Howard, who is hitting .235 through 36 games with the River Cats, hit .194 through 28 games with the Squirrels before he was bumped up. The former fifth-round pick (2016) is more of a contact hitter than a power threat and although he has the ability to play all over the infield, he profiles best at second base.
Giants prospects stats »
Padres: Edward Olivares, OF (No. 19) -- 2-for-5, RBI, 2 R (Double-A Amarillo)
With his two-hit, two-run performance, Olivares helped lead the Sod Poodles to a the first-half South Division crown in the Texas League with a 34-34 record in the franchise's first year of existence. Both of the 23-year-old's hits were singles, one of which plated a run in the fifth inning, and he's now recorded multiple hits twice during his six-game hit streak. Olivares, who is on the Padres' 40-man roster, is enjoying his best month of the season, hitting .310/.394/.432 with 10 RBIs in 15 games. He's batting .269/.343/.446 overall, with nine homers, 25 extra-base hits and 14 steals in 62 games.
Padres prospects stats »
Rockies: Brendan Rodgers, INF (No. 1, MLB No. 6) -- 2-for-4 (Triple-A Albuquerque)
Rodgers was one of three 'Topes players to record multiple hits, as he singled on a 2-0 pitch in his first at-bat before adding another knock in the third inning. It was the 22-year-old's first game back in the Minors since he was optioned to Triple-A on Saturday after he produced a .246/.300/.277 line with 22 strikeouts in 21 games during his first stint in the big leagues. With the 'Topes, Rodgers has hit .360 (1.063 OPS) with nine homers and 10 doubles in 36 games.
Rockies prospects stats »