Tuesday's top prospect performers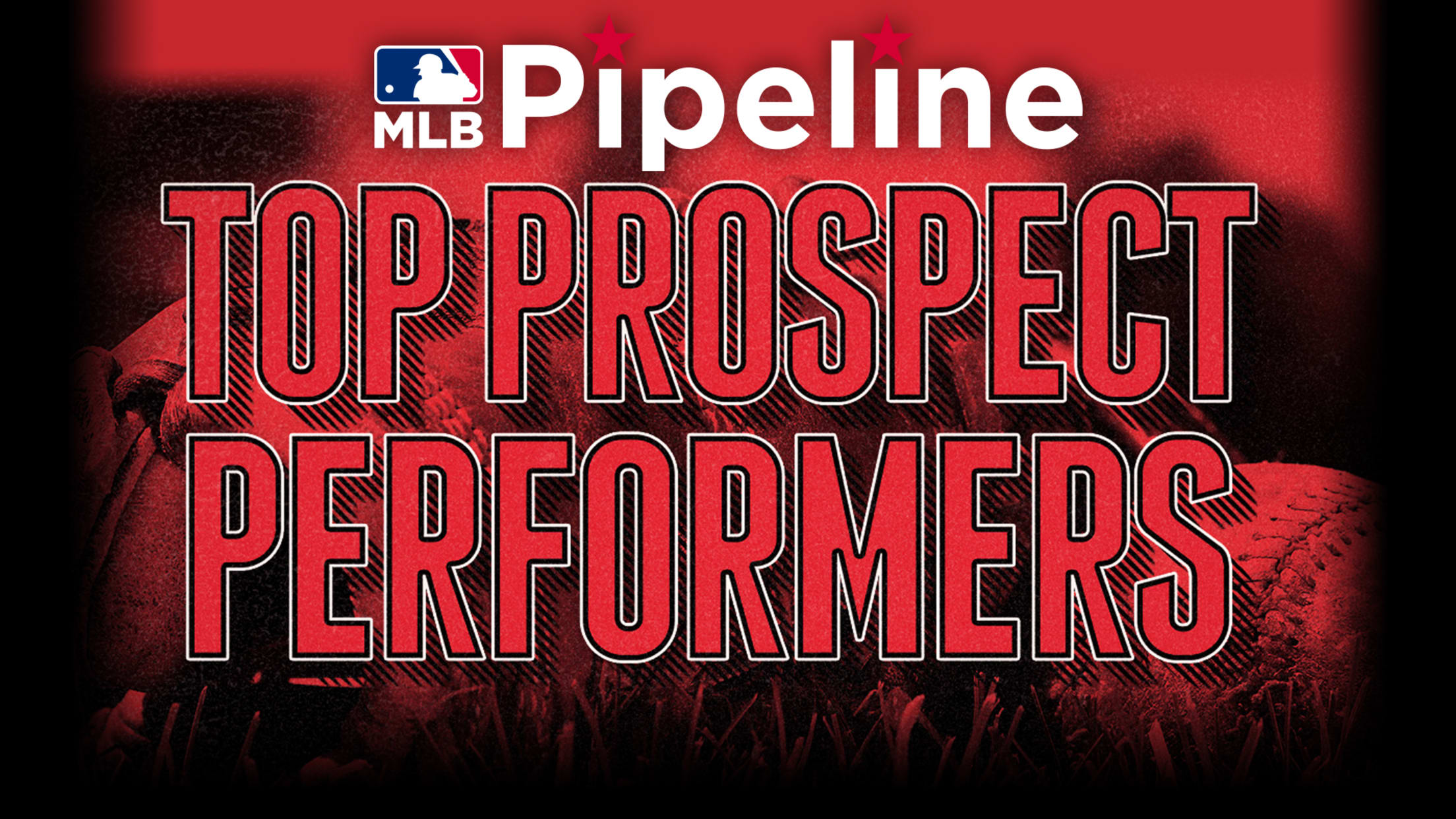 Here's a look at Tuesday's top Minor League performers from each team's Top 30 Prospects list: AMERICAN LEAGUE EAST Blue Jays: There were no notable performances by Blue Jays prospects on Tuesday.
Here's a look at Tuesday's top Minor League performers from each team's Top 30 Prospects list:
AMERICAN LEAGUE EAST
Blue Jays: There were no notable performances by Blue Jays prospects on Tuesday.
Orioles: Adam Hall, SS (No. 14) -- 2-for-5, R, 2B, RBI (Class A Delmarva)
Delmarva's incredible season continues, and Hall is one of several Orioles prospects fueling its 62-26 record following today's 9-0 victory against West Virginia. The 20-year-old shortstop drafted out of Canada in 2017 is batting .309 with 17 steals in 75 games for the Shorebirds so far this year. Viewed as a glove-first prospect, his hitting so far as a pro has certainly impressed and should serve him well as he tries to rise through the ranks in Baltimore's system. Orioles prospects stats »
Rays: Wander Franco, SS (No. 1, MLB No. 1) -- 1-for-3, 2 R, 2B, BB (Class A Adv Charlotte)
Franco has hit safely in eight of nine games since his promotion to the Florida State League after Tuesday's 1-for-3 showing in his first game back from the Futures Game. Overall, he's posted a .438/.500/.750 line with six extra-base hits and nine RBIs. On top of that, the 18-year-old phenom is yet to strike out in 40 plate appearances as a member of the Stone Crabs after compiling more walks (30) than strikeouts (20) over 272 plate appearances (62 games) with Class A Bowling Green. Suffice it to say Franco has been superb in his first full season, slashing .332/.404/.536 with 33 extra-base hits (8 HR) and 17 steals in 71 games. Rays prospects stats »
Red Sox: Danny Diaz, 3B (No. 13) -- 2-for-5, 2 R, 2 2B, 2 RBI (GCL Red Sox)
After signing for $1.6 million in July 2017, Diaz showed power potential in last year's Dominican Summer League by hitting six homers in 26 games before a broken hamate bone in his left hand prematurely ended his campaign. Now playing stateside in the Gulf Coast League, the 18-year-old third baseman has swatted six doubles in his first 12 games after hitting a pair of them on Tuesday. Right-handed power is Diaz's calling card to the big leagues, and he has some of the best in Boston's system. Red Sox prospects stats »
Yankees: Harold Cortijo, RHP (No. 29) -- 5 1/3 IP, 5 H, 1 R (0 ER), 1 BB, 4 K (Class A Charleston)
Cortijo's streak of three straight nearly identical six-inning starts (in which he allowed exactly one earned run on four hits while striking out three) came to an end Tuesday, but the 20-year-old right-hander still turned in a strong performance in a no-decision for Charleston. His ERA sits at 1.62 through six starts in his first taste of full-season ball, and he's limited hitters to just 27 hits over 33 1/3 innings in that span. A 14th-round pick out of the Maryland prep ranks in 2017, Cortijo features an above-average fastball and changeup but needs to improve his slider, which is a below-average offering. Yankees prospects stats »
AMERICAN LEAGUE CENTRAL
Indians: Ethan Hankins, RHP (No. 9) -- 4 2/3 IP, 3 H, 3 R (1 ER), 1 BB, 6 K (Class A Short Season Mahoning Valley)
Hankins had allowed a pair of unearned runs on two hits through four innings before unraveling a bit in the fifth, when he issued a leadoff walk followed by a stolen base and a sacrifice fly before departing the game with 74 pitches (53 strikes). The shoulder issue that limited Hankins last summer after the Indians drafted him in the first round has been a non-issue thus far in his pro debut, as he's shown the same electric fastball that had previously made him one of the more highly touted prep arms in his class. In five starts for Mahoning Valley, the 19-year-old has compiled a 1.25 ERA while allowing just nine hits and racking up 29 strikeouts in 21 2/3 innings. Indians prospects stats »
Royals: Zach Haake, RHP (No. 24) -- 5 IP, 1 H, 2 R, 1 BB, 5 K (Class A Lexington)
Haake pitched well out of the gate, posting a 1.73 ERA across his first five starts -- including a 12-strikeout performance April 27 -- for Lexington before landing on the injured list with a sore shoulder on May 6. He struggled mightily in his return to action on June 23, when he issued six walks and recorded just one out, but has pitched well since then by earning the win in two of three turns. While many expected the 22-year-old right-hander to work out of the bullpen upon entering the pro ranks, Haake has proved plenty capable as a starter so far, demonstrating good feel for commanding a plus fastball and above-average changeup. Improving his slider, which is currently a below-average pitch, is the next step. Royals prospects stats »
Tigers: There were no notable performances by Tigers prospects on Tuesday.
Twins: Royce Lewis, SS (No. 1, MLB No. 7) -- 2-for-4, HR (Class A Advanced Fort Myers)
Lewis put Fort Myers on the board with his solo shot in the eighth inning, but it was too little too late for the Miracle as they fell to Daytona, 2-1. The 2017 No. 1 overall pick is turning it on in the second half, with a .274/.395/.493 line and five home runs in 18 games since the Florida State League All-Star break. It follows a disappointing first half during which the 20-year-old shortstop slashed just .226/.281/.325 with two homers in 62 games. Twins prospects stats »
Royce Lewis doing his best Sam Huff impression after they were teammates at the @AllStarGame #FuturesGame.

The #MNTwins top prospect hit a clutch HR to put @MiracleBaseball on the board in the eighth.@Twins Top 30: https://t.co/ysoRtduS0p pic.twitter.com/FbWjW1qwqG

— MLB Pipeline (@MLBPipeline) July 10, 2019
White Sox: Andrew Vaughn, 1B -- 2-for-3, HR, 2 RBI, 2 BB (Class A Kannapolis)
Vaughn, the No. 3 overall pick in this year's Draft, blasted his first full-season home run and reached base four times Tuesday in his fourth game with the Intimidators. Vaughn's homer, a solo shot in the third inning, was his second as a pro. The 2018 Golden Spikes Award winner has hit safely in three of four games for Kannapolis after going 9-for-15 in three games in the Rookie-level Arizona League to begin his career. White Sox prospects stats »
#WhiteSox first-rounder Andrew Vaughn has his first @Intimidators homer.

After hitting one 🥔 in 3 games in the Arizona League, the No. 3 #MLBDraft pick went yard in his fourth game at the Class A level.

Live 2019 draftee stats: https://t.co/1ZmJuPPwQy pic.twitter.com/hL3VqoC56d

— MLB Pipeline (@MLBPipeline) July 10, 2019
AMERICAN LEAGUE WEST
A's: Dairon Blanco, OF (No. 30) -- 2-for-4, 3 R, 2 2B, BB, SB (Double-A Midland)
Blanco broke out of a 2-for-17 funk with a pair of doubles for the RockHounds to help them get out to an early lead that wouldn't stand in a 7-5 loss to Amarillo. The 26-year-old Cuban signed with the organization in April of 2018 having not played professionally in nearly two years, but still possessing speed that grades out as an 80, the highest mark possible on a scouting grade scale. He hasn't been shy about putting that speed to good use since his debut, collecting 47 steals with only eight failures in 156 career Minors games. There's a lot of swing-and-miss in his game, but when he connects, he's got extra-base pop and the ability to swipe a base once he's reached safely. A's prospects stats »
Angels: There were no notable performances by Angels prospects on Tuesday.
Astros: Abraham Toro, 3B (No. 20) -- 3-for-4, 2 R, 2B, HR (Double-A Corpus Christi)
Toro's scouting reporting heading into this season noted that he opened a lot of eyes over the past year with solid performances across two levels and then in the Arizona Fall League. He continues to impress, this season adding even more on-base ability to his game, as he demonstrated on Tuesday night. The homer leaves him two shy of his career best while the three hits lift his season average to .307, a full 60 points better than last year. Continued improvement from the 22-year-old Canadian could see him promoted to Round Rock before too long. Astros prospects stats »
Mariners: Wyatt Mills, RHP (No. 17) -- 2 IP, 0 H, 0 R, 1 BB, 5 K (Double-A Arkansas)
Mills was drafted as a senior out of Gonzaga and viewed as a money-saving selection by the Mariners (who could sign him for less than slot value), but his performances as a pro suggest there was maybe more to Mills than the average "senior signing." Mills has logged five straight hitless outings for the Travelers, striking out 12 over his past five innings. Since June 19 he's allowed only one baserunner -- via a walk on Tuesday -- and during that span he's dropped his ERA almost 90 points. Mariners prospects stats »
Rangers: Sam Huff, C/1B (No. 21) -- 2-for-3, HR, 2 RBI (Class A Adv Down East)
The Futures Game hero delivered for the Wood Ducks in his first game back in the Carolina League. Huff was named MVP of the All-Star prospect showcase thanks to his late, game-tying homer and he immediately got back to his slugging ways for Down East with a fourth-inning blast to put his side on the board. He added an RBI single in the fifth that would give the Wood Ducks a lead, however, they'd fail to keep the lead and Myrtle Beach would go on to win 5-3. The homer was his 22nd this season in 81 games, extending his career-high (previously 18, set last season in 118 games at Class A Hickory). Rangers prospects stats »
#FuturesGame MVP Sam Huff doesn't just hit clutch dingers on the @AllStarGame field, he hits plenty of bombs in @MiLB, too.

He's up to 22 this year after hitting his 7th with the @GoWoodDucks tonight.

Live #Rangers prospect stats: https://t.co/9oaHjl1ArI pic.twitter.com/eJO15cRUbA

— MLB Pipeline (@MLBPipeline) July 10, 2019
NATIONAL LEAGUE EAST
Braves: Drew Waters, OF (No. 4, MLB No. 44) -- 2-for-3, 2 R, RBI (Double-A Mississippi)
Waters had an incredibly rare outing in which he failed to reach back on Monday, so he bounced back and did what he normally does on Tuesday. It was Waters' 34th multihit game of the season, and his 11th with multiple runs scored. Waters is breaking out as a 20-year-old competing against older players in Double-A, hitting at a career-high .334 clip (previous career-high of .293). He's collected nine triples this season in 87 games this season, matching his career-high, and he's trending toward pro bests in walks, on-base percentage and slugging percentage, as well. Braves prospects stats »
Marlins: Will Stewart, LHP (No. 21) -- 7 IP, 4 H, 2 R (1 ER), 2 BB, 3 K (Class A Adv Jupiter)
Talk about a bounceback outing. Stewart allowed 10 runs (nine earned) in 2 1/3 innings last time out, raising his ERA by nearly a run in a single start. His Tuesday start was a complete 180, going seven innings for the first time since June 6 and allowing only one earned run, his fifth game with 1 ER or fewer this season. The step up to the Florida State League has not gone as planned after dominating the South Atlantic League in 2018 (2.06 ERA in 113 2/3 innings), as he's pitched to a 5.67 ERA in 79.1 innings. There's a notable difference when Stewart pitches at home versus on the road this season, as his ERA is five runs higher away from the friendly confines in Jupiter, a trend the southpaw will need to correct as he looks to progress farther in the Marlins' system. Marlins prospects stats »
Mets: Christian James, RHP (No. 24) -- 6 1/3 IP, 5 H, 1 R, 2 BB, 3 K (Class A Columbia)
The Mets trusted James with the ball for spot starts at higher levels last season while he was in the midst of a sparkling campaign with Class A Short Season Brooklyn. He finished his season with the Cyclones with an ERA of 2.01, but only 45 strikeouts in 71 2/3 innings. That's the scouting report for James in a nutshell, as he's a pitchability righty who might lack in stuff but makes up for it in feel and a solid pitch mix. The step up to full-season ball on a full-time basis has been tricky for James, but Tuesday's outing was promising to say the least. It was his second quality start in his past three outings and was also his busiest outing in terms of pitches thrown. He's settled in as the season has progressed, with his ERA dropping as the summer has settled in: 4.03 in April, 4.97 in May, 3.86 in June and 3.24 in July. Mets prospects stats »
Phillies: Nick Maton, SS (No. 18) -- 2-for-5, 3B, HR (Class A Adv Clearwater)
Maton hit a triple in his first at-bat and later provided the Threshers with an insurance run when he connected on a solo home run in the sixth inning. Strikeouts were an issue for Maton -- a seventh-round pick in 2017 -- in his first full season, when he fanned 103 times in 114 games for Class A Lakewood, but he's trimmed some of that swing-and-miss from his game this year and as a result his numbers have improved across the board. Through 70 games, the 22-year-old sports a .281/.362/.400 line with 18 extra-base hits (5 HR), 10 steals and 31/49 BB/K. Phillies prospects stats »
Nationals: Justin Connell, OF (No. 30) -- 1-for-4, 2 R, 3B, RBI (Class A Hagerstown)
An 11th-round pick in 2017 out of powerhouse American Heritage (Fla.) High, Connell has put himself on the prospect radar in his first full season by showing a promising blend of hitting ability and plate discipline in the South Atlantic League. The 20-year-old is slashing .270/.372/.373, with nearly as many walks (36) as strikeouts (40), through 71 games, and he's started to tap into some power with 18 extra-base hits (3 HR) after totaling six doubles and one home run over his first 69 pro games. Nationals prospects stats »
NATIONAL LEAGUE CENTRAL
Brewers: Payton Henry, C (No. 10) -- 2-for-3, HR, 4 RBI, BB (Class A Adv Carolina)
The Mudcats were already staked to an early four-run lead when Henry teed off on a three-run homer to the opposite field in the third inning. He would bat again before the end of the inning, this time drawing a bases-loaded walk to cap the scoring in Carolina's eight-run frame. The 22-year-old backstop has been one of the top run producers in Carolina League, where's up to 51 RBIs (fifth-most in the circuit) through 81 games, while his 10 home runs matches the career-high mark he established last season with Class A Wisconsin. Defensively, Henry has cut down 36.2 of attempted basestealers in 2019 after posting a 43.8 percent caught-stealing rate in his first full season. Brewers prospects stats »
Cubs: There were no notable performances by Cubs prospects on Tuesday.
Cardinals: Dylan Carlson, OF (No. 2, MLB No. 88) -- 3-for-5, 3 R, 2B (Double-A Springfield)
Carlson was a catalyst from atop the Cardinals' order, turning his team-high three hits into three runs to help Springfield down Tulsa, 7-2. The 20-year-old's big performance comes in his first game back from the Futures Game, where he drove in a run with a fourth-inning single that had a 100 mph-plus exit velocity. One of the top breakout prospects of 2019, the former first-round pick (2016) ranks among the Texas League leaders in a host of categories including OPS (.884, fifth), runs (61, tied-first), home runs (13, tied-second) and total bases (156, second). Overall, he's produced a .287/.369/.515 line with 37 extra-base hits and 12 steals over 79 games in his first Double-A season. Cardinals prospects stats »
Fresh off his #FuturesGame appearance, Dylan Carlson is back with @Sgf_Cardinals and back to his hot-hitting ways.

He's 3-for-5 tonight with three runs scored, raising his average to .287 this year.

He's the #STLCards No. 2 prospect: https://t.co/9nKH5nWB2K pic.twitter.com/5wIyBntjug

— MLB Pipeline (@MLBPipeline) July 10, 2019
Pirates: Oneil Cruz, SS (No. 4, MLB No. 78) -- Game 1: 1-for-2, HR, BB, SB; Game 2: 0-for-3 (Class A Adv Bradenton)
Cruz, 20, connected on a solo home run in the fourth inning as he accounted for half of the Marauders' offense as they fell to Lakeland, 4-2, in the first game of a doubleheader. It was his third home run in his past five games and fifth in 19 games this season for Bradenton. The 6-foot-6 shortstop also recorded his seventh stolen base after reaching via a walk in the first inning. Cruz, who totaled 14 homers and 11 steals in his first full season, is a candidate for a 20-20 campaign in 2019. Pirates prospects stats »
Reds: Scott Moss, LHP (No. 14) -- 6 IP, 3 H, 2 R (1 ER), 3 BB, 5 K (Double-A Chattanooga)
Moss has posted six straight starts in which he's allowed three earned runs or fewer while completing at least five innings, and overall, the 24-year-old southpaw has given up more than three earned runs just once (April 14) in 17 starts in 2019. Throwing strikes consistently continues to pose a challenge for Moss, who's issued 52 free passes in 86 1/3 innings (5.4 BB/9) for the Lookouts, but he's still managed to record a 3.23 ERA and ranks fourth in the Southern League with 104 strikeouts (10.8 K/9). Reds prospects stats »
NATIONAL LEAGUE WEST
D-backs: Kristian Robinson, OF (No. 5) -- 2-for-5, 2 R, HR (Class A Short Season Hillsboro)
Robinson isn't currently ranked on MLB Pipeline's Top 100 Prospects list, but with his hot start this season in the Northwest League, the talented 18-year-old is making a strong case for such recognition. He swatted his fifth home run of the season Tuesday and has four homers in his past seven games for the Hops. The 6-foot-3, 190-pounder from the Bahamas also has tallied five stolen bases on the season, all while slashing .311/.382/.567 over 23 games. D-backs prospects stats »
Don't be fooled by the speed of this @HillsboroHops video, Kristian Robinson is off to a fast start.

That's his 5th homer in 22 games this season and his 4th in the past 7. The @Dbacks' No. 5 prospect is slashing .315/.386/.573: https://t.co/SyltjfkMqE pic.twitter.com/ZgIq0coz3J

— MLB Pipeline (@MLBPipeline) July 9, 2019
Dodgers: Cristian Santana, 3B (No. 26) -- 1-for-4, HR (Double-A Tulsa)
Santana hit a game-tying home run in the seventh inning Tuesday, only to watch the Drillers' bullpen give up five runs over the final two frames before falling to Springfield, 7-2. Santana also extended his hitting streak to 10 games with the solo blast. Thanks to a .419 average during that span, the 22-year-old third baseman has improved his 2019 average from .282 to .302. While Santana's power numbers have regressed this season in the Texas League after a 24-homer, 23-double 2018 campaign in the California League, he's actually hitting for more average and reaching base at a higher clip (.325), all while keeping his strikeouts mostly in check (73 K's in 79 games). Dodgers prospects stats »
Giants: There were no notable performances by Giants prospects on Tuesday.
Padres: Hudson Potts, 3B (No. 9) -- 1-for-4, HR (Double-A Amarillo)
Potts pushed his season home run total up to eight via his second home run in three days for the Sod Poodles. The 20-year-old's homer, a fifth-inning solo shot, was also his third in 13 games since he returned from a month-long injured list stay on June 25. Potts hasn't hit for much average (.232) this season and has experienced an uptick in his strikeout rate, but he's continued to show good power (8 home runs, 16 doubles in 63 games) despite being a younger player in an advanced league. He's also been a strong second-half performer in previous seasons, so don't be surprised if Potts begins to pick up the pace offensively now that he's healthy. Padres prospects stats »
Rockies: Terrin Vavra, SS/2B (No. 13) -- 2-for-5, 2 R (Class A Asheville)
Vavra was one of three Asheville hitters to record at least two hits and score two runs as he helped lead the Tourists past Greenville on Tuesday. The 2018 third-round pick out of Minnesota is having an impressive first full season, as he ranks second among the South Atlantic League leaders in average (.318), OPS (.902), hits (93) and total bases (145). His .406 OBP and 26 doubles are both tops in the circuit. Rockies prospects stats »