Each team's best prospect outside the Top 100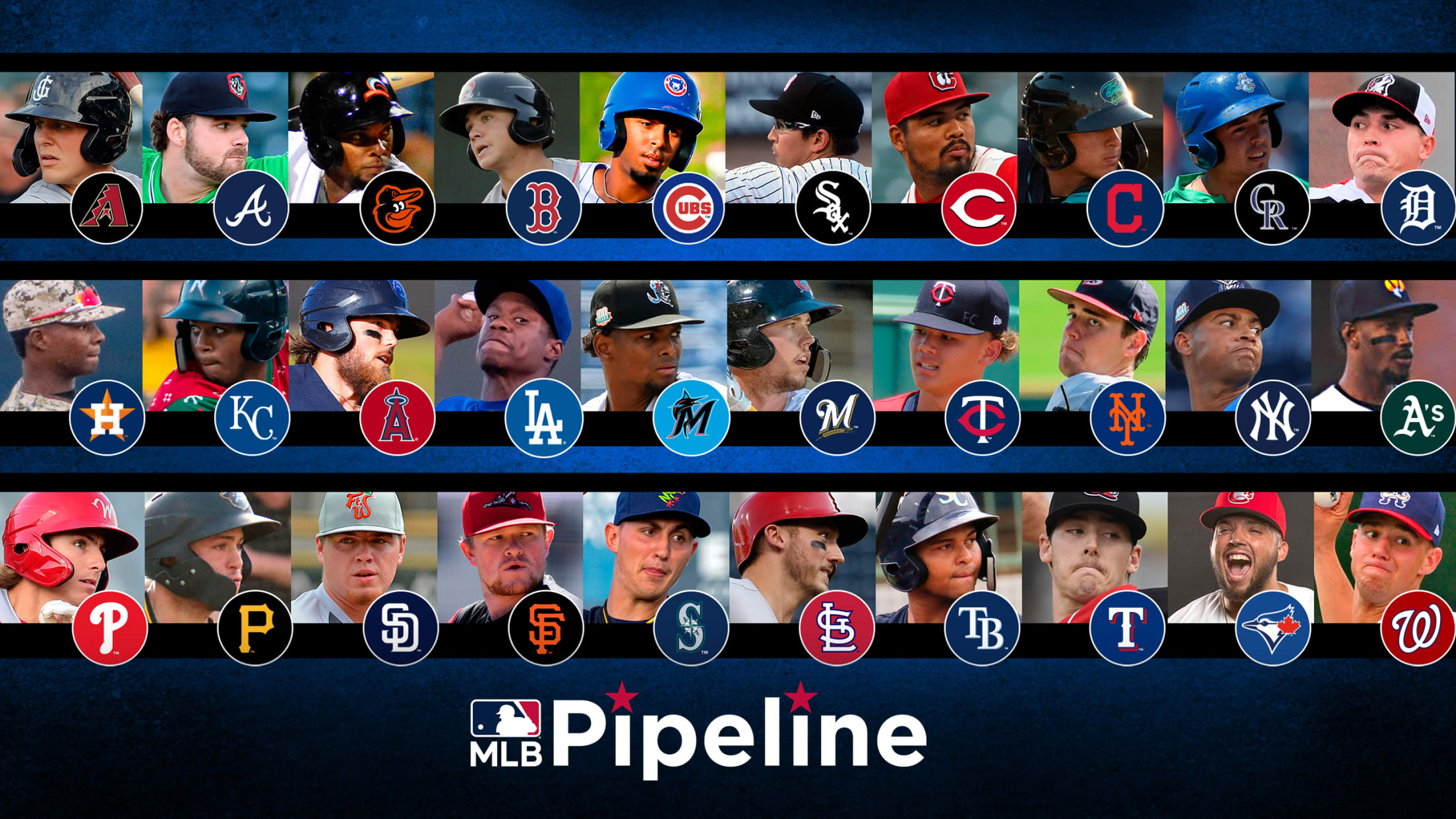 When MLB Pipeline unveiled its preseason Top 100 Prospects list back in January, we also presented a companion piece identifying the best prospects from each organization who just missed the cut. Five of them -- Rays second baseman Vidal Brujan, Giants shortstop Marco Luciano, Mariners first baseman Evan White, Mets
When MLB Pipeline unveiled its preseason Top 100 Prospects list back in January, we also presented a companion piece identifying the best prospects from each organization who just missed the cut.
Five of them -- Rays second baseman Vidal Brujan, Giants shortstop Marco Luciano, Mariners first baseman Evan White, Mets shortstop Ronny Mauricio and Marlins outfielder Monte Harrison -- currently reside on the updated Top 100 that came out at the end of July. Rockies second baseman Garrett Hampson, Padres outfielder Josh Naylor and Pirates shortstop Cole Tucker also joined the Top 100 after the season started but since have spent enough time in the big leagues to lose their prospect eligibility.
Indians shortstop Tyler Freeman, Tigers third baseman Isaac Paredes and Brewers outfielder Corey Ray also jumped onto the Top 100 but fell back off when we reshuffled it. And the most interesting guy featured in our January not-quite-Top-100 article would have to be Athletics outfielder Kyler Murray, the Heisman Trophy-winning quarterback who since has given up baseball and went No. 1 overall in the NFL draft.
With all that mind, let's take a look at the best prospects in each system who aren't on our current Top 100:
AMERICAN LEAGUE EAST
Blue Jays: Alek Monoah, RHP (TOR No. 4)
The Blue Jays certainly have a type -- big, durable, hard-throwing -- when it comes to drafting pitchers in the first round, and Manoah checks all of those boxes. Listed at 6-foot-6, 260 pounds, Manoah's plus fastball typically sits around 94-97 mph, and he backs it up with a power slider that flashes plus and a changeup that should be at least Major League-average once fully developed. He keeps his long limbs in check and repeats his delivery well, throwing strikes with all three pitches.
Orioles: Yusniel Diaz, OF (BAL No. 5)
Diaz has battled injuries this season, missing time with an undisclosed injury early before recently landing on the shelf with a quad issue, and it's seemingly kept him from finding his groove at the plate. The 22-year-old outfielder has, however, shown more game power in his return to the Double-A level, hitting 10 homers and 18 doubles in 69 games for Bowie after posting 11 and 15, respectively, last season in 97 games between the Dodgers' and Orioles' systems.
Rays: Ronaldo Hernandez, C (TB No. 7)
Hernandez's power has backed up this year after a 21-homer full-season debut, though that was to be expected somewhat with the 21-year-old backstop advancing to the pitcher-friendly Florida State League. The raw tools (plus raw power, plus arm strength) are impressive and he has natural feel for hitting, but Hernandez's overall game requires refinement -- especially with regards to his receiving and framing.
Red Sox: Bobby Dalbec, 3B/1B (BOS No. 2)
Dalbec has some of the best raw power in the Minors, ranking fourth overall last year with 32 homers and slamming 20 more so far this year. Just promoted to Triple-A, the 2016 fourth-rounder has cut down his strikeout rate while continuing to draw a lot of walks and playing a slick third base.
Yankees: Luis Gil, RHP (NYY No. 4)
Acquired from the Twins in exchange for Jake Cave in March 2018, Gil since has blossomed into one of the best pitching prospects in a Yankees system loaded with live arms. He has a 2.84 ERA with 119 strikeouts in 92 innings between two Class A stops this season, creeping into the triple digits with his fastball while also missing bats with a power curveball.
AMERICAN LEAGUE CENTRAL
Indians: Tyler Freeman, SS (CLE No. 4)
A fourth-round pick in 2017, Freeman won the short-season New York-Penn League batting title at .352 last summer and has hit .308/.383/.430 with 15 steals this year between two Class A levels. His bat is his lone plus tool, though his fine instincts help him play above the rest of his tools.
Royals: Khalil Lee, OF (KC No. 4)
He didn't turn 21 until late June and he's more than held his own in Double-A, making the Texas League All-Star team. He's swiped 43 bags as of Thursday and there's more power to come for sure.
Tigers: Tarik Skubal, LHP (DET No. 4)
With his meteoric rise to Double-A and overall dominance in his first full season, Skubal quickly has emerged as one of the biggest steals from the 2018 Draft, when the Tigers took the Seattle University product in the ninth round. Behind his four-pitch mix and feel for attacking the zone, the 22-year-old left-hander has posted double-digit strikeouts in five of his six Double-A starts en route to 60 strikeouts over 29 innings in the Eastern League. Overall, Skubal has compiled a 2.39 ERA with 157 strikeouts and 31 walks in 109 1/3 innings, while holding hitters to a .198 clip across two levels.
Twins: Keoni Cavaco, SS (MIN No. 6)
The Twins' first-round Draft pick this past June was one of the fastest risers on boards as the Draft approached. He has a ton of tools and raised his profile even more by showing he can play shortstop, something he's doing exclusively while he gets his professional feet wet in the Gulf Coast League this summer.
White Sox: Dane Dunning, RHP (CWS No. 6)
Dunning likely would be established in the White Sox rotation by now if he hadn't missed the last two months of 2018 with a strained elbow and then had Tommy John surgery this March. Part of the Adam Eaton trade with the Nationals in December 2016, he has a solid three-pitch repertoire and control to match.
AMERICAN LEAGUE WEST
A's: Jorge Mateo, SS/2B, (OAK No. 4)
Mateo's been in the Top 100 before, as high as No. 30 in 2016 when he was with the Yankees. Some subpar seasons led to a slide off the list, but his huge 2019 in Triple-A has put him back on the map. An ankle injury has put him on the shelf, but if he's back healthy, he could help the A's out down the stretch in September.
Angels: Brandon Marsh, OF (LAA No. 2)
A leg injury shelved Marsh for a few weeks this year, but he's performed well as a 21-year-old in the Double-A Southern League. The former two-sport standout is still figuring out how to use all of his tools consistently and he's cut his strikeout rate this year, a good sign of things to come.
Astros: Freudis Nova, INF (HOU No. 3)
One of the best all-around talents in the 2016 international class, Nova signed for $1.2 million out of the Dominican Republic, where he drew comparisons to Hanley Ramirez and Edgar Renteria. He's still learning how to translate his tools into skills, as evidenced by his .262/.295/.381 line in low Class A at age 19, but his exit velocities, speed and arm all grade as plus or better.
Mariners: George Kirby, RHP (SEA No. 6)
Kirby, the strike-throwing machine out of Elon, was the Mariners' first-round pick this past June and he's already tossed 11 pro innings without issuing a walk. His combination of stuff and outstanding command should allow him to move quickly, following 2018 first-rounder Logan Gilbert as a Mariners pitching prospect who jumps levels and onto the Top 100 in 2020.
Rangers: Cole Winn, RHP (TEX No. 4)
After selecting him 15th overall in the 2018 Draft, the Rangers delayed Winn's pro debut until mid-May and he has looked more rusty than living up to his reputation as being advanced for a teenage pitcher. His modest statistical line (5.55 ERA, 41/31K/BB ratio in 47 low Class A innings) belies the fact that he still has three potential plus pitches in his fastball, curveball and slider, not to mention the athleticism to repeat his sound delivery
NATIONAL LEAGUE EAST
Braves: Bryse Wilson, RHP (ATL No. 6)
Wilson was on the Top 100 at the start of the 2019 season, coming in at No. 82. He's pitched fairly well at Triple-A and has been called upon to help out in Atlanta, with mixed results. His long-term role is still in question, one reason why others passed him by in our re-rank.
Phillies: Adam Haseley, OF (PHI No. 4)
As a solid, albeit unspectacular, performer, Haseley has flirted with being added to the Top 100 on more than one occasion, but has never actually gotten there. Now back in the Minors after making a solid contribution to the Phillies' playoff push, he could still graduate off of prospect lists before hitting the Top 100.
Marlins: Edward Cabrera, RHP (MIA No. 7)
Like many prospects in a dramatically improved Marlins system, Cabrera has taken positive steps in his development this year. A bargain $100,000 signing out of the Dominican in 2015, he has done a much better job of harnessing his mid-90s fastball and power breaking ball while logging a 2.23 ERA with a 110/29 K/BB ratio in 92 2/3 innings between high Class A and Double-A this season.
Mets: Matthew Allan, RHP (NYM No. 4)
Many scouts viewed Allan as the top high school pitching prospect in his class leading up to the Draft. The Mets saved enough money with their other top 10-round picks that they were able to sign the 6-foot-3 right-hander for $2.5 million, roughly four times the recommended value for the No. 89 overall pick (third round). He already features a plus fastball and curveball, and with so much projection remaining he could develop into a front-of-the-rotation-type arm.
Nationals: Jackson Rutledge, RHP (WSH No. 3)
Rutledge dominated at San Jacinto (Texas) this past spring, posting a 0.87 ERA with 134 strikeouts in 82 2/3 innings before going to the Nationals in the first round of the Draft. An imposing presence on the mound, the 6-foot-8 right-hander uncorks plus velocity using a short arm action that also gives him good feel for throwing a pair of breaking balls that both earn at least above-average grades from scouts. The 20-year-old has more untapped potential than the typical college hurler, and the Nationals are eager to unlock it.
NATIONAL LEAGUE CENTRAL
Brewers: Tristen Lutz, OF (MIL No. 2)
Lutz started slowly this year much like he did during his 2018 full-season debut, but his power has started to come out as the season has unfolded and No. 34 overall pick in 2017 appears poised to surpass his power numbers from last year. Lutz has a strong approach for his age (20) and takes his share of walks, but he also has swing-and-miss tendencies that impact his ability to hit for average. Despite some questions about his bat, Lutz has a strong foundation as a potential power-hitting corner outfielder with on-base skills.
Cardinals: Andrew Knizner (STL No. 3)
Knizner has never cracked MLB Pipeline's Top 100 Prospects list, but it's no secret that the 24-year-old is one of the more advanced catching prospects in baseball and he's already made his mark with St. Louis in the big leagues this year, helping to ease the absence of an injured Yadier Molina. With a long track record of hitting for average with some occasional power mixed in, Knizner has stood out most behind the plate this season, showing improved catch-and-throw skills en route to a 43 percent caught-stealing rate in Triple-A.
Cubs: Brennen Davis, OF (CHC No. 3)
The Cubs loved Davis's athleticism and 30-30 potential when they chose him in the second round of the 2018 Draft, and he has proven more advanced than expected. He's batting .298/.371/.509 in low Class A, though he hasn't played much in the last month while dealing with finger injuries. Also keep an eye on left-hander Brailyn Marquez, who has reached 101 mph while allowing just one hit and fanning 26 in his last three starts and 16 innings.
Reds: Tony Santillan, RHP (CIN No. 4)
Santillan has long been in the "next up" group, with Reds fans clamoring for him to be added especially after what seemed to be a breakout 2018 season. The 22-year-old right-hander still has excellent stuff, but has regressed in 2019, especially command-wise. A reset in 2020 could land him back closer to the list.
Pirates: Travis Swaggerty, OF (PIT No. 4)
The Pirates' 2018 first-rounder was on the 2019 preseason Top 100, but has had a just a so-so first full season in the Florida State League. The toolsy college performer could work his way back onto the list with a strong move to Double-A in 2020.
NATIONAL LEAGUE WEST
D-backs: Daulton Varsho, C (ARI No. 5)
The biggest knock on Varsho is his defense, which is more than serviceable if not good. He provides more than an enough value at the plate to offset any of those concerns, as the 23-year-old has proved an advanced left-handed hitter who can hit for some power, reach base at a high clip from atop a lineup and impact games with his baserunning. He's made offensive gains at each step of his career and is swinging the bat particularly well this year in Double-A, slashing .284/.372/.485 with 14 homers and 17 steals.
Dodgers: Josiah Gray, RHP (LAD No. 5)
A former shortstop at Le Moyne who didn't become a full-time pitcher until the summer of 2017, Gray is progressing faster than expected since the Reds took him in the second round the following June and sent him to the Dodgers in the Yasiel Puig trade last December. Armed with a lively fastball that hits 97 mph and a sharp slider, he has posted a 1.97 ERA and 126/23 K/BB ratio in 114 innings this year while ascending to Double-A.
Giants: Logan Webb, RHP (SF No. 5)
The best pitching prospect in a resurgent Giants system, Webb was a star quarterback in high school before signing as a fourth-round pick in 2014. He has been slowed by Tommy John surgery in 2016 and an 80-game suspension this year for testing positive for performance-enhancing drugs, but he has a heavy mid-90s fastball and a power breaking ball. He has compiled a 1.92 ERA with a 62/15 K/BB ratio in 56 1/3 innings in 2019, mostly in Double-A.
Padres: Ryan Weathers, LHP (SD No. 8)
Weathers spent much of his first full season ranked among MLB Pipeline's 100-best prospects, but an injury he suffered at midseason led to a dip in velocity and diminished stuff upon his return, and his recent results reflect that much. However, it's common for players -- especially pitchers -- to wear down during their first full pro campaign, and there's no reason to think that the Padres' first-round pick from the 2018 Draft can't bounce back.
Rockies: Colton Welker, 3B/1B (COL No. 3)
Welker had made a strong move up the Top 100 with an excellent start to his first year of Double-A in 2019. But he went from .356/.400/.522 in April to .265/.330/.408 in May to .182/.242/.341 in June. He was scuffling in July as well when he landed on the injured list. There's still strong belief in the hit tool, though, so a reset button might work for him in 2020.