Standout players from the Triple-A ASG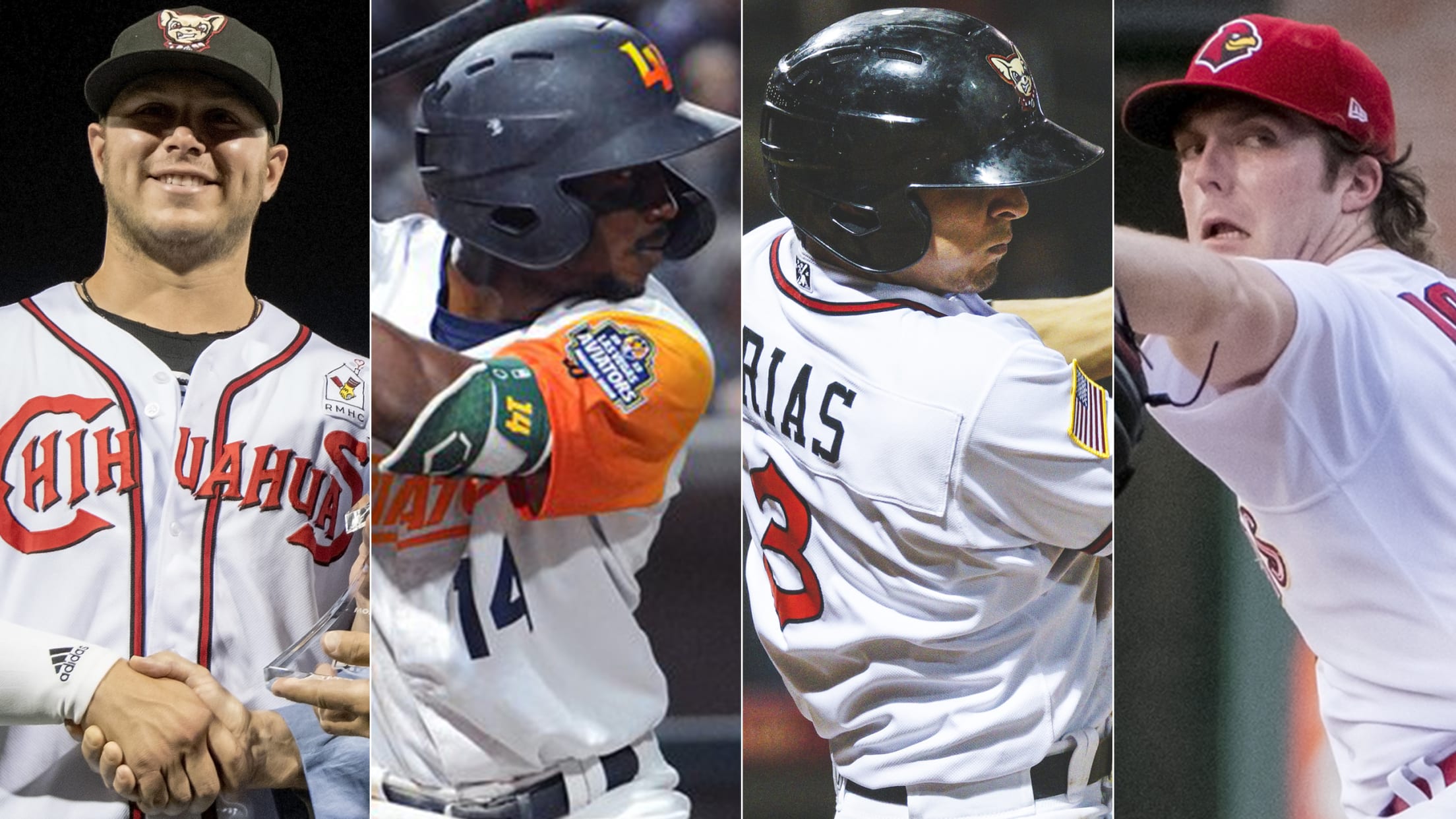 EL PASO, Texas -- Southwest University Park is one of the launchiest launching pads in the Minors, producing an average of 13.4 runs and 3.6 homers per game this season. With a pair of loaded lineups facing pitching staffs not exactly stacked with prospect talent, the Triple-A All-Star Game figured
EL PASO, Texas -- Southwest University Park is one of the launchiest launching pads in the Minors, producing an average of 13.4 runs and 3.6 homers per game this season. With a pair of loaded lineups facing pitching staffs not exactly stacked with prospect talent, the Triple-A All-Star Game figured to be full of offensive fireworks.
That didn't turn out to be the case Wednesday night, with the Pacific Coast League defeating the International League, 9-3. But Ty France did his best to deliver some thrills for his hometown fans.
The El Paso third baseman, who's hitting .379/.469/.797 with 19 homers in 46 PCL games, crushed a home run that traveled more than 450 feet off a hanging slider from Gwinnett right-hander Ben Rowen (Braves) in the third inning. Not known for his glove, France also turned in one of the game's best defensive plays when he backhanded a smash from Kyle Higashioka (Yankees) in the first inning and threw him out.
Ty France of the @Padres headlines @jimcallisMLB's list of the top performers from the @TripleABaseball All-Star Game after connecting on this mammoth dinger: https://t.co/3NpxghsjoA pic.twitter.com/HejY3ZRXrF

— MLB Pipeline (@MLBPipeline) July 11, 2019
France, who spent six weeks with the Padres earlier this year and stroked his first big league homer off Noah Syndergaard in May, was named the PCL's star of the game. Columbus catcher Eric Haase (Indians) earned the IL award with a sacrifice fly and an RBI single in two plate appearances.
Here are seven more standouts from the 32nd annual Triple-A showcase:
David Freitas, C, San Antonio (Brewers): A career .272 hitter in the Minors through 2017, Freitas has batted .357 during the last two seasons in Triple-A. He continued to rake against the IL, pulling a pair of doubles, including one off Norfolk left-hander Keegan Akin (Orioles) that opened the scoring and sparked the decisive four-run rally in the second inning.
Jorge Mateo, SS, Las Vegas (Athletics): One of two players to appear in both the SiriusXM All-Star Futures Game and the Triple-A All-Star Game -- New Orleans second baseman Isan Diaz (Marlins) was the other -- Mateo showed off his top-of-the-scale speed. He easily beat out a slow grounder to third for an infield hit in the second inning and flew around the bases on a triple to right-center in the fourth, knocking in runs with both.
One of just five #MLB top prospects with 80-grade speed, #Athletics No. 8 prospect Jorge Mateo showed off his wheels with this triple in last night's @TripleABaseball All-Star Game. Here's @jimcallisMLB's list of the game's top performers: https://t.co/3NpxghsjoA pic.twitter.com/QK38GaRLhm

— MLB Pipeline (@MLBPipeline) July 11, 2019
Dilson Herrera, 2B, Syracuse (Mets): Even when Herrera ranked among the best second-base prospects in baseball, scouts never thought much of his defense. But he made two nifty plays immediately after entering the game in the fifth inning, robbing France of a single with a diving effort, then snaring a grounder from Omaha right fielder Bubba Starling (Royals) while going to his left and spinning to get a force at second. Herrera also reached base in both of his plate appearances, singling up the middle and drawing a walk.
#Mets' Dilson Herrera stood out in the Triple-A All-Star Game, thanks in part to this smooth defensive play at 2B. More stars from last night's game: https://t.co/3NpxghJUg8 pic.twitter.com/5z0Bs7RJxB

— MLB Pipeline (@MLBPipeline) July 11, 2019
Kirby Snead, LHP, Buffalo (Blue Jays): In college, Snead was part of a loaded 2016 Florida pitching staff that included five first-round picks and nine potential big league starters. He doesn't have that kind of stuff but succeeds with deception and an aggressive approach. He was the lone IL pitcher to record a perfect inning, striking out Diaz looking with a fastball while topping out at 92 mph in the sixth.
Yasmany Tomas, 1B, Reno (Diamondbacks): While he hasn't lived up to his $68.5 million contract, Tomas has destroyed Triple-A pitching this year at a .309/.348/.611 clip with 25 homers in 86 games. He won the Triple-A home run derby on Monday night and smoked the ball in all three of his at-bats on Wednesday, delivering three straight singles.
Luis Urias, 2B/SS, El Paso (Padres): France wasn't the only hometown hero to come through. One of the best pure hitters in the Minors, Urias already has matched his career total of homers in his first five seasons (17), and crushed a fifth-inning fastball from Charlotte right-hander Connor Walsh (White Sox) off the third level of the Santa Fe Pavilion in right-center, a blow estimated at 425 feet.
After belting this homer in the 5th inning of the Triple-A All-Star Game, #Padres No. 2 prospect Luis Urias ranks among the top performers from the game: https://t.co/3NpxghJUg8 pic.twitter.com/YHNVs3ibMQ

— MLB Pipeline (@MLBPipeline) July 11, 2019
Jake Woodford, RHP, Memphis (Cardinals): Woodford set the tone for a PCL pitching staff that proved quite effective (two earned runs, seven hits) even though none of the hurlers topped 92 mph. He retired all six batters he faced to start the game, throwing 16 of 25 pitches for strikes. He sat at 91-92 mph and fanned both Durham shortstop Jake Cronenworth (Rays) and Gwinnett right fielder Travis Demeritte (Braves) with fading changeups.