As career launched, Myers had family at his side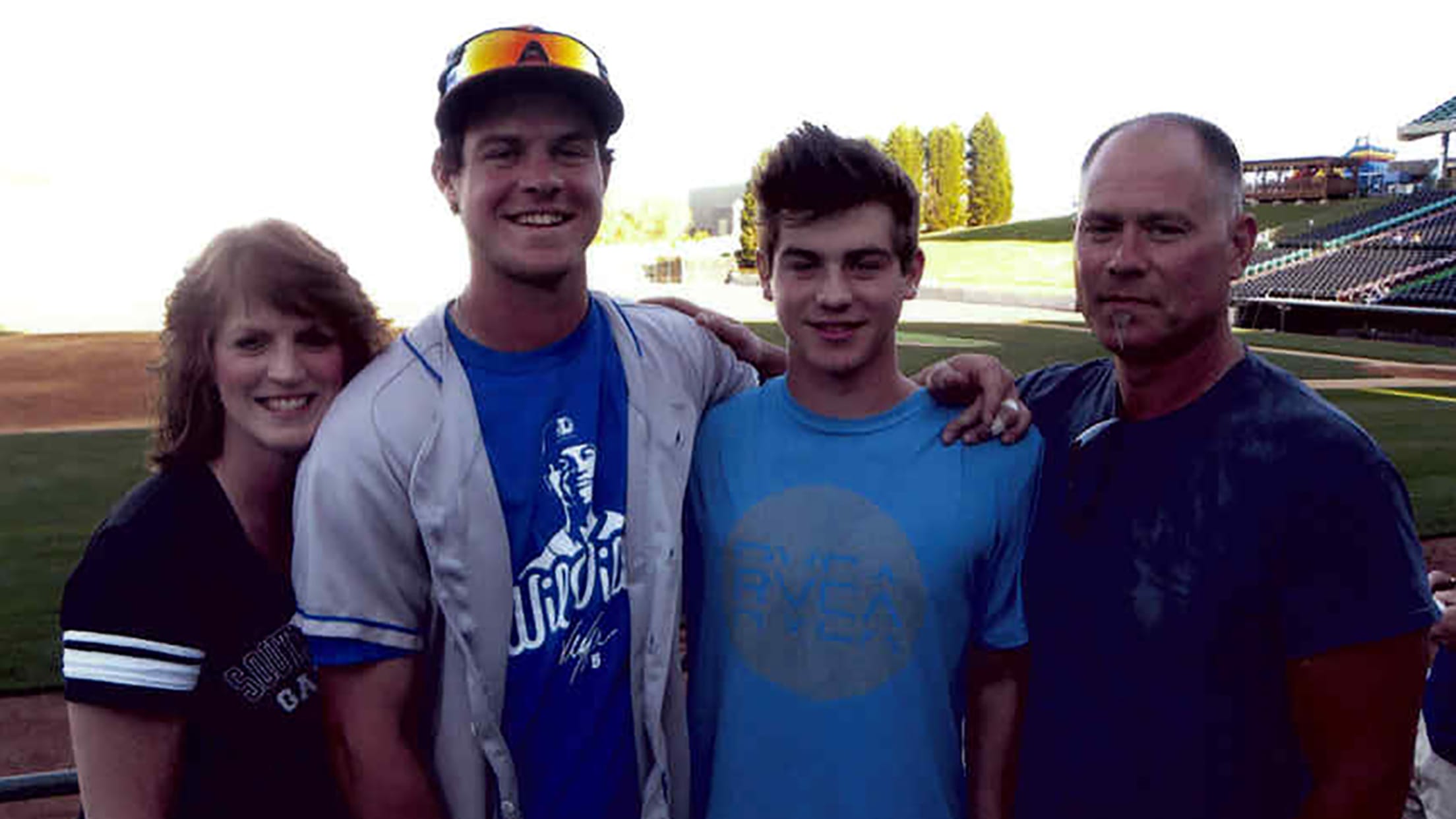 From left: Pam, Wil, Beau and Eric Myers. (Myers Family)
SAN DIEGO -- In June 2013, Wil Myers' callup to the big leagues was an inevitability. Myers had an .876 on-base plus slugging percentage in 64 games for Triple-A Durham, and the Rays' offense needed some life. It was simply a matter of time.And yet, on Father's Day of that
SAN DIEGO -- In June 2013, Wil Myers' callup to the big leagues was an inevitability. Myers had an .876 on-base plus slugging percentage in 64 games for Triple-A Durham, and the Rays' offense needed some life. It was simply a matter of time.
And yet, on Father's Day of that year, Myers was still playing at Durham -- barely over an hour's drive from his hometown of Thomasville, N.C. The Bulls had a home game that day, so the entire Myers family -- Wil's father, Eric, his mother, Pam, his brother, Beau, and both sets of grandparents -- made the trek to see Wil play.
:: Father's Day 2016 ::
Wil rewarded his family right away with a first-inning single -- and then didn't emerge to take his place in the field for the second.
"He didn't come out of the dugout that next inning, and we got a little concerned," Eric Myers recalled. "Then he called his momma and told her [he had been called up]. It was pretty exciting, but we had to keep it quiet until we got outside the stadium."
Along with the entire Myers family, some family friends were also in attendance at the game. And while Eric and Pam Myers were aware that their son had been called up, they didn't want to cause a commotion by telling everyone on the spot.
Instead, they told the group to follow them out of the stadium concourse, which led to a few puzzled looks. When they met in the bowels of Durham Bulls Athletic Park, the celebration finally began.
"Obviously, my parents were pretty emotional about it," Myers said. "And it was really cool for it to be on Father's Day."
As Wil recalls, the afternoon morphed from a Father's Day celebration into a celebration of the former top prospect's baseball career.
"It was a pretty cool deal; I had the whole family there," Myers said. "I had one at-bat. They took me out in the second inning. They told me, 'Hey, you're done. You're going up.' ... It was right about that time: Super Two was out of the question, and I was really hot at the time, so everyone kind of knew at some point soon, I was going to get called up.
"It wasn't a huge surprise. But obviously, any time you get called up, it's a big deal. ... That kind of took over Father's Day."
Not that Eric Myers minded. He had an inkling that day was coming for a long time.
When Wil was 6 years old, the mayor of Thomasville stopped Eric at a Little League game to point out the talented young kid playing shortstop.
"That boy right there is going to play in the Major Leagues one day," Eric Myers recalls being told. Unbeknownst to the mayor, he was speaking with that boy's father.
But Eric Myers says he knew Wil had rare talent a few years before that. So when, exactly, did Eric realize he had a son capable of big things on the ballfield?
"He would just unload on the ball in the house at 3 years old," says Eric. "We had to stop playing in the house. He was knocking lamps over."
There's little question that the raw talent was always there for Wil Myers. It's partly why he's transitioned so smoothly to first base this season -- and why he's putting forth a serious case for All-Star consideration.
Still, plenty of young kids are blessed with talent. Myers credits his father for allowing him to realize it.
"He was the biggest factor in my baseball career," Wil said of his father. "The one thing I credit my dad for that I know a lot of dads don't do anymore is being honest with me about my game. He never told me how great I was; he always told me just to keep working hard.
"That's the one thing I really respected from him, and looking back, I really appreciated it."