Contenders need these 10 guys to step up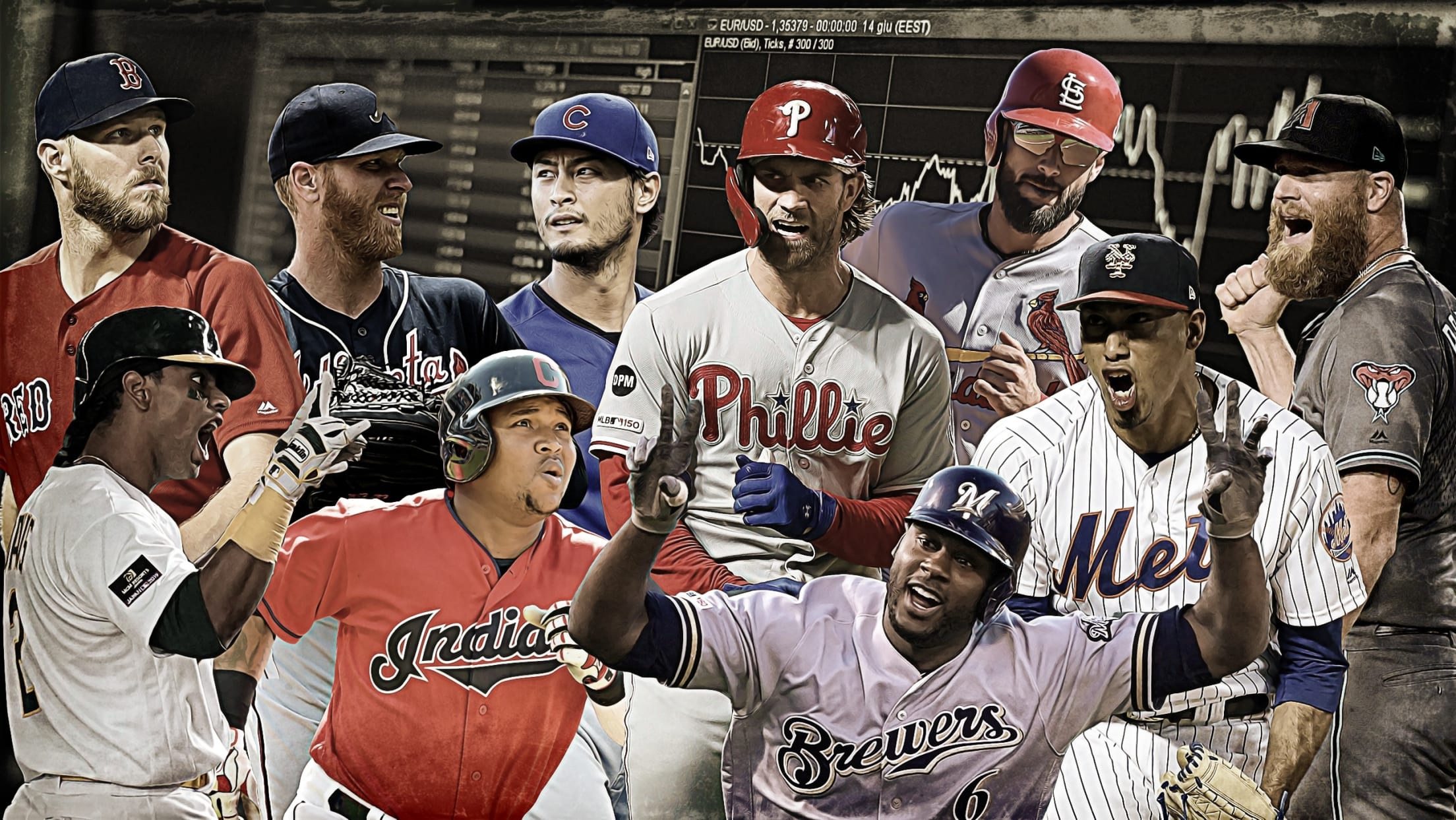 The length of the baseball season is grueling and unforgiving, but it also offers a chance at redemption. Just as early hot streaks can give way to ill-timed slumps during the dog days of summer, the stretch run also provides an opportunity to rewrite an unfavorable narrative. If a player
The length of the baseball season is grueling and unforgiving, but it also offers a chance at redemption.
Just as early hot streaks can give way to ill-timed slumps during the dog days of summer, the stretch run also provides an opportunity to rewrite an unfavorable narrative. If a player finds his footing in the final months to help his club reach October, it goes a long way toward putting first-half struggles in the rearview mirror.
Here then are 10 players contenders need to step up over the remainder of the season. While 2019 has not necessarily gone as planned for any of them, plenty of time remains to make their mark on the postseason chase.
Athletics: DH Khris Davis
A year ago, Davis was helping lead Oakland to 97 wins and a Wild Card berth, leading the Majors with 48 home runs and finishing second with 123 RBIs in his third straight 40-homer, 100-RBI campaign. But since a hot start to 2019, Davis has been mired in a four-month slump, with just seven big flies and an OPS not far over the .600 mark since mid-April. With the A's locked in a tough battle for another Wild Card spot, the re-emergence of one of the game's top power hitters would be a welcome development.
Reason for hope: Before an Interleague series in a National League park sent Davis to the bench earlier this week, he had a six-game hitting streak (.348/.423/.522) that included a key home run on July 30.
Braves: RHP Mike Foltynewicz
Atlanta's 2018 breakout coincided with Foltynewicz's (2.85 ERA, 202 Ks). Then a bone spur in his right elbow delayed his '19 debut, and Foltynewicz never got going. He had a 6.37 ERA over 11 starts when he was sent back to Triple-A, where he pitched well and earned a return trip to the big league rotation. The NL East-leading Braves showed some confidence in Foltynewicz when they let Kevin Gausman go to the Reds via waivers on Monday, opening a spot in the rotation.
Reason for hope: Foltynewicz held a potent Twins offense to three runs on five hits over 5 1/3 innings in his first start back on Tuesday at Target Field, and overcame a tough first inning to help the Braves win on Sunday at Miami.
Brewers: CF Lorenzo Cain
While he remains a homer-robbing force on defense, the other half of Cain's game has slipped considerably in 2019. Playing through injuries, including a thumb issue that required a cryotherapy treatment in June, the 33-year-old has seen his OBP tumble roughly 80 points from last year's .395. His baserunning has suffered as well. Christian Yelich is having another remarkable, MVP-caliber season, but Milwaukee needs Cain getting on base in front of him as it fights for position in both the NL Central and Wild Card races.
Reason for hope: More than 100 hitters have gotten 400-plus plate appearances this season. Cain has the largest "unlucky" gap between his expected and actual performance, based on Statcast's quality of contact metrics.
Cardinals: 3B Matt Carpenter
For a significant portion of 2018, Carpenter was one of the hottest hitters in MLB. But 2019 has yielded few good stretches for the 33-year-old, who owned a .215/.321/.372 line -- mostly from the leadoff spot -- when a right foot contusion caused his second injured list stint of the season on July 16. Carpenter returned this past Sunday to a St. Louis club looking to avoid missing the postseason for the fourth straight year, and in dire need of some offensive punch.
Reason for hope: He has rebounded before. Just last year, Carpenter had a sub-.600 OPS in mid-May before going on a tear.
Cubs: RHP Yu Darvish
Expectations were high when Chicago signed Darvish to a six-year, $126 million deal before last season, but 2018 was a disaster that featured a 4.95 ERA in just eight starts. The situation continued to look dire for much of this season, with Darvish holding an ERA over 5.00 through early July and not posting consecutive quality starts until July 12-17. His current ERA+ of 101 is roughly league average.
Reason for hope: Darvish already may have found his groove. He has a solid 3.77 ERA over his past 10 starts, but more notable is his 77-to-7 strikeout-to-walk ratio in that time.
D-backs: RHP Archie Bradley
Bradley looked like a blossoming star when he converted to a relief role and posted a 1.73 ERA in 2017. Then he took a step back in '18 and struggled mightily for much of this year, with his ERA surging as high as 5.66 on June 22, when he allowed multiple runs for the sixth time. At that point, batters had a .297/.387/.455 line against Bradley, who was not helping Arizona's uphill postseason push.
Reason for hope: Bradley has turned things around since that late-June nadir, working 13 straight scoreless appearances and taking over the closer job with the D-backs having designated the struggling Greg Holland for assignment.
Indians: 3B Jose Ramirez
There was a two-year stretch from August 2016 through July '18 when Ramirez hit .316/.386/.589 with 67 homers and 53 steals, and ranked second to Mike Trout among all MLB position players in FanGraphs WAR (16.1). But as quickly as he vaulted to that elite level, he suddenly slipped back. From August '18 through this June, Ramirez hit a mere .212/.323/.349, raising serious questions about his star status. Ramirez's scuffling was a major factor in Cleveland's disappointing start that left it 11 games out in the AL Central in mid-June.
Reason for hope: Well, if you hadn't noticed, the elite Ramirez seems to be back. Since the calendar turned to July, he has once again been one of the game's top position players, and the Indians have roared all the way back to tie the Twins.
Mets: RHP Edwin Diaz
Even in the context of reliever volatility, it's been a dramatic drop-off for Diaz this year. The Mets acquired him from the Mariners in the offseason expecting the All-Star closer who saved 57 games with a 1.96 ERA and elite strikeout rate in 2018. The K's have been there, but Diaz's overall performance has been erratic, resulting in an ERA of 5.60 and five blown saves to go along with six losses. Trade rumors swirled as the Deadline neared, but the Mets held on to Diaz and have surged back to contention even as Diaz's role has come into question.
Reason for hope: Under the surface, there is still a lot to like about Diaz. The talent is there.
Phillies: RF Bryce Harper
Lots of players would love to have the season Harper is having in 2019. But when you're one of the game's biggest stars, a former MVP who just signed a $330 million contract with a new club, the bar is always going to be higher. Harper is certainly capable of going on the type of hot streak that carries a team, which is exactly what's needed for a Phillies club beset by injuries and in the thick of the Wild Card race.
Reason for hope: Look no further than Friday night's game in San Francisco, when Harper launched two massive home runs to spur a victory.
Red Sox: LHP Chris Sale
Quite a bit has gone wrong for Boston to fall from last year's heights to out of the division race and clinging to fading Wild Card hopes in 2019. Sale certainly has been part of that. He still has collected loads of strikeouts and limited walks, but his ERA has more than doubled to 4.41 -- a handful of typically dominant starts mixed in with several duds. With the Red Sox facing playoff odds that have dropped into single digits, a run of vintage Sale outings would be a sight for sore eyes in New England.
Reason for hope: Coming off an eight-run disaster at Yankee Stadium, Sale provided one of those vintage efforts Thursday against the Angels, striking out 13 over eight scoreless innings.