Prospect projection: Who'll be tops in 2022?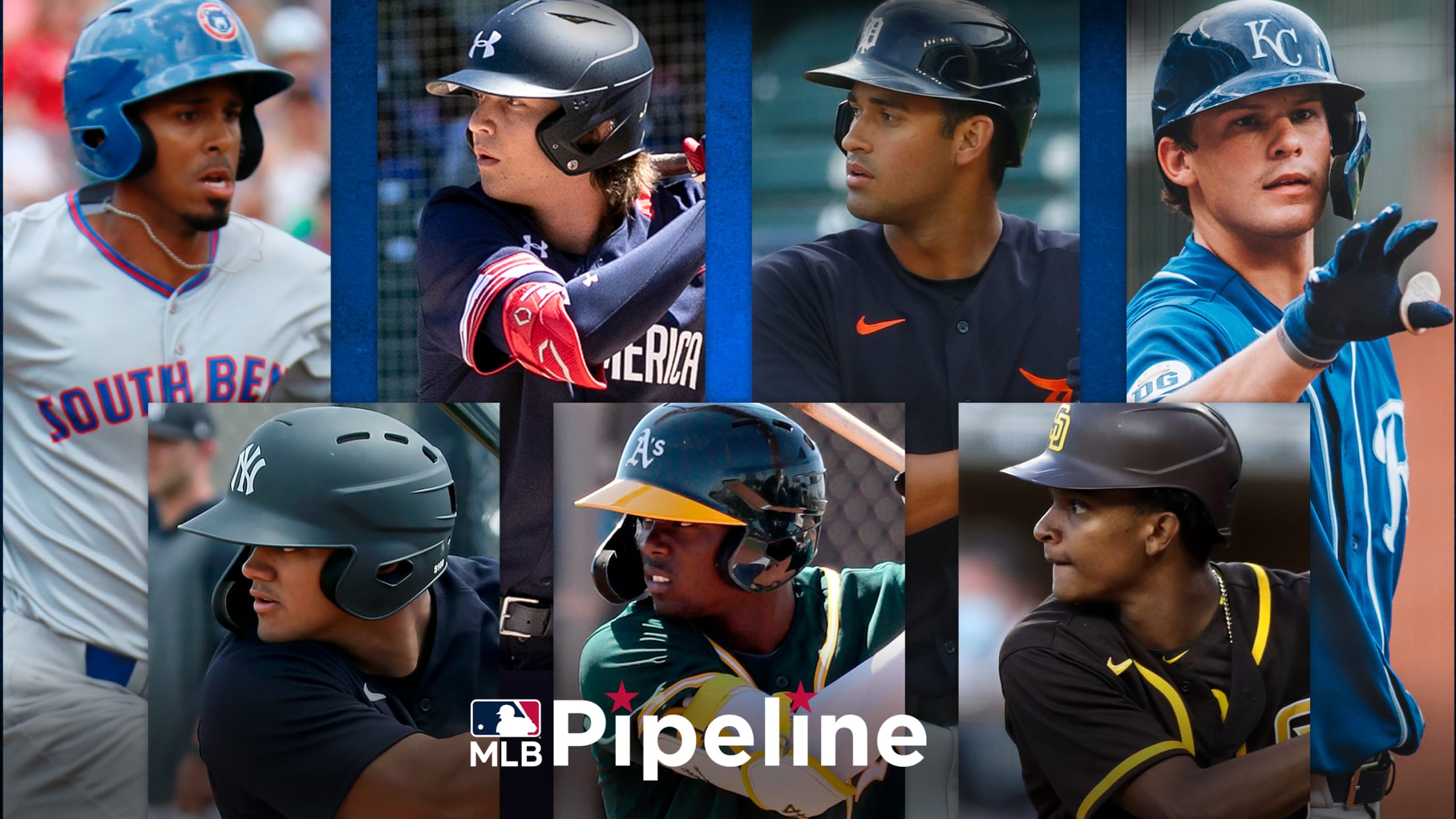 This week marked the arrival of MLB Pipeline's midseason update of our Top 100 Prospects list, as well as every team's Top 30 list. But unlike previous years, in which we exercised free range in adjusting our midseason lists, this year's re-rank focused solely on adding 2020 Draft picks. We
This week marked the arrival of MLB Pipeline's midseason update of our Top 100 Prospects list, as well as every team's Top 30 list. But unlike previous years, in which we exercised free range in adjusting our midseason lists, this year's re-rank focused solely on adding 2020 Draft picks. We deemed it unfair to reshuffle our preseason rankings given the unusual circumstances of the current season.
But now that our updated rankings are in place, we're shifting our focus to the future with a look at one player from every team who could be their organization's No. 1 prospect at the midseason mark in 2022.
AMERICAN LEAGUE EAST
Blue Jays: Jordan Groshans, SS (No. 3/MLB No. 83)
Though a foot injury in mid-May derailed Groshans' first full season last year, the former first-round pick (No. 12 overall in 2018) did offer a glimpse of his upside at the plate before going down, producing a .337/.427/.482 line at Class A Lansing over his first 23 games. The 20-year-old has impact potential at the plate, with the ability to hit for both average and power, and should have no problem meeting the offensive demands at the hot corner if he's ultimately forced to move off shortstop.
Orioles: Heston Kjerstad, OF (No. 3/MLB No. 68)
The Orioles' first-round pick in the 2020 Draft, taken No. 2 overall, has considerable power from the left side of the plate. There had been concerns about him making enough contact to get to that power, but he made very impressive adjustments over the course of his Arkansas career to quiet those. He has the chance to be the prototypical run-producing corner outfielder at the highest level.
Rays: Nick Bitsko, RHP (No. 8)
Bitsko was expected to be one of the premier high school arms in the 2021 Draft class before he decided to reclassify for the 2020 Draft, when the Rays selected him 24th overall and signed him to an above-slot bonus of $3 million. With his projectable 6-foot-4, 225-pound frame and present four-pitch mix, highlighted by a plus fastball-curveball combo, the 18-year-old right-hander already boasts one of the higher ceilings in the organization and is exactly the type of young hurler that the Rays love to develop.
Red Sox: Tristan Casas, 1B (No. 2/MLB No. 85)
One of the best power prospects in the Minors, Casas ranked second in extra-base hits (49), third in homers (19) and fourth in slugging (.472) in the Class A South Atlantic League last year during his first full pro season. A Florida high school product drafted 28th overall in 2018, he's an advanced hitter with plate discipline and a solid glove at first base.
Yankees: Jasson Dominguez, OF (No. 1/MLB No. 59)
One of the most hyped international prospects ever, Dominguez signed for $5.1 million out of the Dominican Republic and prompts comparisons to elite baseball athletes such as Bo Jackson, Mickey Mantle and Mike Trout. He won't make his pro debut until 2021 but shows the potential for well-above-average tools across the board.
AMERICAN LEAGUE CENTRAL
Indians: George Valera, OF (No. 4)
In his first extended taste of pro ball, Valera posted an .802 OPS as the second-youngest regular (age 18) in the short-season New York-Penn League last summer. Signed for $1.3 million out of the Dominican Republic as one of the best offensive prospects in the 2017 international crop, he has the swing and hitting ability to develop into a .300 hitter with 25-30 homers per season.
Royals: Bobby Witt Jr., SS, Royals (No. 1/MLB No. 11)
A standout in Summer Camp after the Royals chose to include him in their 60-man player pool, Witt Jr., the No. 2 overall pick in last year's Draft, should still be the organization's No. 1 prospect two years from now. That is, of course, if he hasn't already reached the Majors. The 20-year-old shortstop is more advanced than the typical prep Draft pick, with five-tool potential packed into his athletic and projectable frame and has a long history of success against advanced competition.
Tigers: Riley Greene, OF (No. 4/MLB No. 33)
Scouts viewed Greene as one of the better prep hitters in the 2019 Draft class before the Tigers selected him sixth overall, and he only furthered that reputation while reaching full-season ball during an impressive pro debut. The 19-year-old opened even more eyes this past spring in big league camp as a non-roster invitee, exhibiting an advanced blend of hitting ability, game power and patience en route to a .417/.611/.917 batting line. Meanwhile, the fact that the three prospects currently ranked above Greene (Spencer Torkelson, Casey Mize and Matt Manning) on the new Tigers Top 30 all are nearly Major League-ready should allow for the young outfielder to move up the list naturally.
Twins: Keoni Cavaco, SS (No. 7)
Cavaco's pro debut in 2019 after being a bit of a pop-up Draft prospect who landed in the middle of the first round was a bit rough, and he's unfortunately not been able to put that in his rear view mirror yet. But there's still belief in his tools, from being able to stick at shortstop to being able to hit for average and power. His upside gives him the nod over 2020 first-round pick Aaron Sabato here.
White Sox: Jared Kelley, RHP (No. 6)
Rated the 2020 Draft's best prep pitcher entering the year, Kelley unexpectedly lasted until the second round and signed with the White Sox for $3 million as the 47th overall selection. He works with a 93-96 mph fastball and tops out at 98 with little effort in his delivery, and he also has an advanced changeup for a teenager and the confidence to throw it in any count.
AMERICAN LEAGUE WEST
Angels: Jordyn Adams, OF (No. 4)
Adams could've gone to play Division I football, but the Angels signed him away from doing that as their first-round pick in 2018. He handled an assignment to full-season ball in 2019 really well and even earned a promotion. He has a more advanced approach at the plate than many anticipated and is one of the fastest players in baseball. The Angels thought enough of his future to include him in their 60-man player pool this summer.
A's: Robert Puason, SS (No. 4)
If the 2020 season had been a normal one, there's a good chance Puason would've impressed enough during his United States debut to have climbed onto the Top 100. He'll get that chance in 2021. He hasn't been able to play yet, but he was ranked No. 2 on our Top 30 International prospect list in 2019. His time as part of the A's 60-man player pool could help him hit the ground running next year.
Mariners: Noelvi Marte, SS (No. 7)
The Mariners got Marte in July 2018 for $1.55 million and he wasted little time in starting to show a return on that investment by leading the Dominican Summer League in total bases during his pro debut in 2019. He's another one who could've been firmly on the Top 100 had he jumped to full-season ball this year. But he'll get the chance to swing his way onto the list next year, even if he eventually outgrows shortstop, especially after his time in the 60-man player pool for the M's.
Astros: Freudis Nova, INF (No. 4)
Nova's toolset, which includes the power and speed to become a 20-20 guy and a well-above-average arm, has earned him comparisons to Hanley Ramirez and Edgar Renteria. One of the best all-around prospects in the 2016 international class, he agreed to a $2.5 million deal with the Marlins before testing positive for performance-enhancing drugs and landing with the Astros for $1.2 million.
Rangers: Maximo Acosta, SS (No. 5)
Acosta has yet to make his pro debut after signing for $1.65 million out of Venezuela last summer, but he already draws Gleyber Torres comparisons for his combination of tools and advanced skills. He should hit for a high average while offering 20-20 upside and solid defensive ability at shortstop.
NATIONAL LEAGUE EAST
Braves: Jared Shuster, LHP (No. 11)
The Braves had a large pool of top-level prospects form at the upper levels of the system. Many have graduated, others will get there soon. That leaves Shuster, their 2020 first-round pick, as the best option to be at the top of this list by this time in 2022. He's a lefty with solid stuff whom the Braves hope will continue to build off the gains he showed last summer in the Cape Cod League and during the shortened spring season at Wake Forest.
Phillies: Mick Abel, RHP (No. 4/MLB No. 100)
Abel was the top-ranked high school arm in the Draft class (No. 11 overall), so the Phillies were excited he was still around when they picked at No. 15 overall and signed him for just a bit over slot. Abel has a very intriguing combination of now stuff, projection and feel for pitching that could allow him to become one of the best right-handed pitching prospects in the game in time.
Marlins: Dax Fulton, LHP (No. 12)
Fulton ranked as the best prep left-hander in the 2020 Draft despite having Tommy John surgery last September and the Marlins paid him accordingly, $2.4 million in the second round. He has a wipeout curveball with power and depth, and he shows the ability to vary its shape, and he also has a projectable 90-93 mph fastball that could sit in the mid-90s once he returns to health.
Mets: Francisco Alvarez, C (No. 2/MLB No. 71)
Signed by the Mets for $2.7 million in July 2018, Alvarez established himself as one of the sport's premier catching prospects during his pro debut last summer, his age-17 season, posting a .312/.407/.510 batting line while advancing to the Rookie Appalachian League. The Mets have done a good job assembling an impressive collection of young, high-ceiling prospects in their system over the last few years, several of whom have No. 1-prospect potential. Alvarez, a teenager who projects as a plus hitter at a premium position, has the look of someone who could separate himself from the field in the coming years.
Nationals: Jackson Rutledge, RHP (No. 3)
The Nats' 2019 first-round pick (No. 17 overall) is an imposing presence on the mound, listed at 6-foot-8 and 250 pounds, and has power stuff that matches his size. Already the top-ranked hurler on the club's Top 30 list, Rutledge operates with a four-pitch mix that includes a mid- to upper-90s fastball and a plus slider, and he controls his long limbs better than most pitchers his size. Those qualities could help Rutledge reach the big leagues ahead of schedule, especially if the Nationals choose to use him out of the bullpen. But due to the circumstances of the 2020 season, on top of the fact that the big righty has the ingredients needed to start, there's a decent chance that he'll have retained his prospect status at the 2022 mid-season mark.
NATIONAL LEAGUE CENTRAL
Garrett Mitchell, OF, Brewers (No. 1/MLB No. 69)
The Brewers got a steal with the No. 20 overall pick in this year's Draft in Mitchell, who had perhaps the best all-around tools in the 2020 class and ranked as its sixth-best prospect. He's a top-of-the-scale runner and future plus hitter who projects to stay in center field for a long time, and the Brewers expect the 21-year-old will tap into more of his raw power in the pro ranks. That said, Mitchell doesn't have a consistent track record of production or staying healthy compared to some of his 2020 first-round college peers, so don't be surprised if the Brewers choose to err on the side of caution with regards to his development.
Nolan Gorman, 3B, Cardinals (No. 2/MLB No. 52)
One of the better power hitters in the 2018 Draft class, Gorman smashed 17 bombs and reached full-season ball during his pro debut. He had a challenging first full season in '19, batting .248 with 15 home runs and a near-30-percent strikeout rate, albeit while spending the second half of the season as a 19-year-old in the pitcher-friendly Class A Advanced Florida State League. With the power already in place, learning to better control the zone while also cutting down on the whiffs represent the next hurdles Gorman will need to clear in his overall development.
Cubs: Brennen Davis, OF (No. 3/MLB No. 86)
Davis already has the highest ceiling in the Cubs system as a possible center fielder with 30-30 potential and a more polished bat than realized. A 2018 second-round pick who also starred on the basketball court as an Arizona high schooler, he was hampered by a pair of injuries to his right index finger in his first full pro season yet still batted .305/.381/.525 as a 19-year-old in the Class A and pitcher-friendly Midwest League.
Reds: Austin Hendrick, OF (No. 3/MLB No. 92)
Hunter Greene could very well be the guy here at this point in 2022, but it's also possible to see him in the big leagues, so the baton gets passed to the Reds' top Draft pick this year. Hendrick has as much raw power as just about anyone in his Draft class and the Reds are very good at working with young hitters to maximize their ceiling.
Pirates: Quinn Priester, RHP (No. 4)
The guess is that 2020 first-round pick Nick Gonzales will already be in the Pirates' big league lineup at this point two years from now and it's hard not to be high on Priester. A tremendous athlete who also played football in high school, he has a very good feel for pitching, including one of the top breaking balls in the 2019 Draft class. There's a lot of ceiling here and all he needs is to go out and pitch and he'll start climbing up the Top 100.
NATIONAL LEAGUE WEST
Kristian Robinson, OF, D-backs (No. 1/MLB No. 48)
Signed out of the Bahamas for $2.5 million in July 2017, Robinson slashed .282/.386/.514 with 14 homers last year while ascending from Class A Short Season Hillsboro to Class A Kane County in his age-18 season. The 6-foot-3 outfielder's massive right-handed power highlights an exceptional all-around set of tools and gives him one of the higher ceilings in the Minors among teenage prospects. He should be a staple atop the D-backs' Top 30 list for years to come and could be one of the very best prospects in baseball once it all clicks.
CJ Abrams, SS, Padres (No. 2/MLB No. 27)
Following his selection by the Padres with the sixth-overall pick in the 2019 Draft, Abrams emerged as one of the Minors' most exciting and dynamic prospects by producing a .401/.442/.662 line over 32 games in the rookie-level Arizona League before finishing his pro debut at full-season Class A Fort Wayne. The 19-year-old shortstop stands out in all facets of the game with his elite athleticism and 80-grade wheels, while his quick left-handed bat and penchant for making hard contact have led scouts to project him as a future plus hitter who also hits for some power.
Dodgers: Kody Hoese, 3B (No. 7)
The Dodgers keep cranking out prospects and they have a slugging third baseman on the way in Hoese, the 25th overall pick in last year's Draft after setting American Athletic Conference records for homers (23), total bases (183), slugging (.779) and runs (72). The Tulane product can do more than just hit the ball over the fence, as he's a disciplined hitter with the tools to stick at the hot corner.
Giants: Marco Luciano, SS (No. 2/MLB No. 38)
The Giants haven't produced a homegrown international All-Star since Pablo Sandoval in 2003, but Luciano is equipped to end that drought. Signed for $2.6 million out of the Dominican Republic in 2018, he displayed exceptional bat speed and raw power while hitting .302/.417/.564 with 10 homers in 47 games as a 17-year-old making his pro debut last summer.
Rockies: Zac Veen, OF (No. 2/MLB No. 60)
Veen worked his way into the conversation of best high school bats in the 2020 Draft class and ended up being the second one taken (though the highest paid). Hanging Cody Bellinger comps on him before he's had a professional at-bat might be premature, but his combination of feel for hitting, developing power just starting to show up and a 6-foot-4 frame that's going to add a lot more strength makes it hard not to be excited about his future.