Phillies to open 2020 with trip to Miami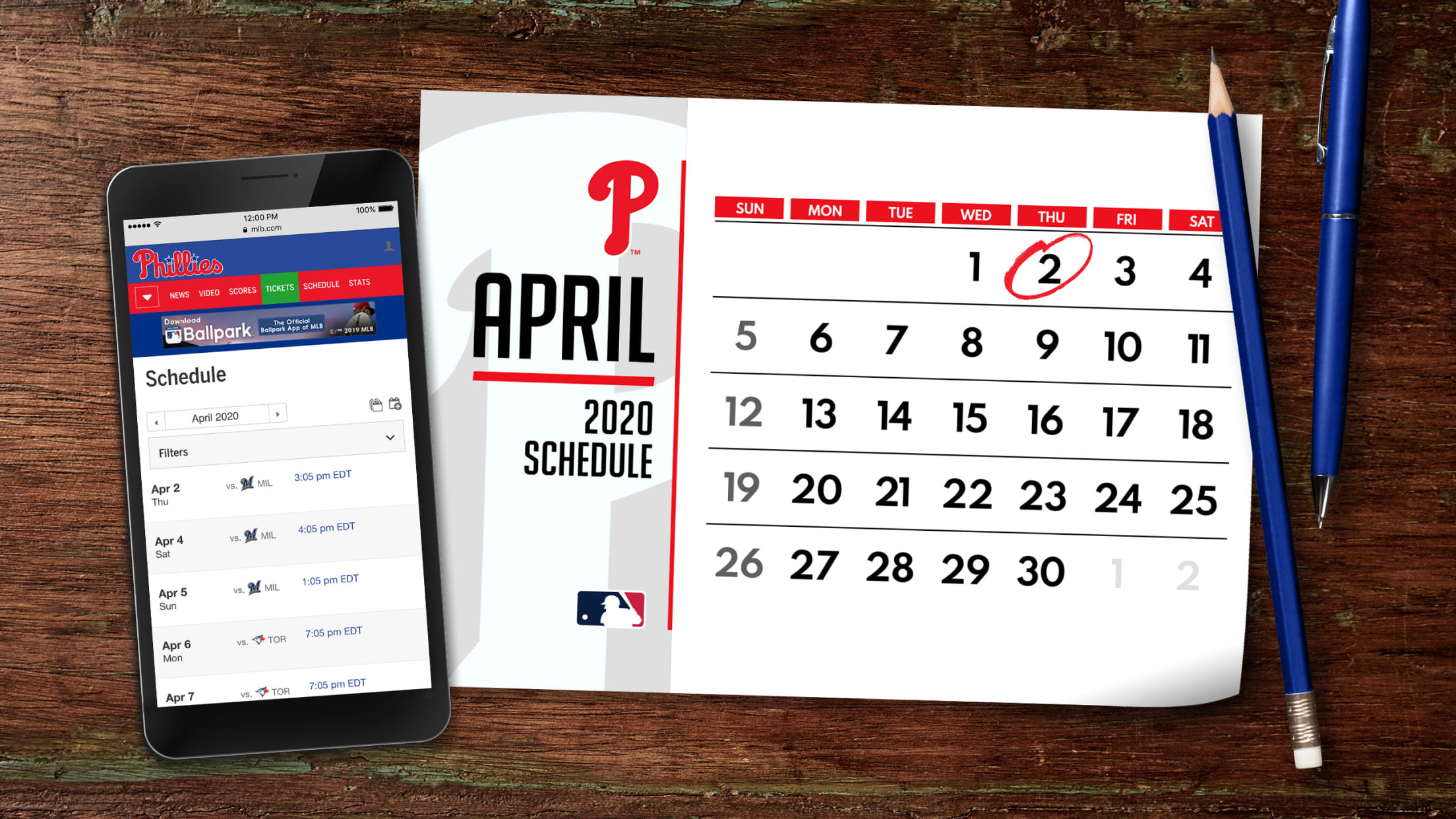 PHILADELPHIA -- The Phillies will open the 2020 season with a four-game series in Miami, beginning on March 26. Major League Baseball announced its 2020 schedule Monday afternoon. The Phillies will open the season with a seven-game road trip against the Marlins and Mets before hosting the Brewers in their
PHILADELPHIA -- The Phillies will open the 2020 season with a four-game series in Miami, beginning on March 26.
Major League Baseball announced its 2020 schedule Monday afternoon. The Phillies will open the season with a seven-game road trip against the Marlins and Mets before hosting the Brewers in their home opener on April 2 at Citizens Bank Park.
• Phillies' 2020 schedule
• Ticket information
• Club-by-club schedules
• Every team's 2020 Spring Training schedule
The Phillies will play 14 of their final 22 games at home, finishing the season on the road with a three-game series against the Nationals. The Phillies play 25 games in September. Twenty are against NL East rivals.
A few other notables about the Phillies' schedule:
• They host Vladimir Guerrero Jr., Bo Bichette and the Blue Jays on April 6-7. They travel to Toronto for a two-game series Sept. 15-16.
• The Phillies also play the American League West in Interleague play. They host the Rangers (April 21-22), the A's (June 12-14) and Mike Trout and the Angels (July 17-19). It will be the fourth time that Trout and Bryce Harper will play against each other. The Phillies travel to Seattle (July 3-5), Houston (July 7-9) and Texas (Aug. 11-12). The Rangers are opening a new ballpark next season, so this will be the first time for Phillies fans to check it out.
• Fans always want to know the best road trips to take. The Phillies play the Cubs (April 24-26) and Giants (April 27-29) in a six-game road trip. Wrigley Field and Oracle Park are two of the very best ballparks in baseball. Bring a jacket and maybe a sweater.
• T-Mobile Park in Seattle is one of the best in baseball. It's worth checking out.
• The Phillies are in San Diego for a four-game series July 30- Aug. 2, meaning they will be there during the July 31 Trade Deadline.