A question coming in, relief corps can't answer bell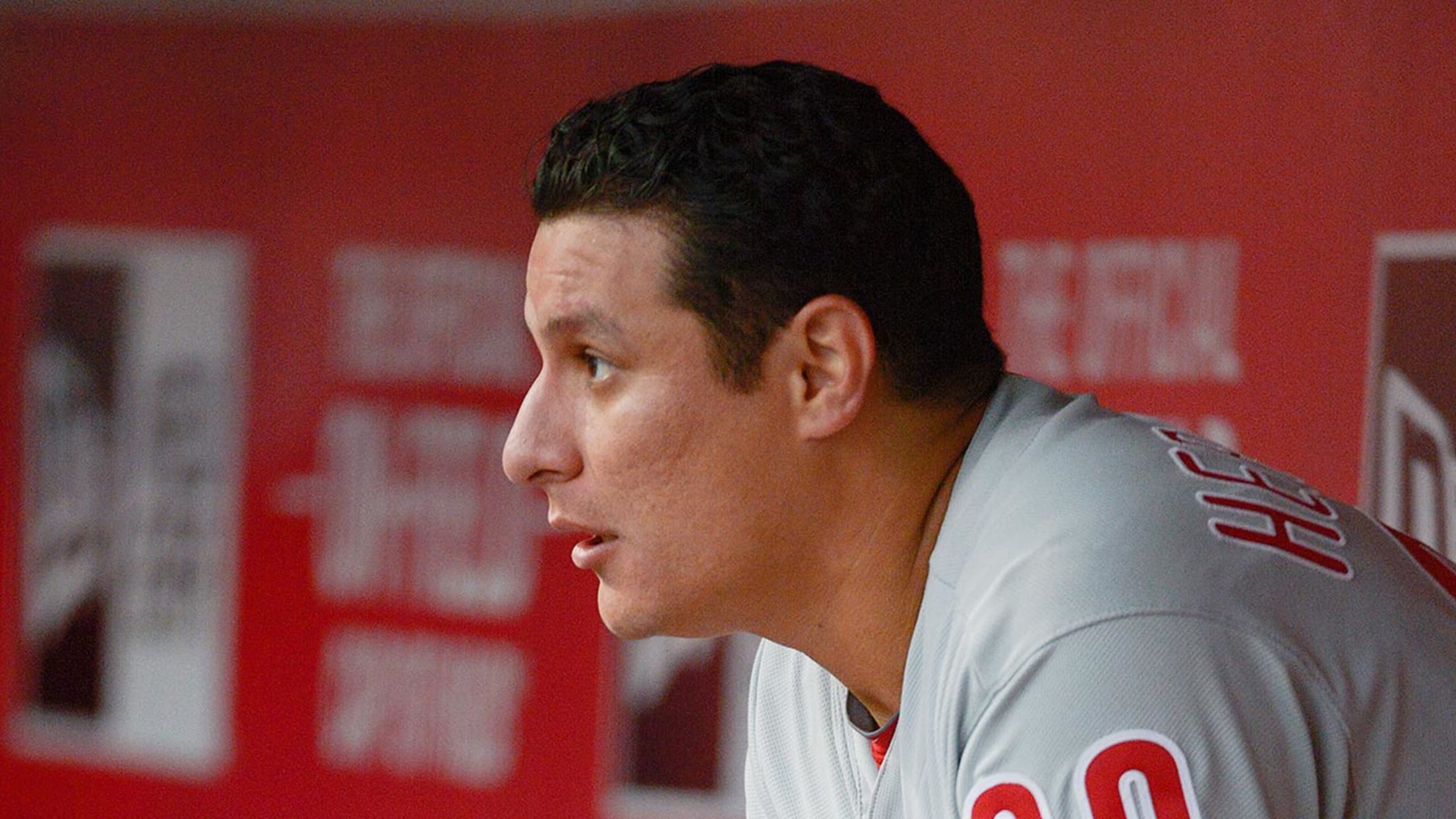 David Hernandez looks on after allowing two walks and a hit without getting an out in the eighth. (AP)
CINCINNATI -- Nobody in the Phillies' clubhouse tried to sugarcoat what happened in the eighth inning Monday at Great American Ball Park."The wheels fell off," Phillies manager Pete Mackanin said after a 6-2 loss to the Reds."It was embarrassing," right-hander David Hernandez said."For us to just kind of [throw] it
CINCINNATI -- Nobody in the Phillies' clubhouse tried to sugarcoat what happened in the eighth inning Monday at Great American Ball Park.
"The wheels fell off," Phillies manager Pete Mackanin said after a 6-2 loss to the Reds.
"It was embarrassing," right-hander David Hernandez said.
"For us to just kind of [throw] it away a little bit stings," left-hander James Russell said.
The Phillies entered the season concerned about their bullpen, and those concerns came to a head when three relievers allowed five runs in the eighth inning in the loss on Opening Day. Last season, the Phils seldom had one-run leads in the eighth, but when they did, Ken Giles and Jake Diekman pitched the eighth while Jonathan Papelbon pitched the ninth.
But those three are gone, and the Phillies still do not know who will replace them.
"We're still searching," Mackanin said.
After Jeremy Hellickson pitched six solid innings and Jeanmar Gomez pitched a perfect seventh, the Phillies had Hernandez start the eighth. The Phils signed Hernandez to a one-year, $3.9 million contract in December, making him the only free agent they signed to a Major League contract.
Hernandez walked Adam Duvall, allowed a double to Devin Mesoraco and walked Billy Hamilton to load the bases with no outs.
"I wasn't able to throw anything over the plate, quality pitches," Hernandez said. "It's unfortunate. It [stinks], but it's a long season."
Hernandez missed some time in Spring Training because of a sore right elbow. He said he is healthy.
Russell replaced Hernandez and allowed a sacrifice fly to Zack Cozart to tie the game before he walked Eugenio Suarez to reload the bases. Russell then allowed a two-run single to Joey Votto to make it 4-2.
Right-hander Hector Neris entered. He hit Brandon Phillips with a pitch before allowing a single to Jay Bruce to allow two more runs to score.
Mackanin and Phillies pitching coach Bob McClure met with relievers on Sunday to discuss their roles. The message seemed to be that everybody should be ready to pitch in any type of situation. That said, Mackanin chose Dalier Hinojosa to pitch the ninth if the Phillies had the lead.
"We just have to keep mixing and see what we've got and go from there," Mackanin said.
Could Gomez pitch the eighth? The Phillies don't think so. Not right now, anyway.
"Last year we tried Gomez in the eighth inning," Mackanin said. "That lasted three or four outings and it didn't work out. It's a different animal in the eighth and ninth inning. That doesn't mean we won't do it.
"It's a touchy situation. ... I hope that the right guys are here right now. I'm not going to condemn Hernandez because he didn't pitch that well tonight. He's going to get more opportunities. We'll continue through the season and we'll see who rises to the occasion."