Young accepts blame for pitching staff's troubles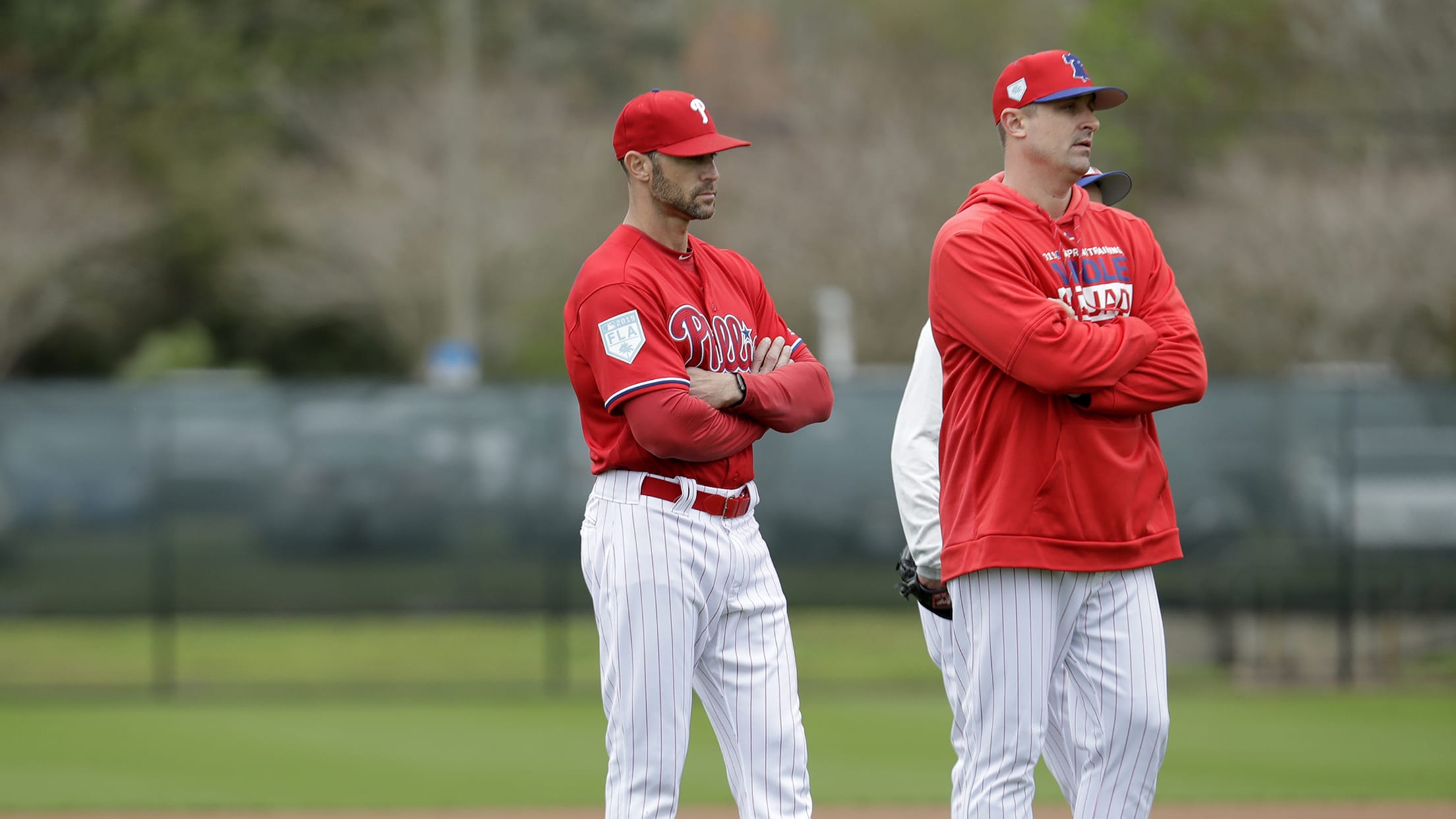 PHILADELPHIA -- Phillies pitching coach Chris Young hears the criticism. He knows there is speculation about his job beyond this season. But he said Wednesday at Citizens Bank Park that he is keeping his focus on the Phillies' pitching staff. The group has struggled. "I fully accept [criticism] with how
PHILADELPHIA -- Phillies pitching coach Chris Young hears the criticism. He knows there is speculation about his job beyond this season.
But he said Wednesday at Citizens Bank Park that he is keeping his focus on the Phillies' pitching staff. The group has struggled.
"I fully accept [criticism] with how we pitch," Young said. "But as far as feeling heat, I think my job on a daily basis is to give our guys everything I have, to give them all my time, to give them all my energy and understand where criticism comes from and understand when it is warranted, but I think at the end of the day I am going to take all my energy and just dump it into my guys."
There are different ways to look at the Phillies' pitching problems this season. There have been injuries in the bullpen, including David Robertson, Tommy Hunter, Seranthony Dominguez, Pat Neshek, Victor Arano and Adam Morgan. They were arguably six of the Phillies' top seven relievers entering Spring Training. The front office made low-cost acquisitions to replace them, including Mike Morin, Blake Parker, Jared Hughes and Nick Vincent, rather than sacrifice prospects for higher-impact arms.
But the underwhelming performance of the rotation has received the most focus. The front office believed it had roughly a top-10 rotation entering the season, based on its performance last season. The rotation last year ranked third in the National League in FIP (3.76), fourth in xFIP (3.77), fourth in WAR (15.2), fourth in strikeout percentage (24.1) and fourth in walk percentage (7.6), according to FanGraphs. This season, it ranks 13th in FIP (4.88), 11th in xFIP (4.61), 12th in WAR (7.3), 11th in strikeout percentage (21.2) and 11th in walk percentage (8.2).
Jake Arrieta suffered a season-ending elbow injury, but the other four starters when the season opened (Aaron Nola, Nick Pivetta, Zach Eflin and Vince Velasquez) have been healthy. Nola recovered from a slow start, but his overall performance has not matched last season's Cy Young-worthy effort. Pivetta, Eflin and Velasquez each have been demoted to the bullpen at different points and Pivetta has been optioned to Triple-A twice.
"I think 'disappointed' is strong," Young said about the rotation. "I think we have had some guys do some really neat things so far this year. We have had some guys who taken a step back or two. But I think at the end of the day, it's really just about each guy and trying to make each guy better, instead of a whole. And I think we've seen some good things from a lot of guys, and I think some guys maybe have underperformed expectations, but that's the way this game goes."
This is Young's first season as pitching coach. He served as assistant pitching coach under Rick Kranitz last season. The Phillies dismissed Kranitz last fall because they feared they could lose Young to another organization. Phillies pitchers were upset with the move, and the transition has not been a smooth one.
"We all love Kranny," Young said. "Kranny is an incredible guy to like. He's been in this game a long time. He's done a lot of really amazing things in this game, so I completely understand all of our feelings toward Kranny. Mine included. Love him, respect him, the job he's done, the job he's doing this year is incredible.
"But for me coming in it was more or less just about being myself and spending the time to build the relationships with these guys that you need to have. Now we're a year and a half, almost two years under the belt, to spend that time, to have those relationships, too, so we can have the honest conversations and the upfront conversations that we need to have on a daily basis."
Young said he has learned a lot in his first season as pitching coach.
"It's really just been about having successes," he said. "It's been about seeing some failures. Seeing some things that maybe I was convinced about early on that I've had to adjust to. And some things that I thought maybe worked that didn't, and some things we've had success with, and really hammering those things home and trying to get those things across as well, too."
Asked if the struggles have worn on him, Young said, "I think I feel more when they struggle than for me. It's not really about me. I know that sounds like a stock answer, but it's not. My job is to invest in these guys, to give them every advantage they have to go out and be the best versions of themselves every time they get the ball."
Phillies remember September 11th
The Phillies held a special pregame ceremony to remember the lives lost and affected following terrorist attacks in New York, Washington and Pennsylvania on this date 18 years ago.
They honored members of the Philadelphia police and fire departments, along with members of the U.S. Military. U.S. Navy Petty Officer First Class Steven Powell sang the National Anthem. U.S. Army veteran John Barbare threw out a first pitch alongside his service dog Javier on behalf of Canine Companions for Independence.
The Phillies also wore 9/11 ribbon patches and used special lineup cards and base jewels.