Difficult season taking a toll on Phillies
Mackanin: 'The record is indicative of so many things that are not going well'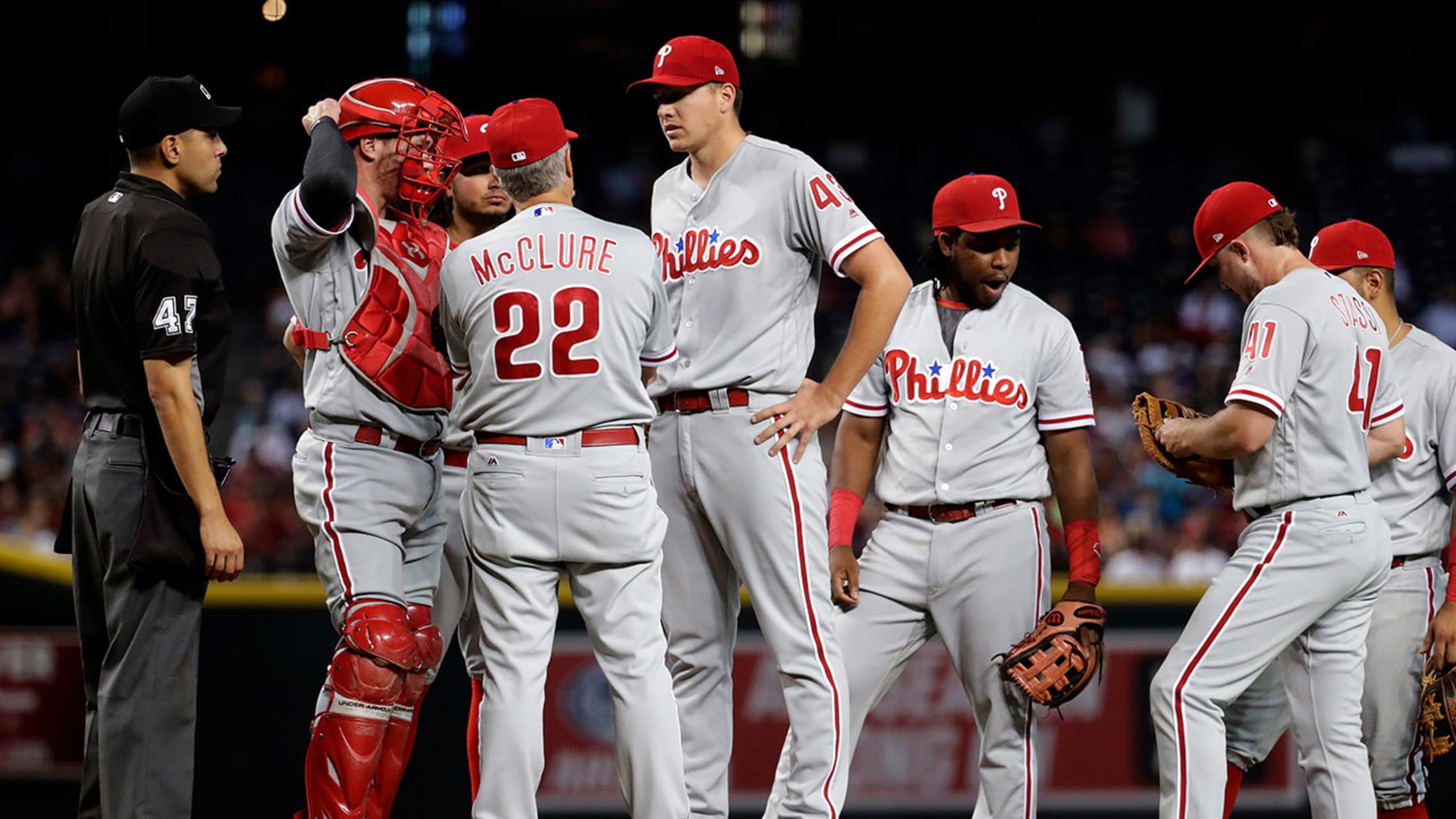 The Phillies are on pace to lose 110 games, which would be one loss shy of the franchise mark set in 1941. (Getty)
PHOENIX -- It is becoming increasingly difficult to see the light at the end of the tunnel.The Phillies lost Monday afternoon to Arizona at Chase Field, 6-1, to fall to 24-51. They are on pace to lose 110 games -- one shy of the franchise record set in 1941 --
PHOENIX -- It is becoming increasingly difficult to see the light at the end of the tunnel.
The Phillies lost Monday afternoon to Arizona at Chase Field, 6-1, to fall to 24-51. They are on pace to lose 110 games -- one shy of the franchise record set in 1941 -- and finish with the ninth-lowest winning percentage in the franchise's 135-year history, including their worst mark since 1961.
"In Spring Training, if you told me we were going to have this record, I wouldn't believe it," Phillies shortstop Freddy Galvis said. "I believed we had a good team. But we just can't put anything together. We played well for five or six games and then we go to another six or seven-game losing streak. Then we win one and keep going. It's hard. It's hard to see it. It's hard to believe it."
The Phillies tried to be optimistic about their chances entering Spring Training. Phillies manager Pete Mackanin said if players took incremental steps forward they potentially could take a run at a .500 record following a 71-91 finish last year.
The Phillies would have to finish 57-30 to do that. Their only race is for the No. 1 pick in the 2018 MLB Draft.
The Phillies have the worst record in baseball, with the Giants next worst 1 1/2 games ahead.
"It's very tough to deal with," Mackanin said. "It's not easy every day. If it's not one thing it's another. The guys have been real good about it, but the record is indicative of so many things that are not going well."
The Phillies' front office always acknowledged that 2017 would be a rebuilding year. It expected to lose, while hoping players would make improvements along the way. Instead, it is hard to say how many players will be here in a few years. Odubel Herrera is the only player signed beyond this season.
"It's really tough," Herrera said. "I'm not going to lie to you, it's tough to lose."
Could those rebuilding expectations have lowered the expectations of players on the field?
"If you get that into your mind, [we're in trouble]," Galvis said. "We're players. We have to play hard, 24-7. And that's it. Yeah, they say we're a rebuilding team, but we still have good players here. We still have pretty good players. We lose one, then we lose another one, and then it just keeps going and keeps going."
For us, we have to have the same mentality every single day. Just try to win. It's not what you do here or in the clubhouse or what you talk, it's what you do outside. That's when you have to step up and do your best."
A legitimate concern is that the players here have become used to losing. That instead of coming to the ballpark every day hoping to win, they show up expecting to lose.
"I mean, we're losing, we're losing, we're losing and I don't see any change so far," Galvis said. "If you get used to it, we're [screwed]. We have to have a different mentality every time we come here. We have to try to win. We have to try to fight for nine innings and 27 outs.
"I think we can do better. I think we can do much better. The effort has to be more than we have right now if we want to win. The effort we have right now, we're not winning. I think we have to do a little bit more -- if we want to win."