Active Phillies trying to move the needle in '19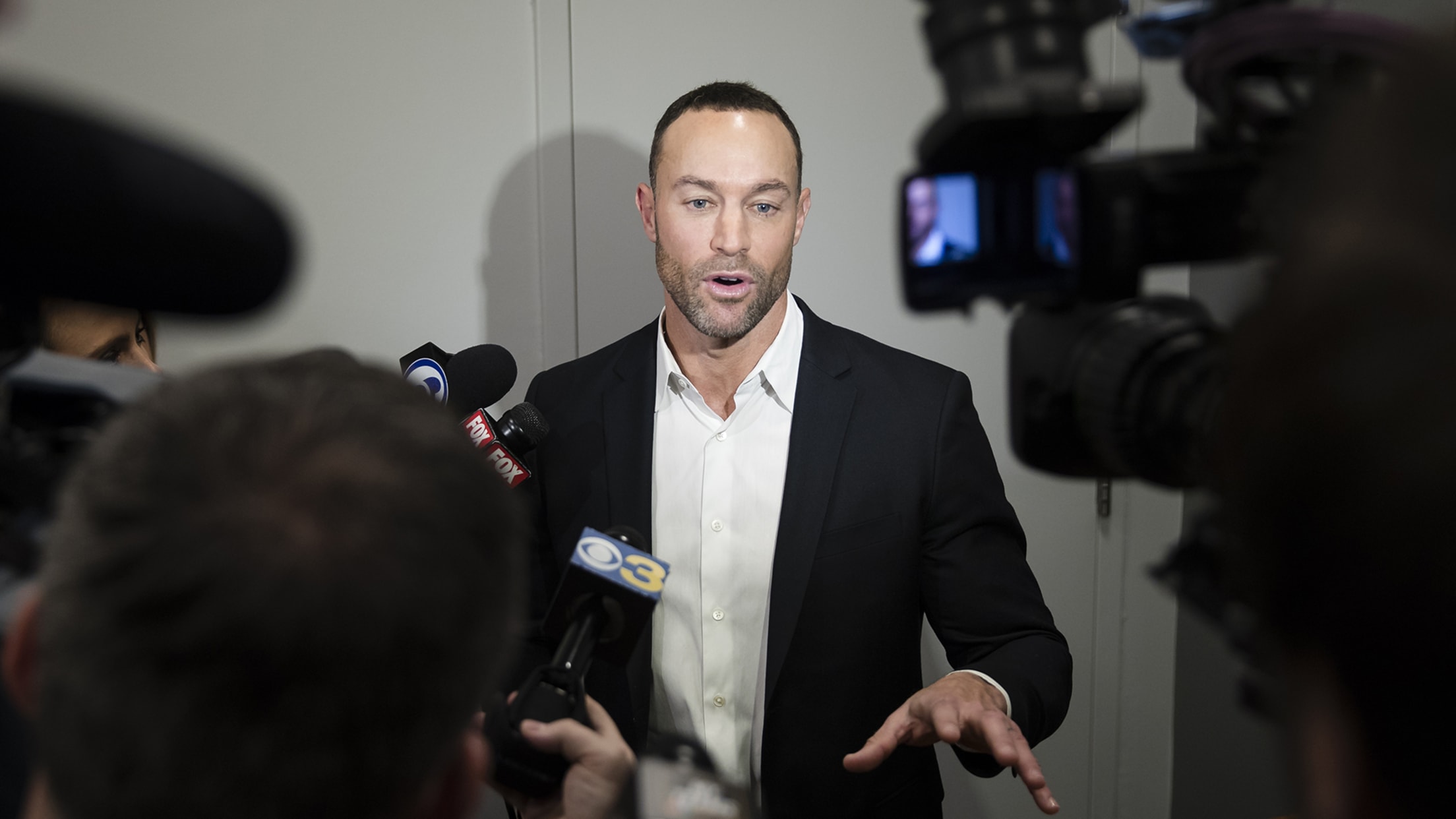 Philadelphia Phillies manager Gabe Kapler speaks with members of the media during a baseball news conference in Philadelphia, Tuesday, Jan. 22, 2019. (AP Photo/Matt Rourke) (Matt Rourke/AP)
PHILADELPHIA -- The Phillies have talked a lot about "moving the needle" in 2019.The organization took a few steps this offseason. The Phillies acquired shortstop Jean Segura and relief pitchers Juan Nicasio, James Pazos and José Álvarez in trades. They signed outfielder Andrew McCutchen and reliever David Robertson to multiyear
PHILADELPHIA -- The Phillies have talked a lot about "moving the needle" in 2019.
The organization took a few steps this offseason. The Phillies acquired shortstop Jean Segura and relief pitchers Juan Nicasio, James Pazos and José Álvarez in trades. They signed outfielder Andrew McCutchen and reliever David Robertson to multiyear contracts. Rhys Hoskins is back at first base, which will help the Phils' defense and potentially boost his offense. They told Odúbel Herrera to come to Spring Training in shape and ready to play.
• Spring Training:Schedule | Gear | Info | Roster | FAQ
The Phillies hope those actions -- combined with expectations that their youthful core will continue to develop -- will help them move from 80 wins in 2018 to the postseason in '19.
:: Spring Training coverage presented by Camping World ::
But the Phillies know they need another player or two to complete their vision, which is why they acquired Marlins All-Star catcher J.T. Realmuto on Thursday. Realmuto is an exciting addition, especially if he precedes the addition of a superstar.
Manny Machado or Bryce Harper will help Philadelphia cause in a highly competitive National League East, which has four of five teams legitimately believing they can win the division. Industry insiders place the Nationals, Braves and Mets above the Phillies. A FanGraphs 2019 projection has the Phils as the fourth-best team in the division, projected to finish 79-83.
Machado or Harper in Phillies pinstripes will make people think differently, not that the club necessarily cares about outside perceptions and projections. It has said publicly and privately it believes it can win with what it has.
"If there are moves that we can make to move the needle, we're going to move it," general manager Matt Klentak said earlier this offseason. "I don't know what the markets are going to turn out to be for the top free agents. If it makes sense for this franchise, we'll pursue it. If it doesn't, we have to have a walkaway point, because to not have that is bad business. It all comes down to properly balancing the present and the future, the short term and the long term. Do we want to do everything we can to compete for the playoffs in 2019? Of course we do. Are we going to mortgage our future to do that? Probably not. We have to balance the two."
February 7, 2019
The belief remains that the Phillies will sign Machado or Harper. They have the motivation. They have the money. There seem to be few alternatives for either player, certainly in terms of teams that can match the Phils' financial firepower.
Either way, the Phillies will be expected to take a step forward this season. They held first place in the division through early August before a historic collapse. The organization believes the April-July version of the 2018 Phils are the real Phillies, not the ones that limped to a 15-30 finish.
"The roster that we currently have is a really good one," manager Gabe Kapler said recently. "Bryce Harper or Manny Machado would obviously make our roster a whole lot better. But the moves that we've made thus far, the roster that Matt has put together for us, is improved over last season. And I'm excited about getting down to Spring Training and trying to get the best out of the group that we have right now, and if that includes an additional guy that makes our lineup stronger and improves our defense, I would be thrilled just like everybody else."