Box score of the day: Phils' Opening Day rally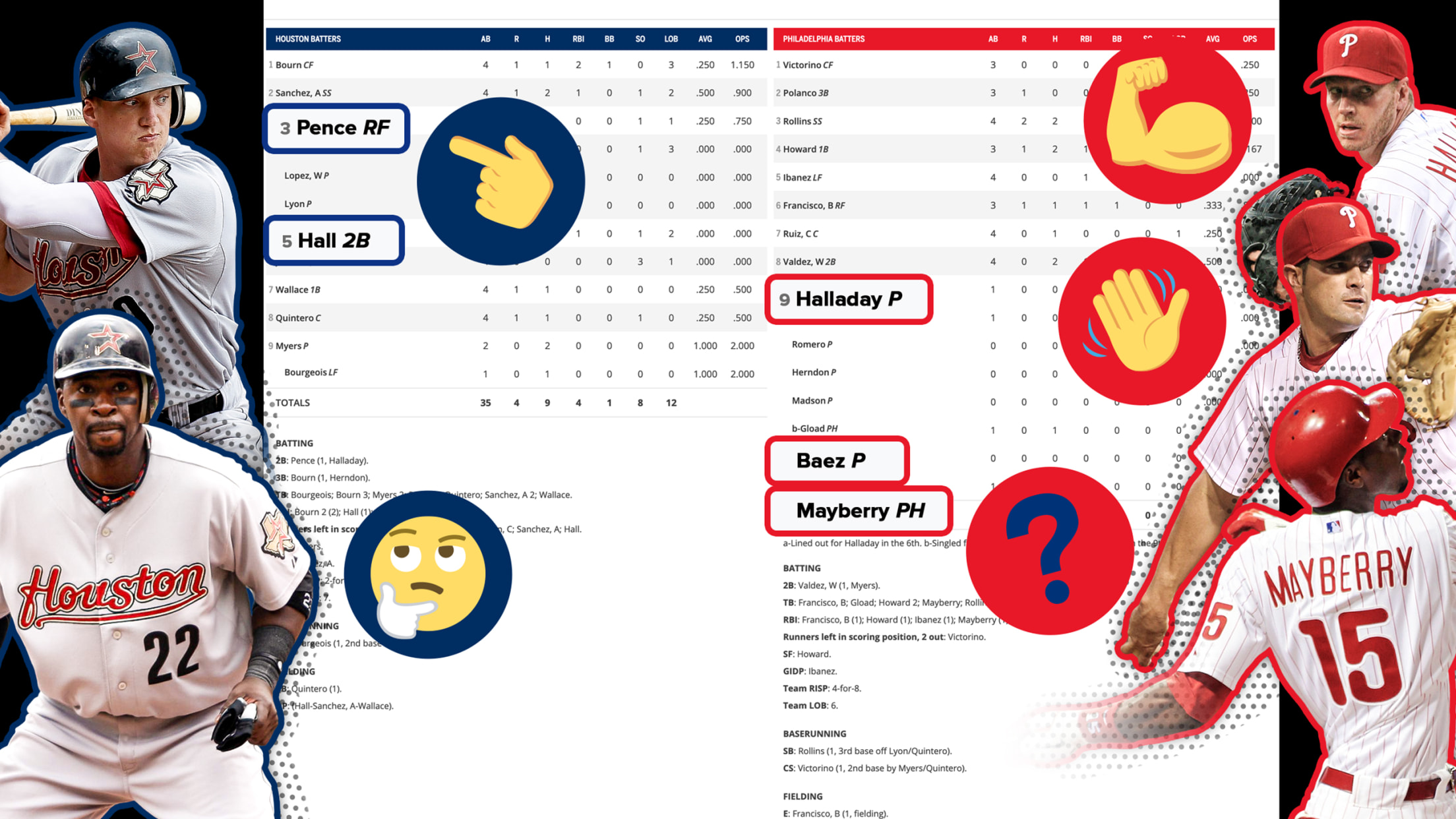 Nine years ago, expectations were high in Philadelphia. The Phillies had won four straight National League East titles, won back-to-back NL pennants from 2008-09 -- including a World Series title in '08 -- and racked up 97 victories in '10. That talented team proceeded to land All-Star left-hander Cliff Lee
Nine years ago, expectations were high in Philadelphia.
The Phillies had won four straight National League East titles, won back-to-back NL pennants from 2008-09 -- including a World Series title in '08 -- and racked up 97 victories in '10. That talented team proceeded to land All-Star left-hander Cliff Lee on a five-year, $120 milion contract, adding him to a stacked rotation that already included reigning NL Cy Young Award winner Roy Halladay, an in-his-prime Cole Hamels and three-time All-Star Roy Oswalt, acquired in a trade with Houston at the previous Trade Deadline.
That year's Sports Illustrated baseball preview put the Philly rotation on the cover with the title: "No Hitters: How the Phillies' legion of arms will dominate."
It was in this context that the Phillies opened their season, on April 1, 2011, at Citizens Bank Park against an Astros club that was beginning its penultimate season in the NL and was just about to enter the dark ages. After winning 74 and 76 games in 2009 and '10, respectively, Houston would average 108 losses over the next three seasons as it tore down the roster and started from scratch.
Despite that, the 2011 opener was a competitive affair. Astros right-hander Brett Myers held his former team largely in check for seven innings, and the Phillies needed a ninth-inning rally to pull out a 5-4 victory. Our box score of the day takes a look back at the first of 102 victories this Philly club collected before a disappointing five-game loss to the Cardinals in the NL Division Series.
Player of the game: Roy Halladay, SP, Phillies
This was peak Halladay. In his first season with the Phillies in 2010, all Halladay did was go 21-10 with a 2.44 ERA in a whopping 250 2/3 innings, throwing an MLB-best nine complete games, including four shutouts. He threw a perfect game on May 29 in Miami, and then the second no-hitter in postseason history in Game 1 of the NL Division Series against Cincinnati. At 33, he was a unanimous pick for his second career Cy Young Award.
It turned out that 2011 would be the late right-hander's final great season, before injuries interfered. The opener was hardly his finest work, as he would go on to throw eight complete games and twice strike out 14. But with one run allowed over six innings, with six strikeouts and no walks, Halladay was on his way to a Cy Young runner-up finish behind Clayton Kershaw, and ultimately, the Hall of Fame.
Remember him? John Mayberry Jr., PH, Phillies
His father, John Mayberry, was the sixth overall pick in the 1967 Draft and debuted with Houston as a teenager in '68. The elder Mayberry would go on to play 15 seasons in the big leagues, most notably with Kansas City, and was a two-time All-Star who hit 255 home runs.
Mayberry Jr., a 6-foot-6 Stanford product and the 19th overall pick in 2005, did not have that sort of longevity in the big leagues. He played 574 games over parts of seven seasons, exactly 500 with Philly, and 2011 was his best year (.854 OPS, 15 home runs in 296 plate appearances).
He started it off right. The Phillies trailed 4-2 entering the bottom of the ninth, but rallied against Brandon Lyon to tie the game on the strength of five singles. Mayberry then pinch-hit and ripped a line drive to center that got over the head of Michael Bourn, who was playing shallow with one out. Ballgame over, on Mayberry's first career walk-off winner.
He wore THAT uniform? Bill Hall, 2B, Astros
If you remember Hall's 11-year career (2002-12), it's likely from the utility man's time with the Brewers, his original club. Hall played almost 80% of his career games with Milwaukee, including belting 35 homers in 2006, before bouncing to five other clubs. One of them was the Astros, his tenure there lasting just 46 games in '11 before he was released in June.
But it was long enough to become the answer to a trivia question: Who was the Astros' last Opening Day second baseman before José Altuve?
Before he was big: Hunter Pence, RF, Astros
Pence had already made a name for himself by this point: He was third in NL Rookie of the Year voting in 2007 (behind Ryan Braun and Troy Tulowitzki) and was a full-time starter over the following three seasons, hitting exactly 25 homers each year and making his first All-Star team in '09.
But this was the start of another, more successful, chapter in Pence's career. Four months after this game, just before the Deadline, he was traded to this Philly club in exchange for four prospects. Pence raked down the stretch, played in his first postseason that October, and after another trade at the 2012 Deadline, was a key figure in two Giants championship runs.
Last call: Danys Báez, RP, Phillies
Báez was the winning pitcher in this one, after working around a couple of baserunners to pitch a scoreless top of the ninth. It was the second to last of his 40 career victories, as his 10th and final big league season ended when the Phillies released him with a 6.25 ERA in August.
It was an unceremonious end to an interesting career that began when Báez defected from Cuba in 1999 and signed a four-year, $14.5 million deal with the Indians, then the five-time defending AL Central champions, who won a bidding war for his services. Báez perhaps never quite lived up to that while playing for six teams over 10 seasons, but he did save 114 games, including 41 in an All-Star year for Tampa Bay in 2005.