Phils recall reliever Rios, option lefty Davis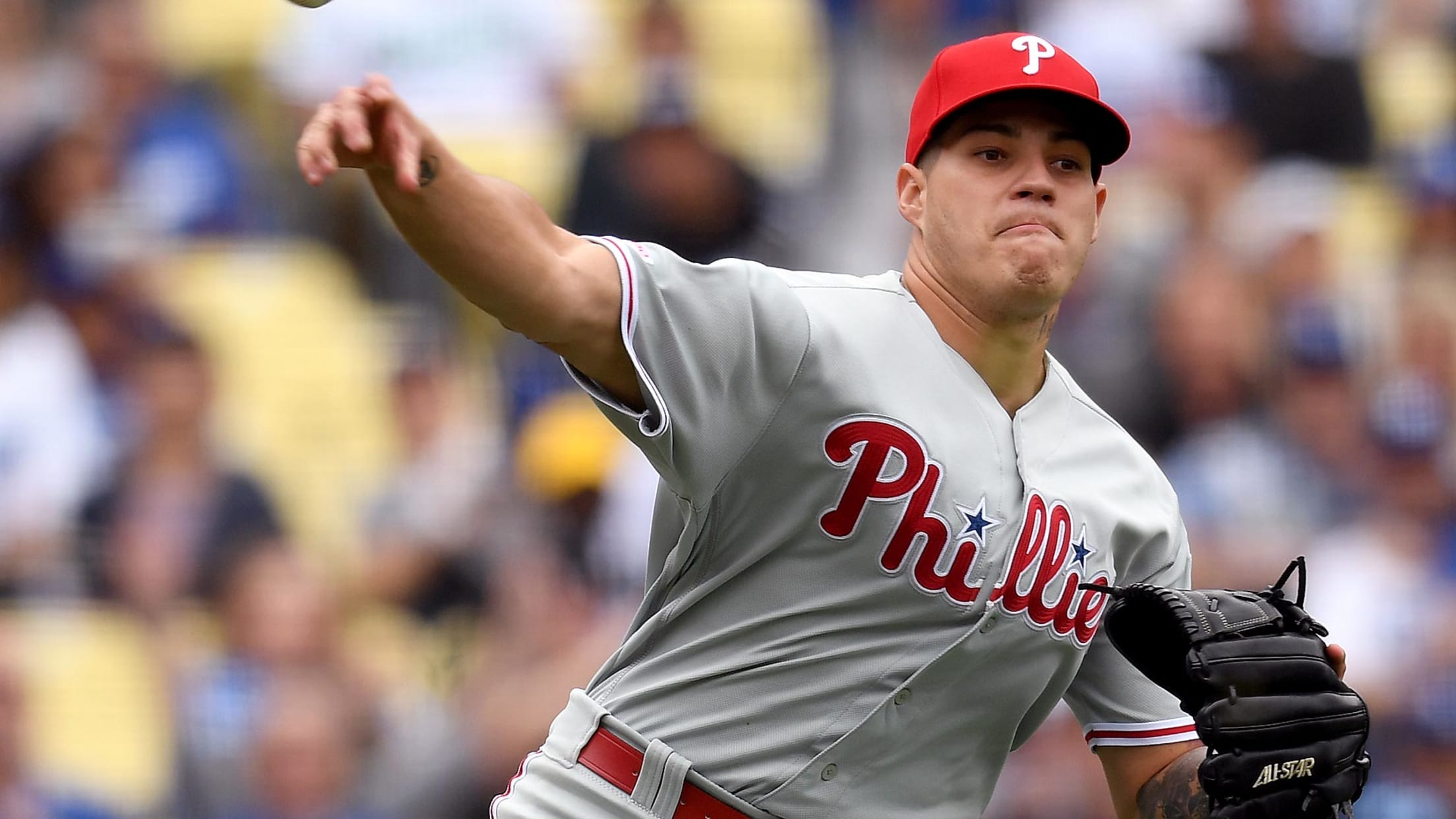 NEW YORK -- Before Friday's game against the Mets, the Phillies optioned left-hander Austin Davis to Triple-A Lehigh Valley and recalled right-hander Yacksel Ríos. This is Rios' second stint with the Phillies this season. He made three appearances without allowing an earned run from May 30 to June 3. In
NEW YORK -- Before Friday's game against the Mets, the Phillies optioned left-hander Austin Davis to Triple-A Lehigh Valley and recalled right-hander Yacksel Ríos.
This is Rios' second stint with the Phillies this season. He made three appearances without allowing an earned run from May 30 to June 3. In his last appearance for Lehigh Valley, Rios delivered a scoreless outing against Buffalo. He has a 4.75 ERA in 27 appearances for the IronPigs in 2019.
Rios is in his ninth season in the Phillies' organization, but he didn't make his Major League debut until 2017. Entering Friday's action, Rios has appeared in 52 big league games and has a 5.73 ERA.
The Phillies needed an extra bullpen piece because they did not want to overuse Tommy Hunter, Hector Neris and Adam Morgan in the three-game series against the Mets.
"If tonight was lopsided one way or the other, I would hate to use one of those bullets and not have them the following two days," Phillies manager Gabe Kapler said. "We had to figure out a way to create length. We got that potentially from Ranger [Suarez], Rios, and [Jose] Alvarez can pitch again.
As for Davis, he has been hit hard in the Majors, allowing eight runs in 10 innings this season.
Who is the fifth starter?
Kapler said he has not decided who will be the Phillies' fifth starter after the All-Star break. Vince Velasquez, who made his fourth straight start Friday against the Mets after a stint in the bullpen, is a candidate for the spot.
But as Kapler put it: "Performance dictates opportunity. We are not making plans for the first start out of the break for the fifth spot in the rotation. We are trying to get as much information as possible before we make that decision. Tonight's performance is going to be a part of that, kind of that data that helps us make that good decision for the Phillies."
Bill Ladson has been a reporter for MLB.com since 2002. He covered the Nationals/Expos from 2002-2016. Follow him on Twitter and Facebook.