Jones, Machado each belt first spring homers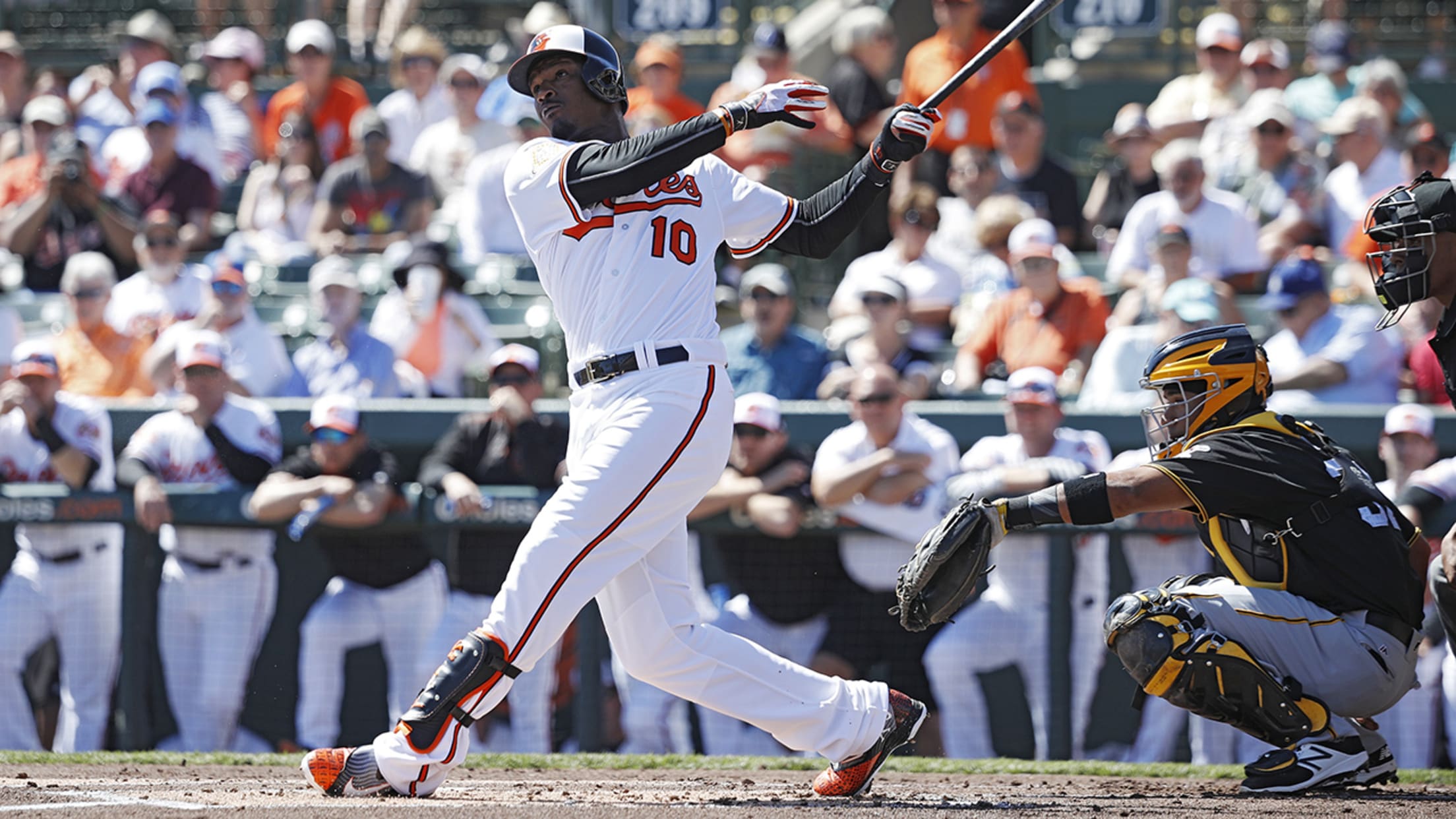 Adam Jones had a double and a home run in Sunday's game against the Pirates. (Getty) (Joe Robbins/Getty Images)
SARASOTA, Fla. -- Adam Jones and Manny Machado each hit home runs as the Baltimore Orioles beat the Pittsburgh Pirates, 8-3, on Sunday at Ed Smith Stadium.Jones hit a long home run off of Pittsburgh starter Jameson Taillon in the first and had a double in the fifth. Machado homered
SARASOTA, Fla. -- Adam Jones and Manny Machado each hit home runs as the Baltimore Orioles beat the Pittsburgh Pirates, 8-3, on Sunday at Ed Smith Stadium.
Jones hit a long home run off of Pittsburgh starter Jameson Taillon in the first and had a double in the fifth. Machado homered just after Robert Andino, who came in as a pinch-runner for Jones, was thrown out trying to advance to third.
Wade Miley admired Jones' home run.
"He absolutely nuked that ball," Miley said.
Taillon, set to open the season behind Gerrit Cole in the Pirates' rotation, started and allowed two runs on two hits. Competing for the final spot in the rotation, top prospect Tyler Glasnow followed and faced seven batters, striking out six and allowing one hit.
"It was fun. I felt good," said Glasnow, who unleashed his full pitch arsenal. "I'm competing for a spot. I need to go out and show people what I can do."
Miley wasn't unhappy with his first start of the spring.
"I thought it was pretty good," he said. "Just trying to knock some dust off. First time I've seen hitters. Overall, I thought it went pretty well. I was able to mix in every pitch at some point."
Orioles manager Buck Showalter was happy with Miley's outing.
"Good first day," he said. "Good to get it out of the way. It's always fun for me to see guys who have been pitching for a while first time out there."
Miley also allowed a home run in the second to infielder Eric Wood. The Orioles scored five runs in the seventh to break a 3-3 tie.
Pirates Up Next: Right-hander Chad Kuhl, on the "inside track" for one of Pittsburgh's two available rotation spots, will start as the Bucs head north to play the Blue Jays at 1:07 p.m. ET on Monday at Florida Auto Exchange Stadium in Dunedin, Fla. (Watch on MLB.TV). He will be followed on the mound by lefty Wade LeBlanc, competing to make the Opening Day roster. Minor League starters Nick Kingham and Clay Holmes, both coming off a return from Tommy John surgery, are also slated to pitch.
Orioles Up Next: Right-hander Ubaldo Jimenez starts for the Orioles as they host the New York Yankees at 1:05 p.m. at Ed Smith Stadium on Monday. (Watch on MLB.TV). Second baseman Jonathan Schoop will play in his final game before he leaves to join the Netherlands' entry in the World Baseball Classic. Manager Buck Showalter will continue to play catcher Welington Castillo, outfielder Jones and third baseman Machado as they prepare for the Classic.
Watch every out-of-market regular-season game live on MLB.TV.