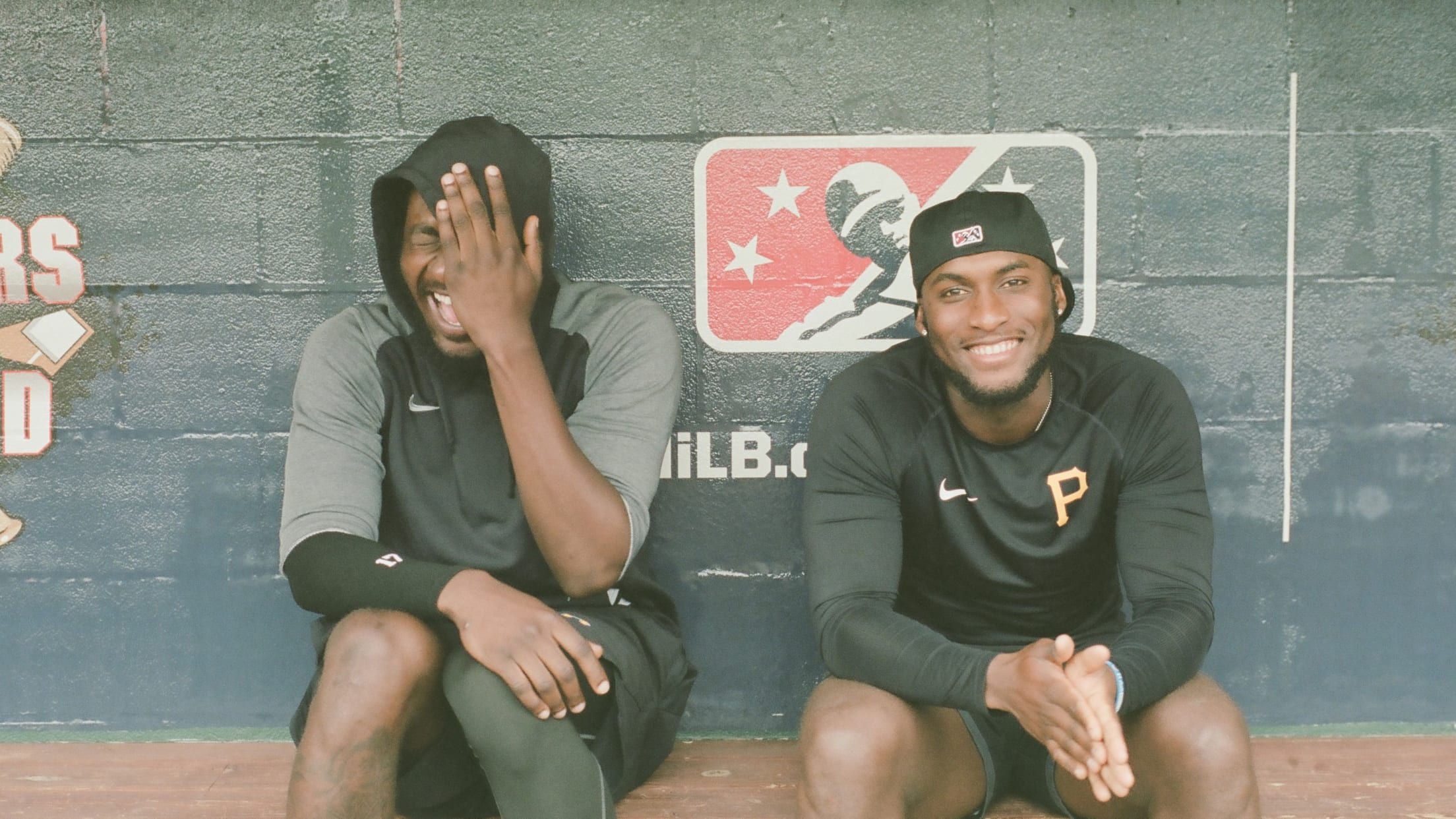 Scroll
Pirates prospects Thomas, Young share path bigger than baseball
PITTSBURGH -- Tahnaj Thomas and Chavez Young stood on the first-base line at Chase Field as "God Save the King," the national anthem of Great Britain, blared throughout the stadium. It was early March, but the ballpark's energy rivaled that of the playoffs. The opposite baseline featured a litany of All-Stars and superstars from Mike Trout to Mookie Betts to Paul Goldschmidt.
Thomas and Young, now members of the Pirates' Double-A Altoona roster, had shared a field on countless occasions up to that point. Some of those games were as teammates. Some were as rivals. Playing together in the World Baseball Classic against the United States had no comparison.
They weren't in the Bahamas anymore.
The two have known each other for two decades. Through baseball, they became brothers. Through tragedy, they became inseparable.
"It was never [just] a friendship," Thomas said. "We both knew each other's situation. We both knew what was going on. … We knew what had happened. We knew the time would come, but we just had to be there for each other. It brought us closer."
Thomas, a right-handed pitcher, and Young, an outfielder, grew up together in Freeport, Grand Bahama, living just a couple of houses apart. In Thomas' estimation, "I could be in my backyard, throw a ball and hit his roof."
"Even though you got a popcorn arm?" Young retorted.
"I got a better arm than him," Thomas laughed.
The two grew up as youth baseball rivals: Thomas played on the Lions, Young on the Predators. Thomas, 24, often played above his age group alongside Young, 26. Young earned the nickname "Hollywood" because he loved playing to the crowd, a flair and flavor that used to irritate Thomas.
Along with baseball, the two competed in swim and track; Thomas' mention of the 800-meter race, in particular, causes their collective memories to come flooding back.
"Who won?" Young asked.
"He didn't win the race!" Thomas pleaded. "He came in fifth, I came in seventh. It's OK, though. … He can't beat me in the 800 right now."
"Anything is possible," Young responded, causing Thomas to roar with laughter.
Along with baseball on their island, the two often traveled as teammates for summer ball and travel ball. Their teams frequented Cocoa Beach, Fla., and during the six-hour ferry rides, Thomas, Young and their teammates hunkered down in the game room from the time it opened to the time it closed. At the hotels, they'd have "ice fights" or knock on people's doors, splash the inhabitant's face with water and sprint away.
The two fell in love with various aspects of American culture during these trips. Young recalled a time that he, Thomas and several teammates went to a Wendy's, an establishment that they didn't have back home, and basked in honey-barbeque nuggets after a blowout loss. Chuck-E-Cheese was also a favorite.
"We don't have Chuck-E-Cheese's in the Bahamas," Thomas said. "The Bahamas barely has a Chick-Fil-A. Our island doesn't even have a McDonald's. Coming over here as a kid and getting a Happy Meal from McDonald's, those were the memories."
There are several words that come to mind for Thomas and Young when they think of their mothers, Michelle Thomas and Marinetta Young.
Selfless. Loving. Caring.
Marinetta and Michelle were baseball moms. During the week, they dedicated their energy to nursing. During the weekends, they lived at the field for their boys.
"His mom was my mom," Chavez said, "and my mom was his mom."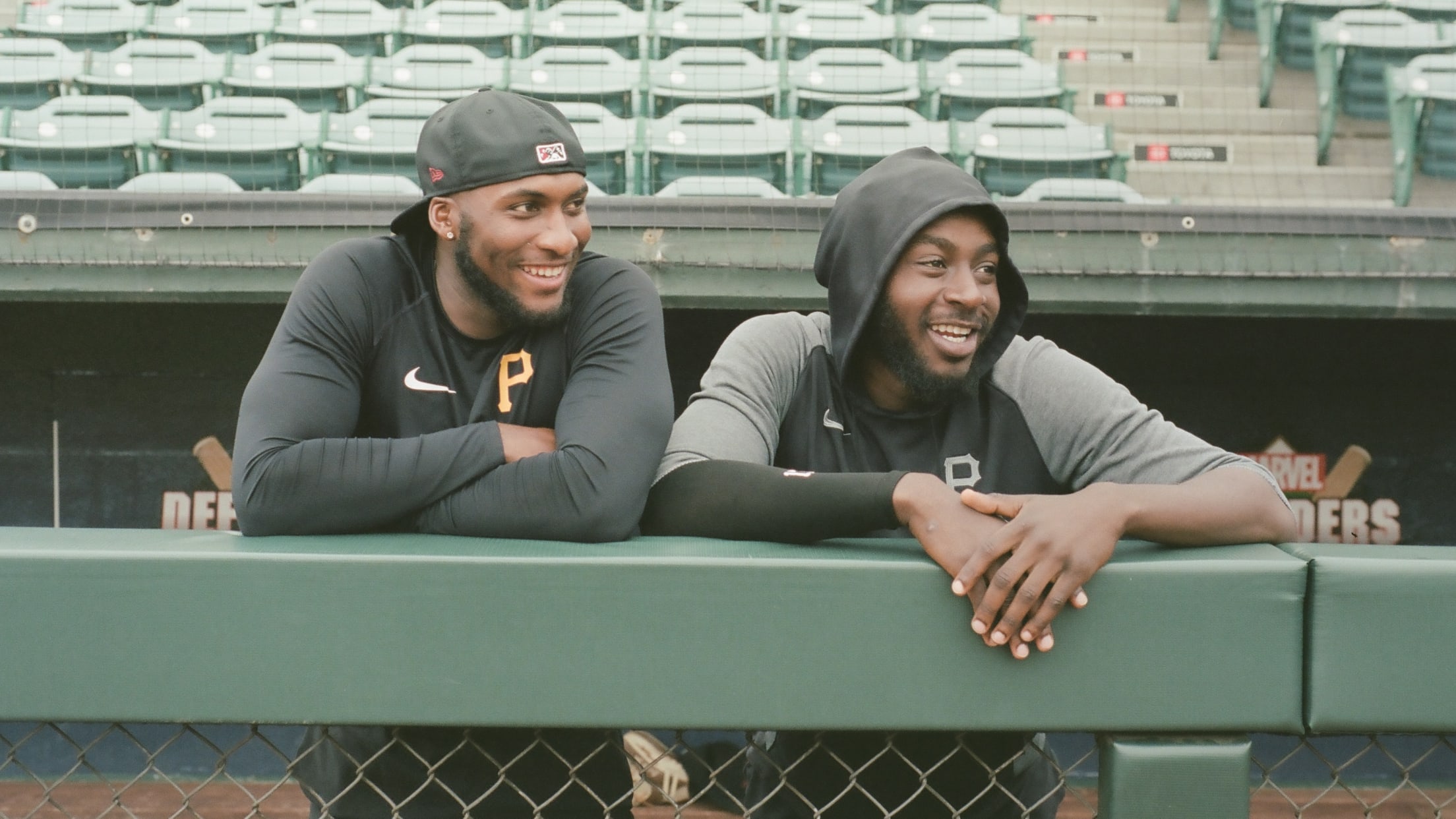 To Chavez, Marinetta and Michelle loved embracing the role of mom. When Chavez and Tahnaj went on trips, Marinetta and Michelle never hesitated to take care of their friends. If Chavez had a bad day on the baseball field, Marinetta bought ice cream and the two ate away the sorrow. To this day, Chavez still can't stop eating ice cream.
"Whatever the task was, they loved doing it for their kids," Chavez said. "It goes back to being selfless. If we're on a trip, they love the fact that their motherhood is going to expand, not just for one kid, but up to eight, nine other kids. They loved that."
In 2009, Marinetta suffered a stroke that left her bedridden for the rest of her life. The same year, Michelle was diagnosed with breast cancer. Chavez was 12. Tahnaj was 10.
At the time, neither fully grasped the gravity of the situation. The news occurred at a time when Chavez and Tahnaj were coming of age. As their mothers battled, their lives didn't stop; they still had to worry about their future. They credit their dads, Clayton Young and Sydney Thomas, for providing stability during a difficult time.
"Our dads did a great job taking care of them and letting us know, 'Hey, this is normal,'" Chavez said. "If you're letting your kids know that your mom is sick, you're so worried about what's going on. When my mom was sick and paralyzed, I had to come home to that every day.
"He made it almost normal for me. I became comfortable seeing my mom like that. I had to love my mom how she was. My dad did a really good job of taking care of her and always being even keeled. 'Your mom is like that. That doesn't mean you have to love her any different.'"
In 2011, Michelle's breast cancer went into remission. The following year, the cancer returned. Around this time, Thomas was in Nassau, about 150 miles from Freeport, to train at an academy. Thomas returned home when possible, and Michelle occasionally traveled to Nassau for treatment.
In 2016, Thomas was at a showcase in Panama when a coach told him that he needed to return. By the time he got home, Michelle was in a coma. Michelle passed away on April 17, 2016. She was 45. He was 16.
On April 28, 2019, Young was in Jupiter, Florida, playing for the Blue Jays' High-A affiliate. During the game, Marinetta unexpectedly passed away. She was 56. Chavez was 21.
Chavez and Tahnaj don't just share an experience. They share a purpose. They don't want to make the Majors for themselves, but for their mothers. They don't have to explain themselves, or the hurt, to one another. They know what it's like to be in each other's shoes, and they push each other because they know who they're fighting for.
With everything they've endured, Thomas and Young aren't just friends. They've never been friends. They've always been family.
"It was more than a friendship from the start," Thomas said. "With everything that happened, it brought us closer."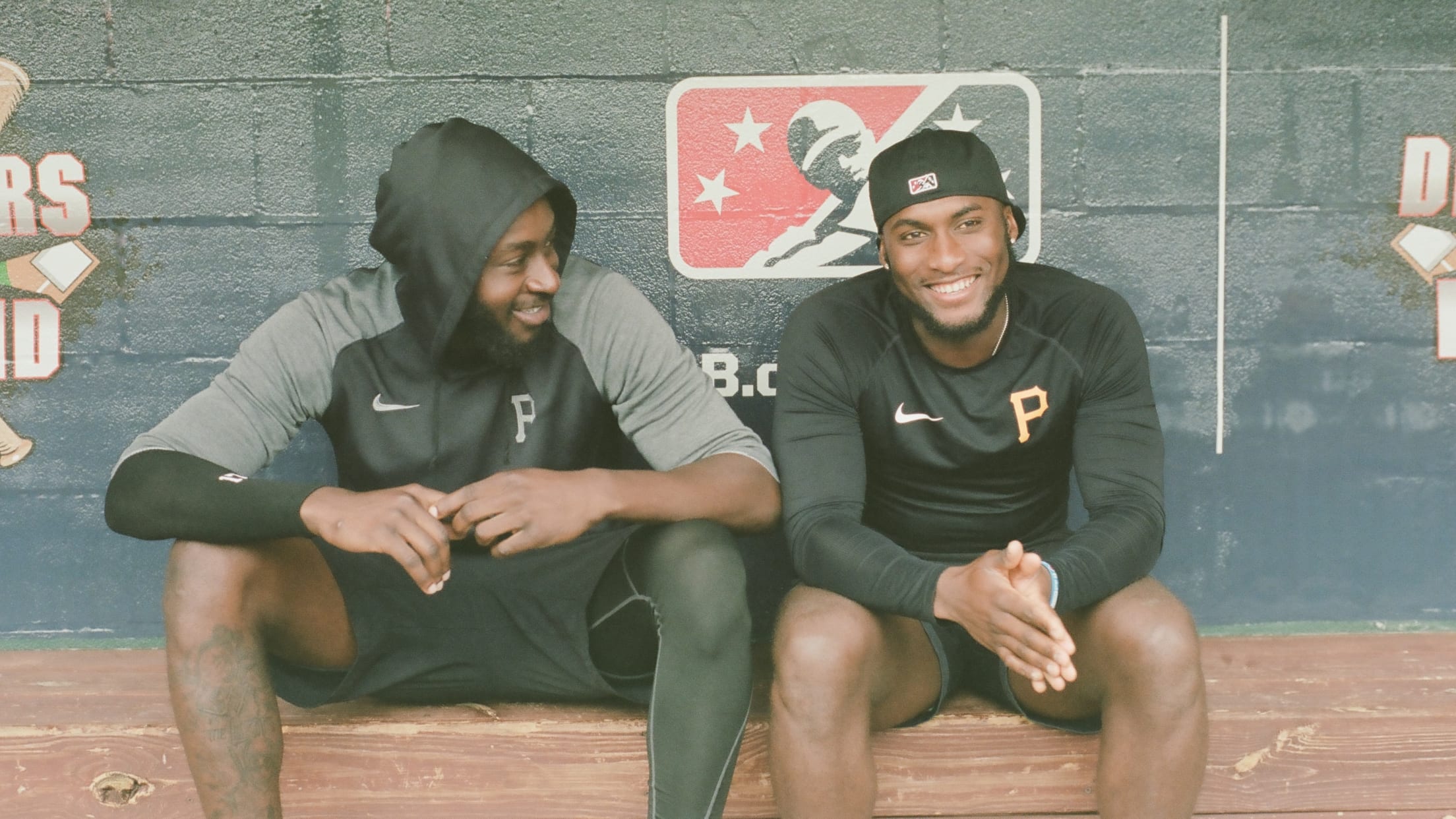 A week and a half into the new year, Young called Thomas to ask if he'd seen the news.
In January, the Pirates acquired Young from the Blue Jays via trade, allowing him and Thomas to play in the same professional organization for the first time. Before representing the Pirates, they had to represent their country. Alongside several childhood friends, including BJ Murray, D'Shawn Knowles and Chavez Fernander, Young and Thomas were two of several Bahmanian players selected to play for Team Great Britain in the World Baseball Classic.
They weren't just along for the ride, either.
In the qualifiers, Thomas pitched a scoreless top of the 10th vs. Spain, paving the way for a walk-off sacrifice fly in the bottom half to punch Great Britain's first ticket to the tournament. Young's five steals in the Classic tied him with Ichiro Suzuki, Tsuyoshi Nishioka, Jimmy Rollins and Javier Báez for the most in a tournament.
"During my whole Minor League career, I created friends, and that's great and I wouldn't change it," Young said. "But nothing is the same as playing with the childhood friends you grew up with."
For a couple of days, the two graced a Major League field. Now, they're trying to turn a couple of days into a couple of years.
Since June, Young and Thomas have played for Altoona, nearly 100 miles east of Pittsburgh. Some days are more difficult than others. Young was optioned to Altoona from Triple-A Indianapolis in June, and Thomas has spent time this season on the development list. On those days where their spirits are low, they think of their mothers, and that brings them right back up.
"They're our reason why," Thomas said. "I'm not just playing for my mom; I'm playing for his as well, and he's playing for mine as well."
Tahnaj Thomas and Chavez Young don't hope to reach the Majors; they express confidence that they will make it. Though they've played in the Minors for more than half of a decade, their passion still burns hot. They won't quit.
They look out for one another. They push each other. Should they reach the Majors, they'll celebrate each other.
That's what family does.