Vazquez plays catch day after forearm scare
Pirates closer avoids DL, diagnosed with minor flexor irritation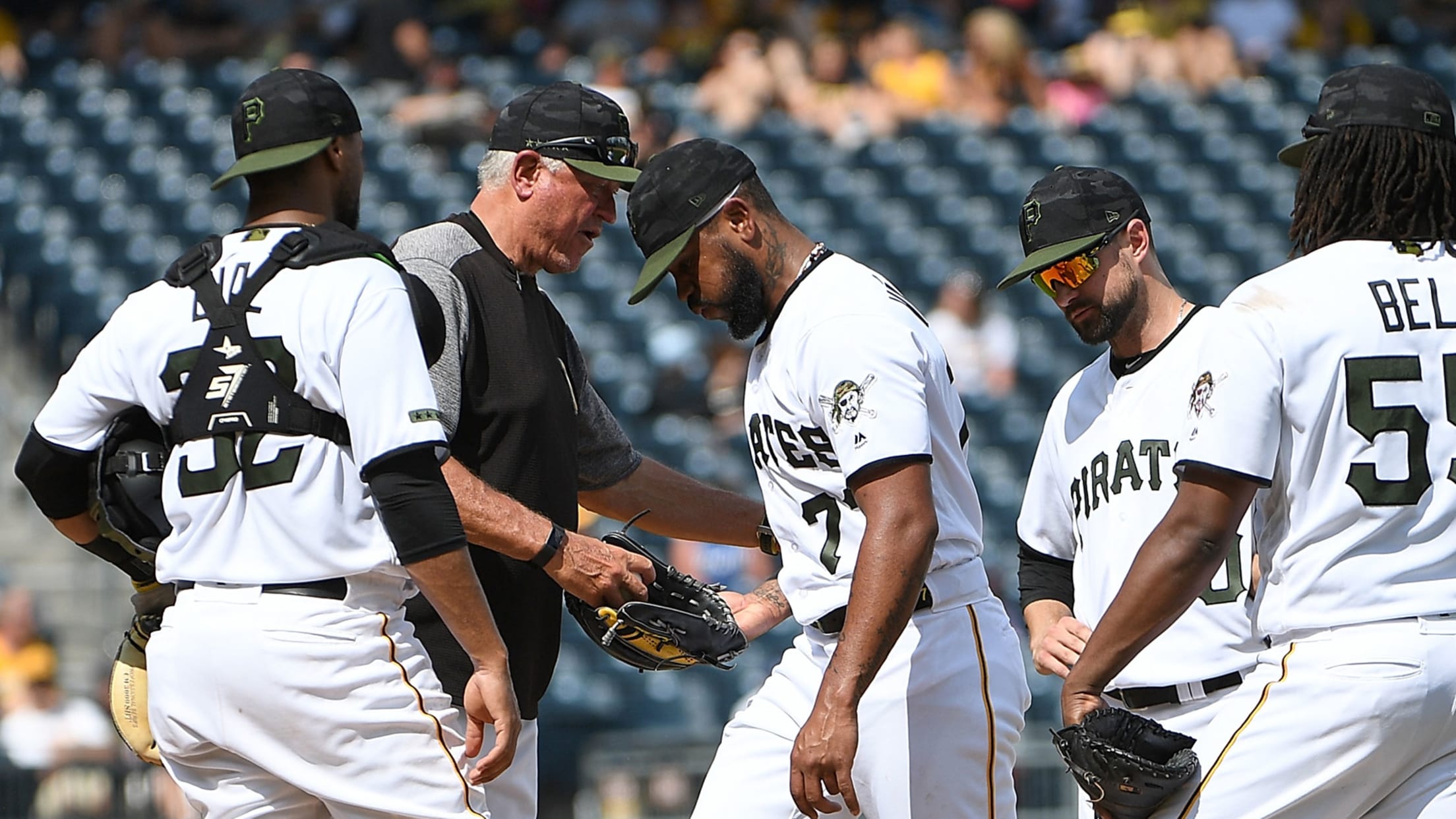 PITTSBURGH -- The Pirates seem to have avoided the worst-case scenario with closer Felipe Vazquez, as the left-hander played catch on Monday after leaving Sunday's game with what turned out to be a short-lived forearm injury.Team doctors diagnosed Vazquez with "minor flexor irritation" in his left forearm after a series
PITTSBURGH -- The Pirates seem to have avoided the worst-case scenario with closer Felipe Vazquez, as the left-hander played catch on Monday after leaving Sunday's game with what turned out to be a short-lived forearm injury.
Team doctors diagnosed Vazquez with "minor flexor irritation" in his left forearm after a series of tests, director of sports medicine Todd Tomczyk said Monday morning. The Pirates planned to give Vazquez a full day off, but he played catch and pitched on flat ground before Monday's series opener against the Cubs at PNC Park. Tomczyk said the club will re-evaluate Vazquez on Tuesday.
Vazquez said he "felt like a little pop" near his throwing elbow during the eighth inning of Sunday's 6-4 loss to the Cardinals, when he walked two batters and gave up a hit while recording only one out. He said his left forearm felt tight and he couldn't feel his ring finger. He believes that affected his ability to pitch as he threw only five of his 16 pitches for strikes.
"It looked worse than what really happened," Vazquez said. "Everything is back to normal. … I am going to feel good anyway, but they just want to make sure that I can come back strong tomorrow."
Vazquez said he had never dealt with that type of discomfort before, though he did miss time in 2014 due to elbow inflammation. He brushed off concerns about his diminished fastball velocity -- "My arm gets better through the season, not at the beginning," he said -- as well as his limited breaking-ball usage and his three consecutive blown saves.
"I am not going to go to my secondary pitches if I can't command the fastball," Vazquez said. "The fastball makes everything easier, so if there is no fastball, I am not going to my secondary pitches."
The closer declared himself willing and able to pitch multiple innings whenever he's called upon. Manager Clint Hurdle said he was encouraged by the reports on Vazquez's arm and, more importantly, felt that Vazquez was relieved by what he heard.
"His mind is cleared that there's no damage," Hurdle said. "That being said, I think we want to do what's best for him, and backing away from him for a day could help."
Around the horn
• The Pirates placed veteran reliever George Kontos on unconditional waivers Monday for the purpose of granting him his release. Pittsburgh designated the struggling right-hander for assignment Friday to make room on the roster for Joe Musgrove.
• Catcher Francisco Cervelli (flu-like symptoms) was out of the lineup for the second straight day. Hurdle said Cervelli felt worse Monday morning than he did Sunday afternoon, when he was a late scratch from the starting lineup. Elias Diaz started behind the plate.
• Outfielder Austin Meadows started in right field, batting second, in Monday's series opener against the Cubs. Struggling right fielder Gregory Polanco, who entered Monday in a 3-for-35 slump with 13 strikeouts over his past 10 games, got the day off against Cubs left-hander Mike Montgomery.
Meadows hit .455 (15-for-33) with three homers and seven runs in his first nine Major League games.
• Hurdle said the Pirates have a "plan in place" while Vazquez is sidelined but declined to reveal who would pitch in a save situation. Pittsburgh's other six relievers have combined for two career saves -- Kyle Crick's save in Cincinnati on Wednesday and Steven Brault's three-inning save in a 10-1 victory over the Orioles last Sept. 26.